Comedy Central's First-Ever Social Impact VP Isn't Afraid to Take on Divisive Issues
Erika Soto Lamb joined the network from a grassroots, issue advocacy background
Erika Soto Lamb was no stranger to Viacom Inc.'s network of cable channels when she was hired as a social impact vice president at one of them in September.
Shortly after the Feb. 14 school shooting at Marjory Stoneman Douglas High School in Parkland, Fla., that killed 17 students and faculty members, Soto Lamb got a call from a friend saying MTV was looking for help launching a campaign about gun safety.
Soto Lamb had just left her post a few months earlier as the chief communications officer at businessman and philanthropist Michael Bloomberg's gun violence prevention organization Everytown for Gun Safety, where she had worked with both Viacom-owned MTV and Comedy Central on similar projects before. She welcomed the opportunity -- which later turned into an all-Viacom effort.
Now, Soto Lamb said she believes the Parkland shooting response initiative was what planted the seed for MTV's sister network, Comedy Central, to create the position she now holds: vice president of social impact strategy.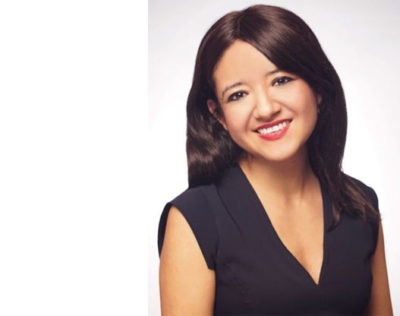 It's the first time the network has had such a role, and while creating a corporate social responsibility team at a television network is nothing new, one expert said placing the job at a vice president level is a clear indication that Comedy Central intends to amplify its role in social causes, rather than create the position for the sake of good PR.
"What it makes Comedy Central look like is proactive and taking a little bit of a leadership role in this," said Tom O'Guinn, the chair of the marketing department at the University of Wisconsin-Madison's school of business. "Everybody is talking about it, but for a company to actually create a vice president for corporate social responsibility, that's a pretty big deal."
In her position, Soto Lamb is responsible for streamlining and uplifting Comedy Central's existing social impact strategy -- which has mostly stemmed from the outspoken talent on a few of the network's shows, such as Trevor Noah of "The Daily Show with Trevor Noah" and Abbi Jacobson and Ilana Glazer of "Broad City."
"It's happened scattershot before," Soto Lamb said of the network's history of taking stances on social issues during an in-person interview at her office in New York City on Oct. 4. "It's happened because it was from the talent of the shows, but it hasn't come from the brand. I think that's the real opportunity for us."
To figure out the best approach, Soto Lamb has been sitting down with the network's research and insights department to learn about what issues Comedy Central's audience cares about; with the network's talent pool to hear what's important to it; and with her own team. She's also planning an internal survey to gauge where the company stands as a whole.
"Comedy Central has been commenting and critiquing and poking fun at the various and many social and political issues for a long time -- that's not new at all," she said. "But what is new is the interest in not just the critique of comedy, but also the transition to a more constructive comedy."
Although she's only been in the vice president position for about a month, Soto Lamb has been familiar with Comedy Central's existing social impact strategy for quite some time. In July 2015, a gunman opened fire at a Lafayette, La., movie theater, killing two women and injuring nine other people, while it was showing actress and comedian Amy Schumer's movie "Trainwreck." In response, Comedy Central's show "Inside Amy Schumer," which has since gone off the air, wanted to tackle the issue of gun violence in one of its episodes. To do that, Comedy Central staff sat down with Soto Lamb's Everytown team to learn everything they could about the issue.
The end result: A four-minute sketch featured in one of Schumer's episodes where buying a gun is compared to shopping for items on a TV shopping channel, and an interview between Schumer and an Everytown executive.
While her team is still determining what issues Comedy Central will tackle in her tenure, Soto Lamb expects the network to take on divisive issues -- something she's familiar with considering her advocacy background. Before her work with Everytown, Soto Lamb spent a few years working with Democratic campaigns and offices, including as a volunteer adviser for Hillary Clinton's 2016 Democratic National Convention planning team and briefly as a regional press secretary for John Kerry's 2004 presidential run.
And Comedy Central already has a brand that, at its core, has been "super funny" and "provocative" in its comedy, Soto Lamb said.
"There are a lot of problems, and I'm grateful for brands that take the power of their position for curing illnesses -- but they're not divisive," she said. "We're all for addressing some problems that we can all agree on, but I think that this is a brand that is more willing to raise and critique, in its comedy, more difficult issues, and I hope that will lead us to go the extra step and find ways to fix them."
Soto Lamb's grassroots and issue advocacy path to an entertainment company's vice president role isn't typical, O'Guinn said, and hiring someone from outside the network could bode well for its initiatives.
"It sort of has an effect where no matter how committed to a cause you are, if you work at a company long enough, the culture seeps in," he said.
Typically, corporate social responsibility roles sit in a realm between human resources and the public relations department, and O'Guinn said that could make it difficult for other companies to publicly announce the addition of the role.
"Some companies are going to brag about it if they think that it makes them look good. They're not going to make a big deal about it if it's a retrograde, knuckle-dragging company anyway, and it looks like they're doing it to fix a problem," he said. "I can imagine some companies adding this and not saying much about it because somebody's reaction is going to be 'Well, for God's sake, it's about time.'"
Comedy Central has been commenting and critiquing and poking fun at the various and many social and political issues for a long time ... but what is new is the interest in not just the critique of comedy, but also the transition to a more constructive comedy.
Erika Soto Lamb, social impact VP for Comedy Central.
While its path might be considered unorthodox, Comedy Central is not alone. HBO created its corporate social responsibility team in 2010 with about four employees, and they put network veteran Dennis Williams, the current senior vice president of corporate social responsibility, at the helm. Now, it's a bicoastal team of 12 employees.
"In the beginning, we were managing smaller campaigns -- things like if the talent wanted to do it, we'd help find ways to engage with that one person," Williams said. "But now the campaigns are much larger and involve an entire show or the entire brand."
A lot of what the HBO team focuses on is found within its content and programming, and the group works closely with the network's marketing, social media and branding units to coordinate  initiatives. Williams said whenever they're looking at whether HBO should be involved in a certain cause -- like immigration issues or inclusivity in Hollywood -- they weigh if there's an expectation for a brand of their kind to have a voice.
For example, last month, the channel recruited cast members from "Westworld," "Silicon Valley" and "The Deuce" to appear in a 60-second social media video created in partnership with Rock the Vote to encourage people to register to vote in time for the November elections. In August, HBO launched its Because of Her campaign, highlighting the women who work behind the screens.
"More and more companies are creating positions and organizing around social responsibility and social impact, and the more of us doing this work, the better," Williams said. "Companies have a tremendous amount of social resource that could be used in very, very positive ways."
With the newly created position, Comedy Central is poised to start tackling social issues in new and creative ways -- but it will have its own spin. Unlike other networks, all of Comedy Central's programming is intended to do at least one thing: Make people laugh. And Soto Lamb is eager to figure out how the network will strike a balance between activism and comedy.
Up first? Figuring out what issue they'll take on.
"Literally take your pick" of issues, Soto Lamb said, "and it's in the mix."
Sam Sabin previously worked at Morning Consult as a reporter covering tech.
We want to hear from you. Reach out to this author or your Morning Consult team with any questions or comments.
Contact Us