Cornyn Backs Wyden's Call to Have Drug Executives Testify Before Senate Panel
It's a good idea, Senate majority whip says, but he also wants money for border security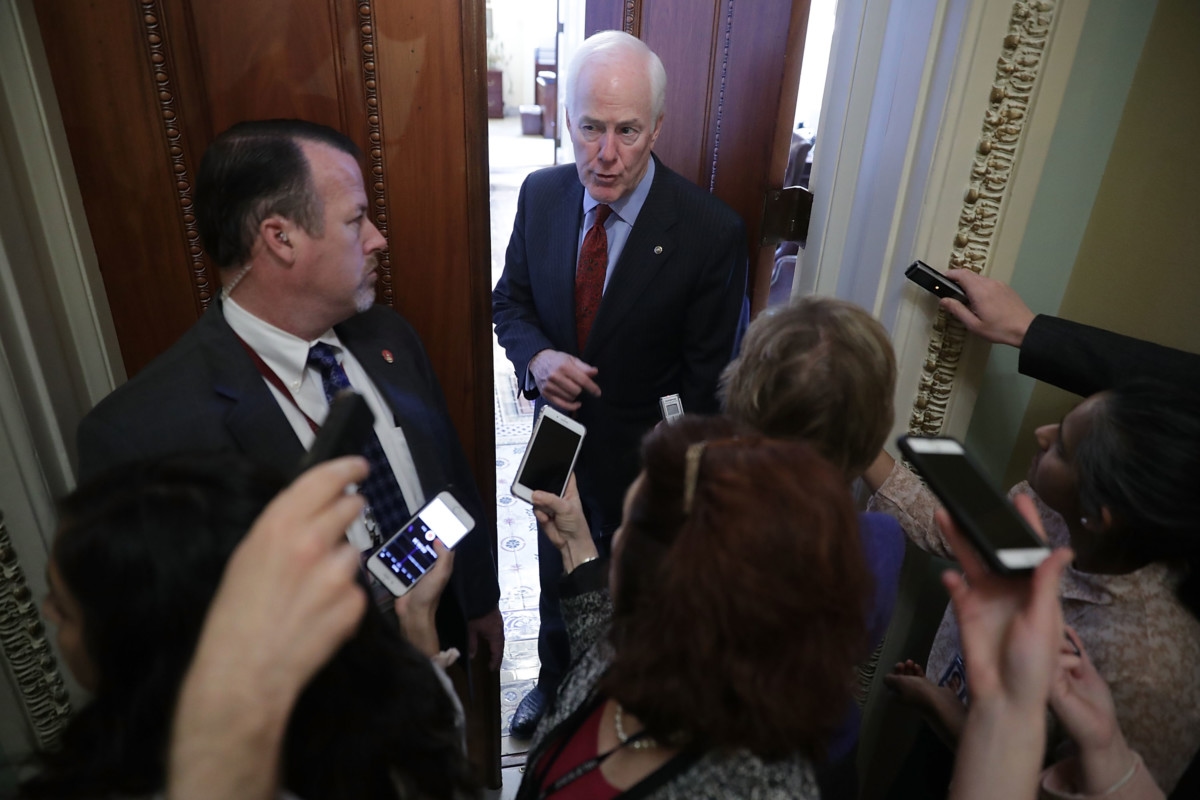 Senate Majority Whip John Cornyn said Thursday that he is open to summoning drug company executives to testify before Congress on the opioid epidemic, an idea suggested by Sen. Ron Wyden (D-Ore.) earlier during a Senate Finance Committee hearing on the opioid crisis, but Cornyn also wants to see funding for border security.
Cornyn made the remarks when asked about Wyden's call for executives of companies that manufacture and distribute powerful opioid painkillers to be called to testify before the Senate Finance Committee.  
"I think that would be a good idea, but I also think it would be a good idea for us to address the flow of opioids in the form of heroin coming across the border," Cornyn (R-Texas) said Thursday in a brief interview on Capitol Hill.
In February, the Senate rejected a bipartisan immigration deal that would approve $25 billion for border security, including money for President Donald Trump's wall across the U.S.-Mexico border. In separate remarks during the Senate Finance Committee hearing, Cornyn reiterated the money for border security is crucial to fighting the opioid epidemic because addressing only prescription drugs and ignoring heroin and fentanyl trafficking would mean "we would not be able to get our arms around this epidemic."  
Five current and former executives of opioid distributors are set to testify before a House Energy and Commerce subcommittee on May 8. So far, no similar action has been taken in the Senate.
Wyden, the top Democrat on the Senate Finance Committee, wants leaders of drug manufacturers to testify in addition to executives of drug distributors
"The executives need to be brought before this committee that pays for so much of American health care and be held accountable," Wyden said in his opening remarks. "Congress would be derelict in its responsibilities if it pretends there is no profit motive or corporate scheming behind the addiction crisis."
In making his case, Wyden drew a parallel to when some tobacco company executives were summoned to testify before Congress in 1994.
"Back then, it was tobacco executives that concealed the dangers of the products and denied they were addictive," Wyden said. "Now, it's the opioid companies."
Asked whether Committee Chairman Orrin Hatch (R-Utah) supports Wyden's proposal, Committee Deputy Communications Director Katie Niederee said Thursday by email that Hatch "will be discussing with his colleagues on how they would like to move forward" on the issue.
Thursday's hearing kicked off a bipartisan committee effort to draft legislation that would make changes to Medicare and Medicaid in response to the opioid crisis. The push is one of several efforts on Capitol Hill on opioid-related legislation.
Jon Reid is a research editor for domestic and world politics at Morning Consult. Prior to his current role, he was a politics editor with Morning Consult's editorial division. Jon joined Morning Consult from Bloomberg Industry Group, where he reported on telecommunications policy and edited newsletters. He graduated from Arizona State University. Follow him on Twitter at @JonTReid.
We want to hear from you. Reach out to this author or your Morning Consult team with any questions or comments.
Contact Us