Congress and Trump Share Blame From Voters for Lapsed Unemployment Benefits
35% blamed Democrats and Republicans on Capitol Hill, while 27% blamed Trump
Key Takeaways
46% of voters trust congressional Democrats to handle the coronavirus, 14 points more than the 32% who trust the GOP to do the same.

Democrats in Congress lead Republicans, 43% to 41%, when voters were asked whom they trust more to handle jobs.

48% saw, read or heard "a lot" about failed relief negotiations on Capitol Hill, making it one of of the bigger Hill-centric news stories of 2020.
Democrats and Republicans in Washington failed to reach an agreement to extend a coronavirus relief provision granting recipients of unemployment insurance an additional $600 a week in benefits, and a new Morning Consult/Politico poll shows that the American electorate is holding both sides responsible for the lapse.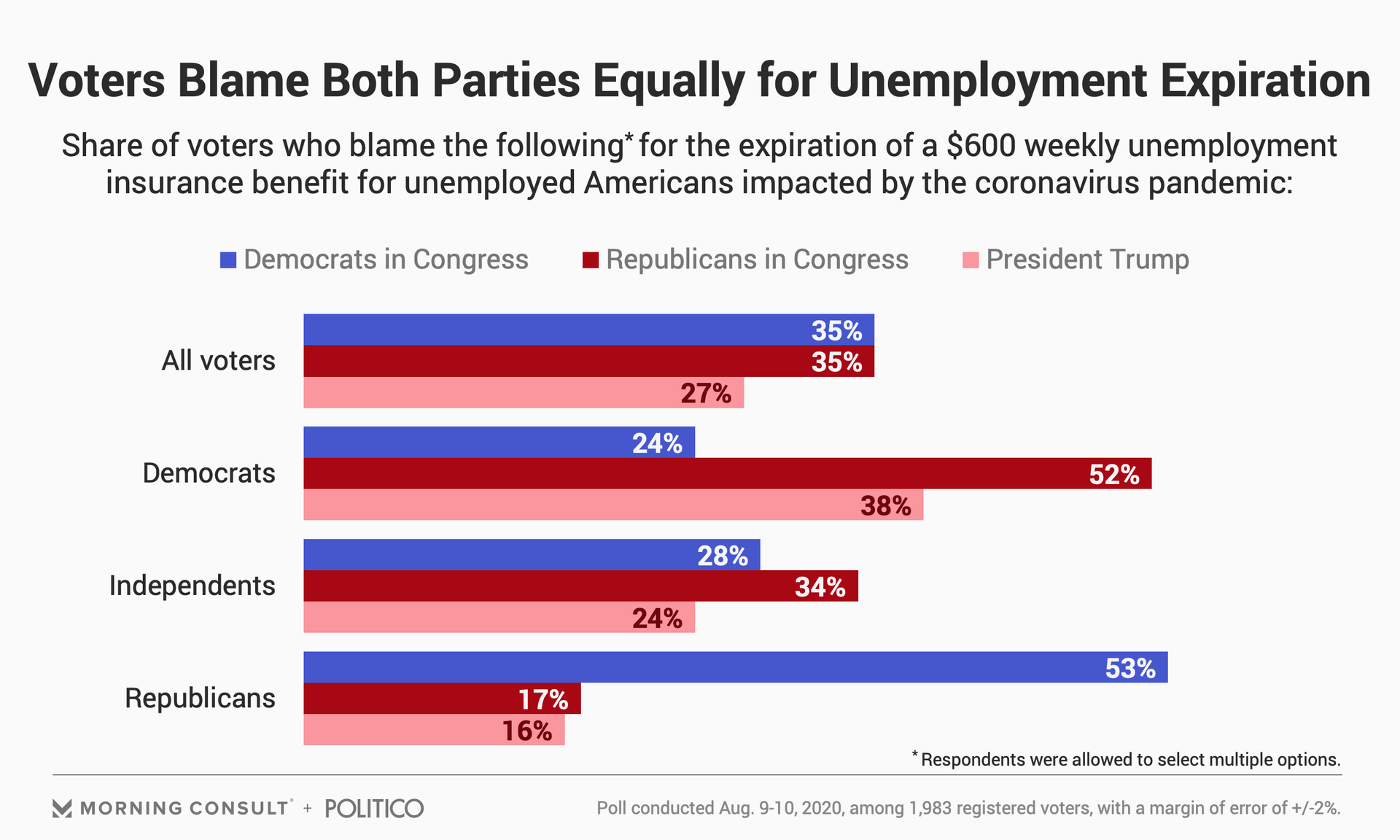 Thirty five-percent of voters in the Aug. 9-10 poll blamed Democrats in Congress for the expiration -- the same share who blame Republicans on Capitol Hill -- while another 27 percent said they blame President Donald Trump. Democratic voters were 7 percentage points more likely to fault their own party's lawmakers than Republicans were (24 percent to 17 percent). By a 6-point margin, independents were more likely to point fingers at congressional Republicans than Hill Democrats.
Despite being found equally culpable for the lapse in benefits, congressional Democrats were more trusted than their GOP counterparts on the larger issues at the core of the negotiations, according to the survey of 1,983 registered voters, which has a 2-point margin of error. 
Democrats have a 14-point advantage over Republicans on whom voters trust more to tackle the coronavirus (46 percent vs. 32 percent). And while the GOP has traditionally been more favored to handle jobs, that edge has evaporated in recent months, with the new poll finding that 43 percent trust the Democrats more, compared with 41 percent who trust Republicans.
The poll was conducted following the unsuccessful conclusion of another round of talks between House Speaker Nancy Pelosi (D-Calif.) and Senate Minority Leader Chuck Schumer (D-N.Y.) and the lead negotiators from the Trump administration, White House chief of staff Mark Meadows and Treasury Secretary Steven Mnuchin. 
The enhanced unemployment benefit -- which is backed by 3 in 5 voters, but opposed by 50 percent of Republicans -- is one of a number of provisions that have divided lawmakers, with Democrats publicly pushing for something that looks more like the $3 trillion House-passed Heroes Act and Republicans aiming to hew closer to the Senate GOP's $1 trillion plan, which kickstarted negotiations.
In the face of congressional gridlock, Trump announced a presidential memorandum seeking to temporarily continue a boost for unemployment insurance beneficiaries, but at a lower level. 
Governors on both sides of the aisle, who are tasked with administering that temporary assistance in their states, panned Trump's move, saying it was difficult to implement. Gov. Andrew Cuomo (D-N.Y.), chairman of the National Governors Association, and Gov. Asa Hutchinson (R-Ark.), the organization's vice chairman, called on Congress to act.
Compared to most other Congress-centric storylines tracked by Morning Consult, the standoff on Capitol Hill resonated quite deeply with voters: Roughly half (48 percent) said they'd seen, read or heard "a lot" about the failed negotiations. In another Morning Consult/Politico poll released last week, 41 percent said they'd heard "a lot" about the expiration of the enhanced benefit.
Congressional inaction appears to be taking a toll on the institution's reputation: A separate Morning Consult poll clocked Congress at its worst marks for handling the coronavirus pandemic in 29 surveys conducted this year, with 29 percent approving and 57 percent disapproving. For comparison, 37 percent of voters approve of Trump's pandemic response and 58 percent disapprove.
Eli Yokley is Morning Consult's U.S. politics analyst. Prior to his current role, Eli was Morning Consult's senior reporter covering U.S. politics. Eli joined Morning Consult in 2016 from Roll Call, where he reported on House and Senate campaigns after five years of covering state-level politics in the Show Me State while studying at the University of Missouri in Columbia, including contributions to The New York Times, Politico and The Daily Beast. Follow him on Twitter @eyokley. Interested in connecting with Eli to discuss his analysis or for a media engagement or speaking opportunity? Email [email protected].
We want to hear from you. Reach out to this author or your Morning Consult team with any questions or comments.
Contact Us