Amid 'Cuties' Controversy, Netflix Favorability Takes a Hit Among Republicans
74% of Republicans held a favorable view of Netflix as of Sept. 9, but that share has fallen to 63% as of Sept. 17
Key Takeaways
Netflix's net favorability (favorable view share minus unfavorable view share) among Republicans has fallen 21 points since the Sept. 9 premiere of the film.

Net purchasing intent (share who plan to purchase minus share who don't) fell 12 points among all adults and 16 points among Republicans in the week after "Cuties" premiered on Netflix.
Netflix Inc. has found itself in the middle of controversy surrounding its new film "Cuties," with social media users calling to #CancelNetflix and politicians publicly scrutinizing the movie and going as far as asking for a Justice Department investigation. Morning Consult Brand Intelligence data finds the streaming service's favorability has taken a hit among Republicans in the midst of the controversy.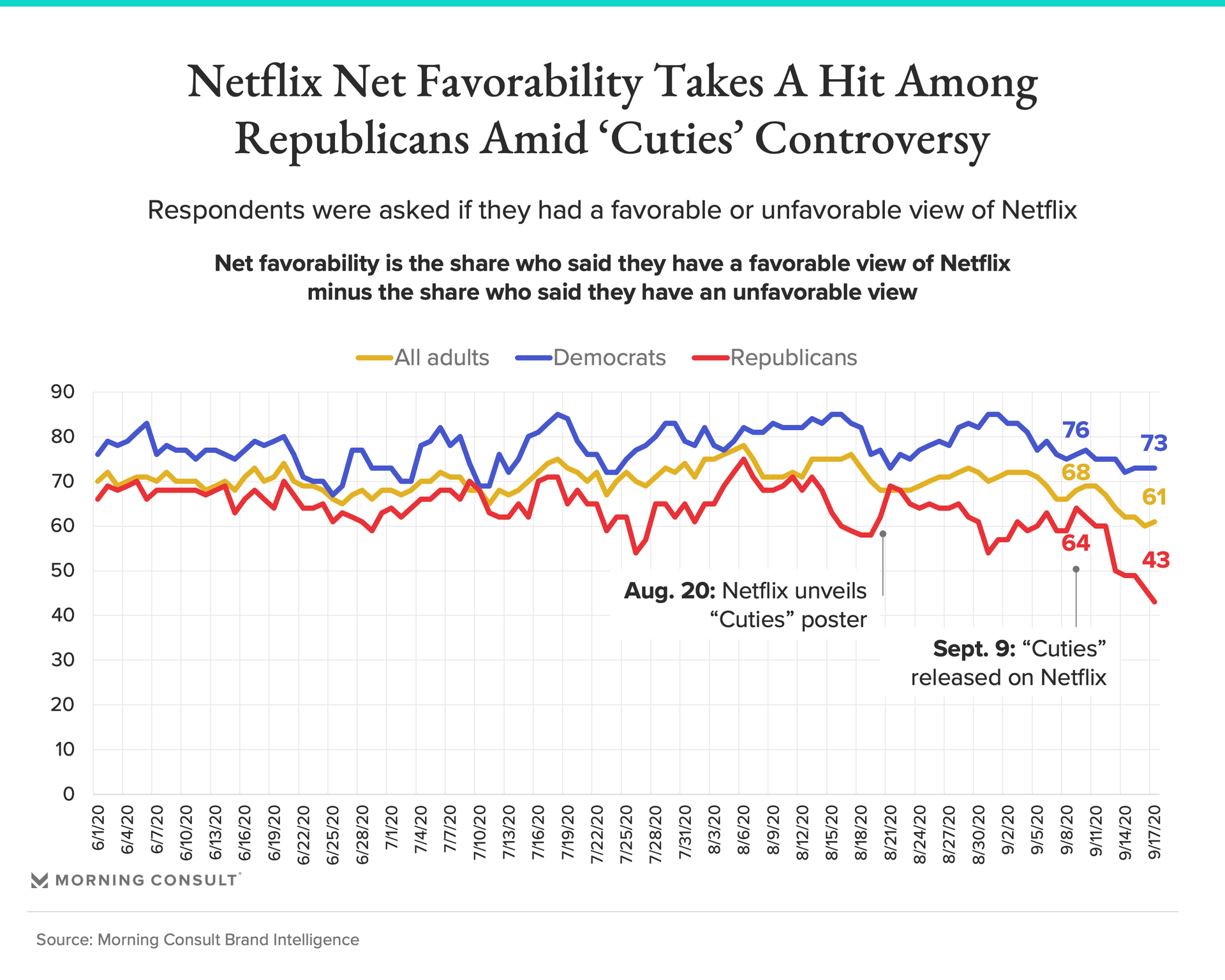 On Sept. 9, the day "Cuties" premiered on Netflix, 74 percent of Republicans held a favorable view of the service, while 10 percent had an unfavorable review, resulting in a net favorability of 64 points (net favorability is the share who have a favorable view minus the share who have an unfavorable view). However, in the following days, net favorability among Republicans fell 21 points, with 63 percent of Republicans having a favorable view of the company, and 20 percent holding an unfavorable view.
Purchasing intent among Republicans has also fallen since the "Cuties" release, albeit not as dramatic of a fall as favorability. On Sept. 9, 59 percent of Republicans said they were likely to purchase a Netflix subscription, but as of Sept. 17, that share had fallen 10 points.
Netflix declined to comment on the data, but in a statement, a spokesperson said the film is "a social commentary against the sexualization of young children" that looks at the societal pressures young girls face, adding that they "encourage anyone who cares about these important issues to watch the movie."
The controversy around the Maïmouna Doucouré-directed film, which won a jury directing prize at this year's Sundance Film Festival, began in late August when Netflix unveiled marketing materials for the film. Social media users criticized the film's promotions, which featured the actresses, who are all minors, in costumes that showed their legs and midriffs, of sexualizing young girls. Netflix apologized for the artwork and updated the film's poster and description.
After the film was made available on Netflix, Sen. Josh Hawley (R-Mo.) tweeted his concern that the film promoted child sexual exploitation and in a separate tweet said "Maybe Netflix would like to come talk this over before Congress." Sen. Ted Cruz (R-Texas) sent a letter to Attorney General Willam Barr asking the Justice Department to investigate whether Netflix and the team behind "Cuties" violated child pornography laws during filming. 
Sen. Tom Cotton (R-Ark.), Rep. Tulsi Gabbard (D-Hawaii), and Rep. Jim Banks (R-Ind.) also expressed concern about the film.
Republicans are more likely to have heard negative news about Netflix, which could be due in part to Fox News' coverage of the "Cuties" controversy: 23 percent of Republicans said they've heard negative buzz, compared to 6 percent of Democrats.
According to figures from YipitData cited by Variety, Netflix's U.S. cancellation rate reached a multiyear high on Sept. 12, nearly eight times higher than daily averages recorded in August 2020.
This story has been updated with comment from Netflix.
Sarah Shevenock previously worked at Morning Consult as a reporter covering the business of entertainment.
We want to hear from you. Reach out to this author or your Morning Consult team with any questions or comments.
Contact Us