Days Before Midterms, GOP Messaging on Health Care Hasn't Swayed Voters
Voters continue to trust Democrats more on major health issues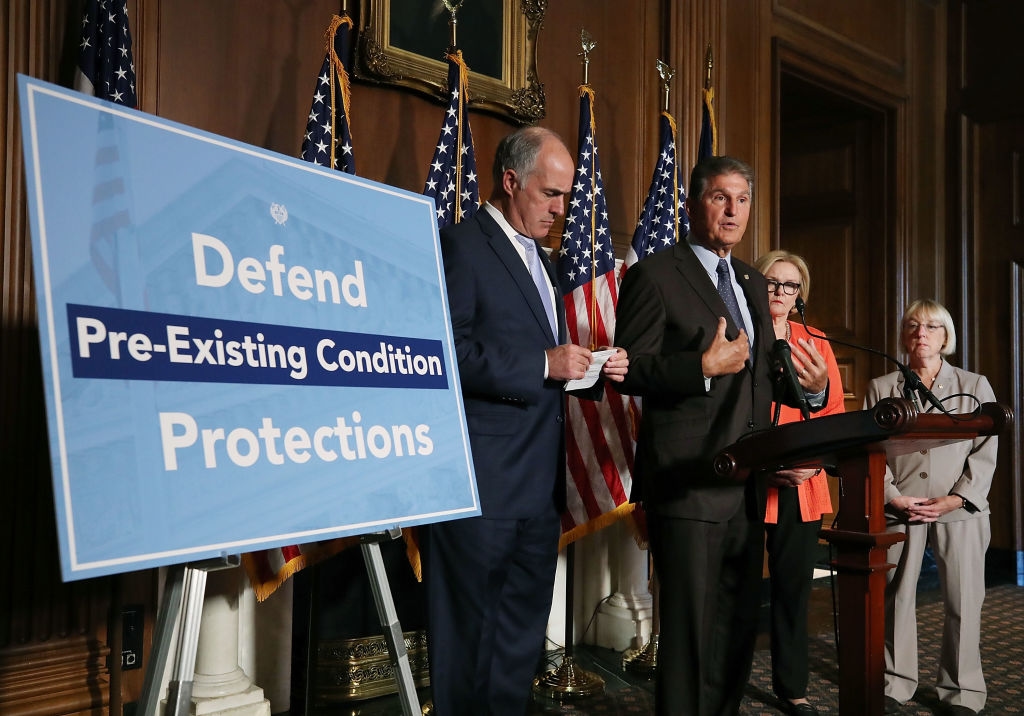 Key Takeaways
49% of voters say they trust Democrats more on health care in Oct. 25-30 poll, versus 35% who trust Republicans, the same share as on Oct. 7.

But among independents, fewer see Democrats as protectors of Medicare benefits, from 49% on Oct. 7 to 43% in most recent survey.
On Wednesday morning, just shy of a week before the midterm elections, President Donald Trump took to Twitter to declare, "Republicans will protect people with pre-existing conditions far better than the Dems!"
The president tweeted a similar endorsement on Oct. 24 - and Americans appeared to be paying attention: That same day, Google searches for the term "pre-existing condition" spiked to their highest level in the past 12 months, according to Google Trends data.
But Trump's message has not appeared to resonate with voters ahead of the midterms. In the Oct. 25-30 Morning Consult/Politico survey, the share of voters who placed greater trust in the GOP on health care was 35 percent -- unchanged from the three surveys conducted in the prior three weeks.  
By contrast, in the most recent poll, conducted among 2,543 voters, 49 percent said they trust Democrats more on the issue. Among independents, more chose Democrats (41 percent) than Republicans (33 percent). The survey's margin of error is 2 percentage points.
The recent efforts from Trump follow several consecutive weeks of Republican candidates in dead-heat congressional races campaigning on a commitment to protect patients with pre-existing conditions, defend funding for entitlement programs and lowering excessive costs for prescription drugs.
Over that time period, Senate Majority Leader Mitch McConnell again raised the possibility of repealing the Affordable Care Act and blamed the widening federal deficit on entitlement programs such as Medicare and Social Security. Meanwhile, Senate Republicans blocked legislation that would have prevented the expansion of short-term health plans, which are not required to offer the same consumer protections found in ACA plans.
Per the latest survey, Democrats hold a 25-point lead over Republicans on upholding protections for patients with pre-existing conditions. Fifty-three percent of voters -- including a 48 percent plurality of independents -- thought Democrats were more likely to protect this population, while 28 percent chose Republicans.
The share of respondents who said Republicans are more likely to address the rising cost of prescription drugs and protect Medicare benefits rose 3 points each between the Oct. 7 survey and the most recent survey, but Democrats still hold the lead on both issues.
In the most recent survey, 45 percent of voters said Democrats are likely to address rising drug prices, compared to 34 percent who chose Republicans. On protecting Medicare benefits, 51 percent chose Democrats and 30 percent picked the GOP.
But while Democrats held an advantage on both issues with independents, their lead has narrowed: In the latest survey, 43 percent of independent voters said Democrats were more likely to protect Medicare benefits, down 6 points from the Oct. 7 poll, while support for Republicans rose 7 points to 29 percent.
And 38 percent of independents picked Democrats on the issue of higher drug costs, down 4 points from Oct. 7, while support for Republicans on the issue rose 6 points to 31 percent.
The shift in the views of independents came after Trump signed two bills on Oct. 10 banning "gag clauses," which prohibit pharmacists from telling customers when their drug would be less expensive to purchase out-of-pocket instead of via a co-pay, and proposed reducing prices of drugs under Part B of Medicare on Oct. 25.
Yusra Murad previously worked at Morning Consult as a reporter covering health.
We want to hear from you. Reach out to this author or your Morning Consult team with any questions or comments.
Contact Us