Trump Fails to Impress Voters at First Debate Against Biden
By a 16-point margin, voters said Joe Biden outperformed the Republican incumbent
Key Takeaways
37% of voters who watched the debate said President Trump is a good debater, down 10 points from a poll taken just before the moderated discussion.

52% of debate watchers said they did not enjoy watching the debate, with 71% saying the president was the more interruptive presence on stage.

72% of debate watchers said it would be a good idea to allow moderators to mute candidates' microphones.
President Donald Trump's performance at Tuesday night's debate against Democratic nominee Joe Biden didn't cut it with most voters, according to a new Morning Consult/Politico poll. 
The Sept. 30 survey found 34 percent of registered voters who watched the matchup said Trump performed best, compared with 50 percent who said Biden had the superior performance. Additionally, Democrats who watched the debate left it more confident about the showing of their party's standard-bearer than Republicans, with Biden also leading among  independent voters who tuned in on Tuesday.
Biden exceeded expectations for the debate: A Morning Consult/Politico poll conducted ahead of the event found Biden narrowly favored to triumph in the moderated discussion, with 44 percent of voters saying they expected Biden to perform best, compared with 41 percent who said they expected Trump to do better. 
The debate, which was dominated by personal attacks from both candidates and a disproportionate number of interruptions from the president, faced broad criticism for its lack of seriousness and focus at a critical moment in the nation's history. Large shares of voters said that there was not enough discussion about issues such as the coronavirus pandemic (47 percent), the economy (53 percent) and police reform (54 percent). 
NBC's Lester Holt called the showing a "low point in political discourse" and CNN's Dana Bash dubbed it a "s--t show" live on the cable channel's air moments after her colleague Jake Tapper referred to it as "the worst debate I have ever seen." Even moderator Chris Wallace expressed remorse over how things went, telling The New York Times he was "disappointed for the country, because it could have been a much more useful evening than it turned out to be."
The major media figures were not alone in their assessment: 52 percent of the 1,277 registered voters who tuned in for the matchup said they did not enjoy the viewing experience, while 42 percent did. Responses among debate watchers carry a margin of error of 3 percentage points, while the broader poll of 1,856 voters has a 2-point margin of error.
Women, at 55 percent, were 6 points more likely than men to say they did not enjoy the viewing experience, with the gender gap most prominent among Republican viewers.
Heading into the debate, Biden was heavily favored over Trump on whether he possesses the qualities of compassion, leadership, stability and honesty, and the two were roughly tied on mental fitness, which Trump and his allies have sought to weaponize as a weakness of the Democratic candidate. But if Republicans were hoping Tuesday night's event in Cleveland would validate their months of attacks, the poll's results find reason for disappointment.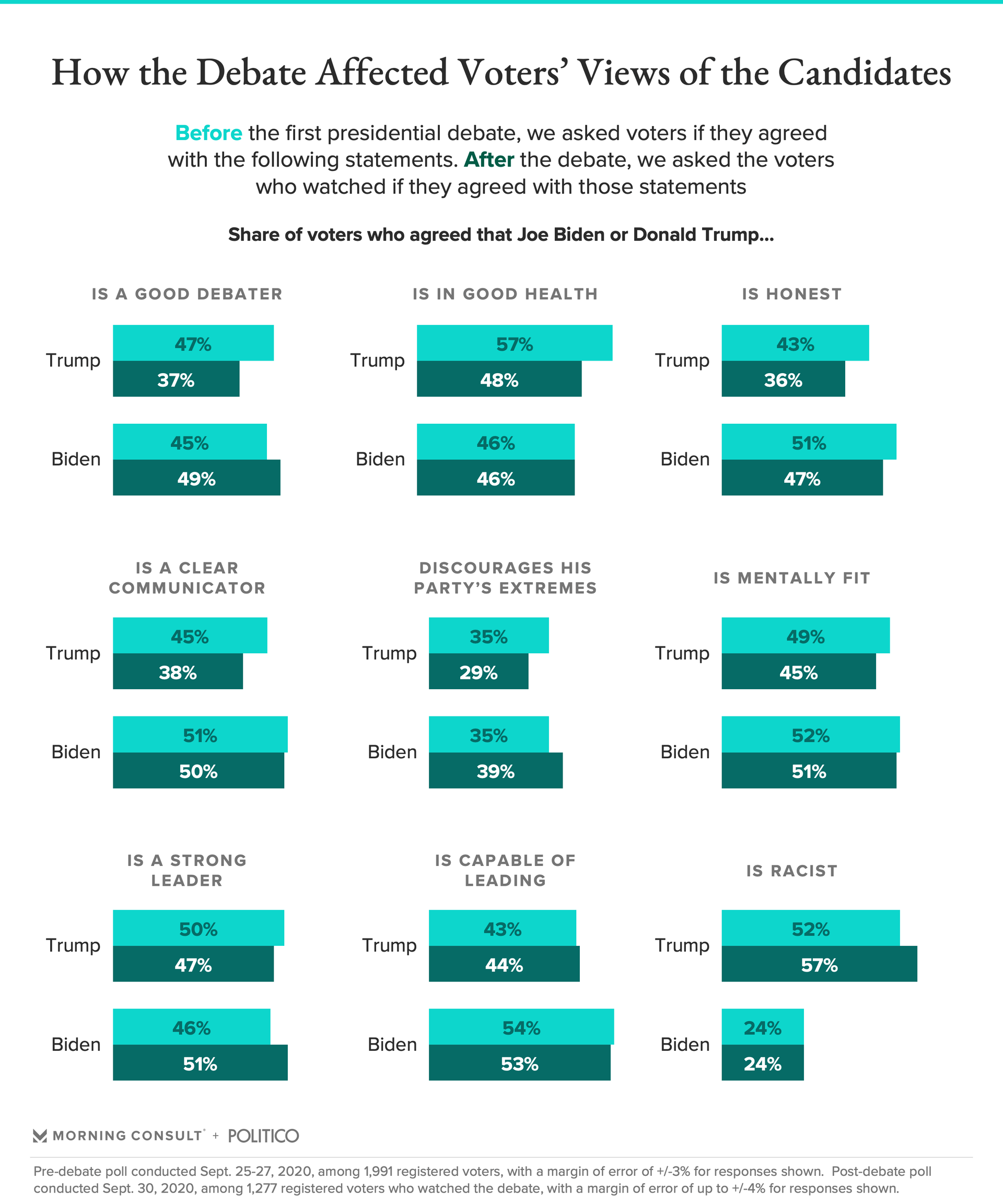 When comparing responses from debate watchers to those from voters in the pre-debate survey, evaluations of Biden's mental acuity held steady and the former vice president expanded his advantage over Trump on honesty. After the debate, voters were more likely than they were pre-debate to characterize Biden as a strong leader and as someone who discourages his party's extremes. Trump, on the other hand, dropped 6 points on the question of whether he discourages his party's extremes after he was skewered by Democrats and even some in his own party for not denouncing white supremacist groups from the lectern in front of an estimated 73.1 million people, per Nielsen.
The share who called Trump a good debater also fell 10 points, to 37 percent, among those who watched, while the share who said the same of Biden increased 4 points, to 49 percent, setting higher expectations for their next parley on Oct. 15. (The poll found 69 percent of voters tuned in, with roughly equal shares of Republicans and Democrats saying the same -- similar to Morning Consult findings from the first debate of the 2016 cycle.)
Several news stories surfaced on Wednesday with quotes from Republicans and other allies of the president expressing dismay about his conduct during the debate and his repeated interruptions. The poll shows many voters shared those concerns.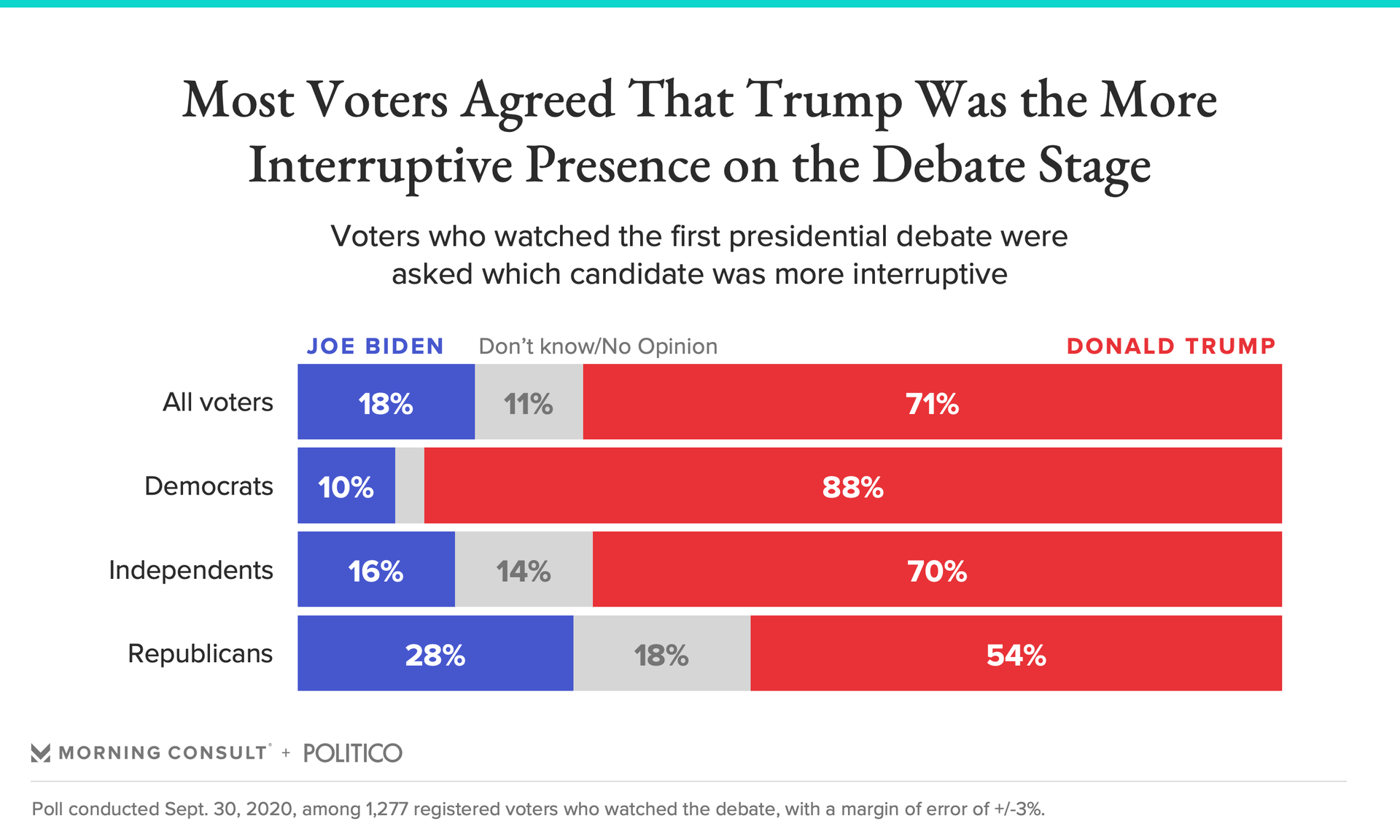 Among voters who saw the debate, the vast majority (71 percent) agreed that Trump was the more interruptive presence on stage, including 54 percent of Republicans. The Washington Post confirmed that he accounted for more than 75 percent of Tuesday night's interruptions. 
The debate's quick descent into a morass of inanity -- where it mostly stayed for the rest of the night -- prompted calls for more measures enforcing allotted speaking time on stage. Those calls were quickly heeded by the Commission on Presidential Debates, which issued a statement Wednesday that "additional structure should be added to the format of the remaining debates to ensure a more orderly discussion of the issues." As it turns out, most voters agree.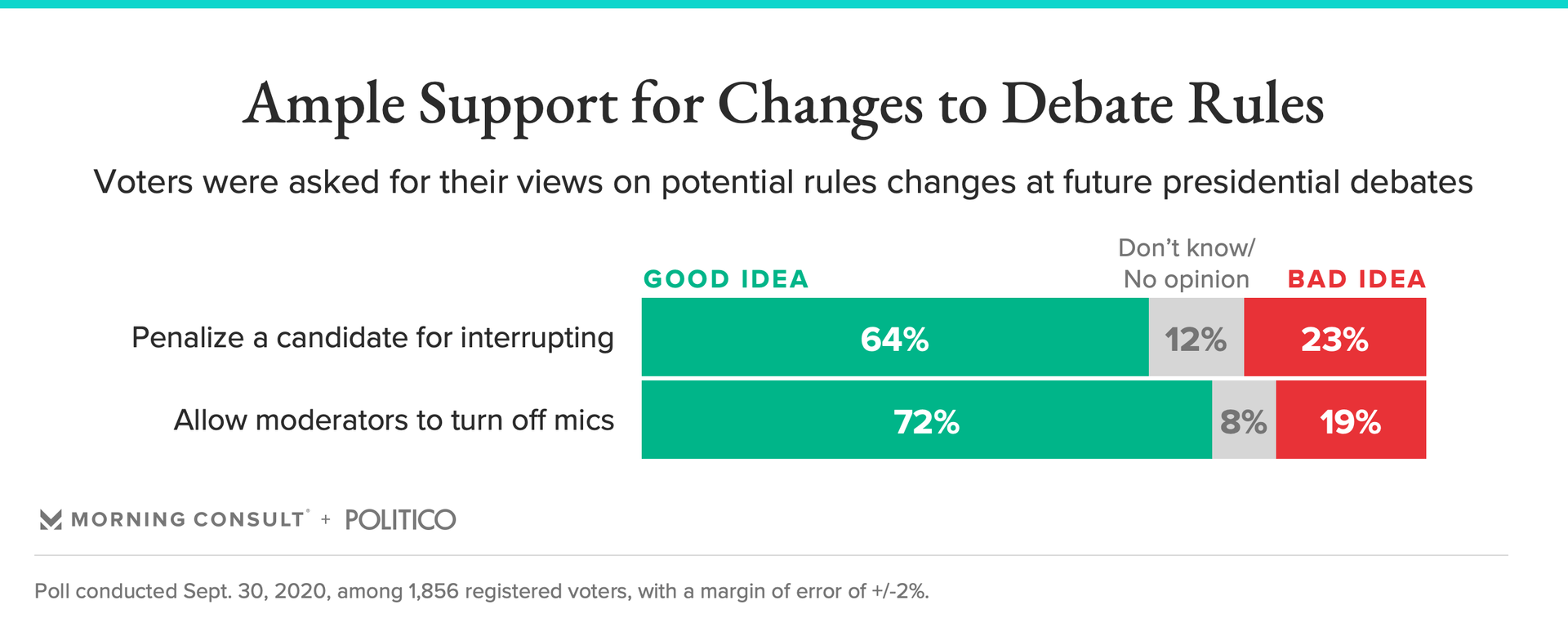 Two changes -- penalizing candidates for interrupting and giving moderators the ability to turn off a candidate's microphone -- were backed by solid majorities of debate viewers. 
Support for muting microphones in the case of interruptions was particularly popular, even across the aisle, with 86 percent of Democrats, 72 percent of independents and 60 percent of Republicans agreeing that implementing the rule would be a good idea.
Eli Yokley is Morning Consult's U.S. politics analyst. Eli joined Morning Consult in 2016 from Roll Call, where he reported on House and Senate campaigns after five years of covering state-level politics in the Show Me State while studying at the University of Missouri in Columbia, including contributions to The New York Times, Politico and The Daily Beast. Follow him on Twitter @eyokley. Interested in connecting with Eli to discuss his analysis or for a media engagement or speaking opportunity? Email [email protected].
We want to hear from you. Reach out to this author or your Morning Consult team with any questions or comments.
Contact Us