Democratic Voters Show Growing Appetite for Nixing the Filibuster
34% of Democrats say Congress should prioritize elimination of the 60-vote threshold – up 10 points since January
Key Takeaways
A 45% plurality of voters, including 62% of Democrats, say bills should only need a simple majority to pass the Senate.

The growing sense of importance for filibuster reform among Democrats comes amid an increase in the share who say Congress should make gun control a "top priority" since recent shootings.

42% of Democrats said immigration reform should be a top priority, up 8 points since the beginning of the year.
In the face of opposition to President Joe Biden's agenda among Republicans on Capitol Hill, Democratic voters increasingly want to see the legislative filibuster eliminated.
Morning Consult/Politico polling shows that more than a third of Democrats (34 percent) say abolition of the 60-vote threshold to advance legislation in the Senate should be a "top priority," up 10 percentage points since the 117th Congress convened in January, while another 3 in 10 say it should be an "important, but lower" priority – roughly in line with most previous polls.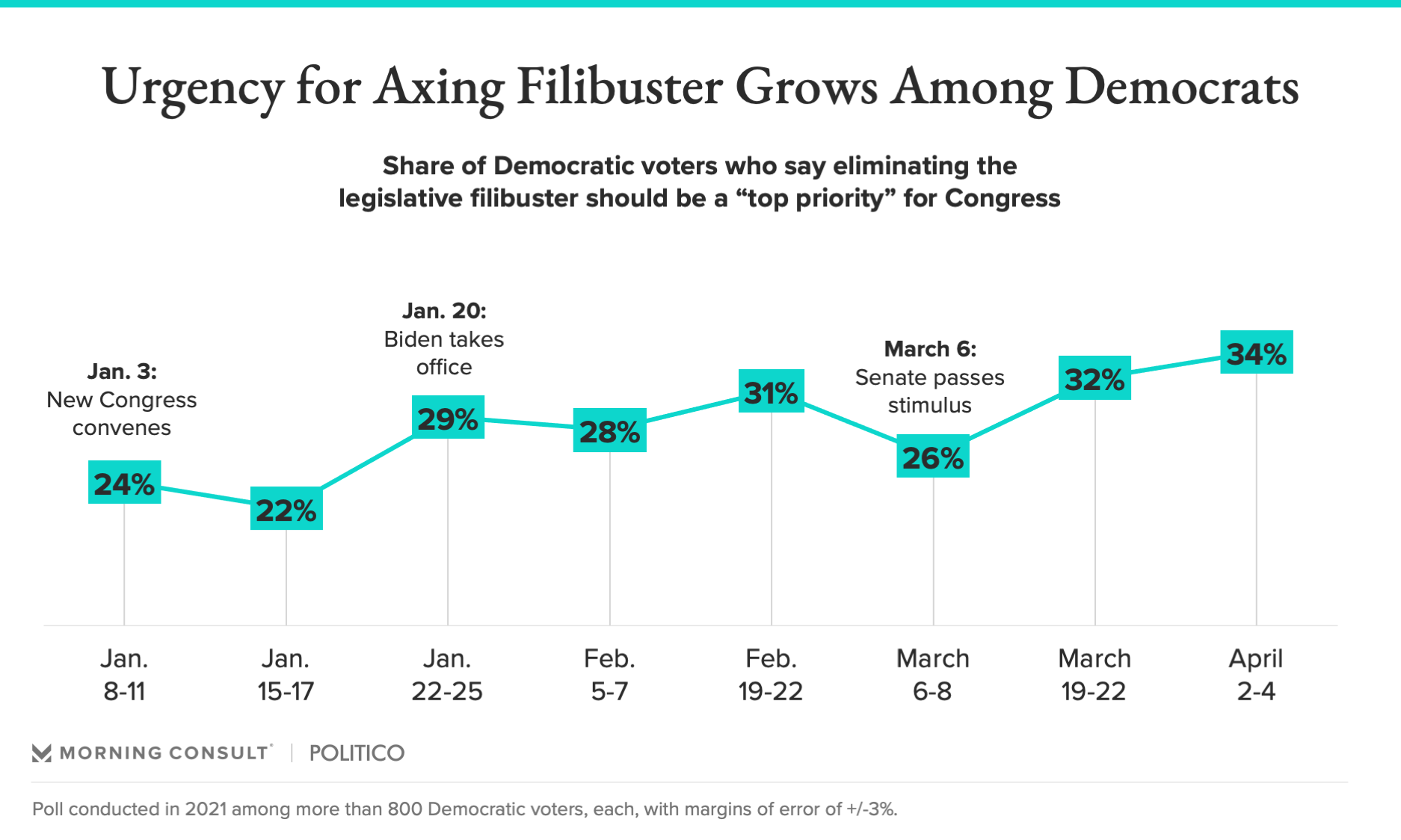 The uptick in prioritization comes a week after another Morning Consult/Politico survey found that a 45 percent plurality of voters – including 62 percent of Democrats – said bills in the Senate should only be required to have a simple majority in order to pass.
The latest survey of 825 Democratic voters was conducted April 2-4 – before the Senate parliamentarian ruled that Democrats can use the budget reconciliation process multiple times on the same underlying budget resolution, which would allow Democrats to continue bypassing the filibuster with a simple majority for major legislation that clears certain procedural hurdles. 
While the details are not yet fully clear, the ruling could potentially alleviate the need for bipartisan support for Biden's major spending measures on infrastructure and social spending programs in the evenly divided Senate while appeasing the growing pressure from the Democratic base to pass an infrastructure spending bill or a measure to reduce inequality in the United States. But the process likely could not be used to address other growing issues among Democratic voters, such as sweeping overhauls on immigration, election administration or gun control, which are expected to lack the budgetary impact to fall into line with the reconciliation rules.
The growing focus among Democratic voters on eliminating the filibuster is virtually matched by an increased appetite for gun legislation, immigration reform and infrastructure spending as the party enters its third month in full control of Capitol Hill.
Nearly 3 in 5 Democrats (58 percent) said the Congress should make passing legislation placing additional restrictions on gun ownership a "top priority" – up 17 points since March 6-8 polling conducted ahead of mass shootings in Atlanta and Boulder, Colo., which precipitated a renewed push among Democratic voters to eliminate the filibuster. 
Since the beginning of the year, the share of Democrats who prioritize immigration reform has increased 8 points, to 42 percent, as the surge of migrants at the U.S.-Mexico border in recent weeks drew national attention. 
Democrats are still most likely to prioritize COVID-19 economic stimulus, but interest in congressional action on the issue has waned slightly following the enactment of Biden's $1.9 trillion relief package early last month.
Eli Yokley is Morning Consult's U.S. politics analyst. Prior to his current role, Eli was Morning Consult's senior reporter covering U.S. politics. Eli joined Morning Consult in 2016 from Roll Call, where he reported on House and Senate campaigns after five years of covering state-level politics in the Show Me State while studying at the University of Missouri in Columbia, including contributions to The New York Times, Politico and The Daily Beast. Follow him on Twitter @eyokley. Interested in connecting with Eli to discuss his analysis or for a media engagement or speaking opportunity? Email [email protected].
We want to hear from you. Reach out to this author or your Morning Consult team with any questions or comments.
Contact Us