Detroit Debates Deliver Meager Returns for Biden's Challengers
Roughly one-third of Democratic primary voters still want the former vice president to lead party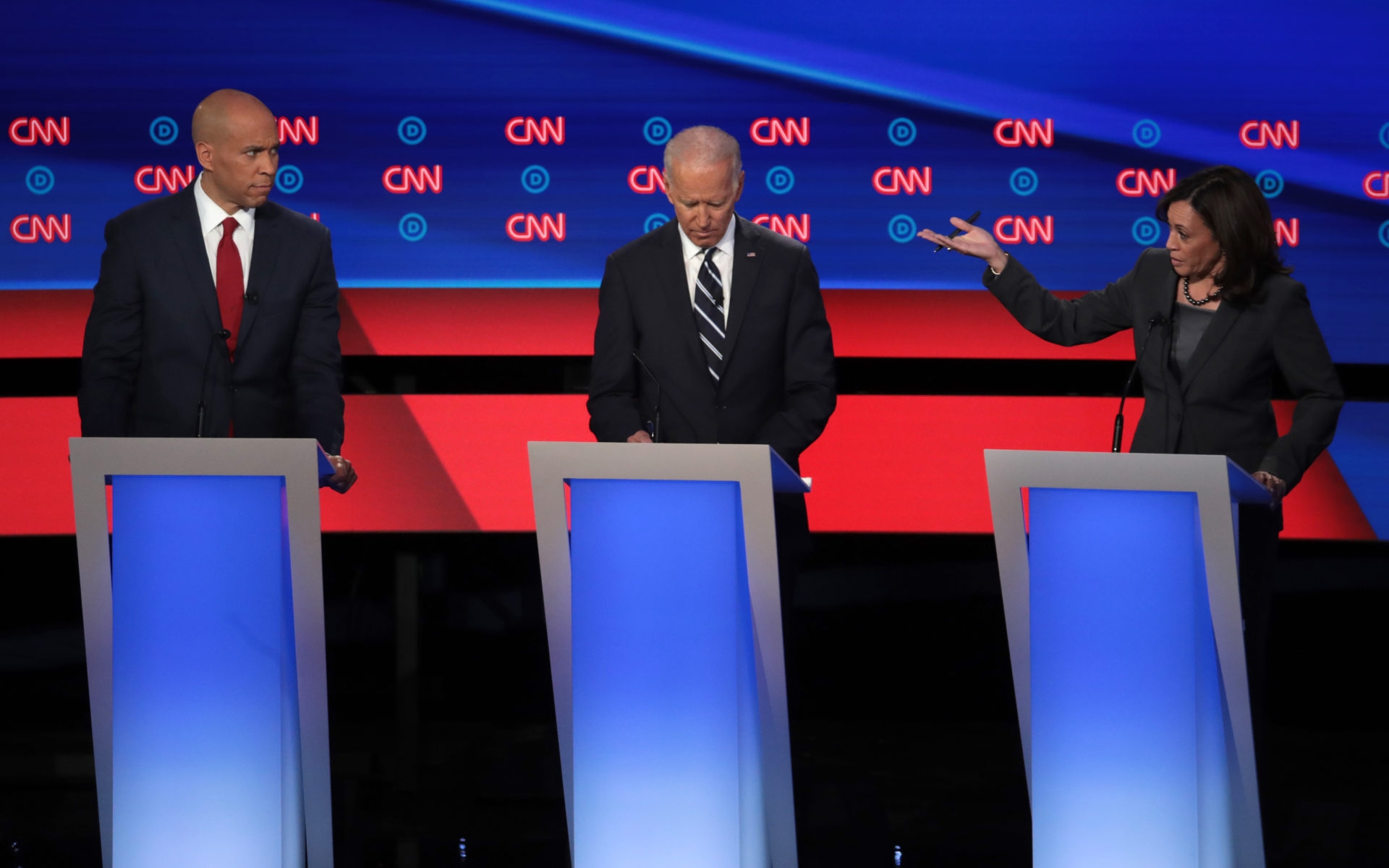 Standing in contrast to the first set of Democratic debates, this week's matchups did little to immediately impact potential Democratic primary voters' preferences for president.
Thirty-two percent of Democratic primary voters said they still want to see former Vice President Joe Biden at the top of the party's 2020 ticket, according to new Morning Consult polling conducted after the Tuesday and Wednesday debates in Detroit. That figure hasn't shifted much since the end of the first round of debates, when 33 percent said Biden was their first choice.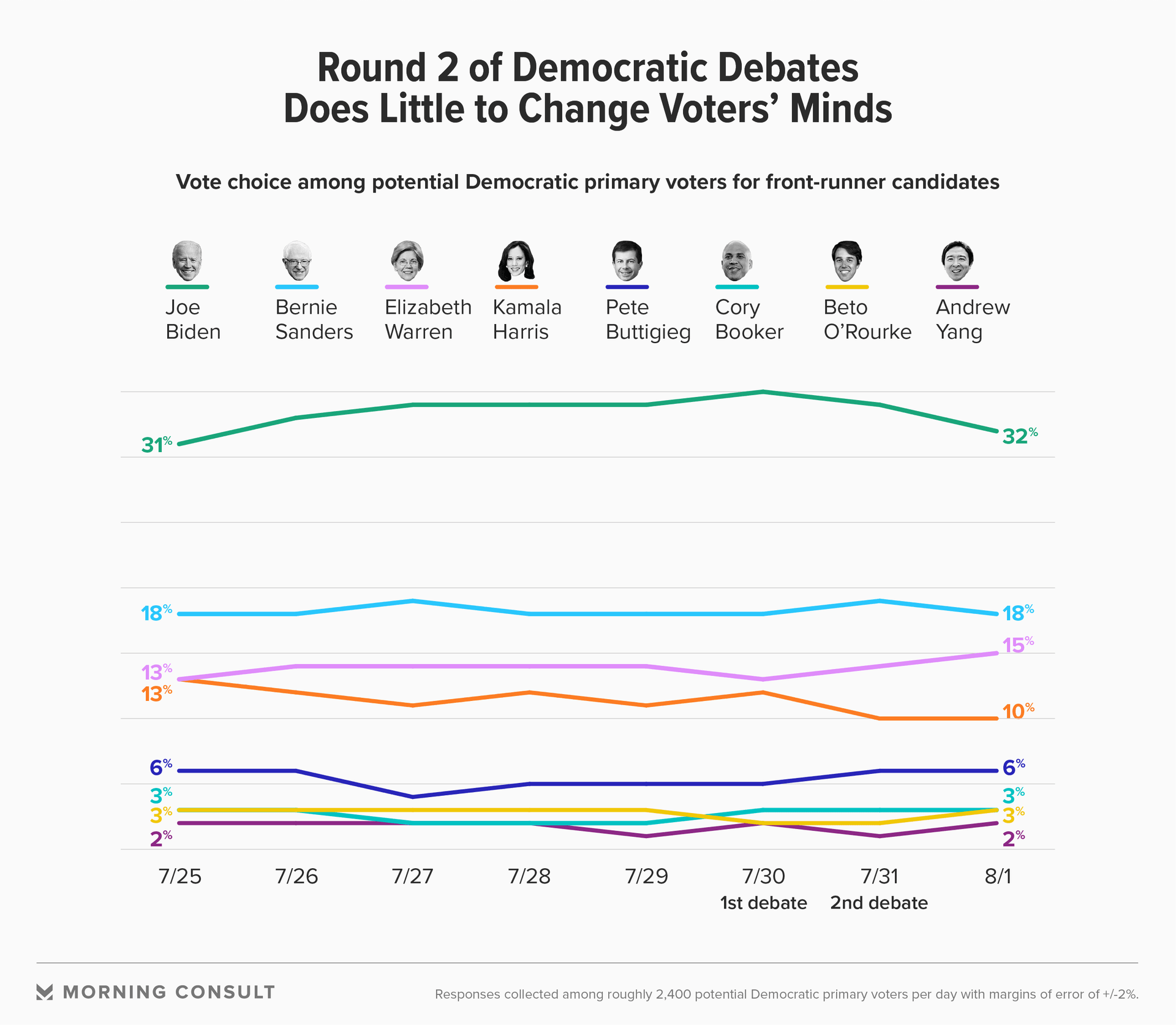 No candidate saw movement outside the survey's margin of error of 2 percentage points. The Aug. 1 poll was conducted among 2,419 registered voters who indicated they may vote in the Democratic primary or caucus in their state.
The latest debates did not move the needle like the Miami debates in June, which saw Sen. Kamala Harris (D-Calif.) double her vote share in the immediate aftermath, moving from 6 percent of the vote to 12 percent, and Biden's support dropping 5 percentage points.
Both debates this week brought similar dynamics as the first round, with lesser-known candidates aiming their fire on the stage's front-runners. On Tuesday, Sens. Bernie Sanders (I-Vt.) and Elizabeth Warren (D-Mass.) faced criticism over their ideology from their more moderate peers, while the second night saw Biden and Harris criticized over their records.
While pundits applauded Warren for her performance in night one of CNN's two-night debate — both for zinging former Rep. John Delaney (Md.) and spotlighting policy issues such as health care — her and Sanders' more progressive policy stances were targets for their more centrist counterparts.
Candidates used Wednesday to attack front-runner Biden over his criminal justice record and the Obama administration's deportation record, but their attempts to discredit the former vice president were largely unfruitful in terms of changing voters' minds — at least in the short term. Rep. Tulsi Gabbard (Hawaii) also used the stage to criticize Harris' record as attorney general of California.
Author Marianne Williamson, despite having a breakout night Tuesday, did not attract more voters and still sits at 1 percent. She did inspire dozens of memes, however, along with a New York Times op-ed.
The next round of debates takes place Sept. 12, possibly spilling into Sept. 13, and is likely to host a smaller cadre of candidates. The Democratic National Committee's qualifications for the third debate are much stricter: Candidates need to have collected donations from 130,000 people and earned 2 percent of the vote in at least four DNC-approved polls by Aug. 28, among other requirements.
Per a Politico analysis, only eight candidates currently qualify: Biden, Sen. Cory Booker (N.J.), South Bend, Ind., Mayor Pete Buttigieg, Harris, Sen. Amy Klobuchar (Minn.), former Rep. Beto O'Rourke (Texas), Sanders and Warren.
Download full data results here.
Joanna Piacenza leads Industry Analysis at Morning Consult. Prior to joining Morning Consult, she was an editor at the Public Religion Research Institute, conducting research at the intersection of religion, culture and public policy. Joanna graduated from the University of Wisconsin-Madison with a bachelor's degree in journalism and mass communications and holds a master's degree in religious studies from the University of Colorado Boulder. For speaking opportunities and booking requests, please email [email protected].
We want to hear from you. Reach out to this author or your Morning Consult team with any questions or comments.
Contact Us