Most GOP Voters Oppose House's Move to Bring Back Earmarks
Republican opposition to reviving the practice is even higher than it was months ago, poll shows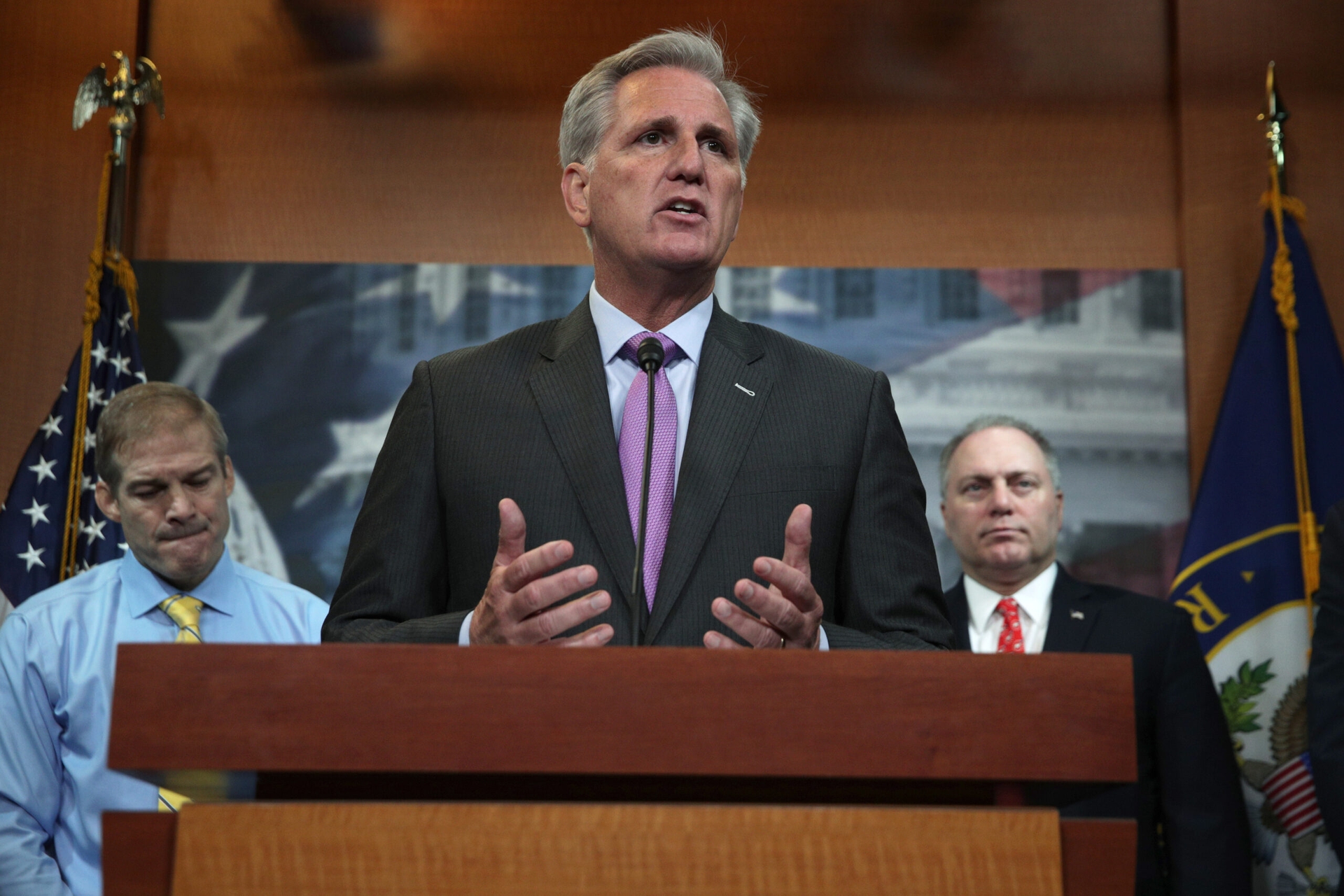 Key Takeaways
56% of GOP voters said they oppose the use of earmarks, which House Republicans agreed last week to revive.

40% "strongly oppose" the move, compared with just 15% who support it.
House Republicans' decision last week to join their Democratic colleagues in reinstating the use of earmarks in funding bills divided their caucus, and new polling shows most of the party's voters are siding with the detractors.
In a new Morning Consult/Politico survey, 56 percent of GOP voters said they opposed the decision by both House Democrats and Republicans to restore earmarks, which were described as the "previously banned practice of including provisions in bills that direct public funds to specific recipients such as individual congressional districts." Forty percent of Republicans "strongly oppose" the move, more than twice the share (15 percent) who support it.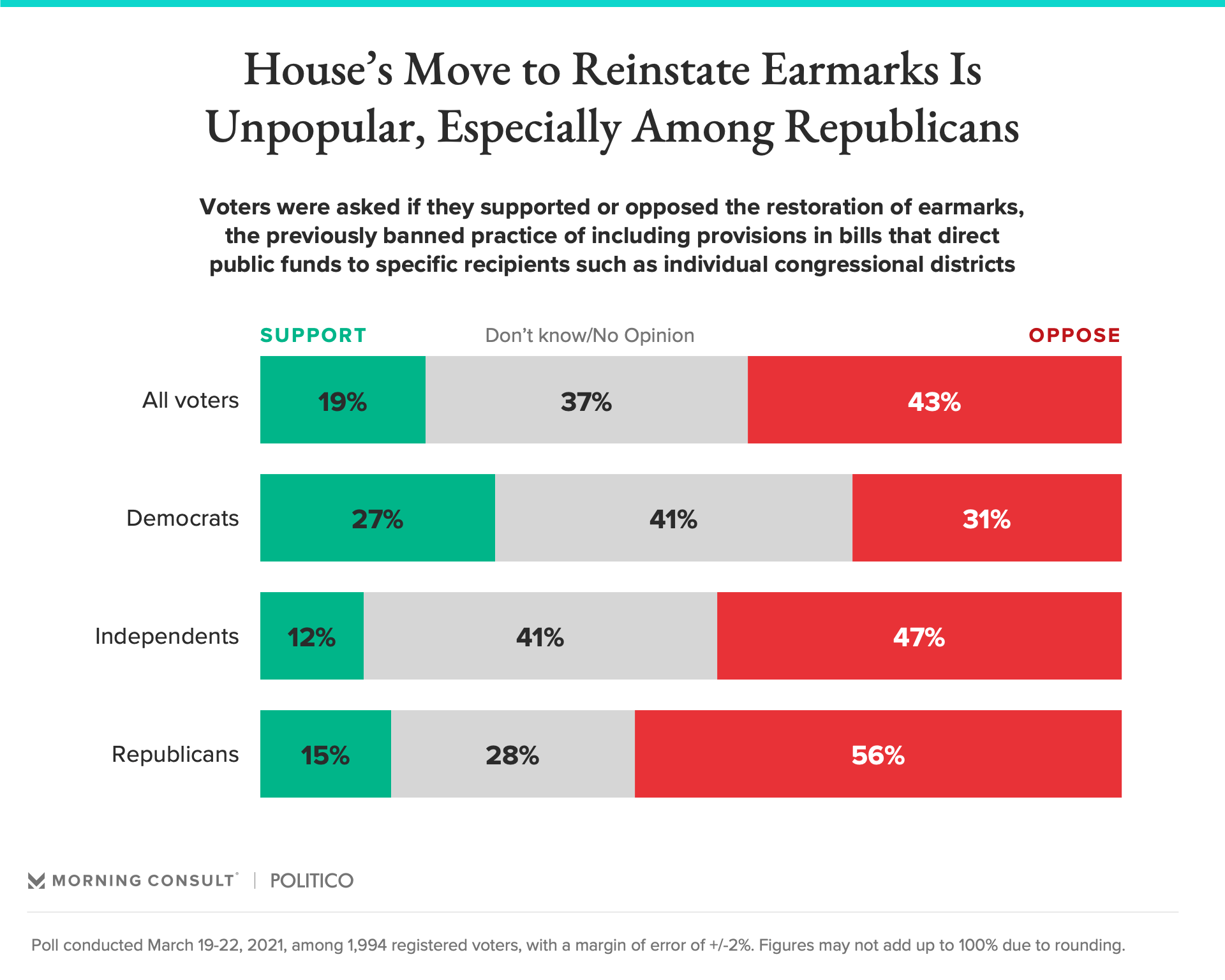 The March 19-22 poll, which surveyed 1,994 registered voters overall and a subsample of 635 GOP voters, was conducted after House Republicans on March 17 opted to restore earmarking in a 102-84 vote via secret ballot, one decade after the caucus decided to ban the practice. 
The findings reflect a negative reception to the news from much of the country's conservative wing, from dissidents on Capitol Hill and influential outside groups such as the Club for Growth to the Wall Street Journal's editorial board. Republican opposition to the move is even higher than it was in a Morning Consult/Politico survey conducted earlier this year, when half of GOP voters were against bringing earmarks back.
The new data underscores the risk of dividing the party and distracting from an effort to erode President Joe Biden's approval ratings as Senate Republicans mull taking the earmarking plunge on their own side of the Capitol.
And while earmarks are most unpopular among GOP voters, they're not exactly a political winner for Democrats either: 27 percent of Democratic voters in the new poll supported reviving the practice, compared with 31 percent who were opposed. 
However, the survey found more room for leading liberals to shape their base's position on the issue, as 41 percent of Democratic respondents said they were unsure or had no opinion on the topic.
The latest poll has an overall margin of error of 2 percentage points and respective 4- and 3-point margins of error for responses from Republicans and Democrats.
Cameron Easley is Morning Consult's lead analyst for U.S. politics. Prior to moving into his current role, he led Morning Consult's editorial coverage of U.S. politics and elections from 2016 through 2022. Cameron joined Morning Consult from Roll Call, where he was managing editor. He graduated from the University of North Carolina at Chapel Hill. Follow him on Twitter @cameron_easley. Interested in connecting with Cameron to discuss his analysis or for a media engagement or speaking opportunity? Email [email protected].
We want to hear from you. Reach out to this author or your Morning Consult team with any questions or comments.
Contact Us