Warren's Steady Rise Continues After Houston Debate
Massachusetts senator closes gap with Sanders to 2 points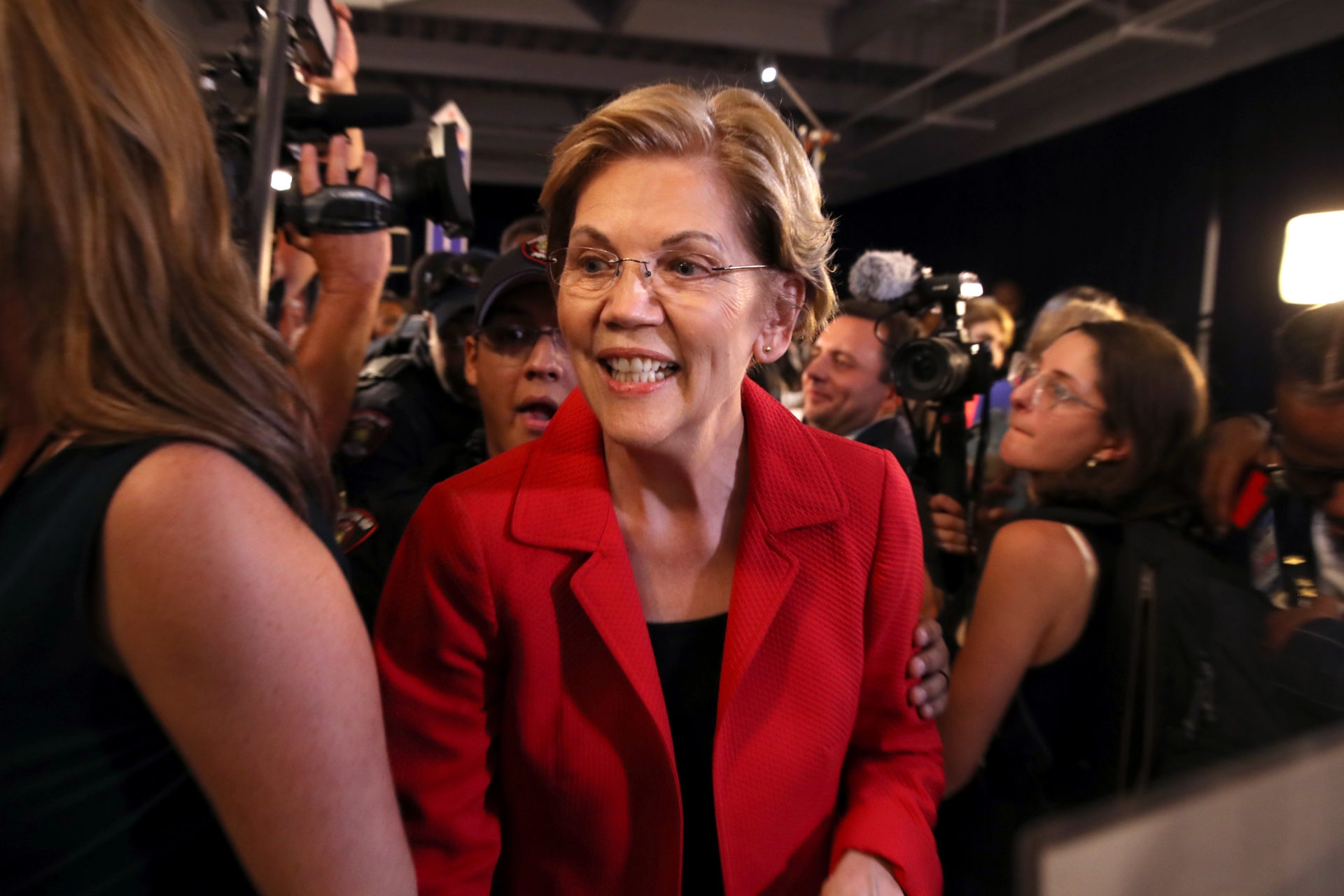 Key Takeaways
Sen. Elizabeth Warren (D-Mass.) picked up 2 points among Democratic primary voters in post-debate survey, the only candidate to garner a measurable increase in support.

Her support among Democratic primary voters is up 11 points since mid- to late April, driven largely by engaged voters, college-educated whites, white liberals and voters 65 or older.

She still trails Sen. Bernie Sanders (I-Vt.) and former Vice President Joe Biden by large margins among black voters.
Sen. Elizabeth Warren continued her steady rise in the Democratic primary following the third round of presidential debates, getting as close as she's come to Sen. Bernie Sanders (I-Vt.) for the second-place slot behind former Vice President Joe Biden.
According to the latest Morning Consult poll of 7,487 Democratic primary voters conducted Sept. 13-15, 18 percent of respondents said the Massachusetts Democrat is their top choice to take on President Donald Trump next fall, up 2 percentage points from a Sept. 2-8 survey. (Both surveys have a 1-point margin of error.)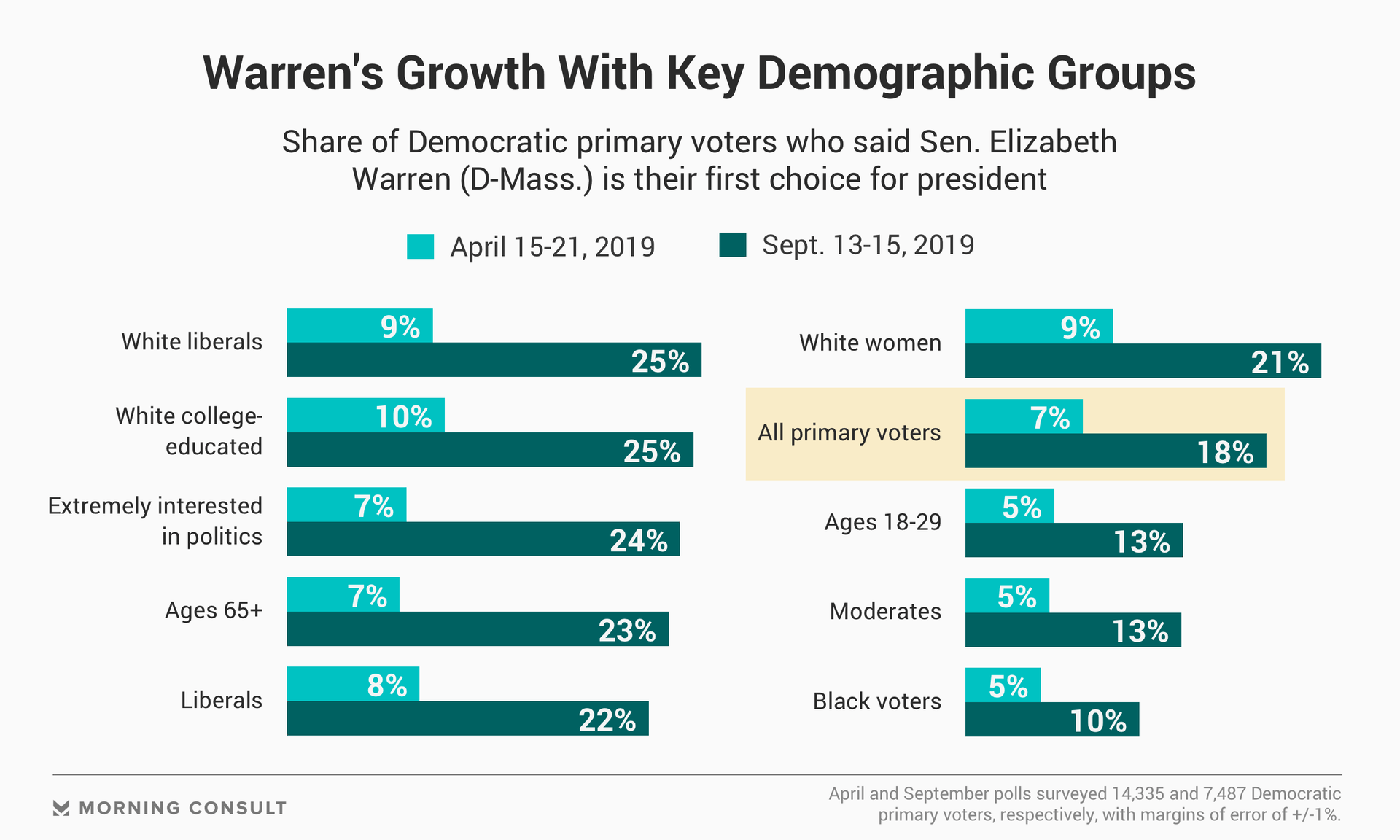 Warren was the only candidate who participated in the Sept. 12 debate in Houston to see a measurable change in support following an understated performance that New York Times columnist Frank Bruni called "canny" and "cunning." Her share of the vote in the latest survey is the largest measured by Morning Consult since she officially launched her campaign in February, and it puts her on Sanders' heels, trailing him by just 2 points. Biden leads the race, with 32 percent of the first-choice vote share.
The second-term senator and former special adviser to the Consumer Financial Protection Bureau is the lone Democrat in the field to show sustained momentum in the party's nominating contest over the past several months, picking up 11 points since an April 15-21 survey tracking the race.
That steady growth has been largely driven by four groups: the most engaged primary voters, those over the age of 65, white liberals and college-educated whites.
Since that April poll, she has picked up 17 points among voters who say they are extremely interested in politics and public affairs, 16 points among white liberals and voters ages 65 or older and 15 points among college-educated whites.
Her increased public support has helped her eclipse Sanders for second-place with the politically engaged, the oldest voters, college-educated whites and white liberals. She still trails Biden with all of those types of voters except for white liberals, among whom the two are roughly tied at a quarter of the vote. 
Warren has made more modest gains with another key Democratic constituency: African Americans. Ten percent of black Democratic primary voters said Warren is their first choice in the latest poll, up 5 points from April. 
Whether she can continue that improvement in the months leading up to the party's early nominating contests is a crucial question facing Warren's campaign. Among black voters, she still trails Biden by 31 points and Sanders by 11 points. 
Eli Yokley is Morning Consult's U.S. politics analyst. Eli joined Morning Consult in 2016 from Roll Call, where he reported on House and Senate campaigns after five years of covering state-level politics in the Show Me State while studying at the University of Missouri in Columbia, including contributions to The New York Times, Politico and The Daily Beast. Follow him on Twitter @eyokley. Interested in connecting with Eli to discuss his analysis or for a media engagement or speaking opportunity? Email [email protected].
We want to hear from you. Reach out to this author or your Morning Consult team with any questions or comments.
Contact Us