Harris' Exit Is Unlikely to Shake Up the 2020 Democratic Race
Poll before Harris ended 2020 bid found no clear 2nd choice for her supporters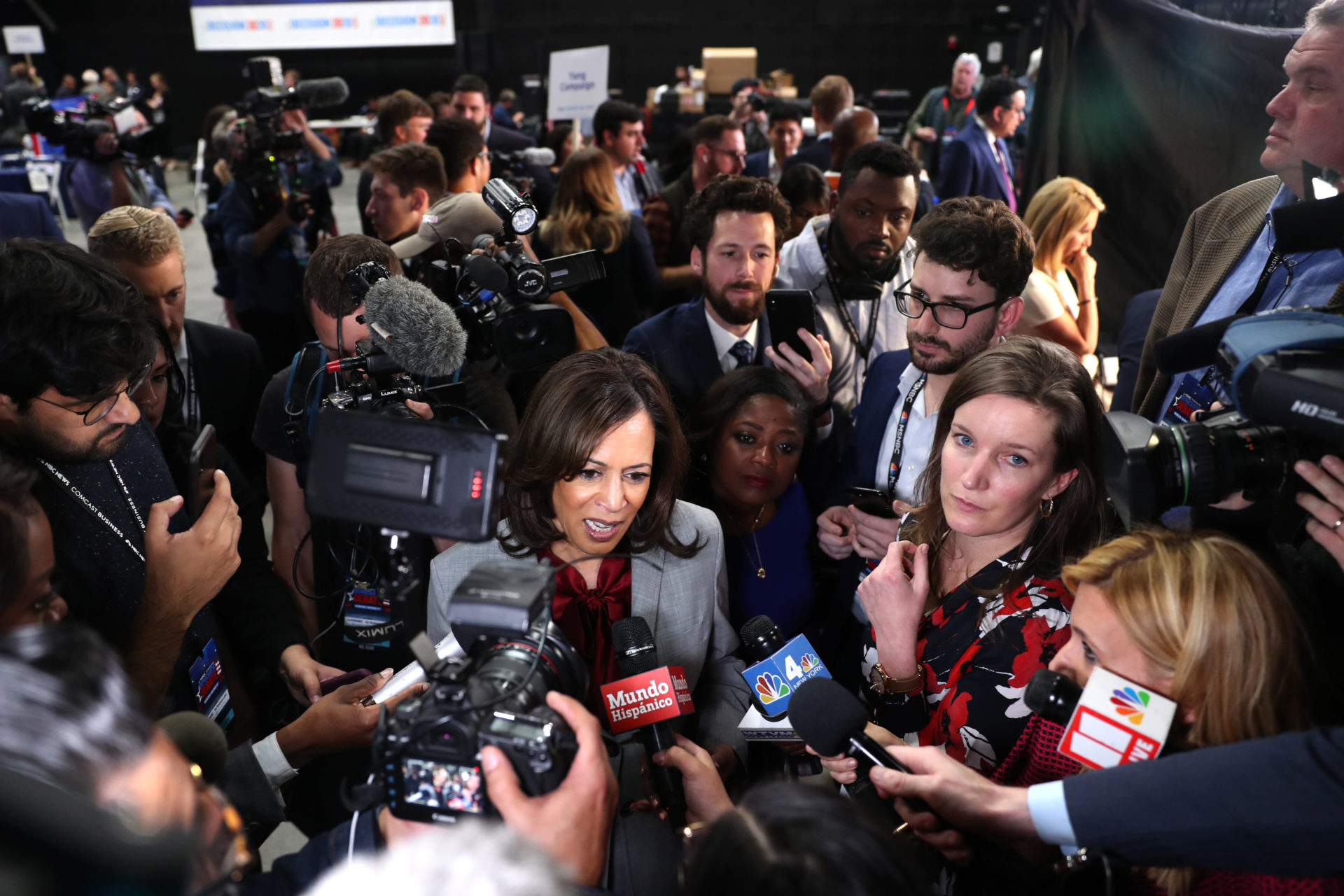 Key Takeaways
22% of Harris supporters said their second choice was Biden; 21% said Warren and 14% said Sanders.

51% of Democratic primary voters said they had a favorable view of Harris, higher than all other candidates except Sanders, Biden and Warren.
As California Sen. Kamala Harris ends her campaign for the Democratic presidential nomination, her supporters look set to go their separate ways, doing little to alter the state of the race. 
The latest Morning Consult poll tracking the Democratic race found that just 5 percent of Democratic primary voters -- those who indicated they may vote in the Democratic caucus or primary in their state -- identified Harris as their first choice. Of those voters, 22 percent said their second choice was former Vice President Joe Biden, the race's national front-runner, while 21 percent picked Massachusetts Sen. Elizabeth Warren and 14 percent said Vermont Sen. Bernie Sanders (I).
If voters held true to that, it could amount to an increase of roughly 1 percentage point each for those candidates, inside the poll's typical 1-point margin of error.
In a Medium post detailing her decision, Harris -- who entered the race viewed as a top-tier contender of historic nature as a woman of color -- cited the lack of money as her reasoning and made no mention of a potential endorsement. 
Harris' supporters are more likely to be younger and black than those who support Biden and Warren, and are more likely to be black than the supporters of Sanders and South Bend, Ind., Mayor Pete Buttigieg. Compared to supporters of the top four candidates, a Harris supporter is less likely to identify as liberal than those who back every candidate not named Biden.
And notably as the race moves closer to the nominating contests, the greatest concentration of her supporters by state (20 percent) hailed from California, a key battleground on Super Tuesday. 
Following her January campaign launch, support for Harris' campaign peaked at 14 percent after the first Democratic debate, when she slammed Biden over his decades' old opposition to federal busing as part of an effort to racially integrate public schools. 
Since then, the share of voters who indicated they may participate in the Democratic primary or caucus in their state who identified Harris as their first choice either fell or stagnated in the weekly polls, landing at 5 percent in the latest survey. That tied her for fifth place with former New York City Mayor Michael Bloomberg, the billionaire who launched his campaign last week. 
As Harris lost ground since mid-summer, the biggest benefactor appeared to be Warren, though Warren's first-choice standing has also dipped as Buttigieg's campaign has seen an increase of support nationwide.
Harris' campaign boosted her name recognition among Democratic primary voters nationwide, going from 42 percent expressing no opinion about her at the beginning of the year to 26 percent saying the same in the latest poll. 
The growth in her name recognition hasn't been all positive. Roughly a quarter (23 percent) expressed unfavorable views of her, higher than all the other candidates except Bloomberg and Rep. Tulsi Gabbard of Hawaii. However, a potential endorsement could be coveted: Fifty-one percent of Democratic primary voters said they had favorable opinions about Harris, higher than all of the other candidates in the race except Sanders, Biden and Warren. 
Eli Yokley is Morning Consult's U.S. politics analyst. Eli joined Morning Consult in 2016 from Roll Call, where he reported on House and Senate campaigns after five years of covering state-level politics in the Show Me State while studying at the University of Missouri in Columbia, including contributions to The New York Times, Politico and The Daily Beast. Follow him on Twitter @eyokley. Interested in connecting with Eli to discuss his analysis or for a media engagement or speaking opportunity? Email [email protected].
We want to hear from you. Reach out to this author or your Morning Consult team with any questions or comments.
Contact Us