Some GOP Constituents Have Soured on Hawley, Cruz After Capitol Riot — but Not Many
Facing furor in Washington, both senators remain strong with their respective bases
Key Takeaways
63% of GOP voters in Missouri approved of Hawley's job performance after Jan. 6, down 9 points from before the Capitol riot.

Cruz saw a 5-point decline in approval rating among GOP voters in Texas.

Both junior senators are on more solid footing among Republicans than their senior colleagues.
The political fallout surrounding the Jan. 6 riot on Capitol Hill appears to have tarnished the home-state reputations of Sens. Josh Hawley (R-Mo.) and Ted Cruz (R-Texas), the Senate's chief objectors to President Joe Biden's 2020 Electoral College victory -- including among some Republican voters.
Between Morning Consult Political Intelligence tracking conducted Dec. 27 through Jan. 5, before the Jan. 6 Capitol riot, and then again from Jan. 9-18, Hawley's approval rating among Missouri Republicans fell 9 percentage points, while Cruz saw a 5-point dip in his job approval among Texas Republicans during the same time. But as some lawmakers call for their ouster from office, the post-riot tracking found both legislators remain on stronger footing with the party's base than the more senior senators with whom they serve.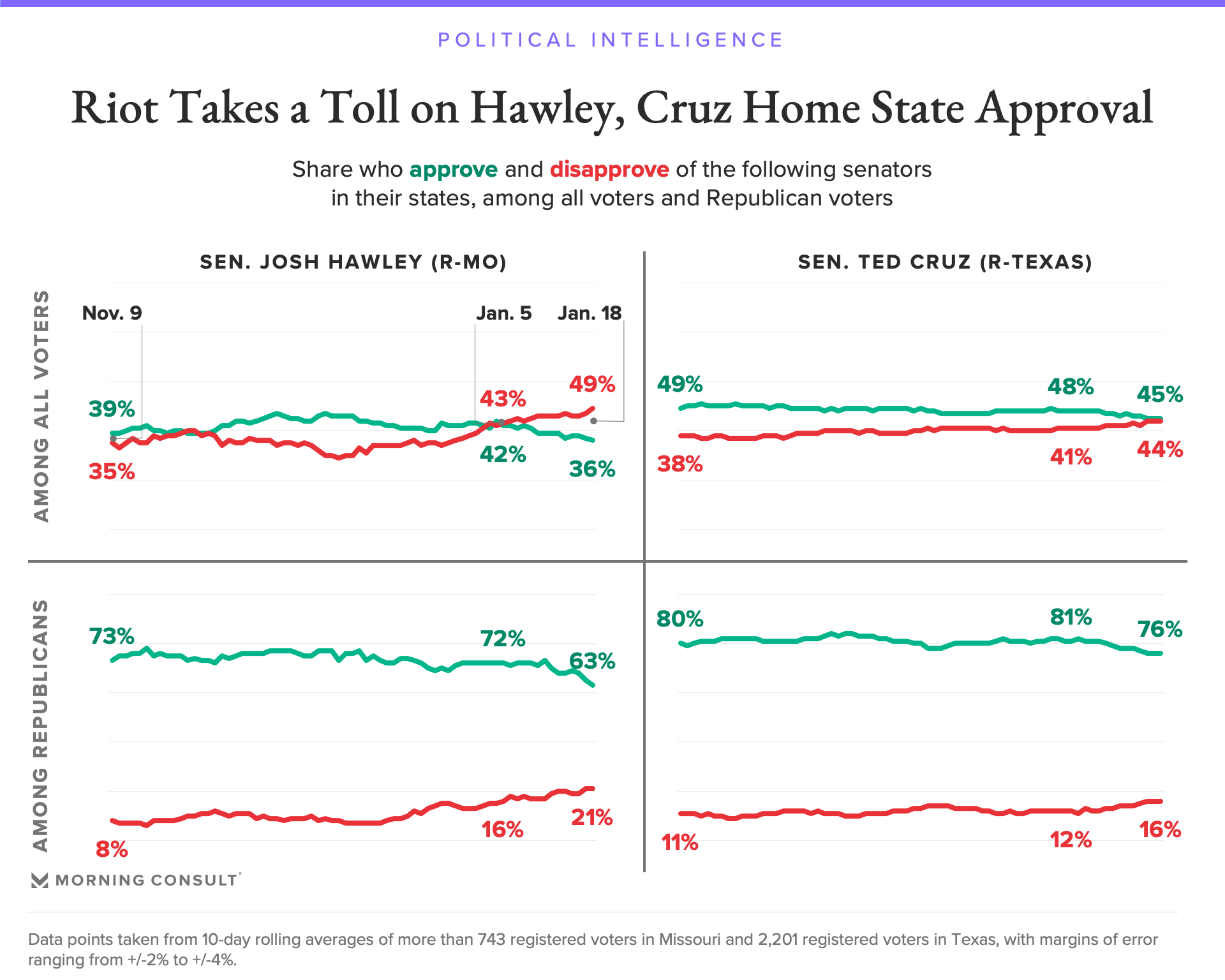 In Texas, 76 percent of Republican voters approve of Cruz's job performance, compared with 72 percent who approve of Sen. John Cornyn, who was just re-elected in November and is lesser-known than his junior colleague among Texans. Among local Republicans, the share who strongly approve of Cruz (46 percent) is 16 points higher than the share who say the same of Cornyn. 
In Missouri, Hawley -- who was abandoned by his political mentor, former Sen. Jack Danforth (R-Mo.), and a handful of large financial backers following his starring role in the push to challenge Biden's victory -- ceded much of his popularity edge over Republican Sen. Roy Blunt: Just over 3 in 5 Republicans in the Show-Me State now approve of both incumbents.
Hawley defended his move in a Missouri op-ed, saying, "I will not bow to a lawless mob, or allow criminals to drown out the legitimate concerns of my constituents." 
Blunt, who distanced himself from Hawley's decision to object to the results of the election in a CBS interview, faces a re-election campaign next year. Hawley's footing remains more solid than Blunt's with the party's base, as strategists believe the biggest threat to Blunt's bid for a third term would come from a primary challenger. Three in 10 Missouri Republicans "strongly" approve of the junior senator who was elected in 2018, compared with 18 percent who favor Blunt with the same vigor. 
That gap between the share of Missouri Republicans who "strongly" approve of Hawley and Blunt has narrowed to approximately where it was throughout November and December, before Hawley announced on Dec. 30 that he would join with House Republicans to object to Biden's victory. It previously stood at 23 points ahead of Jan. 6 as Blunt helped certify Biden's victory in his role as chairman of the Senate Rules Committee.
Among all voters in their respective states, both Cruz and Hawley have seen opposition grow over the past two or three months. Compared with surveys conducted Oct. 31-Nov. 9 -- before the fallout of the 2020 election began to build -- the share of all Texas voters who disapprove of Cruz increased 6 points, to 44 percent, while the share of Missourians who disapprove of Hawley in Missouri increased 14 points, to 49 percent. 
The pre- and post-riot polling was conducted among roughly 3,000 voters in Texas and 1,000 voters in Missouri. Responses among all voters and Republicans in Texas have 2- and 3-point margins of error, respectively, while margins of error for responses among all voters and Republicans in Missouri range from 3 to 5 points.
But for two senators who are not up for re-election until 2024, diminished sentiment at home may not be as relevant as their standing across the country, as both are widely discussed as potential prospects for the 2024 Republican presidential nomination.
The comparatively fresh-faced Hawley, in particular, has recently managed to raise his profile among Republican voters nationwide: Since August, the share of Republicans who said they'd never heard of Missouri's junior senator or had no opinion of him fell 14 points, to 60 percent, while the share who hold favorable opinions about him increased 16 points, to 27 percent -- with much of that movement coming in the two months since the November election.
Cruz, who was already better-known nationally thanks in part to his presidential run, saw his standing among Republican voters nationwide improve since August, but it has largely held steady since the election. The latest national survey, conducted Jan. 20-21, found 55 percent of Republican voters hold favorable views of the Texas Republican and 19 percent hold negative views.
Eli Yokley is Morning Consult's U.S. politics analyst. Eli joined Morning Consult in 2016 from Roll Call, where he reported on House and Senate campaigns after five years of covering state-level politics in the Show Me State while studying at the University of Missouri in Columbia, including contributions to The New York Times, Politico and The Daily Beast. Follow him on Twitter @eyokley. Interested in connecting with Eli to discuss his analysis or for a media engagement or speaking opportunity? Email [email protected].
We want to hear from you. Reach out to this author or your Morning Consult team with any questions or comments.
Contact Us