Heading Into a Contentious Election, Sports Fans Back Athletes' Right to Endorse Candidates
Younger fans, Democratic fans are more open to sports figures getting political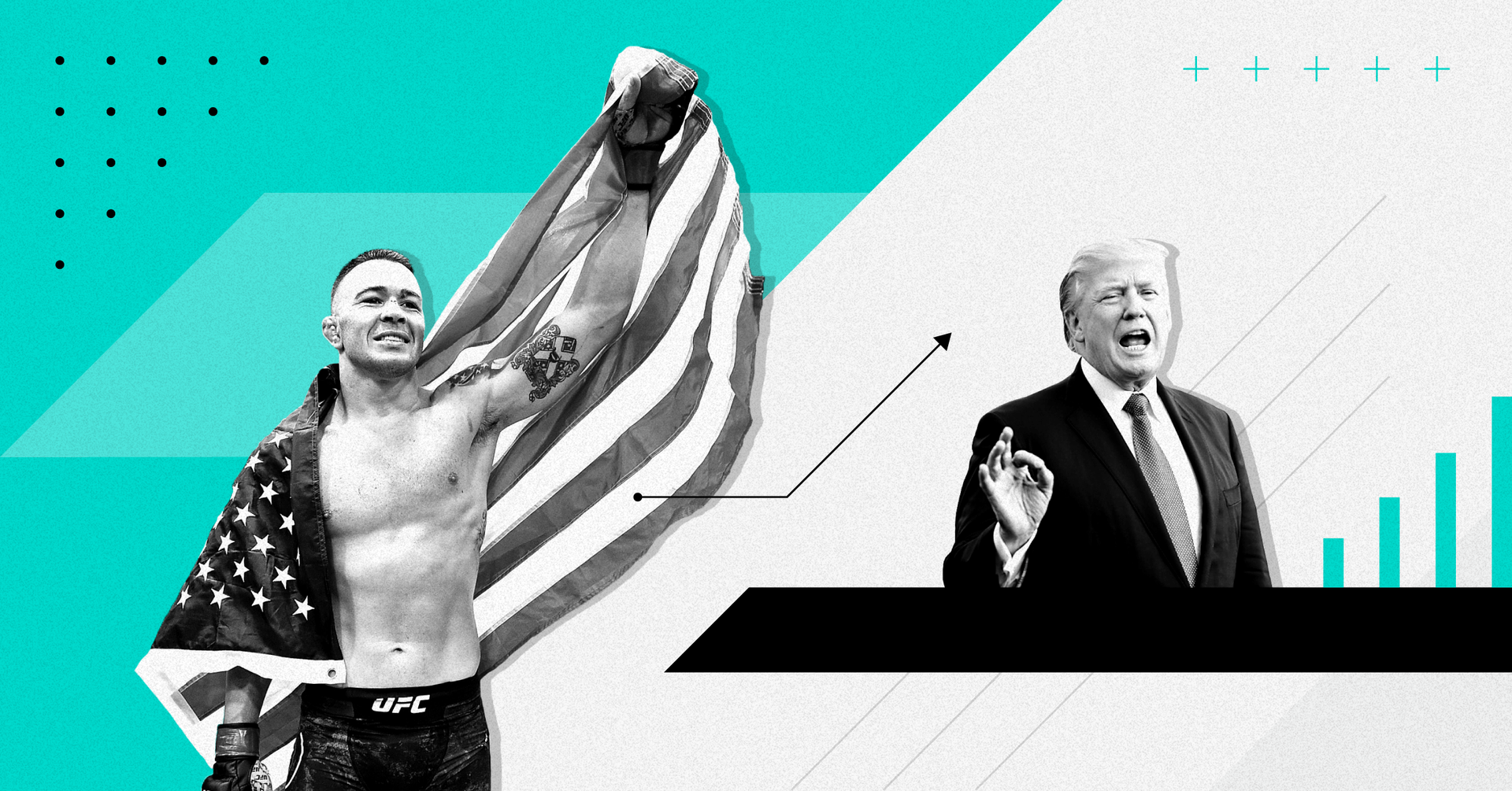 Key Takeaways
59% of sports fans agree that athletes should feel free to publicly stump for politicians.

70% of Democratic sports fans and 47% of Republican fans are OK with sports figures offering public support to candidates and political parties.

Net sentiment toward Trump-supporting sports figures dropped an average of 42 points among Democratic sports fans based on their endorsements.

 
While a vocal segment of sports fans would prefer their favorite athletes keep their political opinions to themselves, new polling shows they are in the minority. With less than a month until Election Day, sports fans overwhelmingly believe athletes should feel free to publicly endorse individual candidates or political parties.
In a recent Morning Consult survey, 59 percent of sports fans agreed with the assertion that athletes should feel free to promote specific politicians or political parties ahead of the voting period, more than double the share who disagreed. A majority of the broader adult population -- including sports fans and non-sports fans -- also supported athletes' rights to publicly express support for candidates.
Both President Donald Trump and Democratic challenger Joe Biden have received support from a number of current and former athletes in recent months. 
Biden scored the most prominent athlete appearance of the nominating conventions, with Golden State Warriors guard Stephen Curry appearing alongside his family as part of the virtual Democratic National Convention to officially declare his allegiance to the former vice president. Biden's backers from the world of sports also include Dallas Mavericks owner Mark Cuban, women's soccer star Megan Rapinoe and former Olympic figure skater Michelle Kwan, who joined his campaign as a surrogate director.
Throughout his presidency, Trump has sought to tap into the country's interest in professional and college sports to score political points. During the first presidential debate, Trump touted his supposed role in the return of Big Ten football. UFC President Dana White endorsed Trump at the Republican National Convention this summer -- and at 2016's RNC -- along with several other notable former athletes. One of White's top fighters, Colby Covington, has also been a vocal supporter of the president and even took a call from Trump over speaker phone during a post-fight interview.
Seventy percent of Democratic sports fans agreed that athletes should feel free to publicly back  political candidates, and net agreement among this group -- the share that agreed minus that disagreed -- was 52 percentage points. By comparison, 47 percent of Republican sports fans were in favor of political endorsements by athletes, with a net agreement of 6 points.
Left-leaning and younger fans were also more apt to say that they are more likely to support an athlete that expresses support for a political cause or candidate with whom they agree.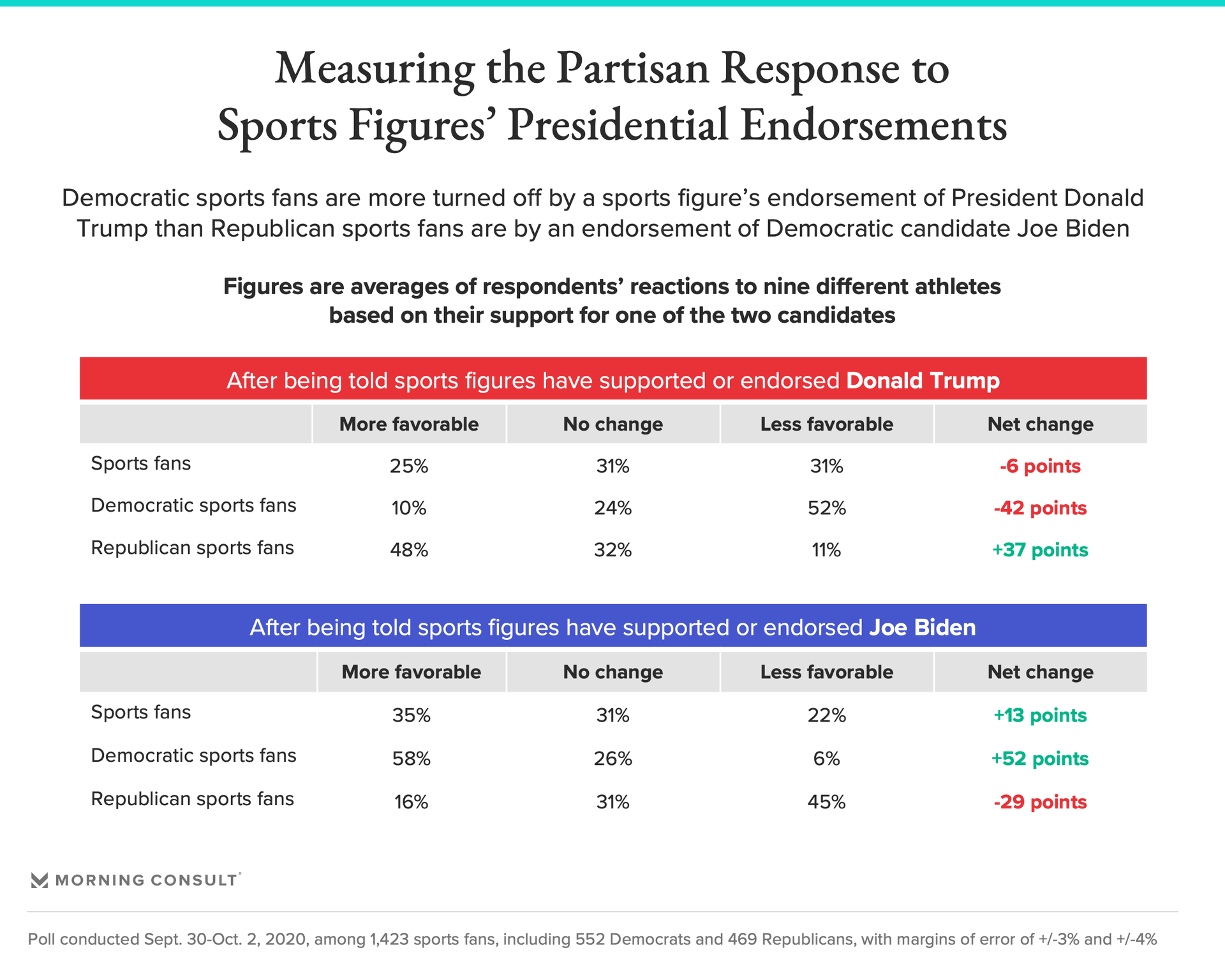 Still, athletes and their management should note that these endorsements can have consequences, both positive and negative. 
Sixty percent of Democratic sports fans said they'd be more likely to root for an athlete with similar political leanings, compared with 39 percent of Republican fans. On the flip side, Democratic fans are also more likely to turn on sports figures who are sympathetic to Trump. Presented with a sampling of athletes who have expressed support for Trump, net sentiment dropped by an average of 42 percentage points when their endorsements were revealed to respondents.
By comparison, Republican fan sentiment toward athletes who have endorsed Biden dropped an average of 29 points.
More than half of Democratic sports fans and fans under the age of 45 said they are more likely to support professional sports teams whose owners and management back political candidates and causes that they view favorably. Republican fans and older fans were far less likely to be swayed by the political activities of team ownership or management.
Alex Silverman previously worked at Morning Consult as a reporter covering the business of sports.
We want to hear from you. Reach out to this author or your Morning Consult team with any questions or comments.
Contact Us