High-Profile NBA Draft Prospects Hail From Blue-Blood Programs
But where players end up is most important for future off-court earnings potential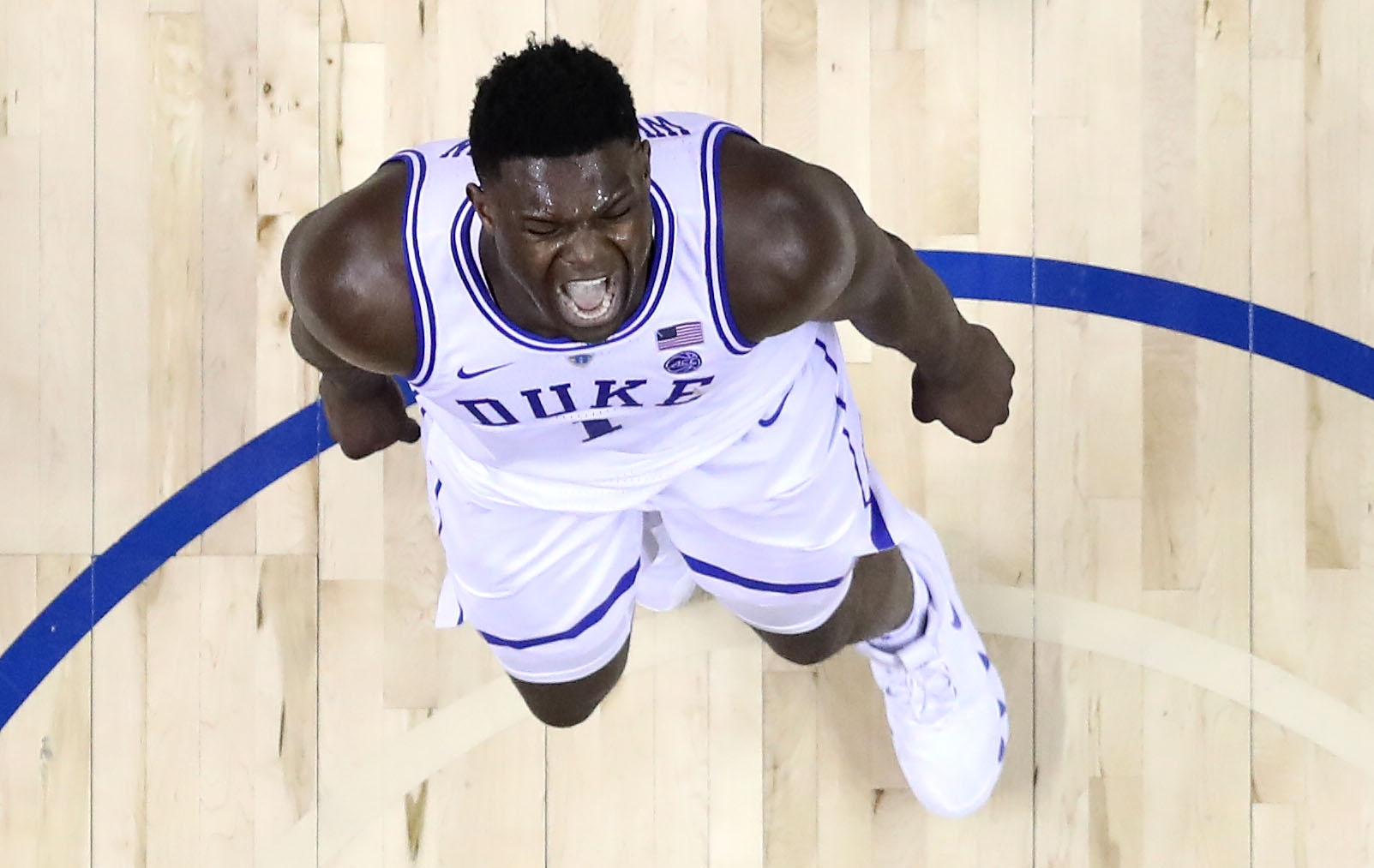 Key Takeaways
74% of self-described NBA fans and 41% of adults polled said they'd heard of Duke's Zion Williamson, who had the highest name recognition.

Murray State's Ja Morant is the most recognizable prospect from a non-Power 5 program, with 59% of NBA fans and 33% of all adults having heard of him.
Heading into the 2019 NBA Draft, the most recognizable top prospects hail from some of the premier college basketball powerhouses: Duke, Kentucky and North Carolina.
And while the location and name of some players' alma mater will be a plus for off-the-court earnings potential, it doesn't move the needle quite as heavily as one might expect. Instead, student-athletes' future marketability is more dependent upon who drafts them, the nature of that team's relationship with its regional fanbase and whether the franchise carries a national audience, experts say.
An April 25-27 Morning Consult poll testing name recognition of potential first-round draft picks found that Zion Williamson registered highest with respondents who said the NBA was their favorite sports league to follow. Seventy-four percent of self-described NBA fans said they'd heard of the Duke star, making him the most recognizable prospect and holding a double-digit point ID gap between his draft classmates.
The expected No. 1 pick was followed by a cluster of other high-profile college stars, including fellow Blue Devils RJ Barrett and Cameron Reddish, De'Andre Hunter of the reigning national champion Virginia Cavaliers, Coby White of North Carolina and Murray State's Ja Morant. Name recognition for that group ranged from 63 percent for Barrett to 59 percent for Morant, inside the subsample's margin of error of 6 percentage points.
The names selected for the poll, which was conducted among 2,201 U.S. adults and had a 2-point margin of error, were pulled from NBADraft.net's April 12 mock draft board.
PJ Washington and Keldon Johnson of Kentucky, Southern California's Kevin Porter Jr. and Texas Tech's Jarrett Culver rounded out the top 10, with most NBA fans having heard of each of them.
Interest in Williamson and his peers was also evident Tuesday, when the league held its lottery for the June 20 draft. Nearly 4.5 million people tuned in to ESPN's broadcast of the event, registering an 83 percent uptick from last year's lottery, and making it the second-most watched lottery since 2003, when the Cleveland Cavaliers landed the No. 1 pick that they used to select LeBron James.
Greg Goldring, vice president of sports marketing at Cogent Entertainment Marketing, attributed Williamson's prominent profile among NBA fans, along with others in the top 10, to playing for a top-ranked program throughout the season or making a deep March Madness run, where more casual sports fans likely tuned in as the NCAA Tournament progressed.
Roughly half of the NBA fans polled viewed Williamson favorably (49 percent), with 28 percent saying they had a "very favorable" opinion, 13 points higher than the next player on the list, Barrett.
National television coverage could not be ignored either when it came to player exposure, especially as it relates to the Duke stars, Goldring said. This past season, the team's 26 broadcasts across ESPN networks averaged 2.23 million viewers. Williamson benefited from national telecasts but stood apart from his teammates in other ways, reaching social media stardom on Instagram before his arrival in Durham, N.C., and eclipsing the seven-figure follower mark roughly a year before his freshman season began. Morant was the only non-Power 5 player with a big enough profile to place in the top 10.
While Virginia, North Carolina and Duke each won a title in the past five seasons, and Forbes ranks the latter two schools as the 11th- and fourth-most valuable college basketball programs, respectively, the university itself isn't typically driving opportunities for future off-court earnings, Goldring said. Still, brands operating in a school's market may seek a relationship with a drafted player in the form of public appearances or autograph signings if their college team had a particularly devoted following.
Like any traditional player marketing, though, the focus will return to what type of story a brand can tell about a particular player, with Murray State's Morant -- unranked by traditional recruiting services, only one Power 5 scholarship offer from South Carolina and a chance recruitment by the Racers -- having the "best story," Goldring said.
Mark J. Burns is a sports analyst on the Industry Intelligence team, where he conducts research, authors analyst notes and advises leaders in the sports industry on how to apply insights to make better business decisions. Before joining Morning Consult, he served as a beat reporter at Sports Business Journal, covering the business of hockey and soccer. Mark graduated from the University of Michigan with a bachelor's degree in history and holds a Juris Doctor from Belmont University. For speaking opportunities and booking requests, please email [email protected].
We want to hear from you. Reach out to this author or your Morning Consult team with any questions or comments.
Contact Us