Voters Are Slightly More Likely to See Antisemitism in Ilhan Omar's Latest Comments if They Know She Made Them
Name, party identification appear more influential to Republicans than Democrats when it comes to perceptions of bigotry
Key Takeaways
The share of GOP voters who see antisemitism in Rep. Ilhan Omar's remarks comparing U.S., Israeli and Afghani actions to those taken by Hamas and the Taliban increases 11 percentage points when the Minneapolis Democrat's name is attached.

Democratic voters were slightly less responsive than Republicans to the lawmakers' name and party affiliation when it came to controversial tweets from Omar and Rep. Marjorie Taylor Greene (R-Ga.).

49% of Democrats hold unfavorable views of Greene, compared with 57% of Republicans who view Omar unfavorably.
Rep. Ilhan Omar (D-Minn.) is facing the threat of a Republican-led censure sparked by a tweet that appeared to draw a moral equivalence between U.S., Israeli and Afghani actions and those taken by the Taliban and Hamas.
Republicans on Capitol Hill have again accused Omar of engaging in antisemitism due to her criticism of Israel's government, and while voters are more likely than not to disagree with that assessment, a slightly larger share say her comment that "we have seen unthinkable atrocities committed by the U.S., Hamas, Israel, Afghanistan, and the Taliban" was antisemitic when Omar is identified as the person who said it, a new Morning Consult/Politico poll reveals.
The June 11-13 survey of 1,994 registered voters was conducted after last week's uproar over Omar's comments. It asked half of the respondents whether they thought Omar's tweet was antisemitic without the second-term lawmaker's name attached to it, while the other half was asked the same thing but also given the Minnesota Democrat's name and party affiliation.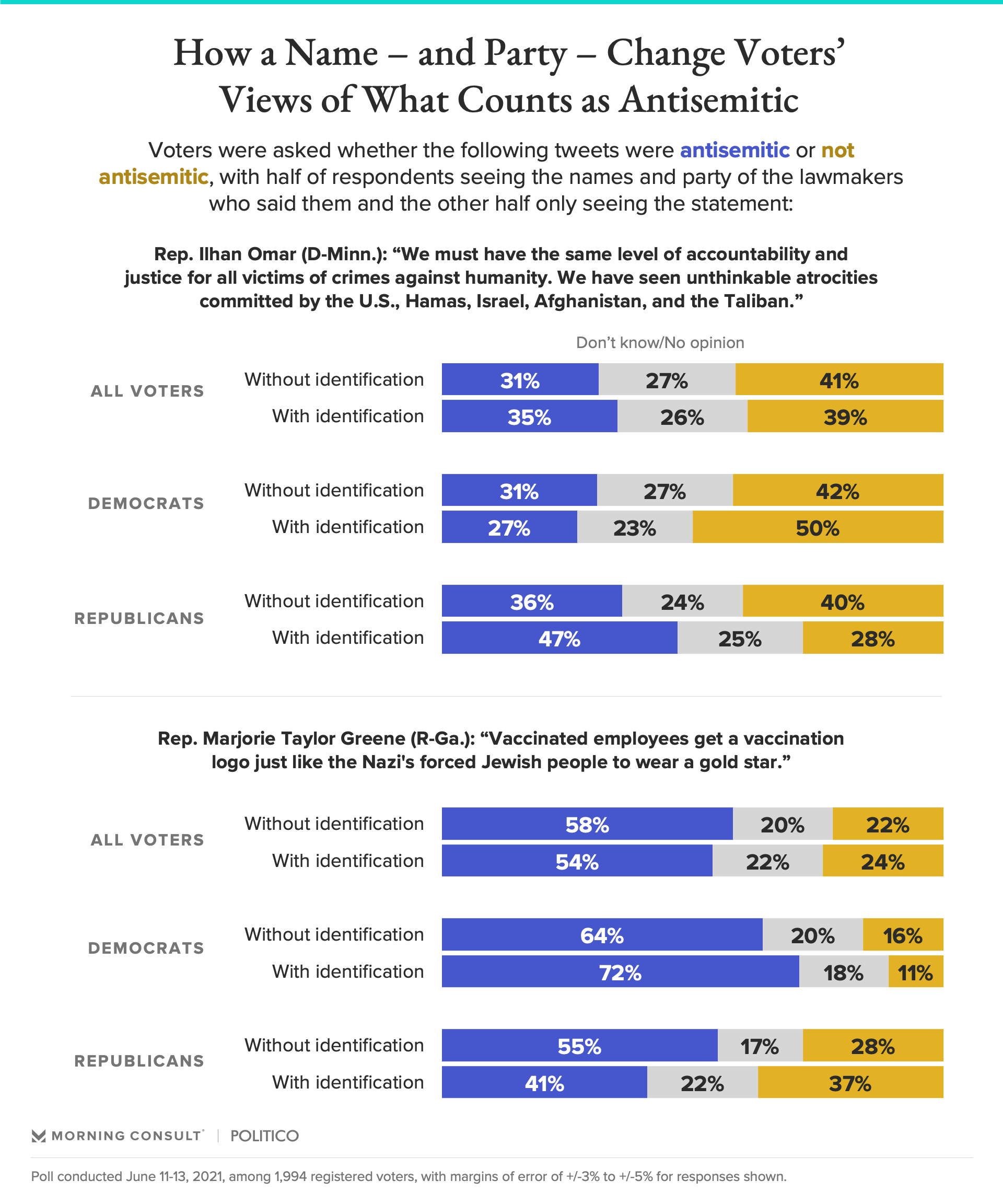 Among the first group, 31 percent of voters – including 36 percent of Republicans – said the comment was antisemitic, while 41 percent said it was not prejudiced against Jewish people. But the share of voters in the latter group who said the comment was hostile to Jewish people was 4 percentage points higher, at 35 percent, driven by an 11-point increase among Republican voters. 
Voters' posture toward Omar, a Black Muslim immigrant of Somali descent who's faced similar controversy over comments about Israel in the past, stood in contrast to a similar test of a recent remark by Rep. Marjorie Taylor Greene (R-Ga.), a white woman who in a May 25 statement said, "Vaccinated employees get a vaccination logo just like the Nazi's forced Jewish people to wear a gold star."
Nearly 3 in 5 voters, including 55 percent of Republicans, said Greene's tweet was antisemitic when her name was not attached. But when the sample saw her name and party affiliation, the share who agreed the tweet was bigoted dropped, falling 4 points among the overall electorate and by 14 points among Republicans. The overall poll had a 2-point margin of error, while the split samples of all voters each had 3-point margins of error.
When it came to questions of both lawmakers' prejudices, Democrats were less likely than Republicans to react to the lawmakers' names and party affiliations. GOP voters currently have stronger negative views about Omar — who's largely known for her affiliation with the so-called "Squad," a group prominent House progressives of color — than Democrats have of Greene, whom Democrats have sought to elevate as a face of the GOP due to her penchant for embracing conspiracy theories. 
Just under half of Democrats (49 percent) hold unfavorable views of Greene, compared with 57 percent of Republicans who view Omar unfavorably. 
Partly as a result of the sharper negative sentiment among Republicans – as well as a higher unfavorability rating among self-identified independents – Omar is slightly less popular among the overall electorate than Greene, whose name identification has fallen 10 points since her time in the spotlight after House Democrats booted her from her committee assignments. 
Eli Yokley is Morning Consult's U.S. politics analyst. Eli joined Morning Consult in 2016 from Roll Call, where he reported on House and Senate campaigns after five years of covering state-level politics in the Show Me State while studying at the University of Missouri in Columbia, including contributions to The New York Times, Politico and The Daily Beast. Follow him on Twitter @eyokley. Interested in connecting with Eli to discuss his analysis or for a media engagement or speaking opportunity? Email [email protected].
We want to hear from you. Reach out to this author or your Morning Consult team with any questions or comments.
Contact Us