Impeachment's Biggest Impact: Making GOP Voters Like Congressional Republicans More
Republicans nationwide sweetened on McConnell and company amid impeachment
Key Takeaways
Senate Majority Leader Mitch McConnell and congressional Republicans saw respective 19- and 10-point boosts in their net favorability among GOP voters, driving an uptick among voters overall.

House Speaker Nancy Pelosi (D-Calif.) and congressional Democrats emerged from the impeachment process with voter sentiment mostly unchanged.
Republicans uneasy with their party's trajectory under President Donald Trump often lament a lack of political incentive for breaking with its current leader. Polling conducted throughout the GOP's defense of Trump's impeachment serves as the latest case in point: Congressional Republicans emerged from their latest test more favored by voters nationwide than they were at the beginning, thanks to the party's Trump-loving base. 
According to Morning Consult/Politico polling tracking the popularity of the two parties in Congress and their leaders, Senate Majority Leader Mitch McConnell of Kentucky and his GOP colleagues saw boosts in their net favorability (the share of voters with favorable views minus those with unfavorable views) since polling conducted in September -- before the impeachment process kicked into gear with investigations in October and November and the December House votes to convict.
The improvements were largely driven by Republican voters, and came as the ball moved to McConnell's court in the Senate.
McConnell's net favorability improved 19 percentage points among GOP voters, with 52 percent expressing favorable views and 21 percent expressing unfavorable views in the latest survey, conducted Feb. 7-9. The key player in Trump's Senate acquittal saw his net favorability among all voters improve by 8 points, with those expressing unfavorable views (43 percent) in the latest survey statistically unchanged from the beginning of the process, while those expressing favorable views increased 7 points. 
Congressional Republicans -- who began the process favored by 77 percent of Republican voters in September -- saw a 10-point increase in their net favorability.
As things stand, 81 percent of GOP voters said they favor congressional Republicans while 12 percent said they had unfavorable views. Among the larger population, the party saw a 7-point improvement, going from 17 points underwater (35 percent favorable, 52 percent unfavorable) in September to 10 points underwater in the latest survey (39 favorable, 49 unfavorable). 
The findings are based on monthly averages of net favorability, taken from from weekly polls of roughly 2,000 registered voters each, with 2-point margins of error.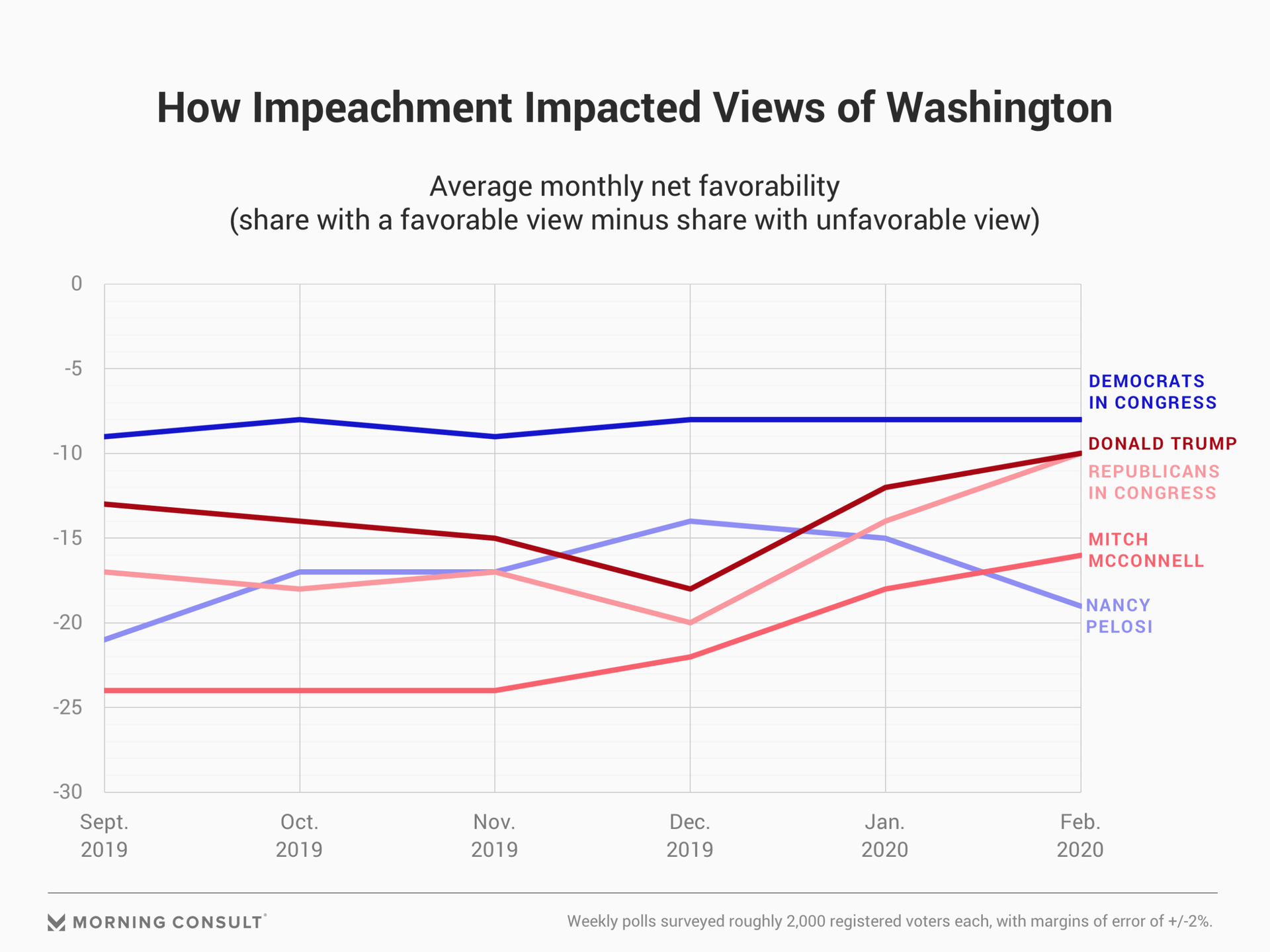 The improvement for Republicans on Capitol Hill was not reflected in views about the Democrats who launched the impeachment inquiry. 
House Speaker Nancy Pelosi, a well-known figure in American politics who's been a fixture of Republican attack ads for a generation of campaigns of politicians, ended the impeachment process with her favorability roughly where she began. Over half of voters (53 percent) said they have unfavorable views of the California Democrat, compared with 34 percent who said they have favorable views of her, while upticks in popularity among Democrats were nearly within the margin of error. 
Congressional Democrats, meanwhile, were the most popular impeachment players throughout the process, and voters' views about them went statistically unchanged throughout the inquiry and trial. The latest poll found 41 percent view them favorably vs. 49 percent who have an unfavorable view, statistically similar to September's numbers.
Eli Yokley is Morning Consult's U.S. politics analyst. Prior to his current role, Eli was Morning Consult's senior reporter covering U.S. politics. Eli joined Morning Consult in 2016 from Roll Call, where he reported on House and Senate campaigns after five years of covering state-level politics in the Show Me State while studying at the University of Missouri in Columbia, including contributions to The New York Times, Politico and The Daily Beast. Follow him on Twitter @eyokley. Interested in connecting with Eli to discuss his analysis or for a media engagement or speaking opportunity? Email [email protected].
We want to hear from you. Reach out to this author or your Morning Consult team with any questions or comments.
Contact Us