Joe Biden Is the Front-Runner -- Over Democrats, and Donald Trump
8-point lead over Trump a contrast to Obama's standing at this point in 2012 cycle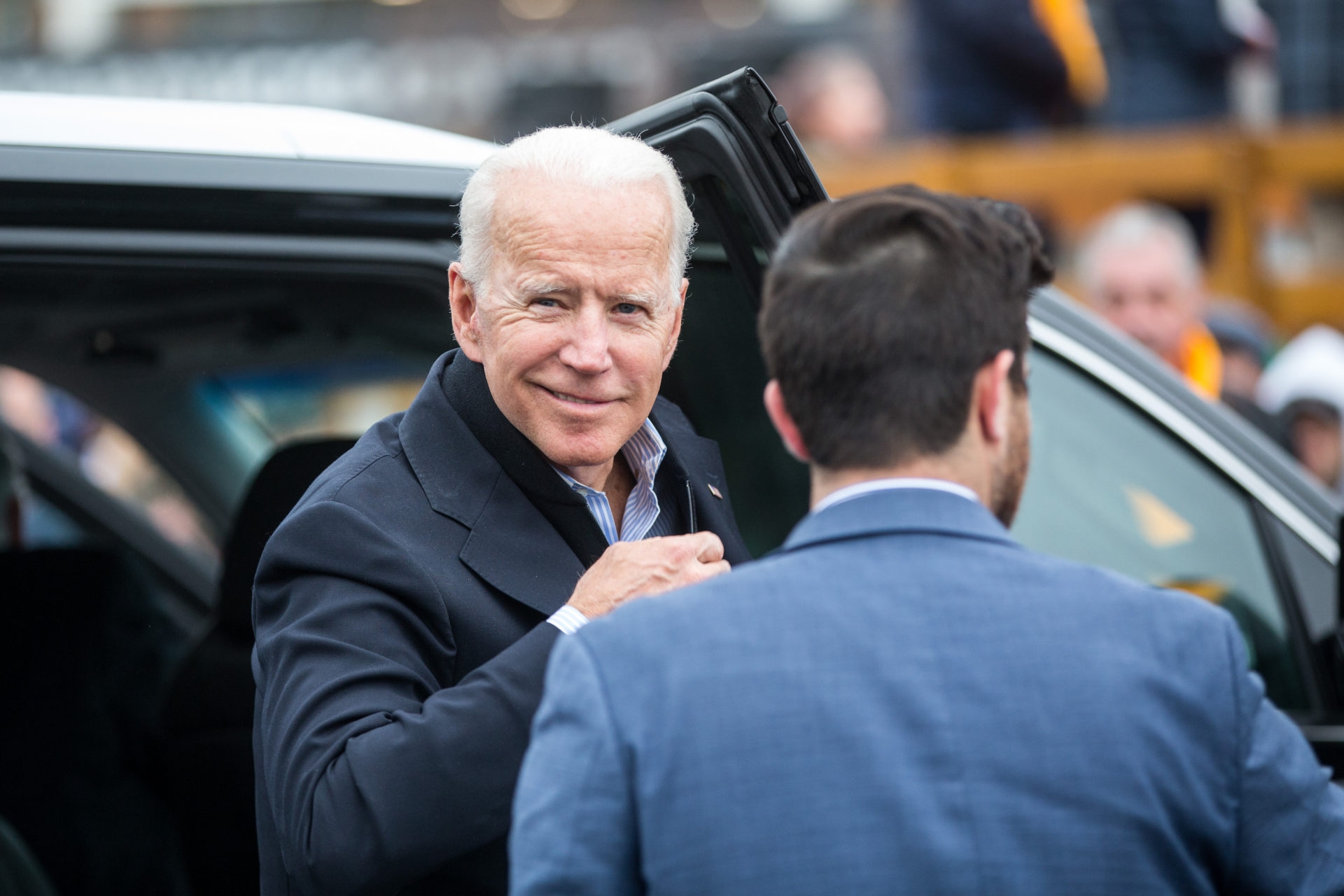 Key Takeaways
Biden bests the president in a hypothetical matchup, 42% to 34%.

Former VP's net favorability has taken a 5-point hit since Morning Consult began tracking in late January.
As former Vice President Joe Biden prepares to enter the race for the Democratic presidential nomination, he's doing so as the front-runner, polling ahead of both fellow Democrats and President Donald Trump.
A new Morning Consult/Politico poll conducted April 19-21 among 1,992 registered voters found Biden leading the president by 8 percentage points in a hypothetical matchup, 42 percent to 34 percent. Biden has a significant edge over Trump among women (17 points), millennials (22 points) and independents (10 points).
The national, online survey has a 2-point margin of error.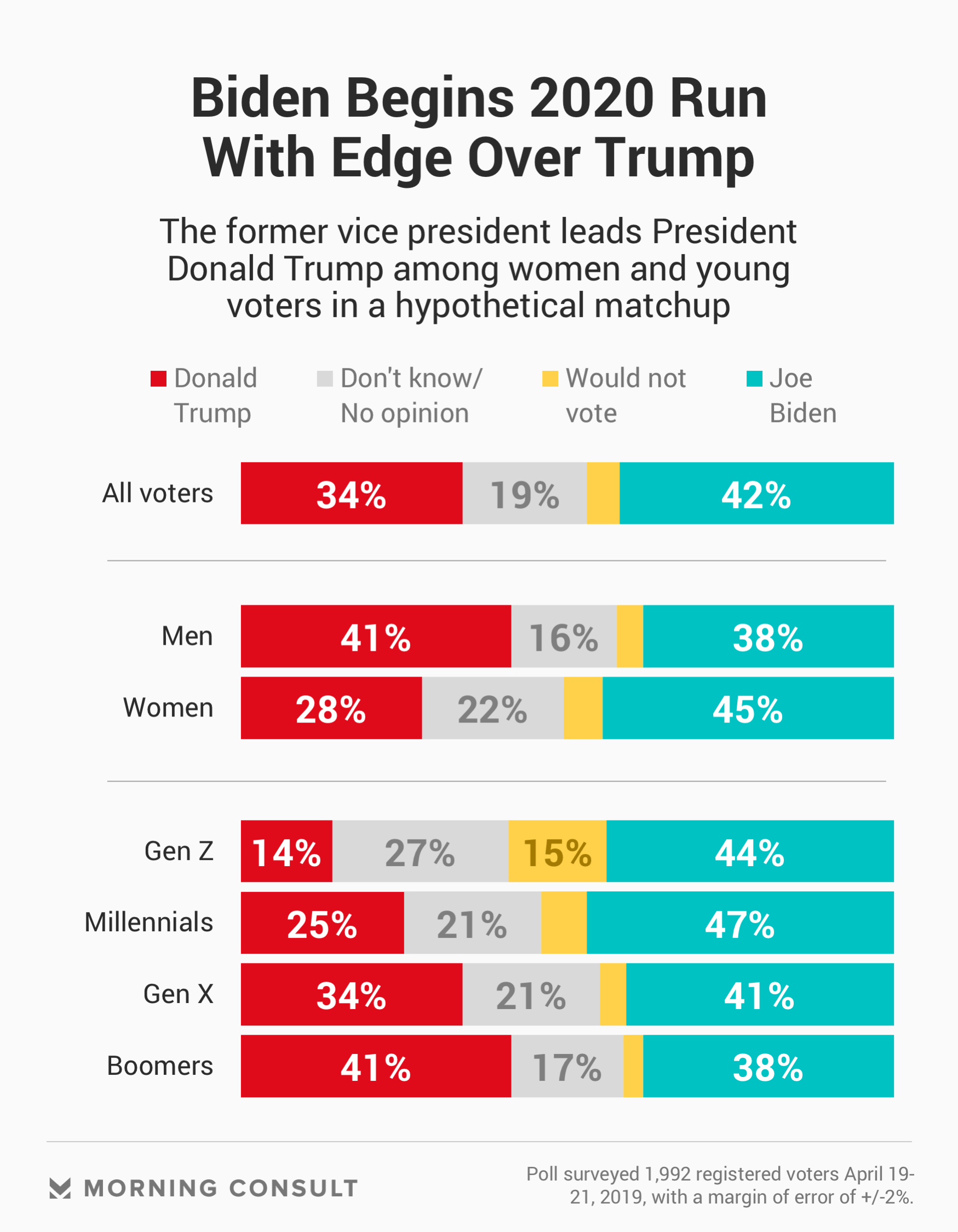 Trump's garnering roughly one-third of the vote in the early head-to-head test pales in comparison to that of the last incumbent president: At this point in the 2012 election cycle, then-President Barack Obama led Republican Mitt Romney by several points, polling consistently in the mid-to-high 40s, even after the 2010 tea party wave and backlash to the Affordable Care Act.
Along with his advantage over Trump, Biden has held a consistent lead in Morning Consult's weekly tracking among Democratic primary voters. Three in 10 of those voters said the Delawarean was their top pick in the latest poll, followed by 24 percent who chose Vermont Sen. Bernie Sanders. (Biden's 6-point advantage is similar to his average 7-point lead over the Democratic socialist in the 12 tracking polls.)
In the prominent states holding early nominating contests – Iowa, New Hampshire, South Carolina, and Nevada – Biden's lead over Sanders is currently larger, 34 percent to 26 percent, though those responses carry a larger margin of error: 5 points compared to the broader sample's 1-point.
Obama's former No. 2, set to launch his campaign Thursday, is also the second-choice candidate for supporters of several other contenders, including those backing Sanders, California Sen. Kamala Harris, and Mayor Pete Buttigieg of South Bend, Ind.
Compared with Sanders, the coalition of Democrats currently supporting Biden as a first choice are older, more racially diverse and more likely to identify as moderate. And despite the push from some quarters of the party for a younger, more liberal candidate, polling suggests the 76-year-old is currently winning the age and ideology debate -- though it has yet to be fully litigated during the nominating process.
Biden's standing in polling has hardly been dented by allegations of inappropriate interactions with women that dogged him in recent weeks. But his net favorability -- the share of voters who view him favorably minus those who don't -- has taken a hit, dropping 5 points since Morning Consult began tracking in late January.
Three in four Democratic primary voters have a positive view of Biden, the same as Sanders. Fourteen percent said they had an unfavorable view of Biden in the latest tracking.
Correction: Due to an editing error, a previous version of this story mischaracterized the sample of primary voters.
Eli Yokley is Morning Consult's U.S. politics analyst. Prior to his current role, Eli was Morning Consult's senior reporter covering U.S. politics. Eli joined Morning Consult in 2016 from Roll Call, where he reported on House and Senate campaigns after five years of covering state-level politics in the Show Me State while studying at the University of Missouri in Columbia, including contributions to The New York Times, Politico and The Daily Beast. Follow him on Twitter @eyokley. Interested in connecting with Eli to discuss his analysis or for a media engagement or speaking opportunity? Email [email protected].
We want to hear from you. Reach out to this author or your Morning Consult team with any questions or comments.
Contact Us