Majority Backs 'Medicare for All' Replacing Private Plans, if Preferred Providers Stay
Reduced support for single-payer overcome by assurance that Americans would not lose their doctor and hospital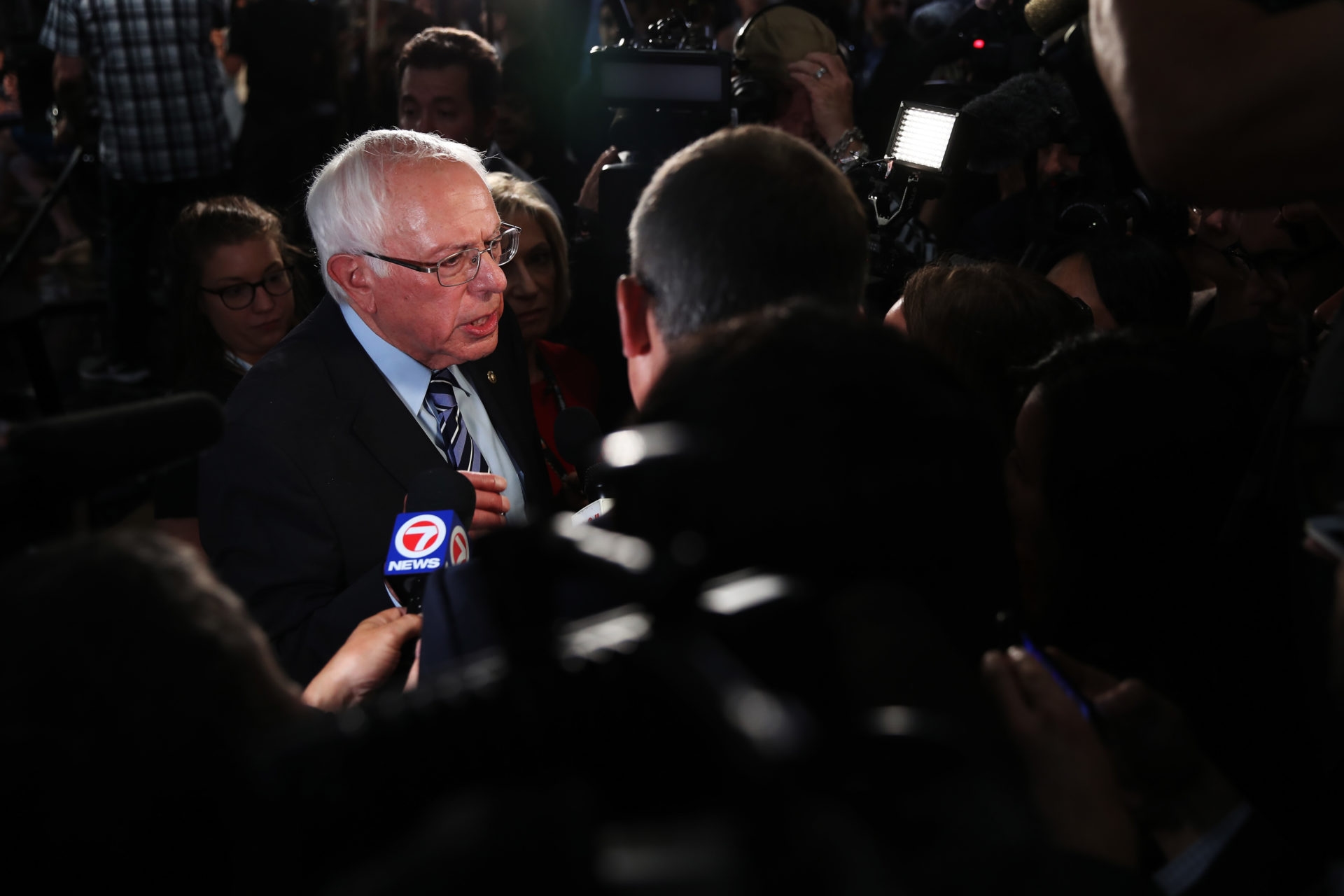 Key Takeaways
55% of voters back a Medicare for All system that diminishes the role of private insurers if they retain access to their preferred providers.

Independents are 14 points more likely to back the system when told losing their private plan would not mean losing their doctor (42% to 56%).
Though the dividing line between Democratic presidential candidates on "Medicare for All" concerns the elimination of the private insurance market, new Morning Consult data suggests that anxiety among voters may be misplaced fear about losing their providers rather than their private plans.
According to a Morning Consult/Politico survey conducted after the first Democratic presidential primary debates, support among voters for Medicare for All falls to 46 percent from 53 percent when respondents are told the government-run health system would diminish the role of private insurers — but rises back to 55 percent when voters learn that losing their private plans would still allow them to keep their preferred doctors and hospitals.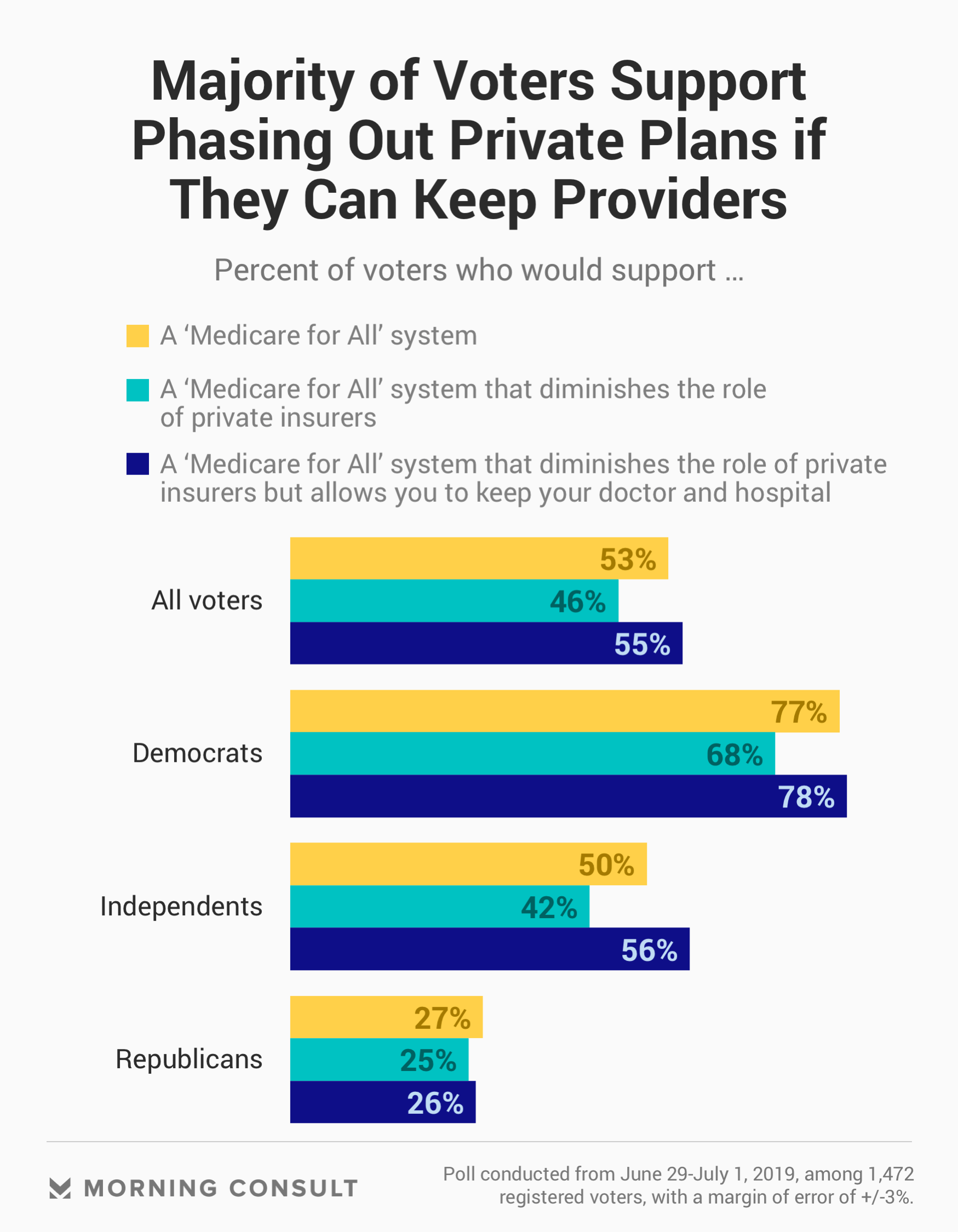 Between the forums last Wednesday and Thursday, only four of the 20 candidates onstage said they were in favor of abolishing private health insurance in favor of a government-run plan: New York City Mayor Bill de Blasio and Sens. Bernie Sanders (I-Vt.), Elizabeth Warren (Mass.) and Kamala Harris (Calif.). Harris later partially modified her position, stating she misheard the question and believes private plans should continue offering supplemental coverage alongside the federal system (as would be the case under Sanders' Medicare for All plan).
"These numbers only affirm what the senator has said many times: people don't like insurance companies, they like their doctors and their hospitals," Sanders' campaign said of the data in an email to Morning Consult. "Despite what the pharmaceutical and insurance industries will tell you, Medicare for All is the only proposal that gives Americans the freedom to control their own futures — change jobs, start a family, start a business  — and keep their doctor."
Several polls have demonstrated that support for Medicare for All plummets when Americans learn the system would replace employer-sponsored coverage with one sweeping plan, forcing single-payer supporters to go on the defensive to alleviate concerns from voters. But as candidates attempt to persuade voters that Medicare for All would not require diminishing the role of private insurers — further adding to confusion among the electorate about what exactly the system would entail — the new data suggests that the consequences of that argument can be mitigated by clarifying that losing private insurers would not affect access to preferred providers.
The June 29-July 1 survey of 1,472 voters found that explanation to be especially effective in quelling skepticism among Democrats and independents. Among independents, 56 percent back a Medicare for All system that nixes the private market but allows people to keep their doctors — a 14-point increase over the share that only hears about the diminished role of private insurers. The poll had a margin of error of 3 percentage points.
Republicans, who have not yet forgotten former President Barack Obama's promise with respect to the Affordable Care Act that "if you like your health care plan, you can keep it," were mostly unmoved by the addendum.
Private insurance companies have much to lose from the implementation of Medicare for All, leading opposition efforts on Capitol Hill and across the country alongside Republicans, who have decried single-payer as a socialist takeover of health care. Few candidates have been frank in admitting the Medicare for All bills in the House and Senate would phase out private insurers over a transition period of two or four years, respectively. Other presidential hopefuls, such as Sen. Kirsten Gillibrand (N.Y.) and former Texas Rep. Beto O'Rourke, have offered broad statements in support of universal health care while insisting they would not lessen the role of insurers in the U.S. health care system.
Previous Morning Consult polling has also indicated Americans who are against Medicare for All on the grounds that it would reduce the role of insurance companies may be inadvertently conflating their payers and providers. Among adults who said they opposed the system, 62 percent said they are more likely to support the plan if they could keep their doctors and hospitals.
Yusra Murad previously worked at Morning Consult as a reporter covering health.
We want to hear from you. Reach out to this author or your Morning Consult team with any questions or comments.
Contact Us