Manufacturing Workers Are Increasingly Pessimistic About the Economy
Bringing back blue-collar jobs has been a key talking point for Trump's re-election bid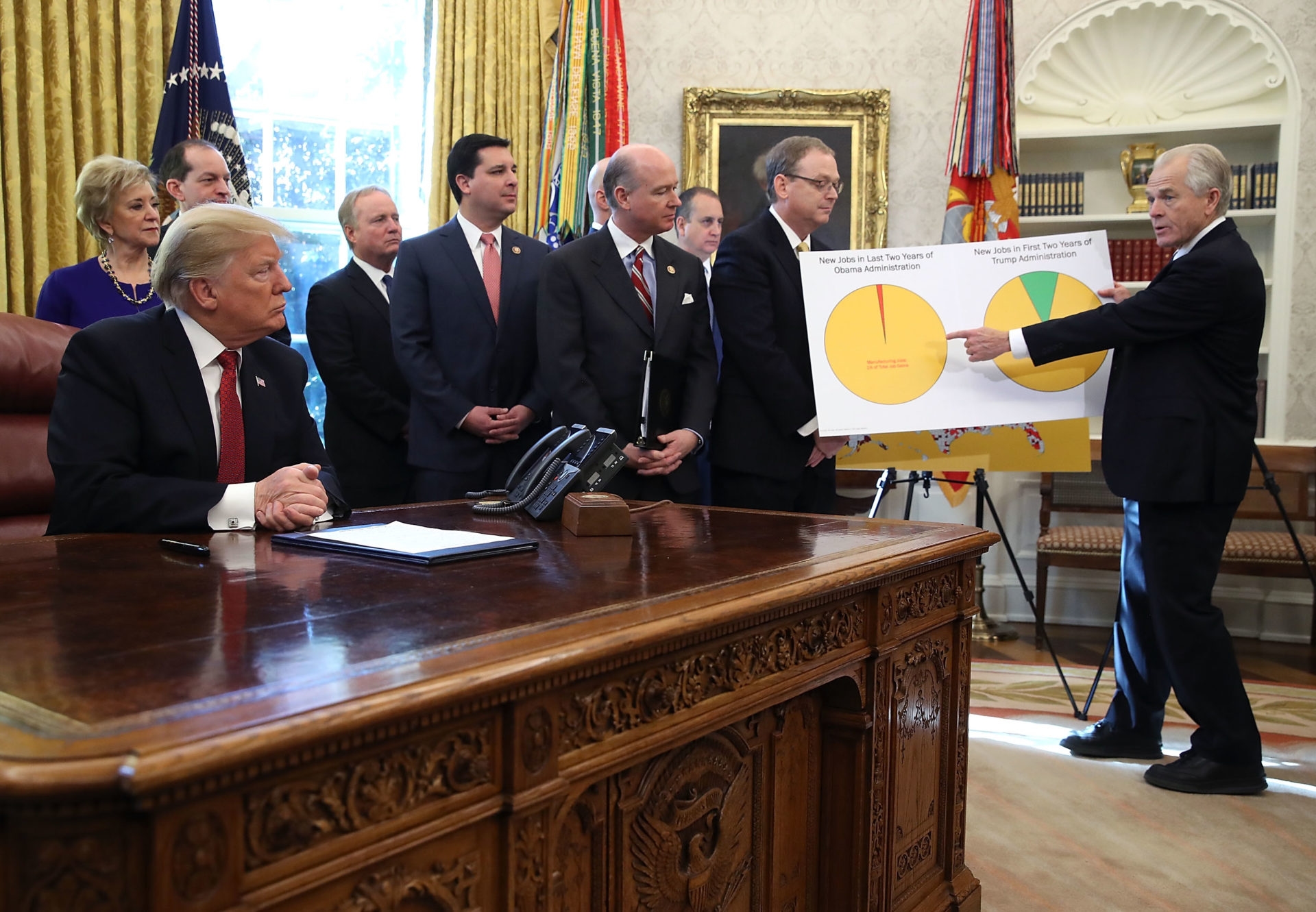 Key Takeaways
Consumer confidence among manufacturing workers fell in the past week.

Manufacturing consumer confidence has steadily declined in recent months.

Overall, consumer confidence inched up to 109.1.
Consumer confidence among manufacturing workers — an important demographic for President Donald Trump's 2020 re-election bid — has flagged in recent months, according to new Economic Intelligence data from Morning Consult. 
Manufacturing declines have historically served as grim portents for broader economic downturns, although that link may be weakening as the industry's share of the country's labor market and economy declines. Still, the manufacturing sector remains an important industry in key swing states such as Michigan, Wisconsin and Ohio, and also for Trump, who has made bringing back blue-collar jobs to factories a key point of his 2016 and 2020 campaigns. 
There are signs that manufacturing workers aren't feeling positive about the economy heading into 2020. Consumer confidence among manufacturing workers this week slid, tracking with a general downward trend that's persisted since June, according to Morning Consult.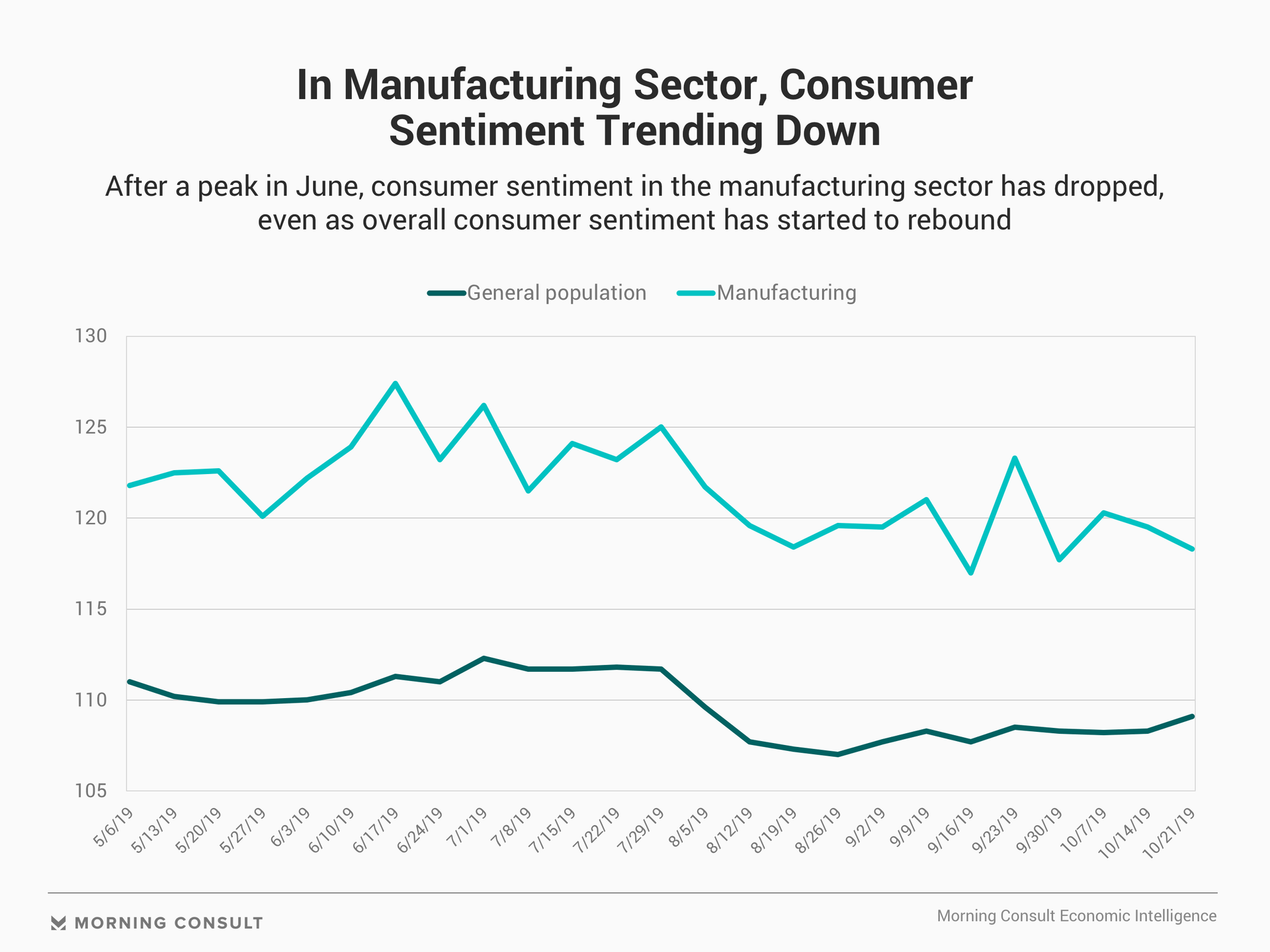 The manufacturing Index of Consumer Sentiment edged down to 118.3 from 119.5 over the week, although it remains well-above the 100 line that divides positive from negative impressions of economic outlook. The sector's Index of Consumer Expectations – a measure of manufacturing workers' expectations for the future — declined to 118.4 from 119. 
Morning Consult's aggregate indices are based on daily surveys of 7,500 U.S. adults conducted Oct. 21-27. Morning Consult Economic Intelligence data draws upon surveys that ask each respondent the same five questions as the University of Michigan's Surveys of Consumers. (A detailed explanation of the methodology can be found here.)
Manufacturing's decline in consumer confidence is also longer and more persistent than the general population, which has started to rebound, according to John Leer, senior director for Morning Consult Economic Intelligence. This week, the overall Index of Consumer Sentiment rose to 109.1 from 108.3. 
"The fall in consumer confidence within the manufacturing sector starts earlier than the fall in the general population," Leer said. "We don't see the same rebound in October amongst manufacturing workers as we do across the general population."
The manufacturing sector's continued consumer confidence downturn comes even as trade tensions eased between the United States and China, and as the United Auto Workers ended its nationwide strike at General Motors Co. that put nearly 50,000 people temporarily out of work. 
The trade war has hit the manufacturing sector particularly hard. The Institute for Supply Management's closely watched index fell further into recession territory in September, hitting the worst month for U.S. manufacturing in more than a decade. 
Claire Williams previously worked at Morning Consult as a reporter covering finances.
We want to hear from you. Reach out to this author or your Morning Consult team with any questions or comments.
Contact Us