Contrary to Emmert's Quip, Voters More Confident in News Media Than NCAA
NCAA president recently bristled at interview question on public's confidence in the organization
When longtime sportswriter Jon Solomon, now of the Aspen Institute, pointed out Tuesday during an on-stage interview with Mark Emmert that "public confidence in the NCAA is low," the NCAA president fired back.
"Better than journalism," he quipped, perhaps revealing his frustration with the current media narrative surrounding his organization. 
While the NCAA and its policy of "amateurism" have been under siege since before Emmert took over in 2010, the enactment of California's Fair Pay to Play Act in late September put the organization -- and Emmert himself -- squarely in the crosshairs. He's taken flak from federal and state lawmakers, athlete advocacy groups and, most of all, countless pundits and columnists with varying levels of insight into the complexity of creating name, image and likeness policy while maintaining college sports as we know them.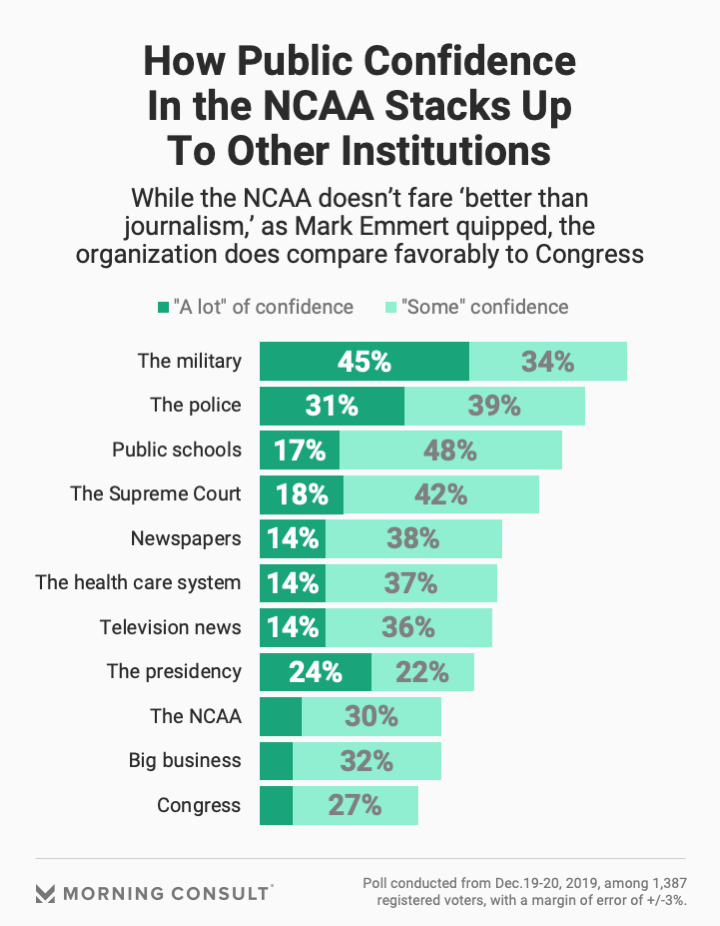 Nonetheless, a new Morning Consult/Politico survey indicates that his remark, which he later brushed aside as a joke, isn't true.
Nine percent of respondents in the Dec. 19-20 survey of 1,387 registered voters said they have "a lot" of confidence in the NCAA, with another 30 percent expressing "some" confidence in the organization. Television news, by comparison,  earned "a lot" of confidence from 14 percent of voters and "some" confidence from 36 percent. Newspapers scored similarly, with 14 percent expressing "a lot" of confidence and 38 percent expressing "some."
The poll has a margin of error of 3 percentage points.
The public does, however, have more faith in the NCAA than in Congress, which earned "a lot" of confidence from 7 percent of voters and "some" confidence from 27 percent. Ironically, Congress might be the only institution that can help Emmert and the NCAA maintain a nationwide standard of governance over college athletics amid an onslaught of disparate regulations pending in state legislatures concerning compensation for the use of student-athletes' name, image or likeness.
Alex Silverman previously worked at Morning Consult as a reporter covering the business of sports.
We want to hear from you. Reach out to this author or your Morning Consult team with any questions or comments.
Contact Us