McConnell Is Rebounding With Republicans as He Looks 'to the Future'
Since February low, Kentucky Republican's favorability rating is up 12 points among GOP voters nationwide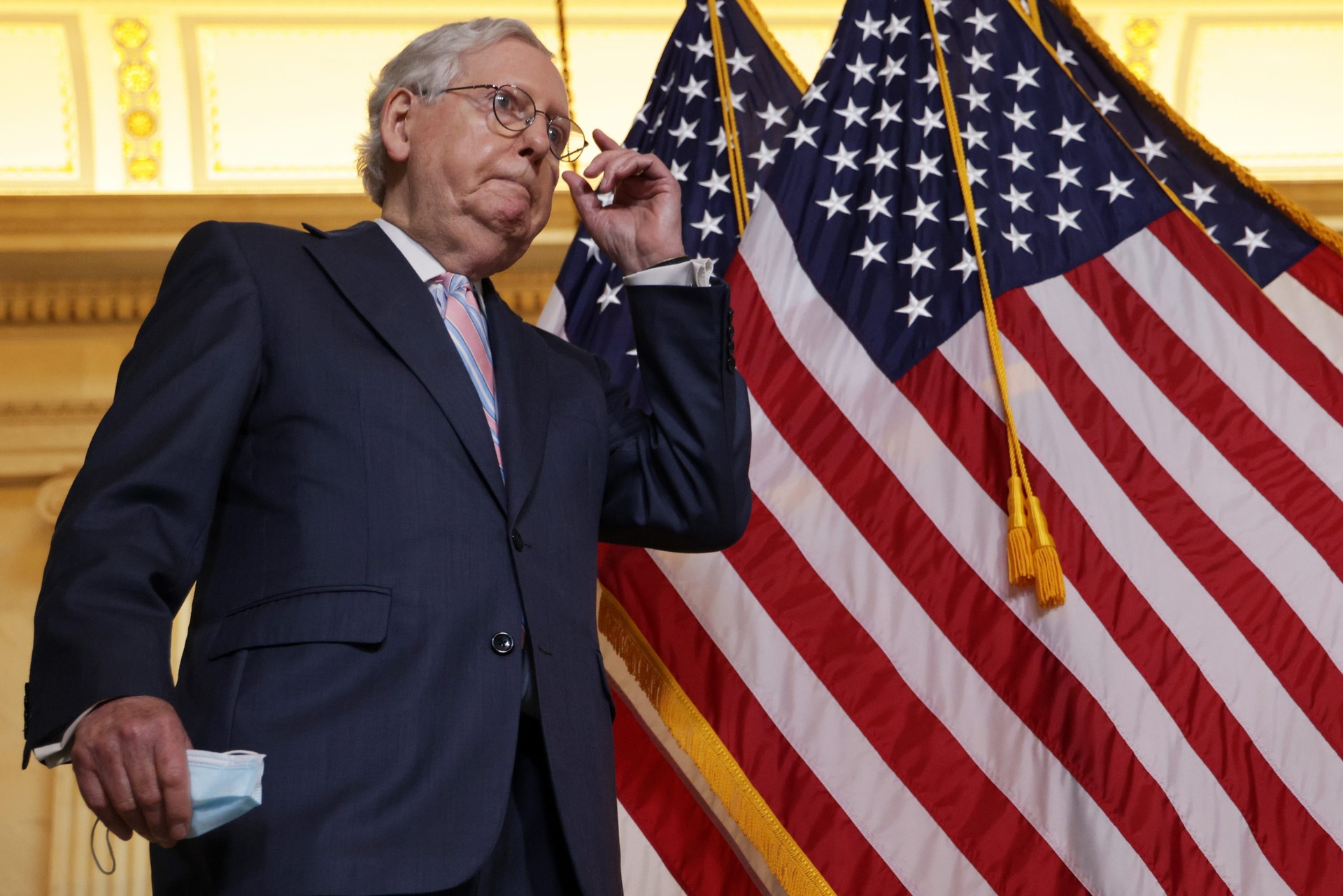 Key Takeaways
42% of GOP voters view Mitch McConnell favorably; 36% view him unfavorably.

McConnell's changing numbers stand in contrast to relative stability of GOP views about House Minority Leader Kevin McCarthy.

6% of GOP voters said they'd heard "a lot" about Trump's recent call for McConnell's ouster – a third of the share who said the same of Trump's February statement attacking him.
In the face of the latest broadside from former President Donald Trump, Senate Minority Leader Mitch McConnell (R-Ky.) said last week that he's "looking to the future" of the GOP and his role in it. New polling suggests that the Republican base, which has largely viewed the Kentucky senator unfavorably since January, may be ready to turn the page as well.
According to a Morning Consult/Politico survey, 42 percent of GOP voters hold favorable views about McConnell, up 12 points since a post-election low reached in late February after Trump launched his most stinging attacks on the top Senate Republican. Over the same course of time, the share of GOP voters with unfavorable views about McConnell fell 14 points, to 36 percent.
The improvement brings McConnell's favorability rating roughly in line with House Minority Leader Kevin McCarthy (R-Calif.), who has taken a more conciliatory approach to his relationship with the 45th president in recent months. Roughly 2 in 5 GOP voters had a favorable view of McCarthy in the April 30-May 3 survey -- though at 21 percent, his unfavorability rating remains lower than McConnell's.
Republican sentiment about McConnell dipped in December amid Trump's pressure campaign, inflicted on a number of GOP leaders, that aimed at undermining the credibility of the presidential election results. But the bottom did not drop out until he slammed the president in a Senate floor speech for culpability in inciting the Jan. 6 riot on Capitol Hill.
Since Trump left office, he has ramped up his attacks on the minority leader, most prominently in a lengthy February statement in which he called McConnell "a dour, sullen, and unsmiling political hack" and said that Republicans would never regain the Senate majority with him at the helm. Last week on Fox Business Network, Trump called for McConnell's ouster on the same day that McConnell in a published interview expressed interest in continuing to serve as the Republican leader after the 2022 midterm elections.
McConnell, who has said he would support Trump if he were to become the GOP's 2024 presidential nominee, responded to Trump's attacks by simply saying that "we're looking to the future, not the past."
With an 81 percent favorability rating, Trump remains enormously popular among Republican voters. However, polling does indicate he is getting diminishing returns from the attacks he's lodged at McConnell via press statements and television interviews after he was banned from prominent social media platforms in the wake of the insurrection – though whether that will continue is unclear, as Facebook's oversight board is set to release a ruling today on whether to restore the former president's account.
According to the latest survey, just 6 percent of Republican voters said they'd seen, read or heard "a lot" about Trump's call last week for McConnell to be replaced as GOP Senate leader, a third of the share who said the same of Trump's February statement attacking him. Seven in 10 Republicans said they'd heard not much or nothing at all about it, compared with 45 percent who said the same of Trump's initial attack.
Eli Yokley is Morning Consult's U.S. politics analyst. Eli joined Morning Consult in 2016 from Roll Call, where he reported on House and Senate campaigns after five years of covering state-level politics in the Show Me State while studying at the University of Missouri in Columbia, including contributions to The New York Times, Politico and The Daily Beast. Follow him on Twitter @eyokley. Interested in connecting with Eli to discuss his analysis or for a media engagement or speaking opportunity? Email [email protected].
We want to hear from you. Reach out to this author or your Morning Consult team with any questions or comments.
Contact Us