McConnell Revives Prospect of ACA Repeal, but GOP Voters' Interest on the Decline
74% of Republican voters back partial or complete repeal of Obamacare, from 83% percent in August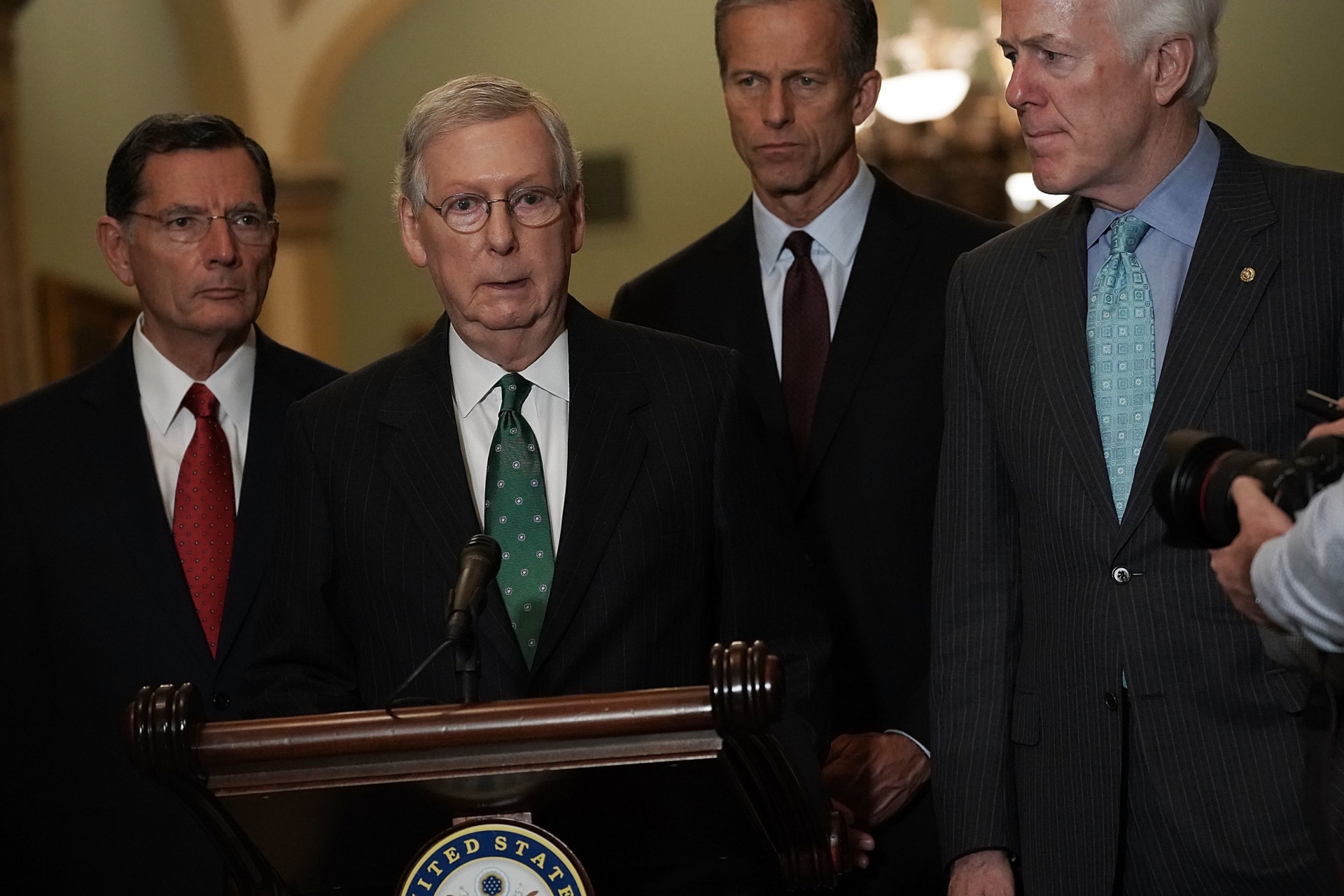 Key Takeaways
A plurality (49%) of all voters back partial or complete repeal of the ACA.

37% of independents support maintaining or expanding the ACA, up 8 points from March 2017.
In a possible appeal to Republican voters with hardly 20 days remaining before the midterm elections, Senate Majority Leader Mitch McConnell (R-Ky.) raised the possibility that Republicans would revive efforts to strike down the Affordable Care Act if the party maintains congressional majorities -- right after a Morning Consult/Politico survey showed support for repeal among Republicans hit its lowest point since Morning Consult began polling on the question in March 2017.
According to the survey of 1,961 voters conducted Oct. 11-15, 74 percent of Republican voters support a partial or complete repeal of Obamacare, compared to a peak of 83 percent who said the same in August and 77 percent in March 2017. The margin of error on all the polls is 2 percentage points.
Until McConnell's remarks, talk of repealing and replacing the ACA had dissipated in recent weeks, as vulnerable Republican candidates in congressional races across the nation have distanced themselves from the GOP's history of repeal efforts, opting to focus on upholding the provisions of the law that protect people with pre-existing conditions.
But experts see McConnell's renewed calls for repeal as a strategic effort to provide an 11th-hour spike in GOP voter enthusiasm as polls increasingly indicate Democrats have a good chance of taking over the House.
Liz Hamel, director of public opinion and survey research at Kaiser Family Foundation, said that while health care issues are not generally as big of a motivating factor for Republicans to vote, repealing Obamacare still interests a segment of GOP voters.
"That certainly is a position that speaks to the Republican base," Hamel said.
Rodney Whitlock, a former health policy adviser for Sen. Chuck Grassley (R-Iowa) and current vice president of health policy at ML Strategies, said he firmly believes replacing the ACA is still important to Republican voters and candidates and predicts repeal efforts will make a comeback in the Senate after the midterms if McConnell has the votes.
But "it's not as easy as, 'Let's bring up Graham-Cassidy and pass it," he said, referring to the Obamacare repeal bill that the Senate chose not to vote on in September 2017.
Still, both Whitlock and Hamel are skeptical that McConnell's support for an ACA repeal will have any prominent effect on voter turnout among Republicans.
"Most comments about repealing the ACA are speaking to a base of engaged Republican voters to begin with," Hamel said. "Whether it's going to motivate folks to turn out who weren't already very engaged is an open question."
Among the general public, support for Obamacare repeal has held steady over the duration of the Trump administration.
The October 2018 Morning Consult/Politico survey found 49 percent believe Obamacare should be partially or completely repealed -- 2 points higher than the share who backed repeal in October 2017 and 3 points lower than in March 2017, immediately after House Republicans introduced legislation to overhaul the ACA. That legislation was ultimately pulled from the floor.
Some analysts predict that even if McConnell's comments successfully energize core Republican voters, it may be the Democrats who reap the substantial voter-turnout rewards.
On Friday morning, Senate Democratic Leader Chuck Schumer of New York said on MSNBC that McConnell's remarks in favor of Obamacare repeal, the Texas-led lawsuit aiming to strike down protections for pre-existing conditions, and cuts to Medicare and Social Security are a "game changer" and "gift" for Democrats, who have painted the GOP as a palpable threat to the future of health care.
Jon Reinish, a Democratic strategist, said renewing the prospect of ACA repeal would not only drive Democrats to the polls, but it could have a powerful effect on swing voters and even some moderate Republicans who have come around to Obamacare.
Calls for repeal no longer have the same ability to motivate the GOP base as they did in past elections, he said.
"Many years later, voters and families of all partisan leanings are seeing the positive effect that this has had on their families, their coverage, seniors, people with pre-existing conditions," Reinish said.
Support for the ACA has grown among independents, with 37 percent in the Oct. 11-15 poll saying they either back expanding or keeping Obamacare as is, compared to 29 percent who said the same in March 2017. In the October poll, 24 percent of independents wanted the ACA repealed in part and 26 wanted it repealed completely.
"This is a nonpartisan or at least cross-partisan issue," Reinish said. "If they see in the closing weeks of the midterms that party leadership is saying that they are coming for health care, that is absolutely going to define how they vote -- that goes for independents, that goes for moderates."
Yusra Murad previously worked at Morning Consult as a reporter covering health.
We want to hear from you. Reach out to this author or your Morning Consult team with any questions or comments.
Contact Us