The Midterms Are Looking Very Dim for Democrats. Could an Economic Revival Boost Their Chances?
Polling shows declining sentiment about Biden is hurting voters' trust in congressional Democrats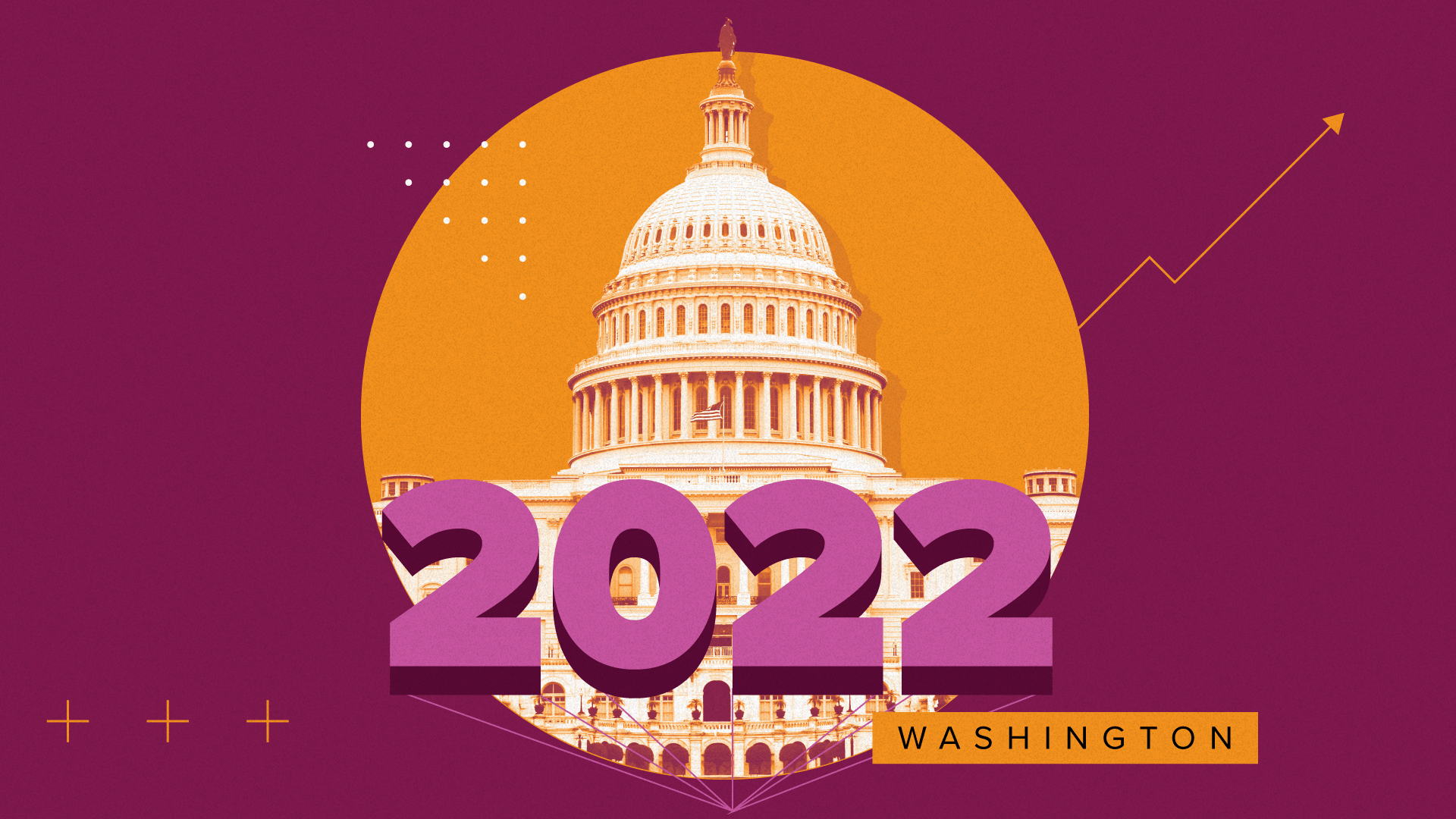 Key Takeaways
Democrats' average trust advantage on the issues has fallen 12 points since March, in conjunction with a 27-point drop in Biden's net approval rating.

Political strategists and scientists say the key to fending off the loss of both chambers next year is to make voters feel better about the state of the economy.

However, experts caution that even an uptick in economic optimism and Biden's approval rating may not be enough to keep Democrats from losing the House and Senate.
Years of history suggest the Democrats' electoral demise in the midterm elections could be a foregone conclusion, given voters' usual negative response to unified control of Washington, namely the incumbent president. And at this point, it's not pretty.
Yet 2022 provides some unique opportunities to defy history, due in large part to the COVID-19 pandemic's impact on the economy, with global supply chain problems and built-up consumer demand contributing to inflation that has hit voters' pocketbooks throughout Joe Biden's presidency. Scholars who study elections, and operatives who work for campaigns, say the potential for a political recovery for Biden — fueled by the possible improvement of economic perceptions — could help Democrats avoid a disastrous cycle, but holding control of either chamber is another question.
What the data says (it's bad)
The past nine months have pruned voters' trust in congressional Democrats on a range of issues as Biden's job approval tumbled from its honeymoon heights back in March, when COVID-19 vaccinations were taking off, the pandemic appeared to be receding, relief checks had been approved and there were few noisy concerns about the supply chain or inflation.
The decline in trust on nearly every issue follows the trajectory of voter trust in congressional Republicans captured in surveys four years ago. 
Ahead of the 2018 midterms, Morning Consult tracked how many voters trusted Democrats and Republicans in Congress to handle eight issues — the economy, jobs, immigration, national security, health care, the environment, energy and education — as well as presidential approval ratings. Those metrics have also been tracked since the start of 2021.
Biden, Like Trump Before Him, Is a Drag on His Party's Lawmakers
Net approval ratings — the share who approve minus the share who disapprove — for President Joe Biden and former President Donald Trump tracked alongside their respective parties' average trust advantage on a range of issues
Issues tested in the trust question include the ​economy, jobs, health care, immigration, environment, energy, education and national security.
Monthly averages of polls conducted on a weekly basis in 2017-2018 and a biweekly basis in 2021, among roughly 2,000 registered voters each, with margins of error of +/-2%.
Ahead of 2018 and 2022, the average trust advantage held by the party in power over the minority party followed a comparable trajectory to the average monthly net approval rating — the share of voters who approve minus the share who disapprove — of the parties' respective presidents. In the case of congressional Democrats, the lines are particularly stark, considering that both they and Biden began their tenure with better ratings from the electorate than Republicans and Trump did four years ago.
Congressional midterms have increasingly become a referendum on the president: Research shows a strong relationship between what people think of the president and what they think of the president's political party, while studies have found an expanding congruence between presidential job approval and House vote preference in generic ballot surveys. That connection was responsible for the GOP's loss of the House in 2018, and is also apparent again today, despite the Democratic Party's early, narrow advantage on the question.
Independents Favor Republicans Over Democrats on Generic Ballot
The average Democratic advantage over congressional Republicans for each month when voters were asked which party's candidate they would support if the election for U.S. Congress in their district were held today
Weekly polls conducted in 2021, among roughly 2,000 registered voters each, with margins of error of +/-2%.
The latest Morning Consult generic ballot tracking shows that 43 percent of voters would back a Democrat over a Republican for Congress if the election were held today, and 46 percent approve of Biden's job performance, mirroring the general consistency between the two figures throughout the fall. Surveys conducted in December show Democrats leading Republicans on the question among all voters by an average of 2 percentage points, while trailing by 7 points among independent voters.
What needs to change
In recent interviews, political strategists and academics said the key to fending off the loss of both chambers next year involves improving perceptions of Biden's job performance, which have been in decline since the summer delta surge and dipped underwater amid the chaotic Afghanistan withdrawal, where they've remained. The door, many believe, can be unlocked by an upturn in positive sentiment on the economy, which consistently ranks as voters' top consideration in federal races by a large margin.
Democratic strategist Adrienne Elrod, a former official at the Democratic Congressional Campaign Committee, said the potential passage of the Build Back Better Act — currently stalled in the Senate — would give Biden and his allies a legislative victory on a range of policies Democrats hope will pad voters' pockets and show that the party is trying to do something about economic pain ahead of the midterms.
"If they are successful in doing so, and I believe they will be, every American will understand what President Biden did for them and that will undoubtedly drive up his numbers and help Democrats up and down the ticket," she said, blaming today's economic circumstances and the stalemate on Capitol Hill as the reasons for the president's current rut.
But Biden's expensive social agenda also threatens to exacerbate the belief, held by a majority of voters, that the president and his policies are to blame for rising inflation, an issue Biden acknowledged as a drag on his standing — and in turn the standing of all Democrats — during a Dec. 10 interview with "Tonight" host Jimmy Fallon.
"The biggest problem the Democrats have on the economy right now is that the voters have decided that all of the government spending has caused — and is causing — inflation and the other challenges in the economy, and their 'solution' to these issues is to spend trillions more," said Rob Simms, a Republican strategist who led the the National Republican Congressional Committee.
While Biden and his allies highlight positive economic growth, employment statistics and studies that say his Build Back Better Act will help consumer costs, Simms said that until the problem of consumer prices is resolved and the positive economic conditions are actually felt by voters, Democrats will continue to face political peril.
One study, conducted by UBS chief equity strategist Keith Parker and described by The New York Times ahead of the 2018 midterms, found that macroeconomic growth indicators — the status of the stock market, the employment rate or economic growth reports — had no impact on stemming electoral losses for the party in power in Washington.
Political scientists have also found that, of all the indicators, the change in real disposable income per capita over the election year, which is impacted by inflation, serves as one of the better economic variables when trying to predict House midterm election outcomes. But even that equation — in which Democrats already face a disadvantage given their narrow majority — is tied to the president's job approval rating.
The likeliest outcome
Democrats begin 2022 in need of a miracle to stave off electoral losses in November.
The problems for Democrats are bicameral, and while the Senate is harder for political scientists to study and predict, given there are fewer races each year and the composition of seats varies from cycle to cycle, the need for Biden to improve his standing to help his party is not limited to the House. 
"A bit more good news could be conducive to some improvement in Biden's approval rating, but obviously there's not much that Democrats can do directly to bring any of this about," said John Sides, professor of political science at Vanderbilt University, who's written about the impact of the economy on elections. "The best they can hope for is that Biden's approval rating rebounds at least a little."
Biden's sagging popularity proved to be a devastating drag for his party in Virginia's gubernatorial race in November, and also nearly toppled Democratic Gov. Phil Murphy in New Jersey. In both of those states, Biden beat Trump by a considerably wider margin than he did in Arizona, Georgia, Nevada, Pennsylvania and Wisconsin — all states that feature prominently in the Senate battleground and have shown recent disdain for Biden — signaling danger for Democratic majorities.  
"Democrats' fates are tightly bound to opinions of Biden and it will take a remarkable and unlikely chain of events to bring his ratings back to where Democrats would have a fighting chance to retain the House," said Gary Jacobson, distinguished emeritus professor of political science at the University of California San Diego. 
He noted that his forthcoming analysis suggests the party's chances of retaining Senate control look even more dire.
Eli Yokley is Morning Consult's U.S. politics analyst. Prior to his current role, Eli was Morning Consult's senior reporter covering U.S. politics. Eli joined Morning Consult in 2016 from Roll Call, where he reported on House and Senate campaigns after five years of covering state-level politics in the Show Me State while studying at the University of Missouri in Columbia, including contributions to The New York Times, Politico and The Daily Beast. Follow him on Twitter @eyokley. Interested in connecting with Eli to discuss his analysis or for a media engagement or speaking opportunity? Email [email protected].
We want to hear from you. Reach out to this author or your Morning Consult team with any questions or comments.
Contact Us