MLB 'Diligently Pursuing' Legal Authority to Take Action Against Drone Threats at Ballparks
Unauthorized unmanned aircrafts have interrupted four MLB games this season; new polling shows concern among public
Key Takeaways
39% of U.S. adult drone owners are either "not very familiar" or "not at all familiar" with regulations governing their use.

Nearly half of the public is "very" or "somewhat" concerned about being physically harmed by a drone.

63% are worried about drones potentially violating their privacy.

 
As if staging a season amid a global pandemic hasn't been enough of a challenge for MLB, a lingering ballpark security issue is rearing its head again.
Unmanned aerial vehicles, or drones, have halted four games so far this season, including two this month, by flying directly over ballparks during play. The incidents have only caused momentary delays and there haven't been fans on site to worry about, but the string of drone intrusions raises red flags about the vulnerability of outdoor sports facilities to airborne security threats. And new polling also shows the public is fearful of being harmed by drones.
An MLB spokesperson said in a statement that the league is "diligently pursuing appropriate Federal congressional action to legally enable more robust mitigation efforts" as it relates to drone threats. In other words, the league is seeking the authority to take action against unauthorized drones that enter the airspace around its ballparks, though it did not specify how exactly it wants to intercept unmanned aircraft. Guns, nets, frequency-jamming devices, directed energy and even trained animals such as eagles are among some of the counter-drone solutions available, according to the Congressional Research Service.
Many of the open-air facilities that house NFL and MLB teams now employ some sort of drone detection system, which is intended to identify potential threats through the use of technologies such as radio-frequency detection, RADAR and LIDAR. Current regulations put in place by the Federal Aviation Administration, however, do not allow security teams to respond by intercepting or disabling drones once they are determined to be a threat.
"Federal law prohibits public or private entities such as Major League Baseball from intercepting or disrupting unmanned aircraft system (UAS) operations," the FAA said in a statement, adding that it "encourages Major League Baseball to work with federal, state, local and tribal territory law enforcement when concerned about unauthorized UAS operations above stadiums."
So, even though the FAA restricts drones from flying within three nautical miles of a sports facility on game days, it would still be illegal for stadium security to knock an encroaching drone out of the sky. Only the Department of Homeland Security and the Justice Department are authorized to take down threatening drones, under the FAA Reauthorization Act of 2018.
"There's still this battle between the public and the private sector where the private sector wants to invest in this technology, but they're still limited in what they can do to mitigate," said Kyle Hopkins, vice president of customer development at Dallas-based 911 Security. 
According to the FAA, there are nearly 1.7 million drones -- about 1.2 million recreational and 489,000 commercial -- registered in the United States. The agency estimated that number will be around 2.4 million in 2022. 
Sports properties' primary recourse under the current rules is to locate the drone pilot and ask them to stop operating the aircraft in restricted airspace or provide their location to local law enforcement. Drones manufactured by China-based DJI, or Shenzhen DJI Sciences and Technologies Ltd., which account for about 75 percent of those sold in the United States, are equipped with technology that transmits the pilot's location and other pertinent information like model information, flight status and paths to detection systems on the ground.
"Finding the pilot during the flight provides the safest and most straightforward way to deal with this kind of scenario and typically, in the stories we've heard about these kinds of incidents, the pilot is right there in the parking lot or down the street," said Brendan Schulman, vice president of policy and legal affairs for DJI. 
MLB said that in all four incidents so far this season -- which took place in Minneapolis on Aug. 4, Boston on Aug. 13, New York on Sept. 2 and Los Angeles on Sept. 4 -- umpires have "responded to these incidents appropriately and in accordance with our protocols" by clearing players and team personnel off the field until the drone had left the area. No arrests were made in the New York and Los Angeles incidents, according to police. Law enforcement in Minneapolis and Boston did not immediately respond to requests for information on arrests.
When it comes to drones being flown in places they shouldn't be, security experts like Airspace Systems founder and Chief Executive Jaz Banga say operators can be classified into three categories: "the careless, the clueless and the criminal." The clueless and careless have accounted for the majority of incidents in professional sports to this point, some of which have involved drones crashing into seating areas, such as at tennis' U.S. Open in 2015 and a San Diego Padres game at Petco Park in 2017.
In a new Morning Consult survey, 39 percent of U.S. adult drone owners said they are either "not very familiar" or "not at all familiar" with regulations governing the use of flying drones by civilians. Individuals under the age of 18, who account for a significant share of drone users, were not polled.
"Most of the time, especially in sports entertainment, it's not somebody trying to cause nefarious actions. It's not somebody with bad intent," Hopkins said. "It usually in our experience has been somebody that wants to get a cool photo or wants to get a cool video, or whatever the case was, and they weren't aware of the laws and the repercussions if they flew into that environment."
The biggest concern to security experts, however, is the potential for criminals and even terrorists to use drones to inflict harm on people gathered in a large outdoor group setting like a stadium. Just as drones can carry cameras, they can also carry other "payloads," ranging from explosive devices to chemical weapons. 
"The issue with the drones now is someone can literally tape a gun to a drone and fly it in," said Banga, whose Silicon Valley-based company provides security services for multiple professional sports facilities, as well as airports.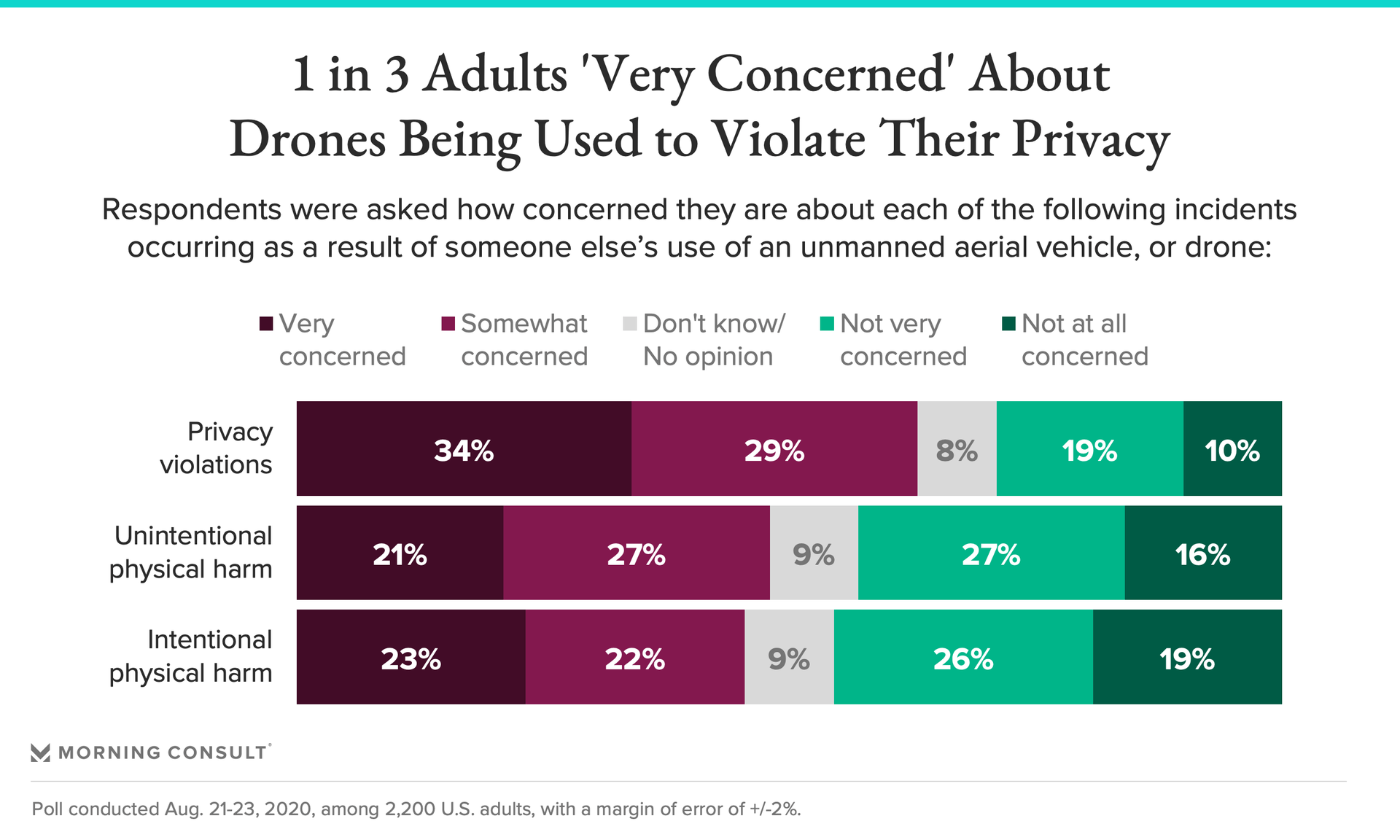 The biggest worry about drones among U.S. adults, according to the survey, is their potential to violate individuals' privacy. Sixty-three percent of the public is either "very" or "somewhat" concerned about this possibility. Fewer respondents are concerned about being unintentionally (48 percent) harmed by reckless drone use or intentionally (45 percent) harmed by malicious drone use.
While the FAA has proposed new regulations to allow law enforcement to remotely identify all drones, Banga, a member of the agency's Drone Advisory Committee, said the agency is not focused on granting private entities the authority to mitigate drone threats on their own. He also pointed out that there are significant risks associated with allowing any security company to use counter-drone technology, including causing a drone to crash into a crowd or accidentally jamming the radio frequency of a nearby device other than the targeted drone.
The Aug. 21-23 Morning Consult poll of 2,200 U.S. adults carries a margin of error of 2 percentage points. The margin of error for the group of 246 adult drone owners is 6 points.
Alex Silverman previously worked at Morning Consult as a reporter covering the business of sports.
We want to hear from you. Reach out to this author or your Morning Consult team with any questions or comments.
Contact Us