Do NBA's Two Superstars Outshine MLB's Variety of Regional Favorites?
Analysis of America's favorite athletes by sport illustrates James' and Curry's NBA dominance, MLB's regionality
Key Takeaways
39% of U.S. adults picked an active favorite NFL player, more than the other three major team sports.

Respondents selected 137 different MLB players, compared to 121 NFL players, 78 NHL players and 77 NBA players.

59% of respondents picked either LeBron James or Stephen Curry as their favorite NBA player.
Since the retirement of former New York Yankees shortstop Derek Jeter in 2014, MLB critics have decried the absence of a successor to serve as the "face" of baseball. Unlike top stars in the NFL and the NBA, the criticism goes, baseball's best players haven't grown into household names or crossed over into the consciousness of mainstream America.
A new poll from Morning Consult appears to validate that criticism. The survey asked U.S. adults to name their favorite current athlete in each of the country's four major team sports: the NFL, MLB, NBA and NHL. In addition to singling out the NFL as the country's most popular sport, the results also highlight the national appeal of the NBA's biggest stars versus more regional interest in MLB and NHL players.
Thirty-nine percent of the U.S. adults surveyed said they had a favorite active NFL player, a larger share than the other three leagues. Among the more than 800 responses, 121 different active players appeared at least once, second-most among the four leagues in the variety of athletes named.
Tampa Bay Buccaneers quarterback Tom Brady accounted for the highest share of responses at 17 percent, followed by fellow signal-callers Patrick Mahomes of the Kansas City Chiefs (10 percent) and Aaron Rodgers of the Green Bay Packers (7 percent).
David Schwab, an executive vice president at sports marketing talent management agency Octagon, said that in addition to the sport's sheer popularity, the ubiquity of fantasy football familiarizes Americans with a wider range of NFL players beyond their favorite team than in other sports and creates greater affinity for those athletes.
"The NFL is driven from an individual standpoint because of fantasy football," Schwab said. "Your favorite player often changes annually because of fantasy football. You've got your hometown favorite and you also have your fantasy team favorite."
Sports marketing experts identified a number of different factors that might make one league more successful than another in turning top players into household names, ranging from basic elements such as the number of athletes on the playing surface at a time to cultural nuances surrounding personal expression.
While MLB and the NBA generated virtually the same amount of favorite player responses, with 28 percent of Americans picking a favorite active player in each league, the number of different players varied widely between the two sports. Respondents named nearly twice as many active MLB players (137) as NBA players (77). Similarly, while only 15 percent of U.S. adults picked a favorite active NHL player, the number of different players selected (78) was about the same as the number of NBA players.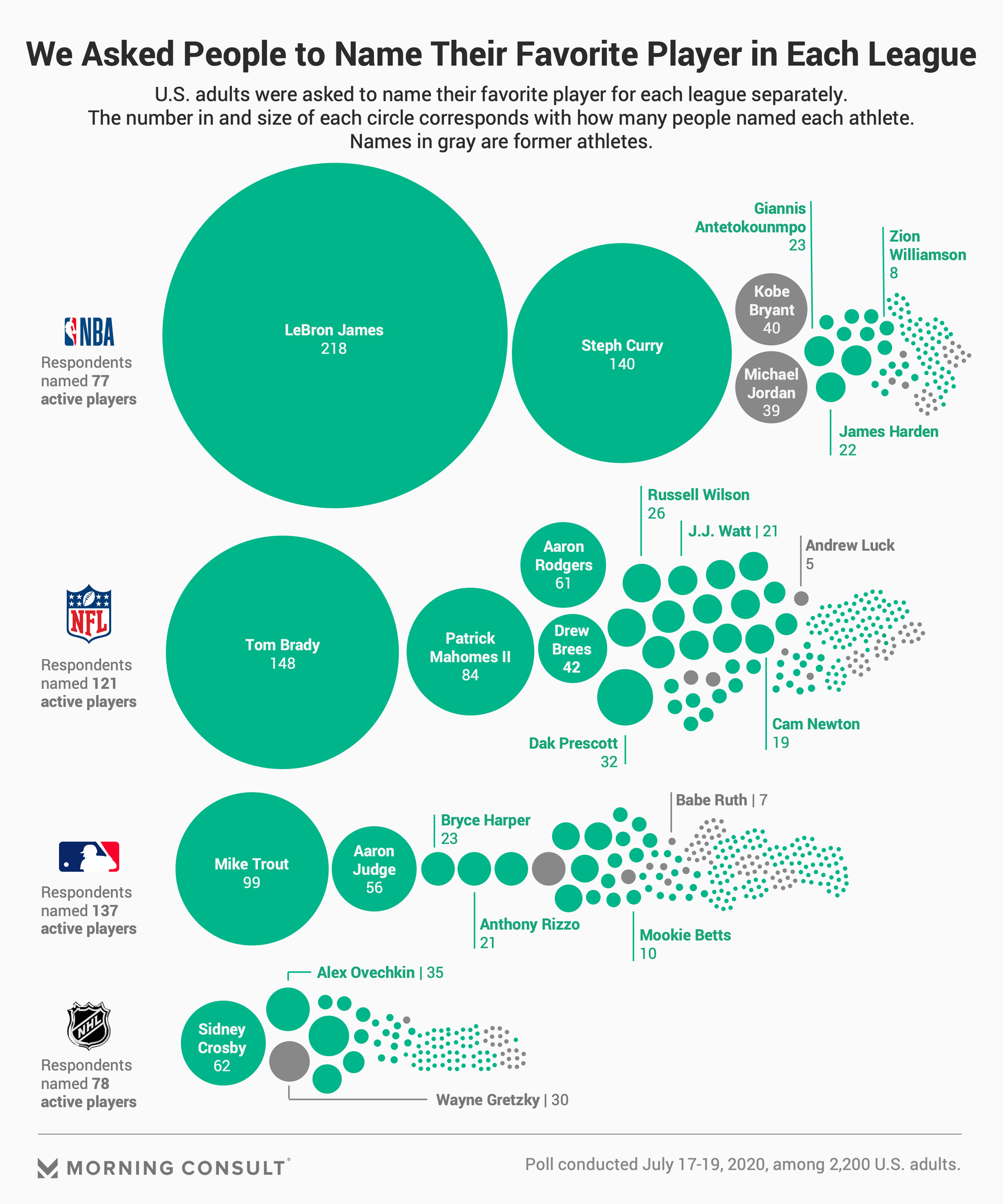 Within the NBA, the popularity of two players far exceeds that of the rest of the league, as Los Angeles Lakers forward LeBron James and Golden State Warriors guard Steph Curry combined to account for 59 percent of responses. The next highest total among the top two players in a single sport was 30 percent between Pittsburgh Penguins center Sidney Crosby and Washington Capitals winger Alex Ovechkin in hockey. The NBA is the only league in which its top three most-named athletes -- James, Curry and Milwaukee Bucks forward Giannis Antetokounmpo (4 percent) -- are all Black.
Compared to the NBA, popularity among MLB players is much more widely distributed. In fact, respondents named a larger variety of baseball players compared to football players, despite the NFL garnering significantly more overall responses.
Los Angeles Angels outfielder Mike Trout garnered the most favorite player selections in MLB at 16 percent, a smaller share of his sport than fellow No. 1s James (NBA - 36 percent), Crosby (NHL - 19 percent) and Brady (NFL - 17 percent). New York Yankees outfielder Aaron Judge (9 percent) and Bryce Harper (4 percent) came in at No. 2 and No. 3, respectively, among MLB players.
While some of the difference in response distribution between the NBA and MLB can be attributed to the total number of players to choose from in each league, it also illustrates the national appeal of the NBA's biggest stars and the regional, team-based nature of baseball fandom.
"When you get away from maybe the top 10 or 15 players in MLB -- and not even that many these days --  people gravitate towards their hometown stars," said Joe Favorito, a sports marketing and public relations consultant. 
An analysis of TV viewership from the 2019 season conducted by The Big Lead found that while the NBA garners larger audiences for its national telecasts than MLB, baseball teams average greater local viewership per game on regional sports networks. In the 17 markets with both MLB and NBA teams, the MLB clubs drew larger average audiences for local telecasts in 14.
Schwab noted the NBA prioritizes individual star power over market size in the creation of its robust national TV slate, which includes more than 250 games per season across ESPN/ABC, TNT and NBA TV.
"They go to where the superstars are, and so, it allows someone in New Orleans or Milwaukee -- or pick a city -- with superstar tendencies to flourish on a national stage," he said. "Certainly, the internet and social media have compounded that and allowed anybody anywhere to have that spotlight."
The difference in favorite player distribution also speaks to the impact that individual stars can have a much greater impact on the outcome of a basketball game than a baseball game. Top NBA players routinely play more than 35 minutes during a 48-minute regular-season game and usually have the ball in their hands during the final moments of a close game. By comparison, starters in baseball will typically have four to five plate appearances per game with no guarantee of coming up to bat when the game is on the line.
What's more, a small number of NBA superstars can elevate their teams into championship contention, as evidenced by the fact that either James or Curry has appeared in each of the past nine NBA Finals dating back to 2011. In that period, each of them has collected three championship rings.
MLB is the only league in which none of the top three favorite players have won a championship. Outside of baseball, the only titleless player to crack the top three in their sport was Antetokounmpo.
Social media data compiled by MVP, a software company that assesses the value of brand partnerships and sponsorships in sports and entertainment, supports the idea that the NBA's top players have larger profiles than their peers in other team sports.
James and Curry have the largest social media followings of the top three current athletes from each of the four major sports, by far, and are among the most active in this space. All three of the top players from both the NBA and NFL have larger social media followings than any of the MLB or NHL players.
Both Favorito and Schwab noted that baseball players -- with their 162-game schedules and frequent travel -- might have less time away from the field than other athletes to dedicate to building their personal brands. They also said the culture in the sport is changing in a way that is more accepting of players showing off their personalities.
But, as MLB Commissioner Rob Manfred said of Trout in 2018, individual players play an important role in growing their own brands.
"If he wants to engage and be more active in that area, I think we could help him make his brand really, really big," Manfred said. "But he has to make a decision that he's prepared to engage in that area. It takes time and effort."
Alex Silverman previously worked at Morning Consult as a reporter covering the business of sports.
We want to hear from you. Reach out to this author or your Morning Consult team with any questions or comments.
Contact Us