Most Voters Don't Know Who Alexandria Ocasio-Cortez Is
New poll finds three in 10 Democrats have a favorable view of the young progressive favorite
Key Takeaways
More than six in 10 voters have no opinion or haven't heard of Ocasio-Cortez.

Some national Republicans have used her name to paint a picture of a Democratic Party lurching leftward.
After her stunning victory over House Democratic Caucus Chairman Joe Crowley in a June primary, congressional candidate Alexandria Ocasio-Cortez seemed to steal the spotlight on the left.
The self-described Democratic socialist – with a nearly inevitable path to victory in November in New York's safe Democratic 14th Congressional District – has made a splash in the national press and appeared in places such as St. Louis and Kansas campaigning for liberal candidates ahead of primary elections.
But the slate of candidates she's endorsed has had mixed success: Her candidate in Kansas' 4th District won Tuesday's primary, while her candidate in Missouri's 1st District lost. And those bright television lights have not been enough to make most voters aware of her, according to a new Morning Consult/Politico poll.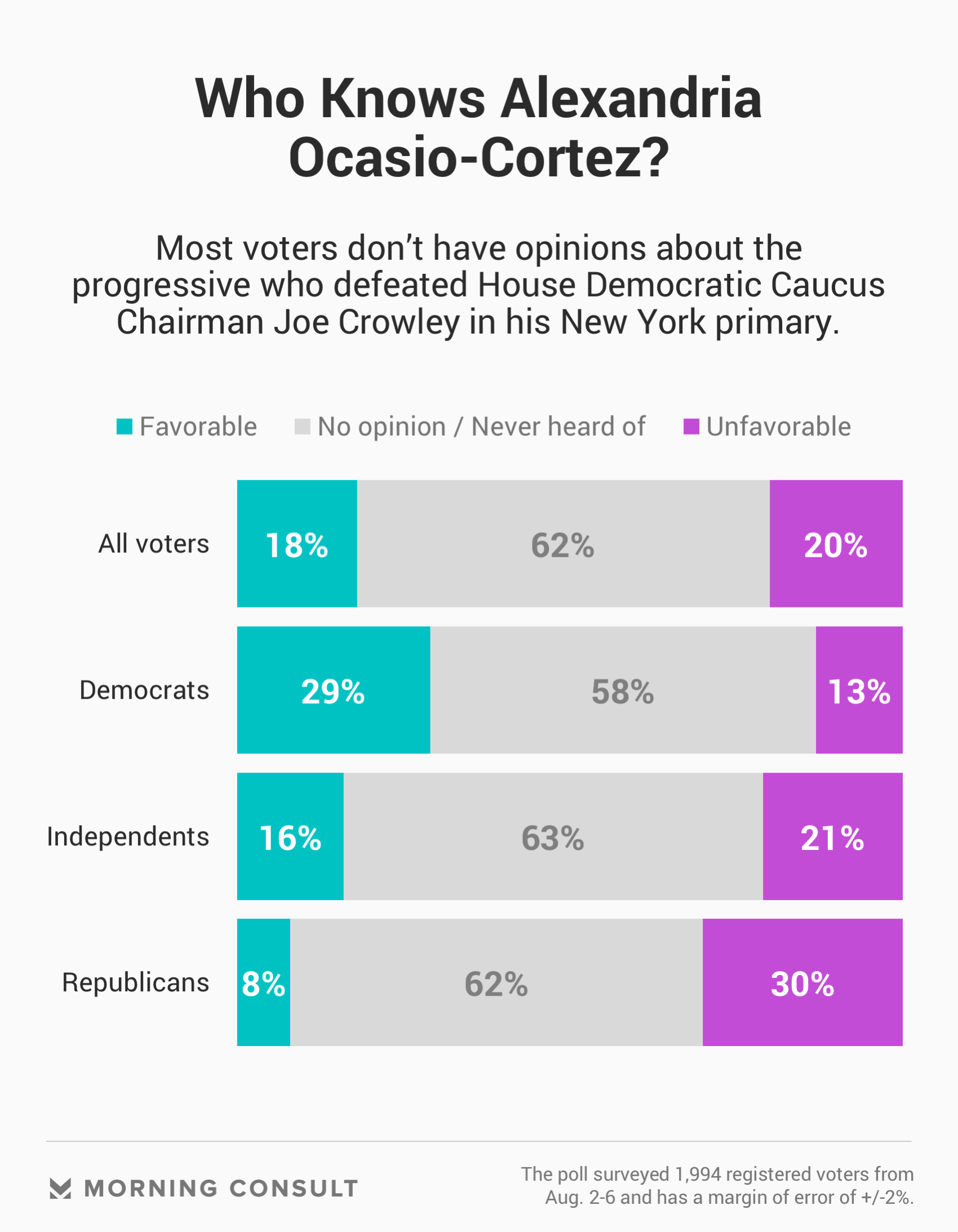 The Aug. 2-6 survey of 1,994 registered voters found 62 percent of voters have no opinion or haven't heard of Ocasio-Cortez, including 58 percent of Democrats and 62 percent of Republicans.
About three in 10 Democrats (29 percent) said they have a favorable view of her, while 13 percent have an unfavorable view.
Sean McElwee, a Democratic activist and co-founder of progressive think-tank Data for Progress, said most rank-and-file members of Congress would have even lower name recognition among a national audience.
Indeed, the survey shows that even among top congressional leaders, 45 percent of voters have no opinion or haven't heard of Senate Minority Leader Chuck Schumer, a fellow New York Democrat, including four in 10 Democrats.
In McElwee's view, the 28-year-old can parlay her media presence into helping candidates raise money from small donors and wield more power on Capitol Hill, even as a new member.
"She has a very articulate ability to describe a left policy platform to a new generation of voters. She has an incredible ability to use social media," he said in an interview Thursday – both things the Democratic Party has not done well in the past.
The newcomer, who has sought to push the Democratic Party further to the left, has also managed to attract the animosity of the opposing party: 30 percent of Republicans have an unfavorable view of her, while 8 percent have a favorable view. The poll has a margin of error of 2 percentage points.
National Republicans have used her name to paint a picture of a Democratic Party lurching leftward, messaging the GOP hopes will appeal to centrist voters.
Associating Democratic candidates with Ocasio-Cortez can be helpful for GOP challengers trying to portray their opponents as overly liberal, said Courtney Alexander, communications director for the Congressional Leadership Fund, a Republican outside group tasked with helping to defend the party's House majority.  
But McElwee said he'd "love to see them try" to make Ocasio-Cortez a new bogeyman.
"The left's ideas can be popular in surprising places," he said.
Eli Yokley is Morning Consult's U.S. politics analyst. Prior to his current role, Eli was Morning Consult's senior reporter covering U.S. politics. Eli joined Morning Consult in 2016 from Roll Call, where he reported on House and Senate campaigns after five years of covering state-level politics in the Show Me State while studying at the University of Missouri in Columbia, including contributions to The New York Times, Politico and The Daily Beast. Follow him on Twitter @eyokley. Interested in connecting with Eli to discuss his analysis or for a media engagement or speaking opportunity? Email [email protected].
We want to hear from you. Reach out to this author or your Morning Consult team with any questions or comments.
Contact Us