Netflix's June Top 10 Data Shows Value of Picking Up Canceled Broadcast Series
Experts say, however, it's a pricey gamble due to the costs of reviving programs that had previously failed
Key Takeaways
Drama series "Manifest," which was canceled by NBC in mid-June, was the third-most popular show on Netflix last month, spending 20 days in the U.S. Top 10.

"Lucifer," which ended its run on Fox in 2018 before becoming a Netflix original series, ranked fourth, appearing in the U.S. Top 10 for 19 days.

Other canceled broadcast shows, such as "Good Girls" and "The Baker and the Beauty," have also landed in the U.S. Top 10 for stretches this year.
Netflix has plenty of popular and critically acclaimed original series, including recent favorites such as "Lupin" and "Bridgerton," but a new Morning Consult analysis of the service's U.S. Top 10 rankings shows the value of picking up canceled programs from broadcast networks, while giving these shows another chance to catch on with audiences. 
The most recent examples are "Manifest" and "Lucifer," both of which finished in the top five of June's U.S. Netflix rankings. Kids' program "CoComelon" and the Netflix original "Sweet Tooth" were the only shows to finish ahead of them.  
The first two seasons of "Manifest," an NBC drama that began airing in 2018, hit Netflix last month, just ahead of the show's third season finale, and entered the Top 10 at No. 3. NBC canceled the show on June 14 (the show ranked No. 1 on Netflix that day), and after rumors swirled around the show's future, Netflix reportedly passed on picking "Manifest" up for a fourth season, despite a Change.org petition that has tens of thousands of signatures. Fueled by support on social media, the grassroots campaign has helped keep "Manifest" in the Top 10 into this month as well.
"Lucifer," which is based on a DC Comics character, has more staying power. The drama, which aired on Fox from 2016-2018 before being canceled by the network, was picked up in June 2018 by Netflix, which elevated it to original series status. The result has been two additional seasons, along with a renewal for a sixth and final season. After the second half of "Lucifer's" fifth season premiered on May 28, the series spent 22 days in the Top 10, including 19 in June.   
Converting a canceled title into a streaming original can attract new audiences who might have missed the show's initial network run, said Kevin Westcott, a vice chairman and leader of Deloitte's U.S. technology, media and telecommunications practice. 
"Even though they may have been canceled on either cable or traditional broadcast, most people probably won't know that," Westcott said. "Now, if it's being branded as an original, it actually has a lot of marketing power and people definitely are attracted to originals."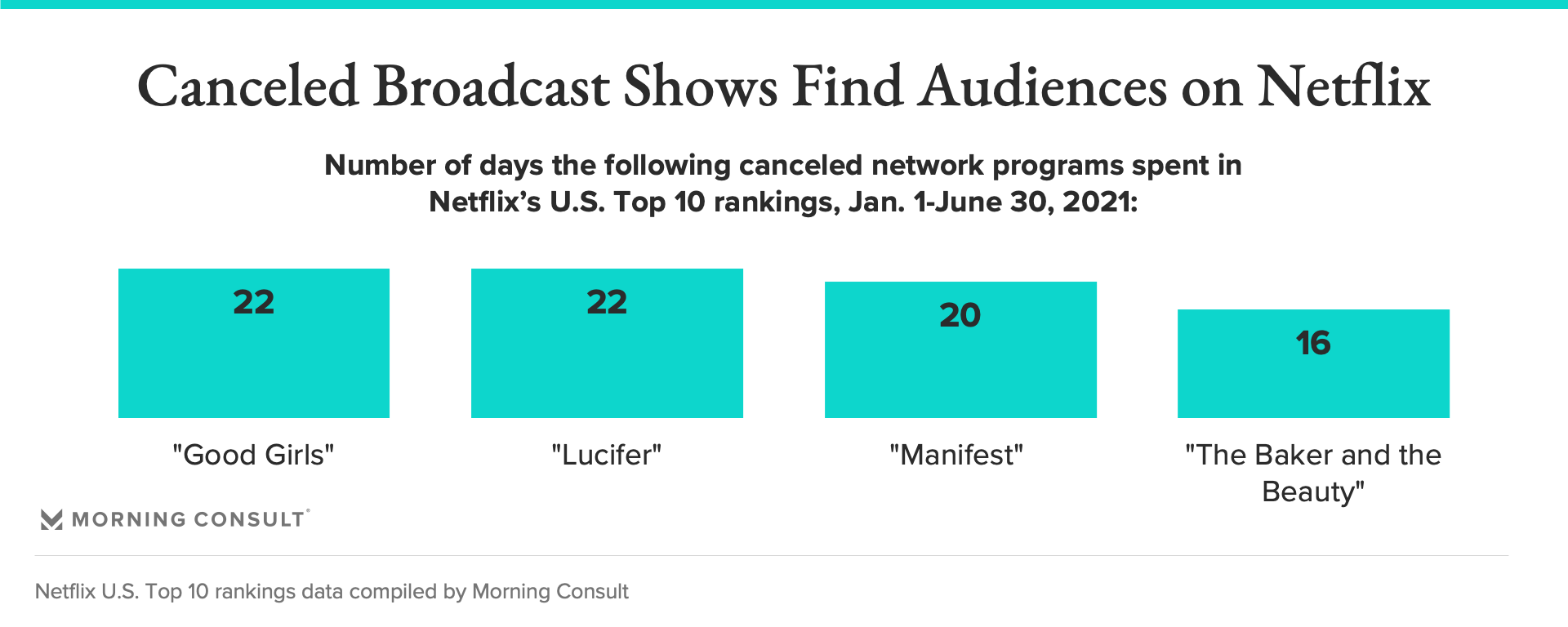 Earlier this year, "The Baker and the Beauty," an ABC romantic comedy that aired in 2020, and the NBC drama "Good Girls," which ends its broadcast run later this month, spent 16 and 22 days, respectively, in Netflix's U.S. Top 10.
But not every canceled show can find a second life on streaming. 
Ian Greenblatt, managing director of technology, media and telecom intelligence at J.D. Power, said there's no guarantee that a show that didn't work on broadcast will work on streaming due to myriad factors that influence a streaming company's decision to revive a series or not. 
"Each individual title requires a financial workup to accurately predict if a show that did not work in broadcast can be revitalized, produced and added to in terms of the amount of content that an individual title has going back into production," Greenblatt said. (BMO Capital Markets projects Netflix will spend more than $18.2 billion on original content this year, with that figure expected to reach $24 billion by 2030.) 
Greenblatt also said the online movements to bring canceled series back are typically started by the series' most passionate fans, but that doesn't always reflect potential mass appeal.
It all adds up to an expensive gamble that won't pay off for the streamers if the network audience doesn't follow and the series fails to find a new one on a new platform, according to Westcott. 
"If you pick up something that was out there for a couple seasons, and you put it on your service and you're not able to attract the audience or you're not willing to invest in the next season," he said, "you're basically licensing content that will have a relatively short shelf life." 
Sarah Shevenock previously worked at Morning Consult as a reporter covering the business of entertainment.
We want to hear from you. Reach out to this author or your Morning Consult team with any questions or comments.
Contact Us