Can Turner Sports, ESPN Help Turn the NHL's Stars Into Household Names?
Roughly 1 in 4 NHL fans say they have a favorite player in the league, far fewer than the number of fans of the other major team sports who say the same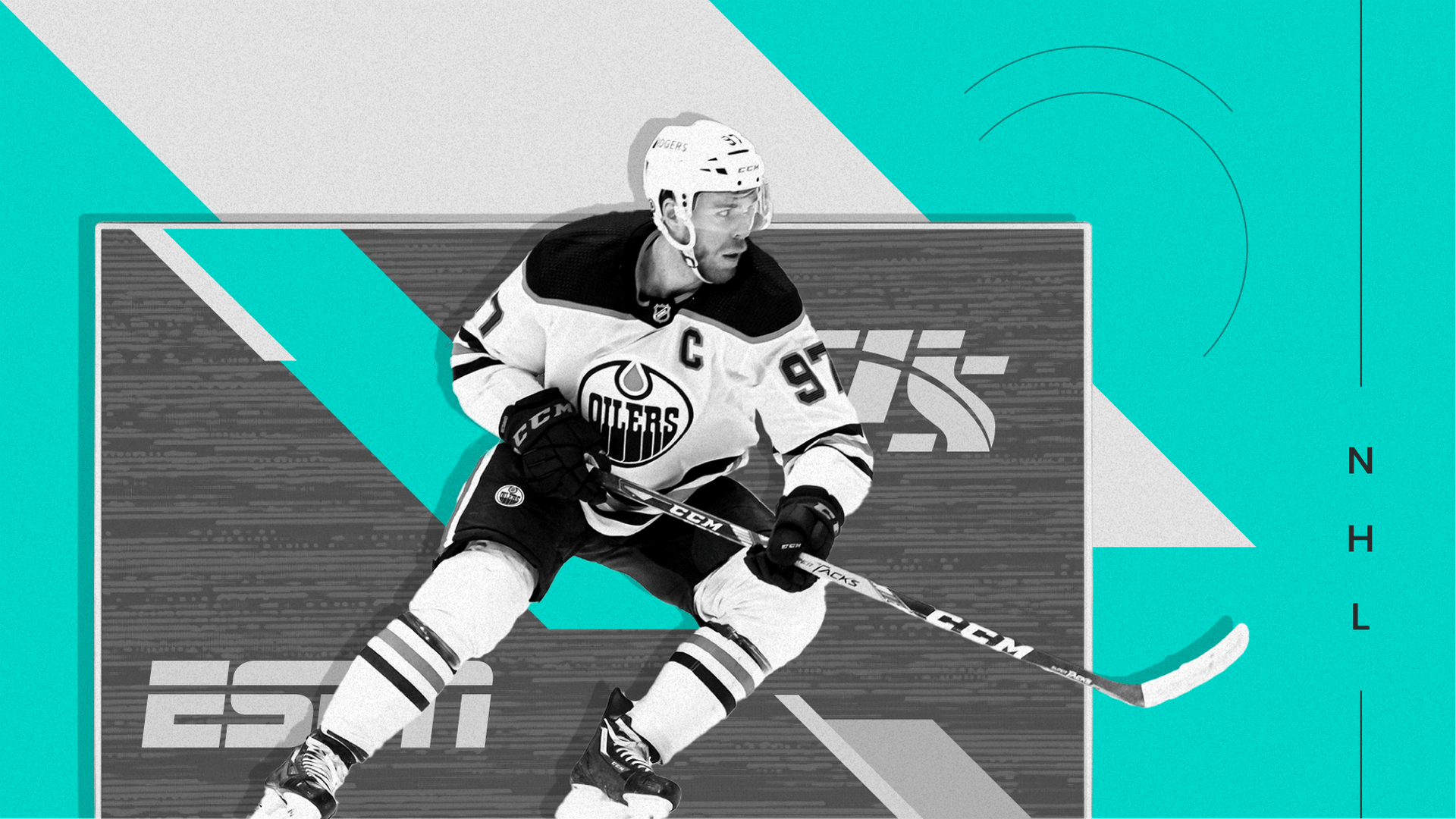 Key Takeaways
Turner Sports will air six Edmonton Oilers games this season, the most of any of the league's 32 teams, to spotlight reigning MVP Connor McDavid.

27% of NHL fans have a favorite player, compared with 39% of MLB fans, 50% of NBA fans and 54% of NFL fans.

72% of NHL fans said they "only" or "mostly" watch games involving their favorite team, compared with 63% of NBA fans and 60% of NFL fans.
After two years marked by unprecedented challenges, the upcoming NHL season is something of a return to normal for the hockey league. But even with fans back in the stands, almost all of its players vaccinated and a full 82-game schedule starting on Tuesday, the NHL will look dramatically different in 2021-22 than it did before the pandemic.
There's the debut of the league's 32nd franchise, the Seattle Kraken, which has all the makings of a cash cow ahead of opening night; a weeks-long midseason break to allow players to participate in the Beijing Winter Olympics; the unusual inclusion of an All-Star Game in an Olympic year; and, according to Commissioner Gary Bettman, roughly 17 new corporate sponsors at the league level, including several international sports betting operators.
The most transformative shift, however, is on the media front.
The NHL will reportedly more than double its annual media rights revenue, thanks to the start of new seven-year deals with the Walt Disney Co.'s ESPN and AT&T-owned Turner Sports. The new distribution model could provide the league — which is far more team-driven and less personality-based than other major U.S. leagues — with new opportunities to expand its audience and grow the profiles of the league's young stars.
"After the first conversation we had with both ESPN and Turner with regards to their philosophy and what they wanted to do, we were extremely pleased," said Steve Hatze Petros, executive vice president, scheduling and broadcast business at the NHL. "They actually came out and said, 'We do want to promote star players, we want to promote teams that don't necessarily come from larger markets.' It's about building by introducing and exposing our players."
Turner goes all in on star players, rather than big markets
Turner's selection of six Edmonton Oilers games for its first-ever, 50-game "NHL on TNT" schedule — the most of any of the league's 32 teams — is a clear signal that the company plans to take a different, more star-driven approach to its hockey coverage than the sport has seen over the past decade.
"This is where their philosophy does differ a little bit from the prior rights holder," Hatze Petros said.
Under its most recent 10-year deal with NBC, the league's national broadcast schedules mostly eschewed Canadian franchises in favor of popular teams from major U.S. markets, such as the Philadelphia Flyers, Chicago Blackhawks and New York Rangers.
But Hatze Petros said Turner's programming team explicitly asked for games featuring the Oilers, in an effort to highlight Connor McDavid, the NHL's 24-year-old reigning MVP, who has a habit of making highlight-reel plays. They also specifically requested Toronto Maple Leafs games based on the potential star power of Arizona native Auston Matthews, another 24-year-old and one of the league's most potent goal scorers.
Joe Brown, a former NBC Sports researcher turned independent media consultant, called it a "bold strategy" by Turner that resembles its approach to the NBA.
"It's a very NBA, player-first philosophy, which makes sense if you're going to try to take an NBA audience and convert them to the NHL," Brown said. "It could work out fantastically, but the NHL is such a tribal, root-for-the-sweater fan base."
Brown's characterization of NHL fandom as especially team-driven is supported by the results of a Morning Consult survey conducted this month, in which self-identified NHL fans were less likely than fans of the other three major North American team sports to say they have a favorite player.
About 1 in 4 NHL fans (27 percent) said they have a favorite player, compared to 39 percent of MLB fans, 50 percent of NBA fans and 54 percent of NFL fans. NHL fans were also more than twice as likely to have a favorite team than a favorite player— again skewing more toward teams than the fans of the other three sports.
In addition, NHL fans were less likely than NBA and NFL fans to say they watch games that don't involve their favorite team. Seventy-two percent of NHL fans said they "only" or "mostly" watch their favorite team, compared with 63 and 60 percent of NBA and NFL fans, respectively.
NHL Fans Are More Tribal in Their Viewing Habits Than NFL, NBA Fans
Fans of each sport were asked how often they watch games involving their favorite team relative to games featuring other teams
Poll conducted Oct. 1-4, 2021, among 1,523-2,762 fans of each league, with a margin of error of +/-2%.
The network's hope is that generating interest in individual personalities — through both live telecasts and compelling digital content from Turner-owned Bleacher Report — will attract fans of other teams to watch players like McDavid or Matthews, even if their favorite team isn't playing.
"The truth of the matter is there's so much to learn and know about these players — everything from their lifestyle, what they like to do, how they dress and what they listen to," said Craig Barry, executive vice president and chief content officer at Turner Sports. "There's unpacked cultural aspects that we really want to get involved in and create that emotional connection with the fan."
ESPN takes a more classic approach to broadcast, emphasizes streaming
ESPN's slate of 28 linear telecasts for the upcoming season — 18 on its flagship cable channel plus 10 on ABC — resembles a legacy NBC schedule, with teams such as the Flyers, Blackhawks and Rangers featured multiple times in high-profile, weekend afternoon games.
"The league is invested in having their best games in their best windows on their best platforms, so certainly with our ABC Saturday afternoon franchise, we really tried to take steps to make sure that those are really good opportunities with major markets and big storylines," said Ilan Ben-Hanan, senior vice president of programming and acquisitions at ESPN.
Those 28 linear telecasts, however, account for only a fraction of ESPN's total NHL slate, which the network hopes will help drive subscription streaming revenue. ESPN will produce 75 exclusive games to stream on both ESPN+ and Hulu, which will put NHL hockey in front of a wider and younger audience of both general sports fans and even non-sports fans.
In addition, ESPN bought the rights to stream all of the games televised locally by regional sports networks to out-of-market viewers on ESPN+. Those games, which were previously only available through a separate NHL-operated service, will be particularly appealing to the league's hardcore fans, as well as fans living outside their favorite team's home market.
"Knowing that we're going to have more than 1,000 of those games as well really just makes for a season-long, must-have product, which was definitely a big part of our strategy in terms of acquiring the rights in the first place," Ben-Hanan said.
ESPN has already shown a commitment to featuring hockey as part of its everyday programming now that it's a rights holder, launching a dedicated NHL studio show called "The Point." The league believes that having a regular presence on the country's most-watched sports network could play a major role in mainstreaming the sport and its top talent. 
"I'm well aware of their ability to promote and market and reach more sports fans than anybody else," Bettman said of ESPN in a press conference announcing the deal earlier this year. "That is going to continue our growth and was an extraordinarily important part of the attractiveness of us coming together."
Alex Silverman previously worked at Morning Consult as a reporter covering the business of sports.
We want to hear from you. Reach out to this author or your Morning Consult team with any questions or comments.
Contact Us