Senate Candidates (and Voters) of Color Get Another Look as Democrats Try to End N.C. Losing Streak
Democrats look to Georgia playbook in effort to win a federal statewide election in the Tar Heel State
Key Takeaways
Former state Sen. Erica Smith is mounting another campaign for the open seat, and at least three other Black women are said to be possible contenders: former state Supreme Court judge and 2020 congressional candidate Pat Timmons-Goodson, former state Supreme Court Chief Justice Cheri Beasley and state Sen. Sydney Batch.

State Sen. Jeff Jackson, a white man, entered the race at the end of January, and state Rep. Rachel Hunt, a white woman and political scion who won a Trump district in 2018, did not close the door to a Senate run.

Some Democrats in the state hope party officials in Washington will stay out of the nominating process this time after the DSCC's chosen candidate came up short in 2020.

North Carolina Democrats are looking to embrace early organizing and voter registration work championed by Stacey Abrams in Georgia.
Having failed to win a statewide federal election in North Carolina since Barack Obama was first on the ballot in 2008, Democrats get another legitimate shot next year with the pending retirement of Republican Sen. Richard Burr. They just have to figure out how to pull it off.
In the eyes of many Democrats involved in North Carolina politics, at least part of the answer might lie in Georgia – its southern neighbor that, despite historically leaning toward the GOP, helped Joe Biden win the White House in 2020 and gave Democrats a razor-thin Senate majority in 2021. Several Democrats interviewed in recent weeks pointed to the Georgia playbook – engaging unengaged voters early – as a promising route of attack, while many also raised the prospect of reconsidering which kind of candidate gets elevated.
"I think the real takeaway from Georgia is you have to have candidates that meet the moment," said Morgan Jackson, a prominent Democratic consultant in the state. While Democratic primary voters have been known to prioritize "electability," the definition of that term might be changing, he said. "There is definitely going to be a premium placed on diversity – especially focused on African-American candidates and/or female candidates."
So far, two Democratic candidates have declared their candidacies: former state Sen. Erica Smith, a Black woman who finished as runner-up for the party's nomination to challenge Republican Sen. Thom Tillis last year, and state Sen. Jeff Jackson, whose profile more closely resembles the party's 2020 nominee in North Carolina, Cal Cunningham – a white man with more moderate ideological moorings and a record of service in the military and the state legislature.
But according to interviews with three Democratic operatives involved in North Carolina politics, the field is far from set. 
At least three women of color -- former state Supreme Court judge and 2020 congressional candidate Pat Timmons-Goodson, former state Supreme Court Chief Justice Cheri Beasley and state Sen. Sydney Batch -- are also said to be possible contenders, though they did not comment. And while Rachel Hunt, a white woman and political scion who won a state House district in the 2018 midterm elections that President Donald Trump carried in 2016, said in an interview Monday that it's "not true right now" that she's looking to run for the seat, she did not close the door to a campaign after the conclusion of the state legislative session.
There is definitely going to be a premium placed on diversity – especially focused on African-American candidates and/or female candidates.
Morgan Jackson, North Carolina Democratic consultant
The issue of representation is central to Smith's pitch as she makes another run for the party's Senate nomination. In an interview before her campaign announcement last month, she highlighted Georgia as a road map for Democrats' electoral success in the state's federal elections, urged Democrats to engage voters in rural areas – particularly those of color – to counter the GOP's gains among white voters without college degrees and offered the people of her state a history-making proposition: make her the first Black person and only the third woman to represent North Carolina in the Senate.
"We know that Black women are the least represented, but they are the most faithful and loyal voting bloc of the Democratic Party," said Smith, who prepared for years for her Senate campaigns. "It is time for the Democratic Party to put concerted effort into electing women in general, and women of color in particular."
Hunt, the daughter of popular former Gov. Jim Hunt, said the candidate's race is not the "defining factor" that will decide Democrats' ability to secure support from voters of color. But, noting the party's success in the state with Obama atop the ticket 12 years ago, she said, "it does make a difference if you're trying to get people engaged who would not otherwise be engaged."
North Carolina's population of Black voters is smaller than Georgia's, but the state is still home to one of the largest shares of Black people in the country. The ascension of any white candidate to carry the party's mantle next fall would stand in the way of Smith's historic proposition, and Jackson acknowledged the necessity of convincing Black voters that he would be a "strong advocate" for them during the coming campaign.
"I think the burden is on me to demonstrate a real understanding of systemic racism and disparities that it leads to in areas like health care, housing and criminal justice," he said during an interview after launching his campaign last week. "I think that the type of campaign that we're running -- a very open campaign, a very honest campaign -- is going to lend itself to hearing everyone's voice."
When asked to lay out the case for his campaign, Jackson spoke of the "clear racial disparities" evident in the health- and economic-related fallout from the pandemic. He is set to launch a town hall tour of the state's 100 counties – a move that could make inroads in the rural Black and other communities he says weren't reached by past campaigns and which his only current opponent, Smith, has sought to elevate. Jackson said he intends to shirk a "one-size-fits-all agenda" prescribed to campaigns in competitive states, and that he has not spoken to Senate Majority Leader Chuck Schumer (D-N.Y.) or the Democratic Senatorial Campaign Committee about this year's campaign.
It is time for the Democratic Party to put concerted effort into electing women in general, and women of color in particular.
Erica Smith, former state senator and current U.S. Senate candidate
Smith was direct about her qualms with Senate Democrats' campaign arm, accusing the DSCC of undermining candidates like her two years ago.
"When the DSCC intervened and put their finger on the scale for the more-moderate white candidates over the progressive candidate of color, the outcome did not bode well for the DSCC," she said, pointing to results in Kentucky and Texas, where Democrats handily lost. While beating Senate Republican Leader Mitch McConnell in Kentucky was always a long shot, MJ Hegar's campaign against Sen. John Cornyn (R-Texas) was particularly weak among voters of color, who were critical to Democrats' unfulfilled plans to turn Texas blue last year.
Amid the expectation of additional candidates hanging over the North Carolina race, the DSCC has not endorsed a candidate, and its new chairman, Sen. Gary Peters (D-Mich.), declined to address whether the group will abandon its aggressive endorsement strategy, saying in an interview with Politico that "time will tell" if the practice continues but "ultimately our goal is to win, and we will do whatever it takes to win".
Former South Carolina state Sen. Bakari Sellers – a Democrat who is viewed by some as the heir apparent to the seat held by the highest-ranking Black member of Congress, House Majority Whip Jim Clyburn (D-S.C.) – said he hopes Democrats in Washington stay out of North Carolina and other Democratic primaries, and avoid looking for candidates who "check every single box."
"At this point, don't spend time picking and choosing candidates," he said. "Spend time cultivating and building a base so that whichever one of these dynamic candidates wins, we can win a general election."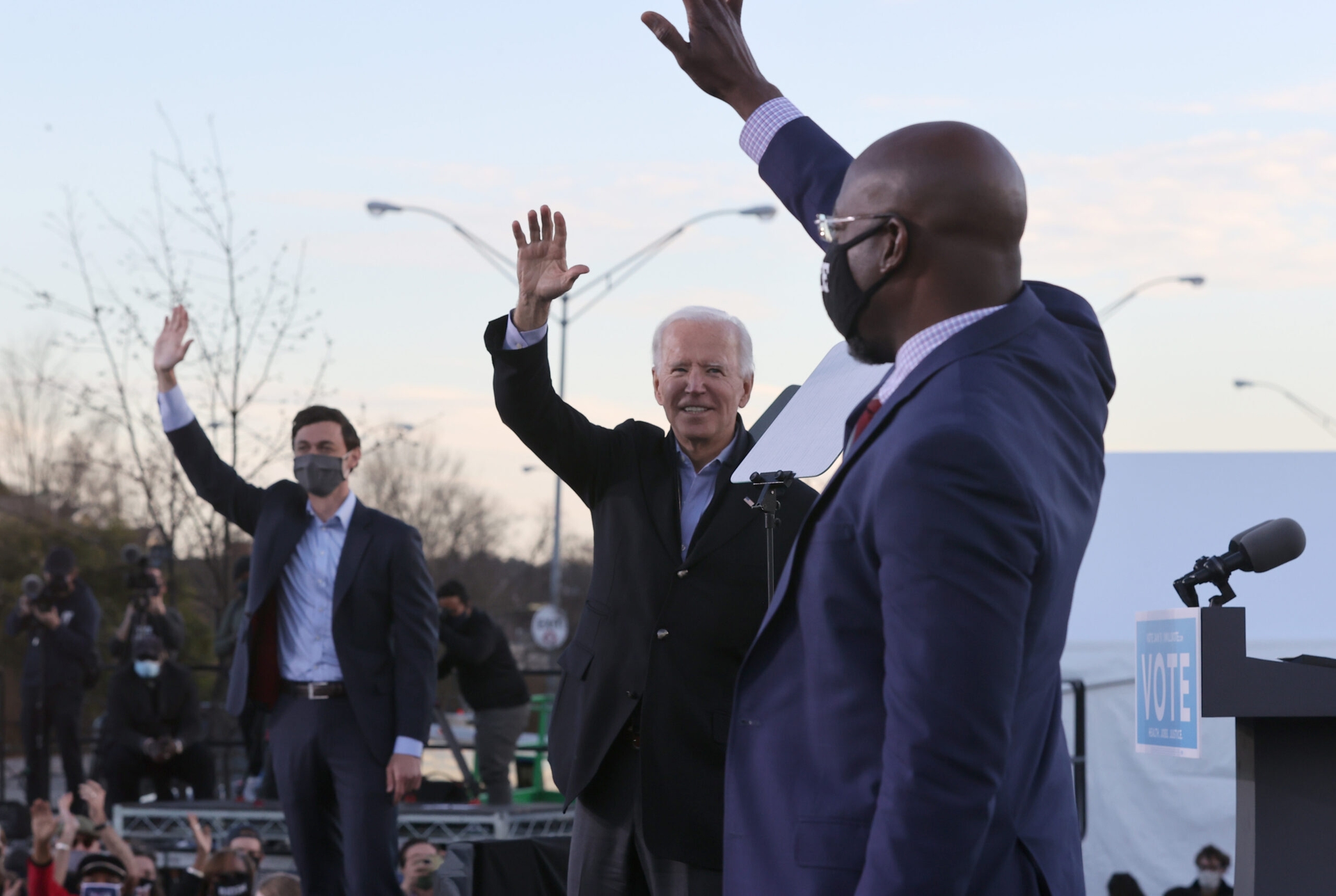 An official at the DSCC noted that in 2020, under the leadership of its first-ever Latina chair in Sen. Catherine Cortez Masto of Nevada, the committee recruited candidates of color such as Raphael Warnock, the first Black Democrat ever elected to the Senate from the Deep South, whose success alongside Jon Ossoff in last month's Georgia runoffs has helped fuel Democratic hopes of a federal statewide revival in North Carolina.
"The day after Georgia, I read Stacey Abrams' playbook," said Jeff Jackson, referring to the 16-page document the former Georgia House minority leader developed to take back ground lost to Republicans in her state, which calls for campaign organizing and voter registration to start early rather than in the immediate lead-up to Election Day. 
Wayne Goodwin, the state Democratic Party chairman, said in an email that Democrats in the state are building "a strong, grassroots coalition and a force of organizers that will mobilize voters and engage everyone — especially our key constituencies like the African-American community — in the democratic process." A state party official noted that North Carolina Democrats have begun implementing a statewide organizing program to register and engage voters year-round — the kind of thing party groups in Washington help fund.
And of course this time around, Trump won't be on the ballot to help pad Republican numbers among white voters throughout the state despite Democratic growth in the "Research Triangle" -- Raleigh, Durham and Chapel Hill -- and Charlotte metro areas, the combined populations of which are similar to Atlanta's share of Georgia residents.
"I think the Democrats are going to have a path forward in this state," said Hunt. "Do not write North Carolina off. I promise you we'll be up there with Georgia and some other places."
Eli Yokley is Morning Consult's U.S. politics analyst. Prior to his current role, Eli was Morning Consult's senior reporter covering U.S. politics. Eli joined Morning Consult in 2016 from Roll Call, where he reported on House and Senate campaigns after five years of covering state-level politics in the Show Me State while studying at the University of Missouri in Columbia, including contributions to The New York Times, Politico and The Daily Beast. Follow him on Twitter @eyokley. Interested in connecting with Eli to discuss his analysis or for a media engagement or speaking opportunity? Email [email protected].
We want to hear from you. Reach out to this author or your Morning Consult team with any questions or comments.
Contact Us