Ocasio-Cortez: Green New Deal 'Leaves the Door Open' on Nuclear
Freshman lawmaker clarifies that the resolution 'leaves open both clean and renewable energy'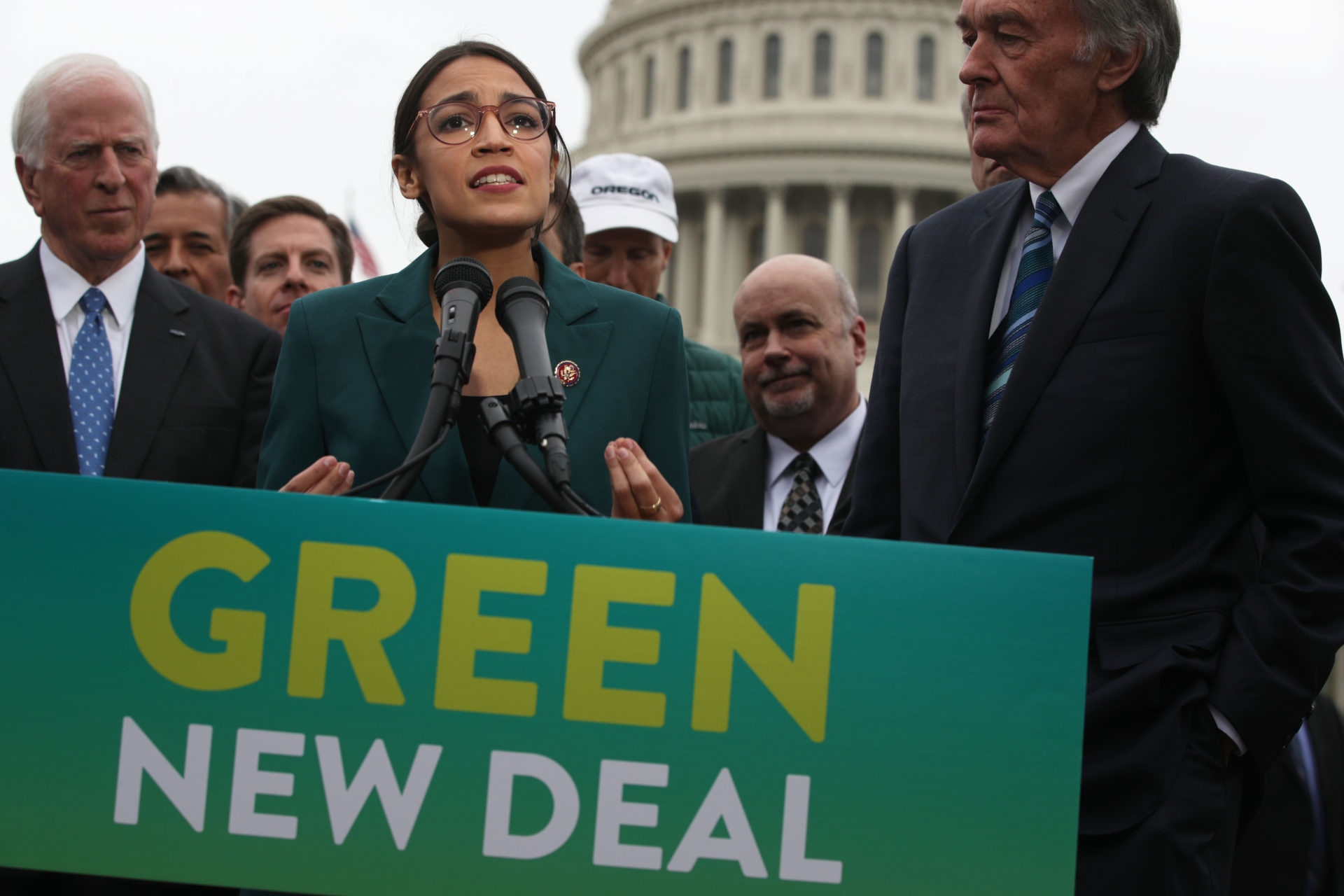 Green New Deal sponsor Alexandria Ocasio-Cortez still has an "open mind" on nuclear energy and differentiates between the decades-old plants in the United States and more advanced technologies under development, but she also backs the upcoming shutdown of the Indian Point nuclear reactors in New York in 2020-21.
"I don't take a strong anti- or pro-position on it," the New York Democrat said about nuclear energy in an interview late last week. Her Green New Deal resolution, which calls for "clean, renewable, and zero-emission energy" to meet 100 percent of U.S. power needs in the next 10 years, "leaves the door open on nuclear so that we can have that conversation," she said.
Ocasio-Cortez, who alongside other progressive lawmakers and some environmental groups is pushing for an expedited U.S. energy transition, posed open-ended questions over whether the market would bear nuclear power, and whether nuclear energy can be produced with sufficient speed and safety.
Passing the Green New Deal resolution, she said, "is what will allow us to have these substantive conversations."
"The initial approach to nuclear energy as laid out by the Green New Deal was a nonstarter, and this is clearly a start in the direction towards the bipartisan consensus on nuclear energy," David Blee, president and chief executive of the U.S. Nuclear Industry Council, said regarding Ocasio-Cortez's comments. "It's clear from anyone involved in environmental policy, you can't get from 'A' to 'Z' without nuclear energy. But notwithstanding, the bill has a long way to go before it can muster even a vote in the Senate."
Ocasio-Cortez's comments come as federal and state lawmakers in some quarters grapple with how to lower carbon emissions.
There is increasing recognition about the urgency of addressing emissions and the need to do so in a technology-inclusive manner, said Josh Freed, senior vice president of the Clean Energy Program at the Washington-based think tank Third Way.
Policymakers are in "a very healthy component of the debate about what do we need to do" to accelerate the movement away from emissions, said Freed, who called it a "helpful and hopeful sign when anyone, whether it's authors of the Green New Deal" or other members of Congress,  move in that direction.
The Sunrise Movement, an environmental group, has carried the Green New Deal message for several months and announced Monday that Ocasio-Cortez on May 13 will headline the last stop of a month of Green New Deal-related events that the group has held around the country.
Asked about Ocasio-Cortez's comments, Stephen O'Hanlon, spokesman for the Sunrise Movement, said the organization does not want to shut down nuclear power plants and replace them with natural gas or coal. "That said, we have proven solutions in renewable technology, like wind and solar, and the market is already going in that direction." Investment needs to focus on transitioning to a 100 percent renewable economy, O'Hanlon said.
Ocasio-Cortez said she supports the closure of Entergy Corp.'s Indian Point Energy Center in Buchanan, N.Y., because it is "way past its usefulness," and health and environmental concerns remain. Entergy said in mid-April that a subsidiary of Holtec International Inc. will take over decommissioning work at the reactors, two of which are to shut down in 2020 and 2021, respectively.
But the first-term congresswoman acknowledged that "one plant built decades ago is not emblematic of the technology that we have today."
The lawmaker also cleared up any remaining uncertainty over whether "clean, renewable, and zero-emission energy" -- as called for in the resolution -- is inclusive of non-renewable technologies such as hydropower, nuclear or certain biomass resources, which are still considered "clean" compared to fossil fuels.
"The resolution leaves open both clean and renewable energy," she said.
Freed, meanwhile, noted that zero- or negative-emission options need significant investment and policy support. "We don't have the luxury of picking and choosing technologies," he said.
The Nuclear Energy Institute trade group declined to comment for this story, as did the environmental group Union of Concerned Scientists.
Jacqueline Toth previously worked at Morning Consult as a reporter covering energy and climate change.
We want to hear from you. Reach out to this author or your Morning Consult team with any questions or comments.
Contact Us