Spurred On by COVID-19, Millennials Lead the Way in Destigmatizing Online Dating
43% of Americans know someone who met their long-term partner online, up from 34% in 2018
Key Takeaways
38% of U.S. adults feel positively about dating apps and services, more than the share who feel negatively toward them (32%).

71% of dating app users said they're logging on more amid the pandemic.

36% of U.S. adults have used a dating platform, up from 29% in 2018.
When Meira Gebel opened the Tinder app on her phone in the winter of 2016, she, like many other online dating app users, was not looking for love, but something more casual. 
In fact, she was feeling disillusioned about online dating. But by January 2017, she'd deleted the app, for the final time, after going on three dates in one week with the same man. Two years later, she married him in a Salt Lake City courthouse. 
"I think it's an incredible way to meet people, and I don't think there should be any stigma or negative connotations about meeting on dating apps," Gebel, 26, said. "Everyone does it now." 
Tinder, which launched in 2012 and skyrocketed to popularity among young millennials and older members of Generation Z by 2015, quickly earned the reputation of a "hookup" app -- not one for those in search of a serious relationship. That stereotype quickly bled into other online dating services, which now number in the thousands, even as millions across the country logged on to potentially find a long-term partner.
According to new survey data from Morning Consult, the stigma that once surrounded online dating has softened, especially within Gebel's generation -- millennials -- thanks, in part, to dating app usage becoming more popular amid the coronavirus pandemic.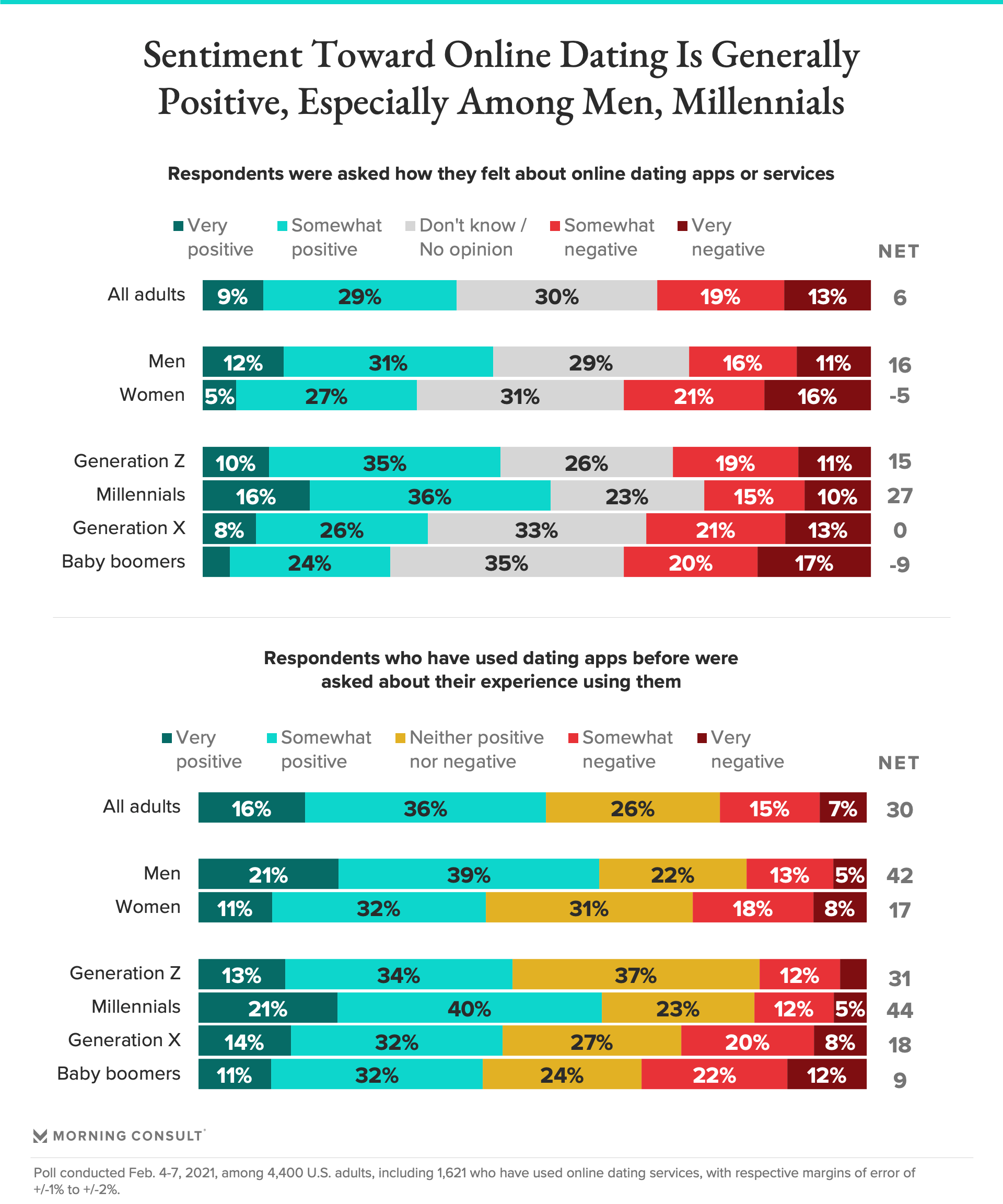 Today, people are slightly more likely to express positive views about online dating services than they are negative ones, according to a Morning Consult survey conducted Feb. 4-7, 2021 among 4,400 U.S. adults. Thirty-eight percent of respondents said they feel positively about online dating, while about one-third (32 percent) said they feel the opposite, creating a net positive sentiment.
Dating app stigma is least common among millennials, who have the strongest net positive sentiment about such services. Millennial users are also most likely to describe their own experiences as positive.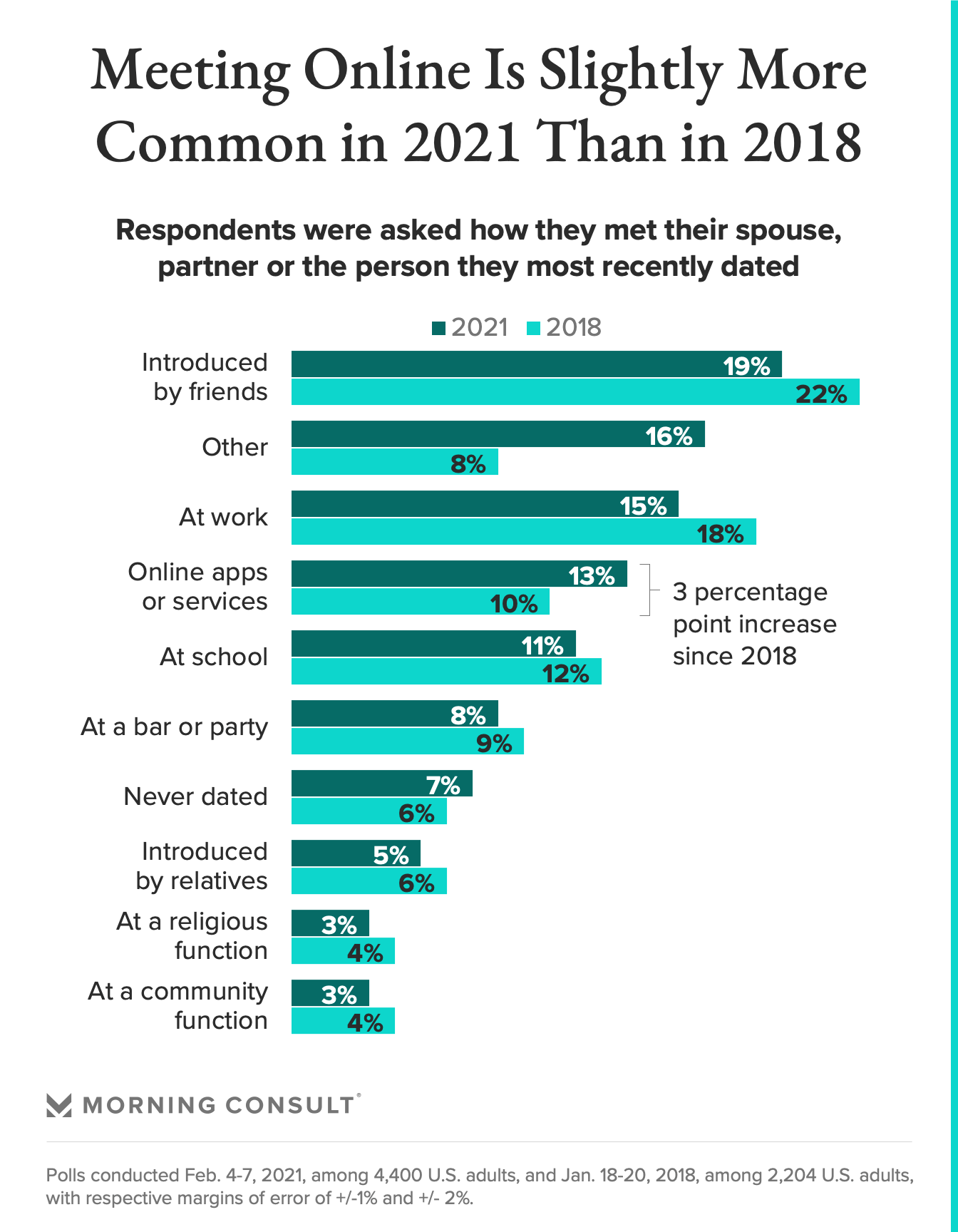 New polling also shows respondents were slightly more likely to have met their partner, spouse or the person they most recently dated through a dating app or service than they were in 2018. 
Thirteen percent of all adults said they have met a partner online as of this year, compared with 10 percent three years ago, according to a Morning Consult survey conducted Jan. 18-20, 2018. That increase is within the margin of error for the group.
Gen Z and millennial respondents said they're more likely to have met a partner online or via app than older peers.
"In my opinion, this is the case because the group was collectively born and raised with internet access -- one of the first generations in this unique position," said Maria Sullivan, vice president and dating expert at global dating platform Dating.com, in an email to Morning Consult. "It's a far more familiar concept to them as they're already much more savvy to social interaction online."
Amid the pandemic, dating app usage has shot up by double digits, according to Morning Consult trend data. Early in the lockdown era in the United States, 53 percent of adults who used dating platforms said they were doing so more often. As of the February survey, that share increased to 71 percent. 
Dating services are seeing this trend reflected in their user activity. Bumble, for instance, which became a public company on Thursday, said it saw significant increases in messages, calls and video chats in March, and is expecting activity to stay steady or ramp up this Valentine's Day.
Eighty-three percent of Bumble users across the United States, United Kingdom and Australia who responded to a November in-app survey said they plan to use dating apps just as much, if not more, through Valentine's Day, the company said in a statement.
Match Group Inc., which owns at least eight dating platforms including Tinder and Hinge, this month said its 2020 revenue reached almost $2.4 billion, up 17 percent year over year, with its North America average subscriber figure jumping 9 percent. Tinder alone generated close to $1.4 billion last year, according to Match, an increase of 18 percent from 2019 for the brand's fifth consecutive year of revenue growth.
Dating.com saw activity increase by 82 percent early in the pandemic compared with trends beforehand, according to Sullivan. It's climbed steadily ever since, she said, now up 88 percent compared with activity before lockdowns.
Even if older generations aren't widely using online dating services themselves, they're just as likely as the general population to believe relationships that start on apps or sites can thrive. Forty-three percent of all adults said they think these relationships can be just as successful as those that begin in person, including 42 percent of both Generation X and baby boomers, according to the Morning Consult survey.
While dating apps and sites are undoubtedly becoming more popular, even among older users, many are still hesitant to admit to meeting their partners via app.
Dera Silvestre, 23, said her mother still doesn't know she met her boyfriend on Tinder. Around the time Silvestre started using the app, she said her mother read a news article about a woman who was killed while on a Tinder date and was concerned for her daughter. 
So Silvestre never mentioned that she met her boyfriend on that very app, and it hasn't come up, she said.
"I felt like that would taint him for her," Silvestre said. "I wanted her to meet him without the Tinder backstory." Last month, Silverstre and her boyfriend celebrated their three-year anniversary.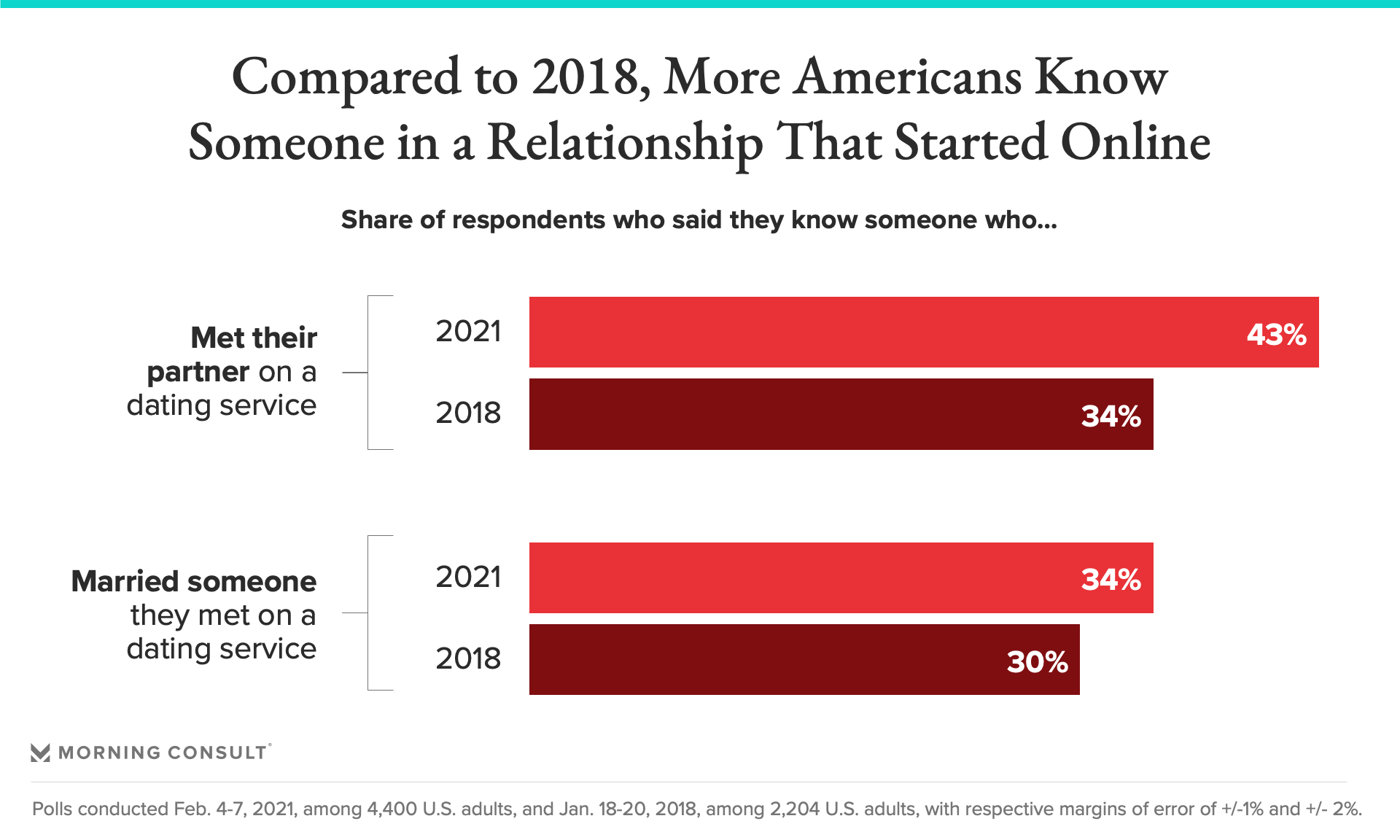 Personal experience isn't driving down the digital dating stigma by itself. Even among the general population, including those with no experience on dating apps or sites, people are much more likely to know someone who has been in a long-term relationship that started online in 2021 than they were in 2018, according to Morning Consult data. 
Forty-three percent of adults — including 56 percent of millennials — said they know someone who has met a long-term partner online as of the 2021 survey, compared to about one-third (34 percent) of adults who said so in the 2018 poll.
Many millennials were in their mid-20s when dating apps became popular, which could explain their wider adoption and level of comfort with using them. Some older Gen Zers, another group at a likely common dating age, started college around that time, but millennials appear to be more focused on long-term relationships than Gen Zers, according to the Morning Consult survey. 
Thirty-six percent of millennials using online dating platforms said they do so primarily to find a partner for a long-term relationship, and that figure only increases among Generation X and baby boomer users. Gen Z users are fairly split in their main reasons for online dating.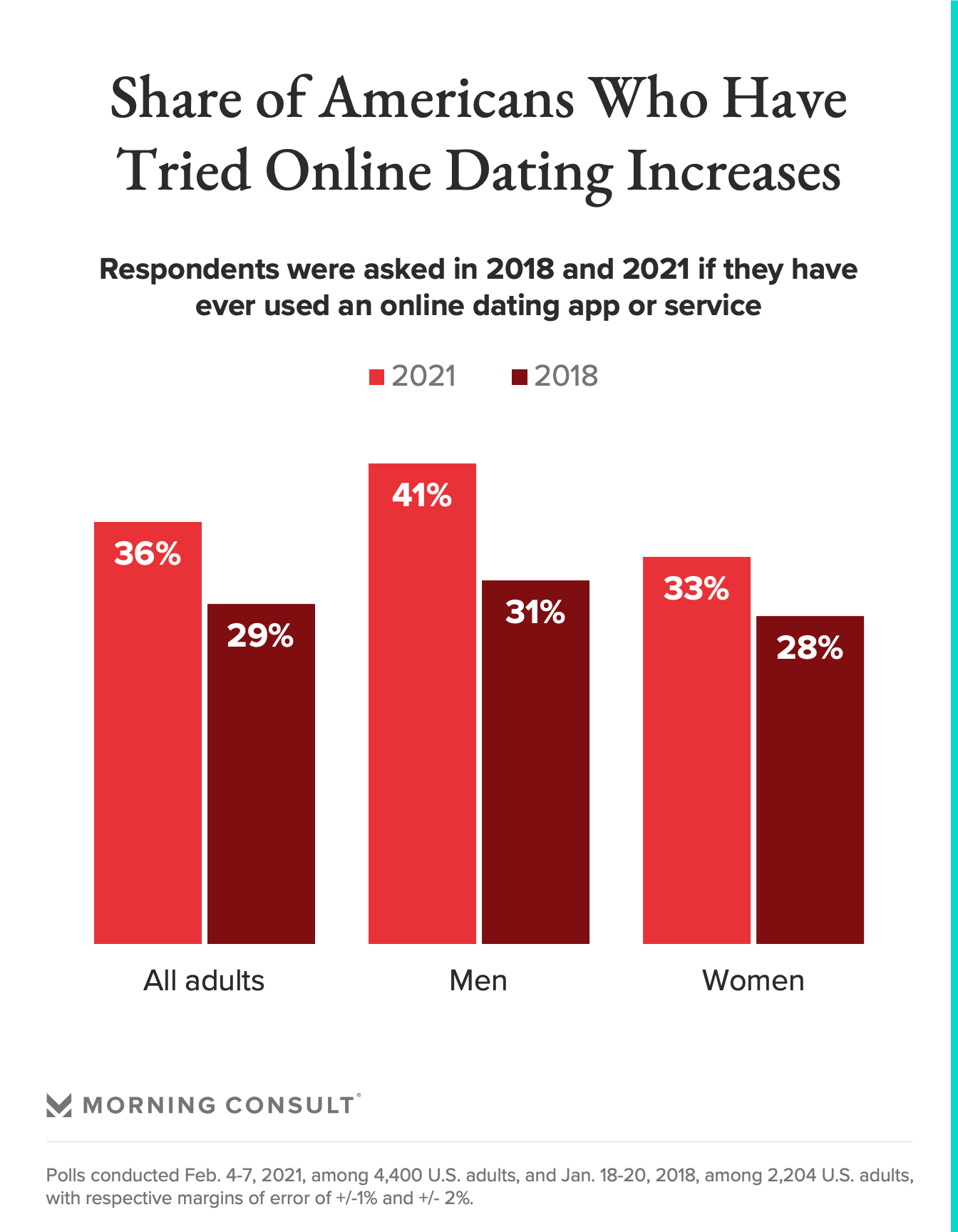 Adults across the board are using dating apps and services more now than they were a few years ago, regardless of their reasoning: 36 percent said in the most recent poll that they're logging on more, up from 29 percent three years ago, according to the 2018 survey.
More men currently use online dating platforms than women, per Morning Consult's most recent poll, a gap that has widened slightly since 2018.
Men were also more likely than women to express stronger positive feelings about online dating. Women who have used dating platforms were more likely to describe their personal experiences as negative: About one-quarter (26 percent) said they've had a bad experience dating online, compared with 18 percent of men, which could be driving the negative sentiment among women.
"I was worried about the safety of it," said Silvestre, who first started using Tinder seriously in early 2018 while living alone in Boston. "I didn't have people that were checking up on me super often, no one that was going to be wondering if I made it home." 
Many people have relocated in the past year, taking advantage of new work-from-home policies as the pandemic persists, and have found dating apps are helpful in fostering relationships with people they otherwise would not have met.
Imran Mumtaz, a 25-year-old who was looking for connections after moving to Detroit about two years ago, took a gamble on Hinge in the age of coronavirus.
As a person of color, he said he felt dubious about finding diversity on dating apps in Michigan, and said he had deleted Hinge a few times after first downloading it. He said he reinstalled it when he wanted to meet someone to safely spend time with in the city. Mumtaz said he's now in a five-month relationship with someone he met on the app.
Any stigma attached to meeting someone on Hinge never really crossed his mind, he said. Growing up in a South Asian family, he was familiar with the concepts of matchmaking and arranged marriage, and said "dating apps are essentially that."
"In this day and age, it's almost more shocking to say that you found your partner not on a dating app," Mumtaz said. "I wouldn't have found this person walking in the street."
Alyssa Meyers previously worked at Morning Consult as a reporter covering brands and marketing.
We want to hear from you. Reach out to this author or your Morning Consult team with any questions or comments.
Contact Us