Paramount+ Is Entering a Crowded Streaming Market. What Will Make Consumers Subscribe?
Likely subscribers skew male and millennial, similar to the makeup of HBO Max, Disney+ subscribers
Key Takeaways
29% of U.S. adults said they are likely to subscribe to Paramount+, ViacomCBS' rebranded CBS All Access streaming service set to debut on Thursday.

Inclusion of new Paramount movies didn't move the needle for consumers, as the share who said titles such as "Mission: Impossible 7" and "Top Gun: Maverick" would make them more likely to subscribe was roughly equal to the share who said they would be less likely to subscribe.

Live-sports events, namely NFL games, would entice roughly one-quarter of non-interested consumers to subscribe.
Thursday marks the debut of yet another platform looking to secure a slice of the streaming world. 
Paramount+, ViacomCBS Inc.'s rebranding of its existing CBS All Access product, will offer consumers new original content, movies and TV shows from a bevy of brands, live sports and the latest blockbusters from Paramount Pictures. New polling offers a look at how the demographic makeup of likely Paramount+ subscribers compares to the subscriber bases of the expanding ecosystem of existing services, as well as what content will attract consumers who are less eager to subscribe.
A Feb. 18-21 Morning Consult/The Hollywood Reporter survey found that 29 percent of the 2,200 U.S. adults surveyed said they were likely to subscribe to Paramount+. That lands the service somewhere in the middle compared to previous subscriber interest: Past surveys have shown that 16 percent of the public would subscribe to HBO Max ahead of its May 2020 launch, while 30 percent said they would sign up for Discovery+ ahead of its debut in January.  
Paramount+'s ad-supported plan will cost $4.99 a month, a dollar less than the cost of CBS All Access, while the ad-free plan runs $9.99 a month.
Likely Paramount+ subscribers differ from those of other streaming services in a few important ways. 
They're much younger than other streamers: Roughly 3 in 5 identified as either millennial (48 percent) or Gen Z adults (15 percent), making its pool of likely subscribers very similar to that of Discovery+. Amazon.com Inc.'s Prime Video, NBCUniversal's Peacock and CBS All Access, which will automatically convert its subscribers to Paramount+ at launch, hold audiences that are majority Gen X or baby boomers. 
Likely Paramount+ subscribers were also more likely than Netflix Inc., Hulu and Peacock subscribers to reside in urban areas by a margin of 10 percentage points.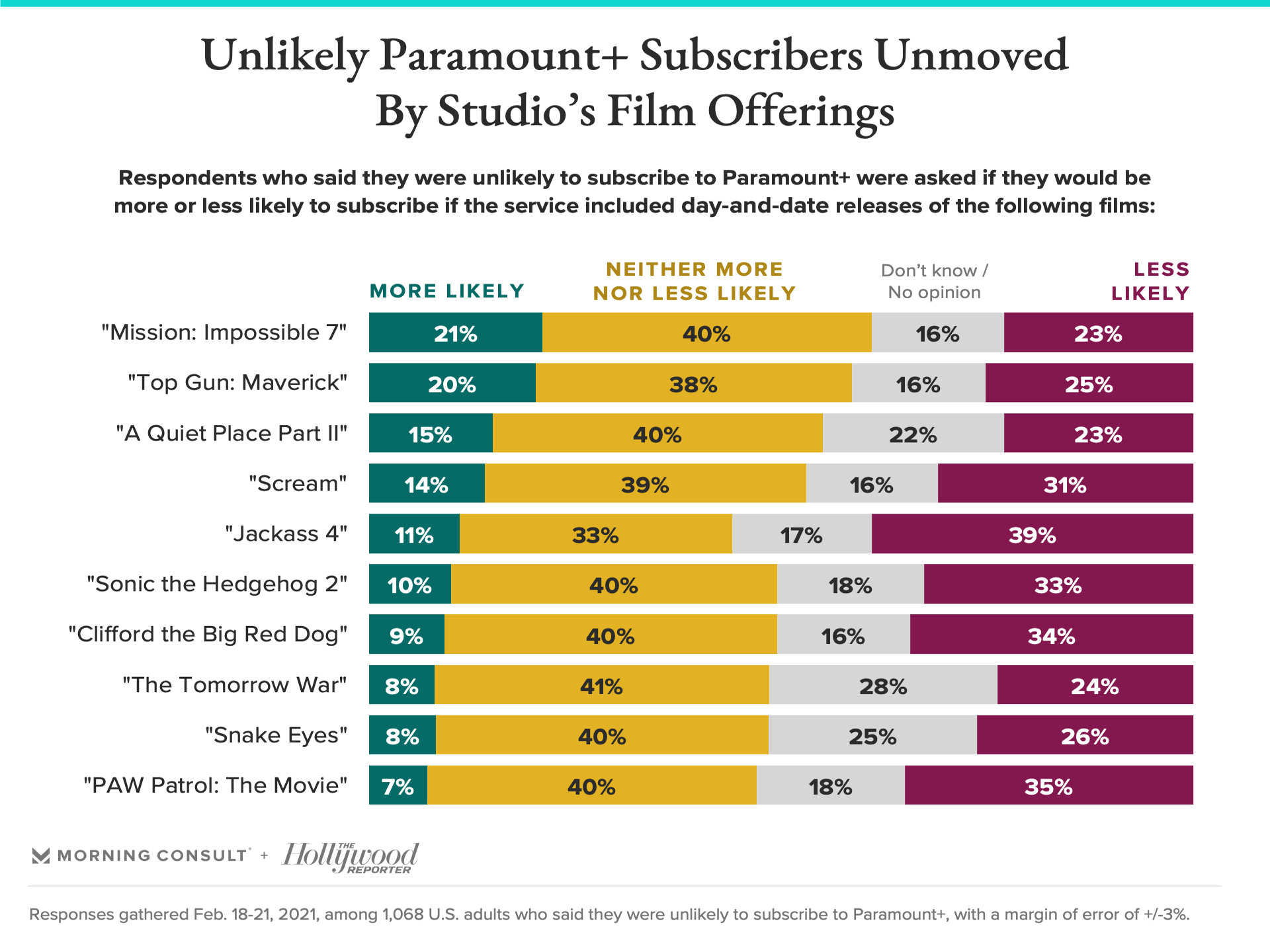 Like other media companies, ViacomCBS is using streaming to experiment with new theatrical windows. During an introductory presentation last week, the company said select titles from Paramount Pictures -- including "A Quiet Place Part II" and "Mission: Impossible 7" -- will debut on the streaming service 30 to 45 days after they premiere in movie theaters. 
Among the 1,067 adults who said they were not likely to subscribe to the rebranded offering, the inclusion of new Paramount titles, namely "Mission: Impossible 7" and "Top Gun: Maverick," on the same day they're released in theaters would make 1 in 5 respondents more likely to subscribe to the service. But a similar figure (roughly one-quarter) said the inclusion of the two titles would make them unlikely to subscribe.
The survey, which gauged consumer sentiment of day-and-date releases, was conducted before ViacomCBS announced its distribution method for the films. 
ViacomCBS' entertainment catalog includes Comedy Central, MTV, Nickelodeon and BET, in addition to the CBS and Paramount portfolios. Content from Paramount Pictures (32 percent), Showtime (30 percent) and CBS (28 percent) was most likely to sway unlikely subscribers to check out the services. The survey overall has a margin of error of 2 points, while the subgroup who said they were unlikely to subscribe to Paramount+ holds a margin of error of 3 points. 
Paramount+ is relying on popular characters and shows to win over viewers. It will feature new and existing "Star Trek" series, in addition to revivals of "Frasier" and "Criminal Minds." The latter, which ended last year after a 15-year run on CBS, is one of the most popular licensed shows on streaming, according to Nielsen Holdings PLC, which said Americans spent more time streaming the procedural in 2020 than any original program on streaming.
The platform is also touting exclusive sporting events, such as NFL games for the upcoming season, PGA Tour events and NCAA men's basketball. NFL games were the biggest draw for adults overall (35 percent said they'd be more likely to subscribe) and consumers who are hesitant to subscribe to Paramount+ (26 percent). 
Likely Paramount+ subscribers fall somewhere in the middle when it comes to live sporting event viewership compared to competing platforms. Thirty-six percent said they watch sports at least several times per week, compared to 48 percent of Discovery+ members and 25 percent of Netflix and Prime Video subscribers.
Sarah Shevenock previously worked at Morning Consult as a reporter covering the business of entertainment.
We want to hear from you. Reach out to this author or your Morning Consult team with any questions or comments.
Contact Us