Polling Shows Why Trump Is Trying a New Tax Message
The GOP's tax bill hasn't been as popular as the party hoped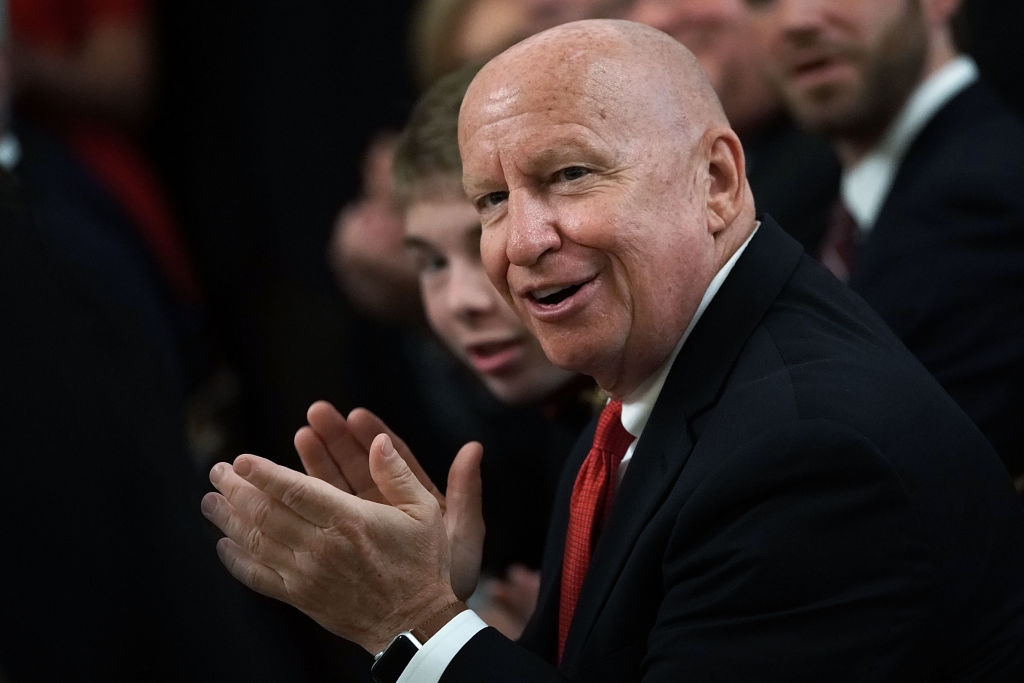 Key Takeaways
Trust in Trump to implement tax changes that benefit Americans has dropped a net 14 points since a September 2017 poll.

40% of voters said they trust Republicans in Congress to implement beneficial tax changes, while 48% don't; 42% said they trust Democrats.

39% of voters support GOP tax law and 37% are against it.
Republicans entered the final month before the midterms without an advantage on taxes, as voters' trust in President Donald Trump's ability to implement tax reforms that benefit Americans fell from a year ago.
Now, in the final days of the campaign, Trump is trying -- at least in part -- to get it back.
On Tuesday, he pitched a "pure 10 percent tax cut for the middle class," saying House Ways and Means Committee Chairman Kevin Brady (R-Texas) would introduce a resolution making formalizing that pledge by "the end of the week, or early next week." And on Twitter, Trump has attacked Democratic candidates, saying they are looking to raise taxes.
"It's important for Republicans across the country to make the connection between the strongest economy we're seeing and Republican policies like tax relief," Michael Steel, a former spokesman for House Speaker John Boehner (R-Ohio) who once led communications for Republicans on the House Ways and Means Committee, said Wednesday. "Taxes tend to be a good issue for Republicans, and anything you can do to remind voters that the strong economy is not an accident is a plus."
But trust that Trump will implement tax reforms that benefit voters has slipped over the past year, while the party's chief legislative achievement, a tax law that reduced rates for corporations and temporarily cut rates for most individuals, has evoked a tepid response from the public since its passage in December.
A Sept. 13-16 poll Morning Consult/Politico poll found that 39 percent of registered voters supported the tax bill, compared to 37 percent who opposed it.
The same survey found voters' trust in Trump to implement tax changes that benefit them dropped a net 14 percentage points since a September 2017 poll, which was conducted as lawmakers and White House aides were beginning to hammer out the details of the final product. In the 2018 poll, 38 percent of voters said they trusted Trump on the issue and 53 percent did not.
Trump's latest plan to give a 10 percent tax cut to the middle class is unlikely to become law. No legislation has been introduced on the issue, and Congress is out of town until after the Nov. 6 midterm elections. Senate Finance Committee Chairman Orrin Hatch (R-Utah) also told reporters on Wednesday that it's "highly unlikely" the Senate would take a vote on such a proposal after the election.
Jesse Ferguson, a Democratic strategist and former director of the Democratic Congressional Campaign Committee's independent expenditure arm, said Democrats have tried to shift the debate about tax cuts to whether they benefit everyday Americans or the wealthy.
"People have figured out the scam and learned that if a plan is so heavily rigged toward the wealthy and the well-connected, it means that people who work for a living are going to pay the price," he said Thursday.
The 1,564 voters sampled in the survey were also slightly less likely to say they trusted Republicans in Congress to implement tax changes that would benefit them, though the drop from 43 percent last year to 40 percent in September was just outside the surveys' 2-point margins of error.
Among GOP voters, trust in congressional Republicans improved a net 10 points since September, with 80 percent trusting and 12 percent not trusting. Republicans showed a similar level of trust in Trump, though it was mostly unchanged since September 2017.
But voters are not significantly more likely to trust Democrats on the issue, either, compared to the poll a year ago. In the latest survey, 42 percent said they trusted Democrats to implement beneficial tax reforms, versus 45 percent who didn't, a gap largely in line with 2017 findings -- though more voters appeared undecided.  
The economy and tax cuts have featured in messaging by Republicans this election cycle, as the unemployment rate has declined and markets have risen.
Just Wednesday, for example, the House-leadership aligned Congressional Leadership Fund released an ad in Ohio's competitive 1st District highlighting the strong economy and touting Republican Rep. Steve Chabot's support for the tax cut for middle-class Americans while attacking his rival's opposition.
In their ads, Democrats have instead focused on the corporate tax cuts included in the bill and the cost of the lost revenue. In Colorado's 6th District, for example, an ad from the House Majority PAC -- a group that backs Democrats -- criticized Republican Rep. Mike Coffman for supporting what they dubbed a "corporate tax giveaway," referring to the 2017 tax bill. They have similar messaging in other districts, including in Illinois' 13th District and in Minnesota's 2nd District.
And Trump's bid to capitalize on the strong market performance could have a downside. A market rout on Wednesday sent the Dow Jones Industrial Average tumbling more than 600 points and the Nasdaq down 4.4 percent, although most major market indicators largely recovered a day later. Despite any volatility in the market, GOP strategists hope voters will take a longer-term view of the economy.
"Big picture over the past two years, the job market is doing very well," said Liam Donovan, a Republican strategist and lobbyist. "We'll see if there's a blip. What's on the front pages in the next few weeks could matter on the margins."
Eli Yokley is Morning Consult's U.S. politics analyst. Prior to his current role, Eli was Morning Consult's senior reporter covering U.S. politics. Eli joined Morning Consult in 2016 from Roll Call, where he reported on House and Senate campaigns after five years of covering state-level politics in the Show Me State while studying at the University of Missouri in Columbia, including contributions to The New York Times, Politico and The Daily Beast. Follow him on Twitter @eyokley. Interested in connecting with Eli to discuss his analysis or for a media engagement or speaking opportunity? Email [email protected].
Claire Williams previously worked at Morning Consult as a reporter covering finances.
We want to hear from you. Reach out to this author or your Morning Consult team with any questions or comments.
Contact Us