Trump Pulls Closer to Biden After RNC
Post-convention poll shows Trump almost halved national deficit against the Democratic nominee
Key Takeaways
Former Vice President Joe Biden leads President Trump 50% to 44% among likely voters following the Republican National Convention vs. a lead of 52% to 42% before it began.

Trump cut into Biden's lead among suburbanites and grew his support among white voters, though he worsened his standing with voters of color.

Biden's favorability numbers weakened while the president's remained steady.
President Donald Trump needed a convention bounce -- and he got one, emerging from the Republican National Convention with an improved standing against Democratic presidential nominee Joe Biden, fueled by gains among white voters and those in the suburbs, though he still trails the former vice president nationwide. 
A new Morning Consult poll conducted Friday that asked 4,035 likely voters which candidate they would pick found Biden leading Trump by 6 percentage points, 50 percent to 44 percent. It marked a 4-point improvement from his standing heading into the convention on Aug. 23, when Biden led 52 percent to 42 percent. Friday's poll had a 2-point margin of error, compared with a 1-point margin of error for responses gathered among 4,810 likely voters on Aug. 23.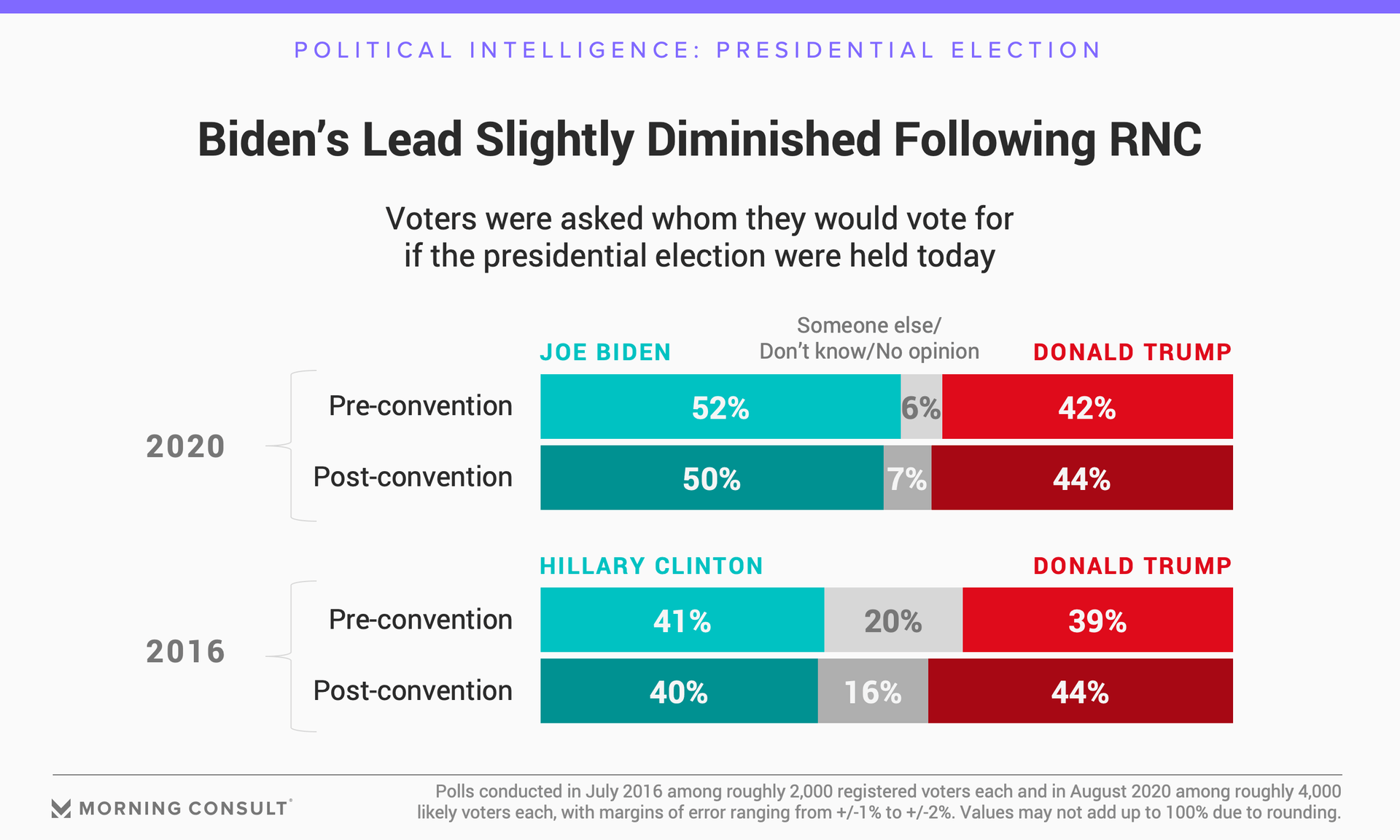 The movement stands in contrast to voters' reaction to the Democratic National Convention held the previous week, when Biden's lead over Trump went statistically unchanged, and harks back to the bump in support that Trump saw after the 2016 Republican National Convention. However, due to a smaller share of undecided voters, Biden, who continues to have about half of the electorate's support, remains in a significantly stronger position than Democratic nominee Hillary Clinton was four years ago.
The poll results come after a convention that was less watched than the Democratic National Convention a week before. According to The New York Times, an average of 19.4 million people watched the Republican gathering each night on live TV, compared to 21.6 million who watched the DNC; Trump's acceptance speech was viewed live by 23.8 million, less than Biden's 24.6 million the week before.
The four-day event, held mostly in Washington and capped off by a Trump speech to a crowd of supporters on the White House lawn, painted a picture of Trump's successes and strength following a week in which Democrats cast the incumbent as a failed leader, based largely on his handling of the coronavirus pandemic. The president and his allies also sought to claim the mantle of the party of law and order and a last line of defense against a creeping radical socialism from the Democratic Party, messaging largely aimed at white people and suburbanites, who will be key for the president in order to win in November. 
Trump cut into Biden's lead among voters in the suburbs: Before the convention, Biden led by 14 points (54 percent to 40 percent), but after the convention, he led by 8 points (50 percent to 42 percent).
Trump also improved his margin among white voters, leading Biden 51 percent to 43 percent on Friday compared with a 2-point edge earlier in the week. That included a 6-point gain in his advantage among white voters without a college degree, among whom he leads 57 percent to 36 percent.
At the same time, Trump left the convention with a slightly worse standing among voters of color, trailing Biden by 28 points among Hispanic voters (33 percent to 61 percent) and 74 points among Black voters (9 percent to 83 percent).
Despite some improvement in the head-to-head numbers for Trump, the Republican convention did not improve voters' perceptions about Trump as the Democratic convention did Biden's. A majority of voters (55 percent) continue to view him unfavorably, while 43 percent view him favorably. 
But the event does appear to have diminished voters' record-high views of Biden, whose favorability rating fell from 51 percent to 49 percent and was paired with a 1-point increase in unfavorable views, from 46 percent to 47 percent. 
Eli Yokley is Morning Consult's U.S. politics analyst. Prior to his current role, Eli was Morning Consult's senior reporter covering U.S. politics. Eli joined Morning Consult in 2016 from Roll Call, where he reported on House and Senate campaigns after five years of covering state-level politics in the Show Me State while studying at the University of Missouri in Columbia, including contributions to The New York Times, Politico and The Daily Beast. Follow him on Twitter @eyokley. Interested in connecting with Eli to discuss his analysis or for a media engagement or speaking opportunity? Email [email protected].
We want to hear from you. Reach out to this author or your Morning Consult team with any questions or comments.
Contact Us