Potential Candidates' Religious Backgrounds Prove Divisive Among Partisans
GOP voters prioritize Christian candidates, are repelled by Muslim ones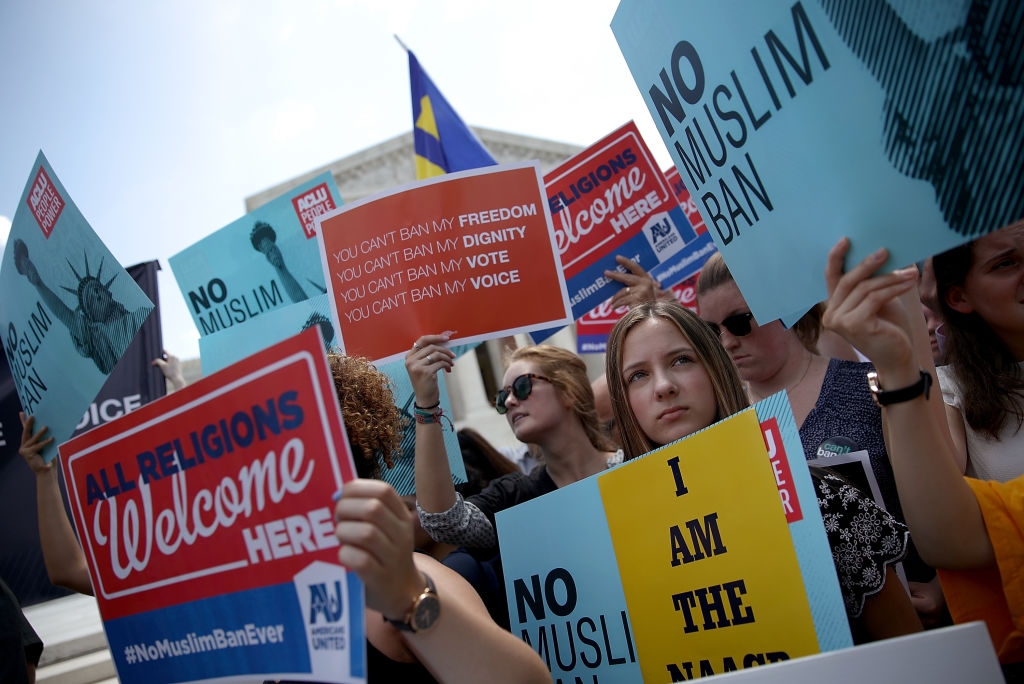 Amid the trend of growing secularization in the United States, the subject of religion holds a prominent position as a dividing line among voters.
A new Morning Consult survey gauged preferences among 1,970 registered voters for personal traits and identity in a hypothetical congressional candidate, and religion was a key line in the sand: Seven of the 20 most divisive attributes between Republicans and Democrats pertained to potential candidates' religious backgrounds.
Candidates of the Muslim faith, who were viewed most negatively among all voters, generated the widest gap between partisans. By a margin of 62 percentage points, Republican voters said they would be less likely to vote for a Muslim candidate, versus a 17-point margin for Democrats who said the same.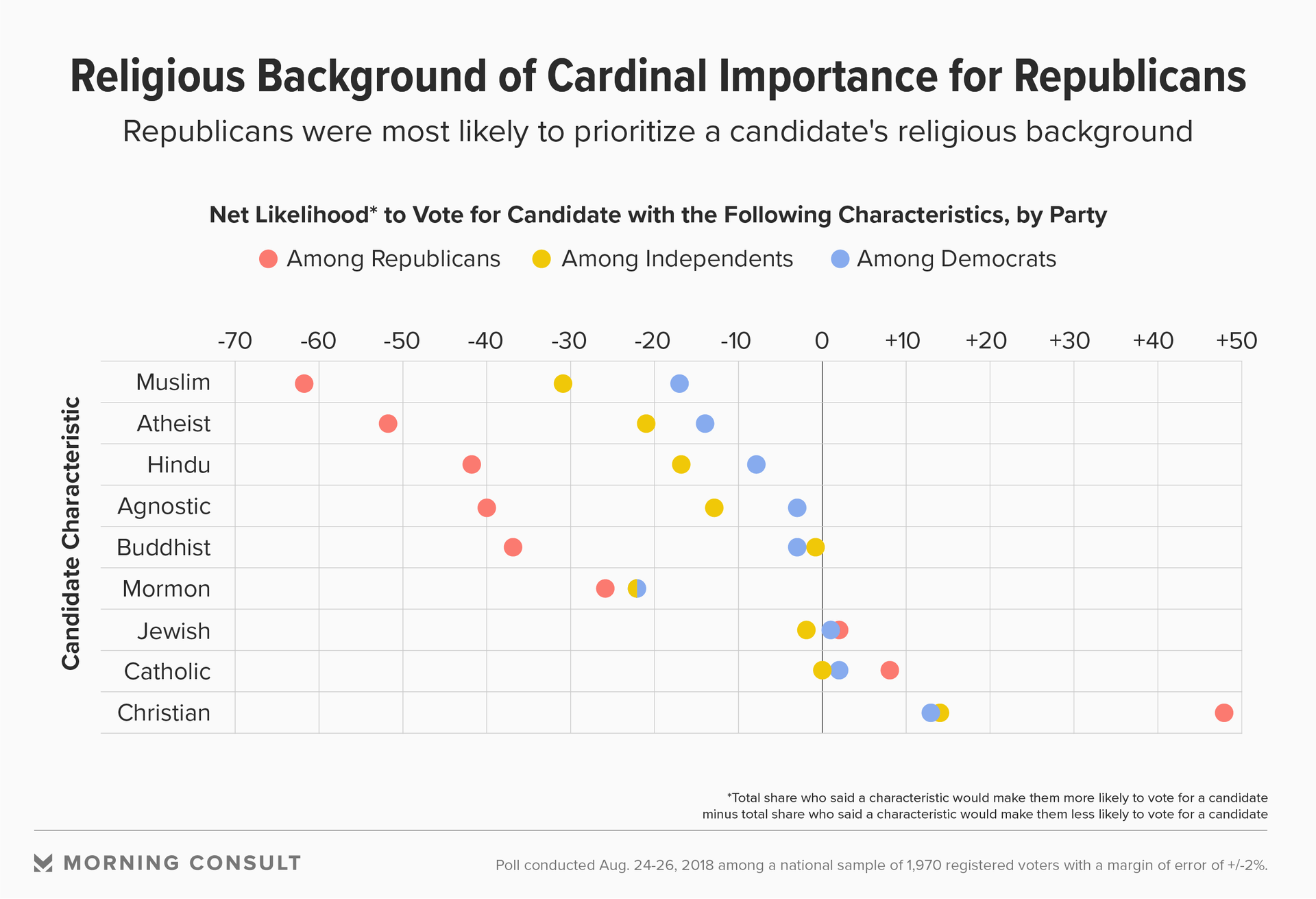 Republicans were also far more likely than Democrats or independents to value a Christian candidate, while being a nonbeliever or a skeptic was a turnoff. GOP voters said they were less likely to vote for atheist candidates by a 52-point margin and agnostics by a 40-point margin. Democrats, by comparison, were more lenient toward both of those groups, viewing atheist candidates as more negative than positive by 14 points,  and seeing agnostics at minus 3. The poll had a margin of error of 2 points.
While practitioners of other Eastern religions, Hinduism and Buddhism, also drew particularly negative responses among GOP voters, it was a church founded in America that evoked the most unified backlash among voters as a whole: In nearly equal measure, Democrats, Republicans and independents said they were less likely to vote for a Mormon candidate.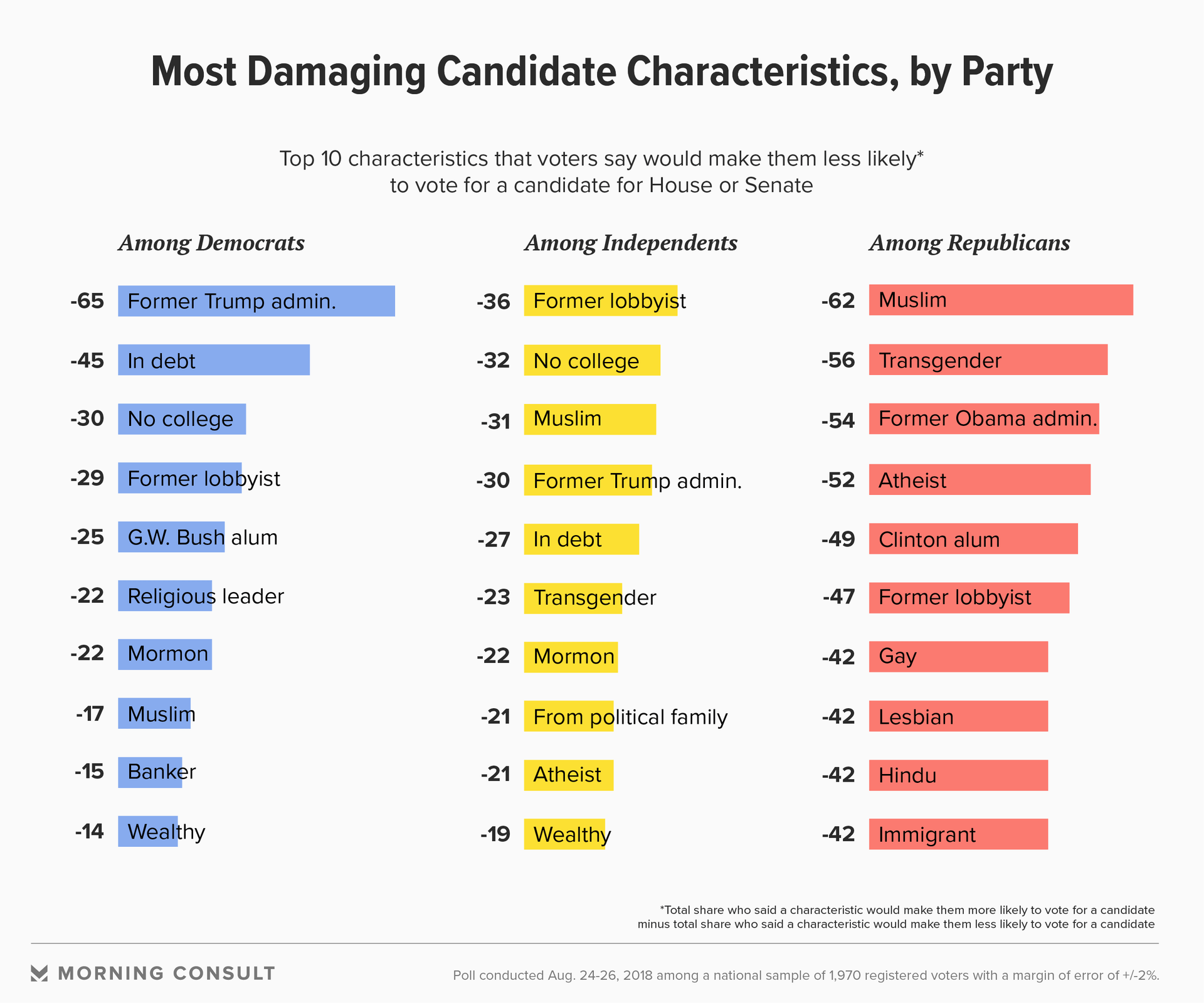 Religious affiliation in the country has been in steady decline for nearly three decades. The National Opinion Research Center's General Social Survey from 1991 found 6 percent of the public was religiously unaffiliated. By 2017, that figure had quadrupled, according to the Public Religion Research Institute.
Democrats (33 percent) are nearly three times as likely as Republicans (12 percent) to identify as religiously unaffiliated, PRRI data shows.
That dynamic is likely to come into play in at least one congressional race when voters head to the polls in November. In North Carolina's 9th District, which covers part of Charlotte and its southeastern suburbs, GOP candidate Mark Harris, a former Baptist pastor, has come under fire for remarks at the pulpit concerning "biblical womanhood."
In the Morning Consult survey, Democrats said they'd be less likely to vote for any religious leader by a 22-point margin, compared with independents at minus 17. Republicans, on the other hand, favored candidates with a religious background by 7 points.
Cameron Easley is Morning Consult's lead analyst for U.S. politics. Prior to moving into his current role, he led Morning Consult's editorial coverage of U.S. politics and elections from 2016 through 2022. Cameron joined Morning Consult from Roll Call, where he was managing editor. He graduated from the University of North Carolina at Chapel Hill. Follow him on Twitter @cameron_easley. Interested in connecting with Cameron to discuss his analysis or for a media engagement or speaking opportunity? Email [email protected].
We want to hear from you. Reach out to this author or your Morning Consult team with any questions or comments.
Contact Us