People Who Watched the Oprah Interview Were More Likely to View Prince Harry, Meghan Markle Favorably
While admired by Americans, the Duchess of Sussex comes in last among British poll respondents
Key Takeaways
Meghan Markle's favorability rating among Americans who watched the March 7 interview with Oprah Winfrey was 67%, 22 percentage points higher than a pre-interview poll taken among all adults.

Among U.S. adults, which include those who did not see the CBS interview, Queen Elizabeth II (49%) remained the most popular royal, while Kate Middleton topped the list for British respondents (66%).

British and U.S. adults were split on whether media coverage of Harry and Meghan is fair or unfair, but British respondents were more likely to say the couple receives mostly negative media attention.
Days after more than 17 million viewers tuned in to watch Prince Harry and Meghan Markle's interview with Oprah Winfrey, the two-hour chat -- and the allegations raised during it -- is still making waves. 
But, despite the intrigue, new Morning Consult polling shows that the allegations did relatively little damage to the popularity of the British royal family, while those who watched had high favorability for the Duke and Duchess of Sussex.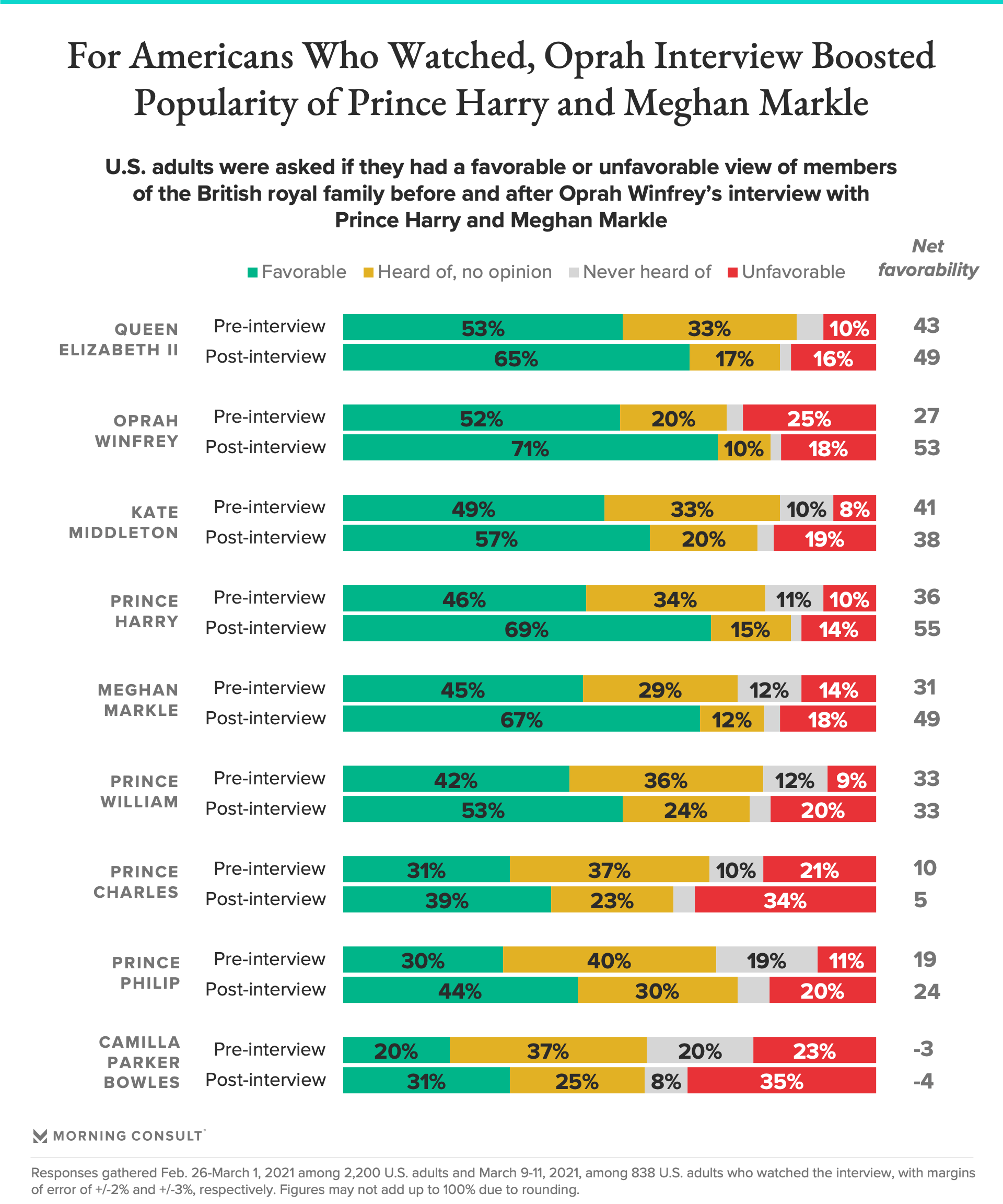 Prince Harry and Meghan's favorability rating is roughly equal to that of Queen Elizabeth II, among the 838 respondents who said they watched the CBS interview in the March 9-11 Morning Consult poll. That's a shift from the 2,200 U.S. adults in a Feb. 26-March 1 survey, which had the queen's popularity at least 7 percentage points higher than that of the couple.
Meghan's favorability rating sits at 67 percent among those who watched Sunday's interview, 22 points higher than a pre-interview poll among all adults. Those who tuned in had high praise for Harry as well. Other members of the royal family saw no large drops in popularity.
Among the 1,001 British adults surveyed after the interview aired, Kate Middleton -- who Meghan in the televised special alleged made her cry, contradicting previous reports of the opposite -- was the most popular royal (66 percent), followed by Queen Elizabeth II (64 percent) and her grandson Prince William (64 percent). Meghan was the least popular royal among British respondents, with 29 percent having a favorable rating of her and more than half (52 percent) holding an unfavorable rating. 
In the interview, Harry and Meghan alleged that, prior to the birth of their son, Archie Harrison Mountbatten-Windsor, multiple conversations were had about what the color of their child's skin may look like. The couple declined to name who raised the question, but later clarified it was not Queen Elizabeth II nor her husband, Prince Philip. 
Buckingham Palace said in a statement that "the issues raised, particularly that of race, are concerning," noting while "recollections may vary, they are taken very seriously and will be addressed by the family privately." And during a visit to a school, Prince William told reporters that the royals are "very much not a racist family."
Meghan has been subjected to intense media scrutiny since she started dating Harry in 2016, although Brits appear to be more aware of it -- perhaps because of the United Kingdom's at-times fervent tabloid culture. 
Forty-eight percent of British respondents said media coverage of Prince Harry has been mostly negative, compared to 18 percent of U.S. respondents, while 56 percent of British respondents and 23 percent of U.S. respondents said the same about coverage related to Meghan.
Meghan disclosed in the interview that her time as a royal living in the United Kingdom became so difficult that she had suicidal thoughts and sought help from Buckingham Palace, which allegedly denied her assistance.
But there is little difference between respondents stateside and those across the pond on the "fairness" of the media reports.
Put another way, British citizens are at least twice as likely as Americans to say that coverage of the couple has been negative, but no more likely to say it is unfair.
British respondents who believe coverage of Harry and Meghan has been mostly negative are nearly split over its fairness for the couple, with 39 percent saying coverage has been fair to both Harry and Meghan. However, among those who think media coverage of Harry has been mostly negative, 43 percent said the press has been unfair. Forty-six percent of those who said coverage of Meghan was mostly negative said the same about the press' fairness.
Sarah Shevenock previously worked at Morning Consult as a reporter covering the business of entertainment.
We want to hear from you. Reach out to this author or your Morning Consult team with any questions or comments.
Contact Us