Very Few Voters Understand What's Happening With Redistricting
24% know redistricting happens once a decade; 27% know whether or not their state gained seats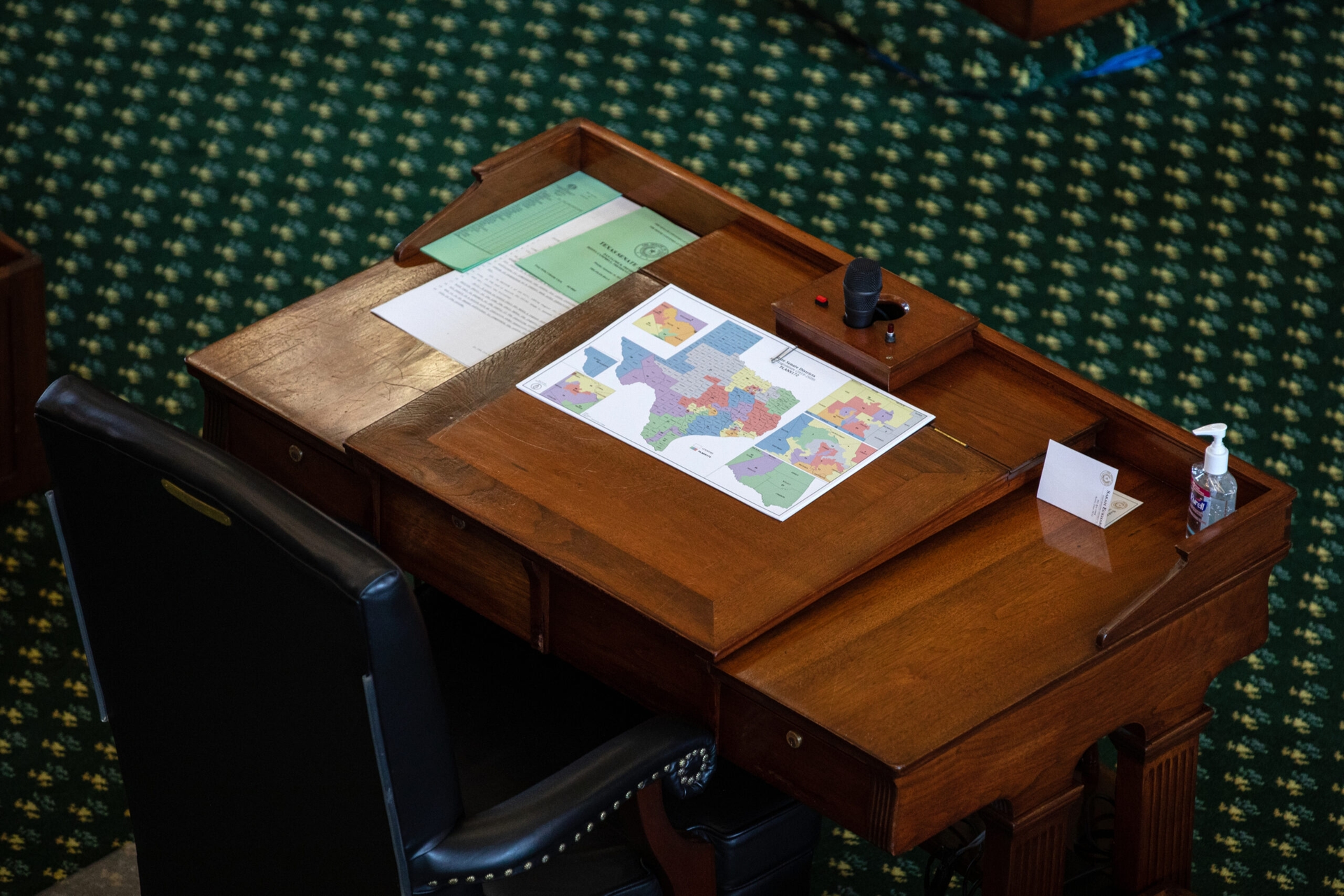 Very few voters can correctly identify whether their states gained or lost seats in congressional reapportionment, and even fewer knew how often it takes place, according to a new Morning Consult survey. But while their understanding of the process is weak, their opposition to drawing lines based on racial, partisan and socioeconomic factors is strong — and bipartisan.
What voters know about redistricting
Twenty-four percent of voters correctly said redistricting happens every 10 years in the United States, with little variation by party, though Democrats were more likely than Republicans to provide an incorrect response. Half of voters said they were unsure.
Voters ages 65 and older (36 percent) were more than three times as likely as 18- to 34-year-olds (11 percent) to know redistricting's cadence. 
Just 27 percent of voters correctly identified whether their state gained, lost or kept the same number of congressional seats, according to an analysis that segmented voters by state, while 52 percent were unsure.
The context
Despite its importance for power on Capitol Hill and state capitals, very few Americans are attuned to the redistricting process that's been playing out since the Census Bureau released its updated population count last year. It has prompted efforts from groups like the House Majority PAC, which supports Democratic candidates, to spend money to inform voters about the process and introduce them to their sometimes new members of Congress. 
According to the survey, voters are almost twice as likely to say they had seen, read or heard "nothing at all" about the process than to say they had heard "a lot" (25 percent to 13 percent). The knowledge gap was even more drastic when voters were asked whether they had heard about gerrymandering, the process of manipulating district boundaries for partisan advantage. 
Nonetheless, more voters than not (47 percent versus 16 percent) believe that gerrymandering has occurred – and they're inclined to believe many reasons officials use for drawing lines are bad.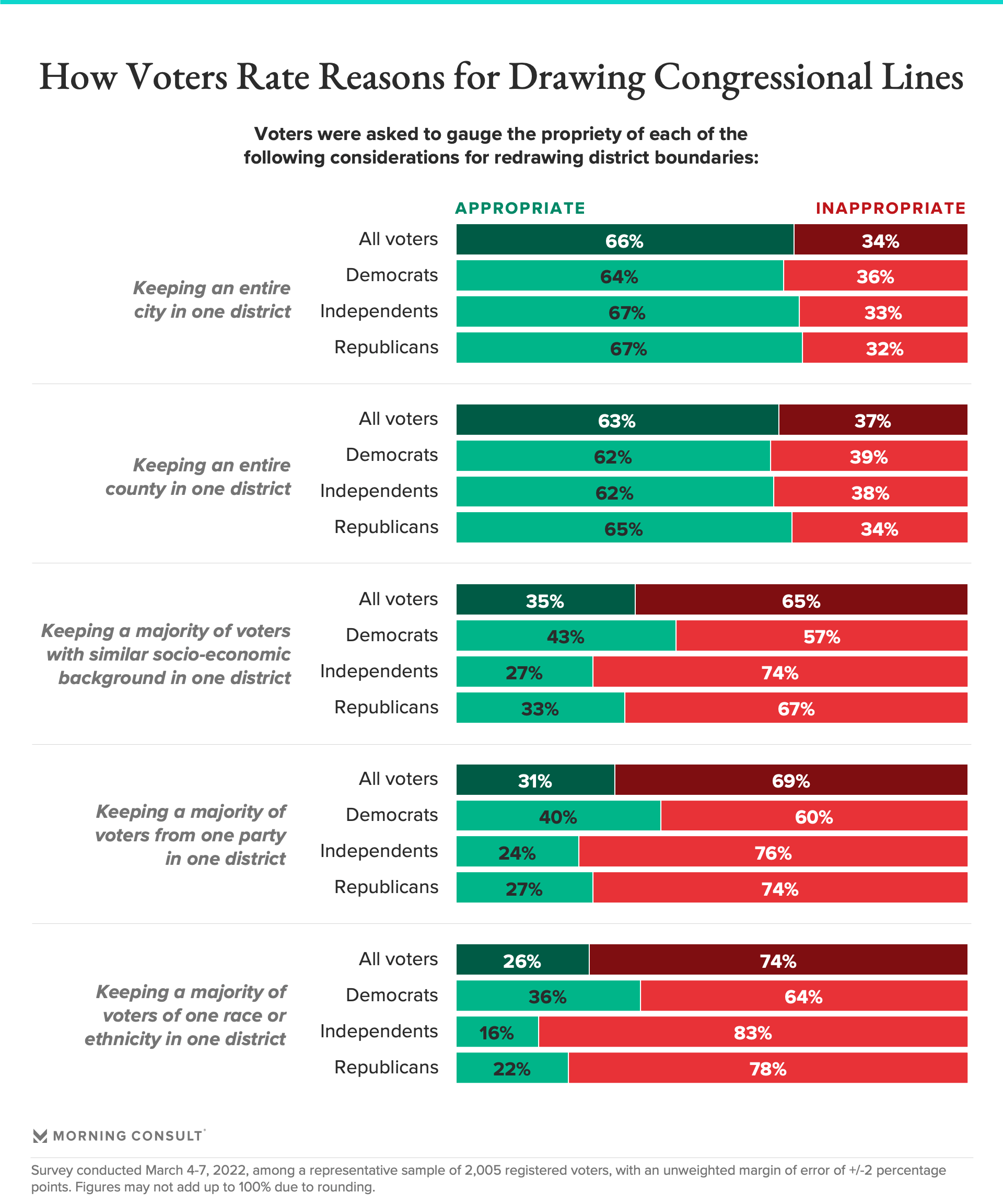 What voters think about redistricting rationales
Roughly two-thirds of voters say keeping an entire city or county in one district is an appropriate consideration when redrawing boundaries, with almost no difference among Democratic and Republican respondents.  
More voters (69 percent) say keeping the majority of voters from one party in one district — partisan gerrymandering — is inappropriate, including 60 percent of Democrats and 74 percent of Republicans.
Three in 4 voters say the redistricting practice of keeping a majority of voters of one race or ethnicity in one district is inappropriate. Racial considerations are allowed in redistricting to increase the influence of voters of color, a practice that is credited with increasing representation by nonwhite members of Congress, but banned for diluting their political power.  
The Morning Consult survey was conducted March 4-7, 2022, among a representative sample of 2,005 registered U.S. voters, with an unweighted margin of error of plus or minus 2 percentage points.
Eli Yokley is Morning Consult's U.S. politics analyst. Prior to his current role, Eli was Morning Consult's senior reporter covering U.S. politics. Eli joined Morning Consult in 2016 from Roll Call, where he reported on House and Senate campaigns after five years of covering state-level politics in the Show Me State while studying at the University of Missouri in Columbia, including contributions to The New York Times, Politico and The Daily Beast. Follow him on Twitter @eyokley. Interested in connecting with Eli to discuss his analysis or for a media engagement or speaking opportunity? Email [email protected].
We want to hear from you. Reach out to this author or your Morning Consult team with any questions or comments.
Contact Us