Americans More Likely to Favor Keeping the Redskins Name Than Changing It
30% found the Washington team's brand identity offensive, more so than Blackhawks, Chiefs and Braves
The NFL's Washington franchise announced on Monday that it will change its "Redskins" name and logo after facing pressure from corporate sponsors, a decision that stands in opposition to roughly half of the public, according to new polling.
In a Morning Consult poll conducted July 7-9, days after the NFL team announced a formal review of its name, 49 percent of U.S. adults said the team should keep the Redskins moniker. By comparison, 29 percent of respondents said the team should change its name. Self-identified NFL fans reported similar feelings on the question.
Team owner Daniel Snyder has faced pressure from activists for years to change the name, but vowed in 2013 that it was a move he'd "never" make. After FedEx Corp., Bank of America Corp., PepsiCo Inc. and Nike Inc. all called for a name change this month, however, the organization changed its long-held stance. Snyder and head coach Ron Rivera will participate in developing the team's new name, per the announcement.
The decision to change the name, which had been in place since 1933, is more likely to please younger fans: Generation Z adults were twice as likely to favor a name change than to oppose it. The youngest generation, however, is less likely than millennials, Generation Xers and baby boomers to identify as NFL fans.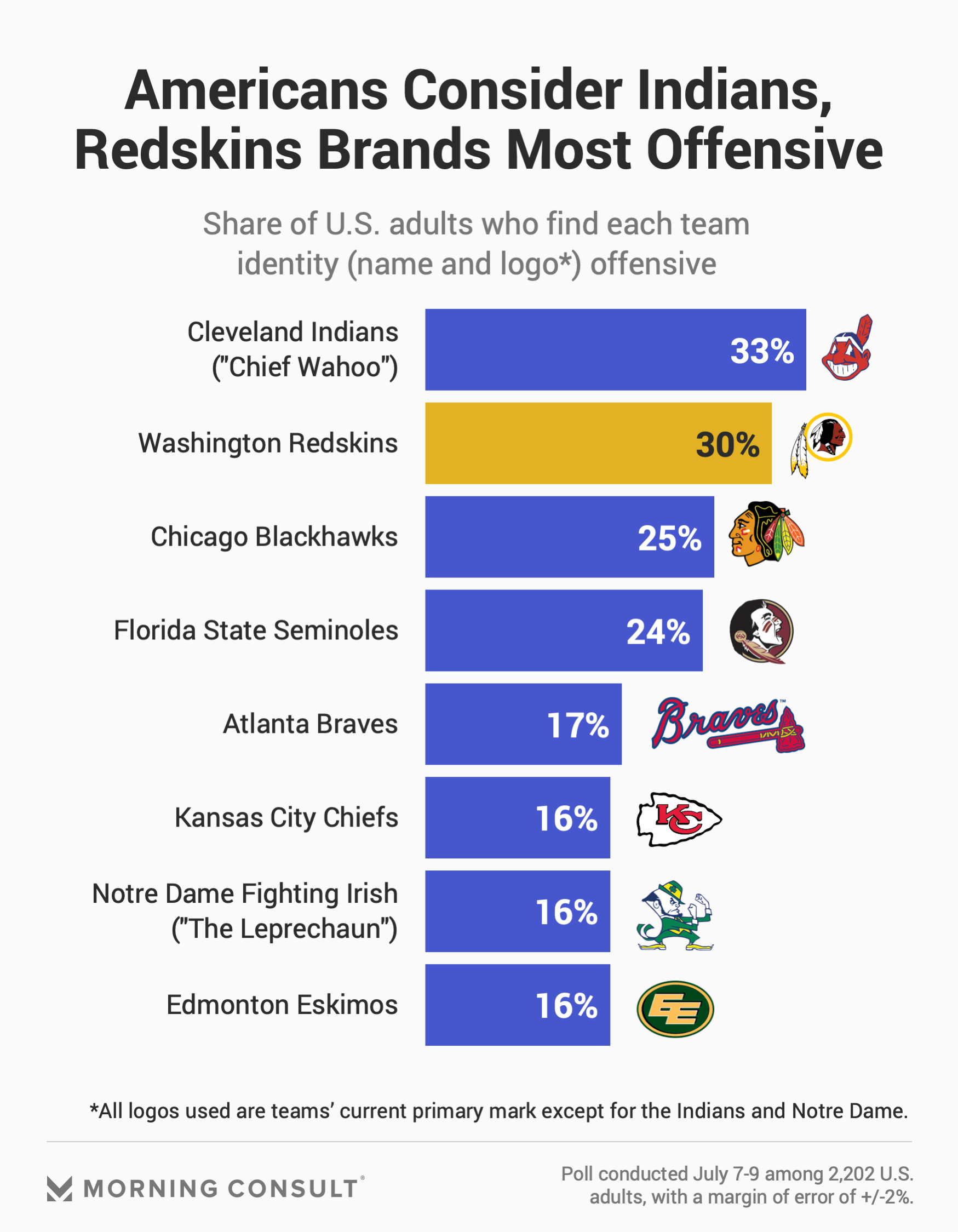 Opinions also varied on racial lines, with most white adults wanting the team name to remain, Hispanic adults divided, and pluralities of adults who identified as Black or another race or ethnicity in favor of a change. 
Among all U.S. adults, 30 percent of respondents said they find the Redskins brand identity -- the combination of the name and primary logo -- at least somewhat offensive, placing it among the more offensive team brands in the survey. The team's primary logo, which dates back to 1972, making it one of the oldest in the league, depicts a Native American warrior's face in profile inside a circle with two feathers attached. 
Respondents were also asked to respond to a number of other teams whose names and imagery is based on specific ethnic or racial groups, mostly Indigenous people. The combination of the Cleveland Indians name and its "Chief Wahoo" logo -- no longer the team's primary mark, but one it still uses sparingly on merchandise -- was offensive to slightly more Americans than the Redskins identity at 33 percent of respondents. The MLB club said earlier this month that it is "committed to engaging our community and appropriate stakeholders to determine the best path forward with regard to our team name."
The Chicago Blackhawks and Florida State Seminoles ranked third- and fourth-most offensive among the eight name-logo combinations tested. The four logos deemed most offensive by respondents all depict the face of an Indigenous person, whereas the marks of the Atlanta Braves and Kansas City Chiefs use Native American arrowhead imagery.
Alex Silverman previously worked at Morning Consult as a reporter covering the business of sports.
We want to hear from you. Reach out to this author or your Morning Consult team with any questions or comments.
Contact Us