In Wind and Solar Hot Spots of U.S., Data Shows How Pandemic Tanked Renewables' Value
New analysis attributes drop to low natural gas prices, decreased power demand, high supply of low-cost renewables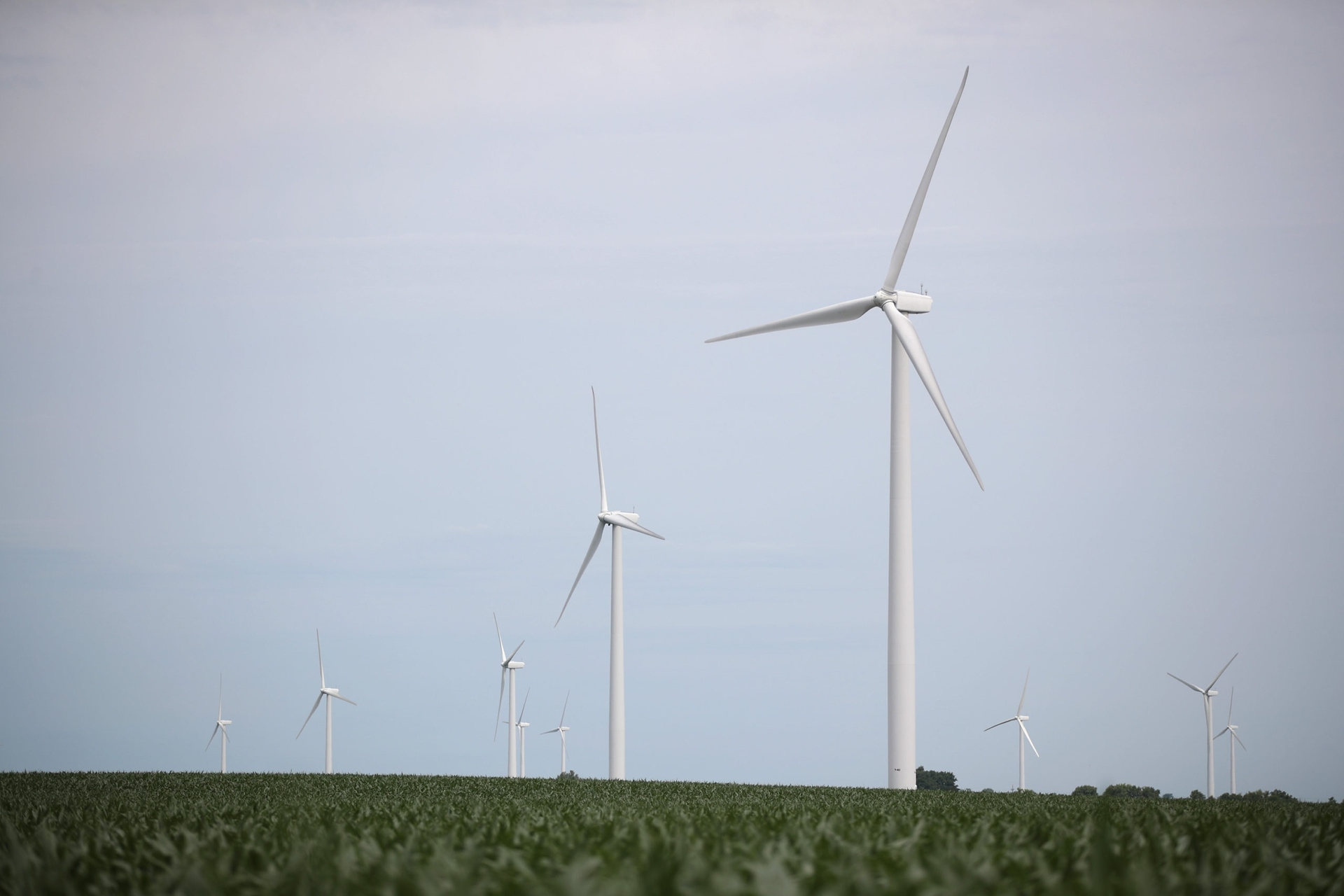 Just as the coronavirus pandemic has contributed to a plunge in oil prices, it has also cratered the value of wind and solar energy in many parts of the country. 
According to new data from REsurety Inc. — a clean energy valuation and risk analytics firm — a perfect storm of increased supply and low demand has led to the lowest average monthly value for wind power in any modern market: under $2 per megawatt/hour, recorded in Oklahoma using the regional price. And solar values have barely fared better. 
"Price volatility is a fact of life for power markets, but the COVID-19 shutdown has been a particularly dramatic example," Lee Taylor, the company's chief executive officer, said in an email.
Taylor attributes the plunge in the value of renewables that REsurety has detected in parts of the country to a confluence of factors, including a drop in demand for power due to quarantines; low natural gas prices and high production (partially driven by a warm winter that did little to draw down supplies); and the relatively high supply of low-cost renewable energy in "high penetration" regions (like the lower Midwest, one of the country's major wind belts).
In April, the production-weighted prices for wind were as much as 80 percent lower than the average price of energy in parts of the lower Midwest, and solar in areas with heavily concentrated production in Southern California has dipped to its lowest value in three years. This data comes from REsurety's Renewable Energy Market Analytics Platform, which integrates weather and power market data to calculate the hourly financial performance for 15,000 operational and greenfield renewables sites. 
A snapshot of the value of solar in Southern California and of wind in Oklahoma reveals that, when compared to the average production-weighted prices for the same period during the previous five years, prices for January-April 2020 were markedly lower across the board. While -- all else being equal -- the value of electricity tends to drop off each spring as the demand for heating declines and the demand for cooling has not yet kicked in, this year's decline has been more precipitous than the norm.
March -- when most of the United States went into lockdown over the threat of the coronavirus -- served as an inflection point for solar in Kern County, Calif., and for wind in Woodward County, Okla. Solar prices dipped to $9.49 per MWh for solar and to $2.46 for wind in April at the two sites, which were chosen because of their high penetration of solar and wind installations, respectively.
These prices were not consistent nationwide. Production-weighted pricing is geographically contingent and accounts for how much is being produced in any one case -- for example, the analysis tracks how strongly the wind is blowing in Woodward County over the course of an hour and then is averaged across a given time period. While building renewables has long been focused on optimal output — putting wind farms where it's windy and putting solar farms where it's sunny — Taylor said this is beginning to change as a consequence of the renewables sector's own success driving down the value of its installations.
"High penetration of wind through the wind belt (Texas up through to Minnesota) has driven down the value of wind in those areas," he said. "As such, optimizing for revenue means that building wind in less windy areas and solar in less sunny areas is now more financially attractive — and is creating a more complicated and data-driven development process."
This comes as the renewables industry is picking up speed faster than ever before, surpassing coal generation in the United States for the first time in over 130 years in 2019. However, the coronavirus pandemic has created uncertainty for an industry that has long relied on tax credits to stimulate its projects. And supply chain disruptions, first abroad and now at home, have posed problems for the energy storage sector, which solar, wind and other renewables have increasingly relied on for grid flexibility and reliability.
Lisa Martine Jenkins previously worked at Morning Consult as a senior reporter covering energy and climate change.
We want to hear from you. Reach out to this author or your Morning Consult team with any questions or comments.
Contact Us