Roughly Half of Trump Voters Would at Least Partially Blame Him for a Recession
40 percent of people who voted for the president in 2016 would not hold him responsible for downturn
Key Takeaways
69% of all voters would hold Trump at least partially responsible for a recession.

Trump's overall approval rating currently falls short of his economic approval.
President Donald Trump has promised a booming economy as a key part of his 2020 pitch.  Voters — including his own supporters — might hold him to that. 
Trump got a taste of the damage an economic downturn could deal to his 2020 reelection campaign last week when the Dow plummeted and the yield curve inverted for the first time since the lead-up to the 2008 financial crisis. Since then, Trump has continued to publicly insist that the United States is keeping up its decade-long expansion, while, paradoxically, the White House has begun to discuss measures that would offset a recession. 
Trump might have good reason to feel anxious. Voters would overwhelmingly pin an economic recession on Trump, according to a Morning Consult/Politico poll.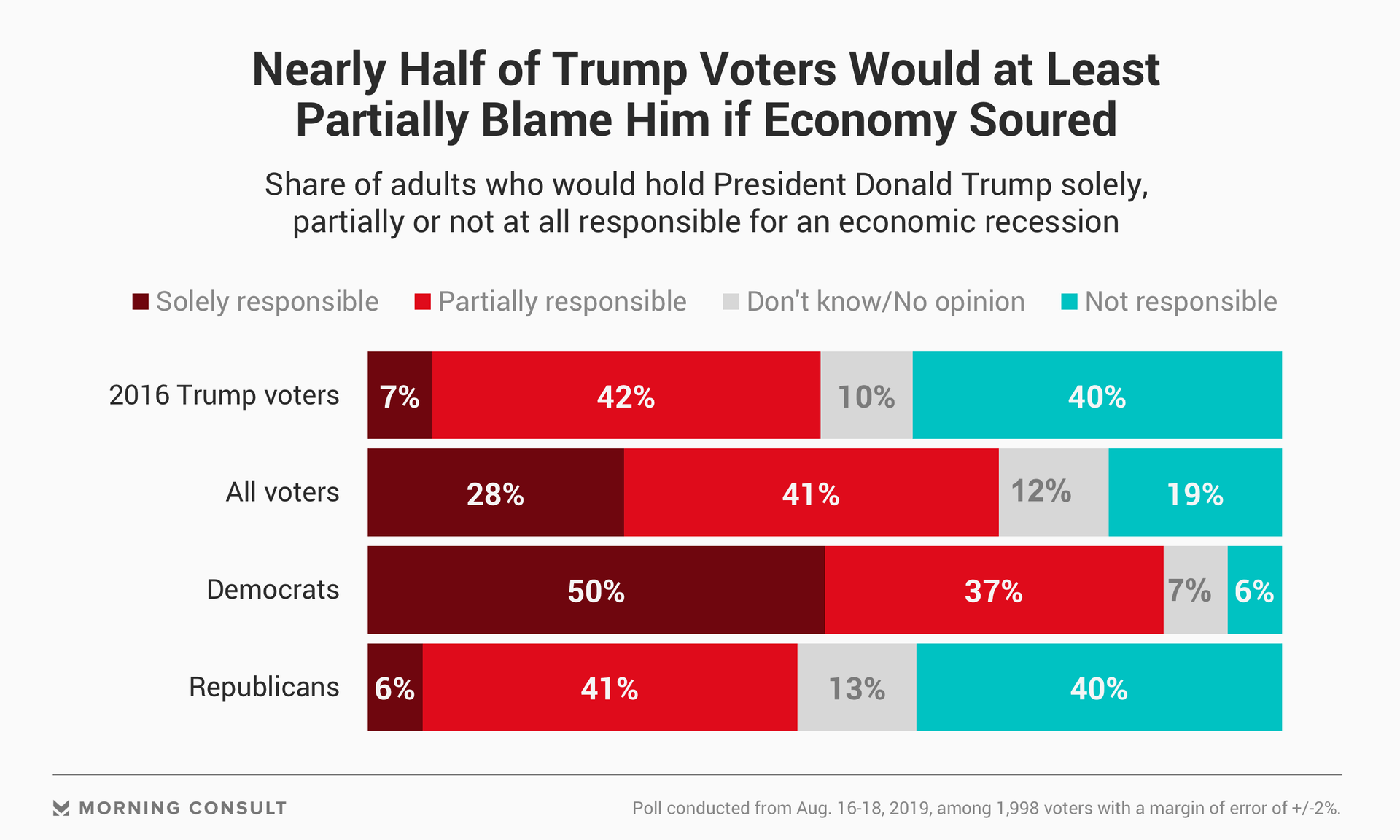 Sixty-nine percent of all voters would at least partially blame Trump for a recession, according to the poll, while 19 percent said he wouldn't be responsible at all. 
Notably, Trump faces pressure from his own supporters, as well. Just shy of half (49 percent) of those who voted for Trump in 2016 would hold him at least partially responsible for a major economic downturn, while 40 percent wouldn't. 
The survey polled 1,998 registered voters from Aug. 16-18 and carries a margin of error of 2 percentage points. 
Throughout his presidency, Trump has touted rising employment rates, a soaring stock market and a growing economy. Last week's stumble is one of the first major dings to that narrative. 
Data is starting to pile up that an economic downturn could be coming sooner rather than later. Economists surveyed by the National Association for Business Economics expect a recession in 2020 or 2021. 
And with Trump continuing to pursue an aggressive tone with China in trade talks, it's possible that he is handing an easy talking point to his challengers before the election. That could sway voters to Wall Street hawks Sen. Elizabeth Warren (D-Mass.) and Sen. Bernie Sanders (I-Vt.) or former Vice President Joe Biden, who helped oversee the economy's recovery from the 2008 recession. 
Trump does have some room to slide on the economy. His 48 percent approval rating on the economy, according to the poll, outperforms his overall 42 percent approval rating. 
Claire Williams previously worked at Morning Consult as a reporter covering finances.
We want to hear from you. Reach out to this author or your Morning Consult team with any questions or comments.
Contact Us