Sanders Cements Front-Runner Status After New Hampshire Win
Vermont senator expands lead over Biden to 10 points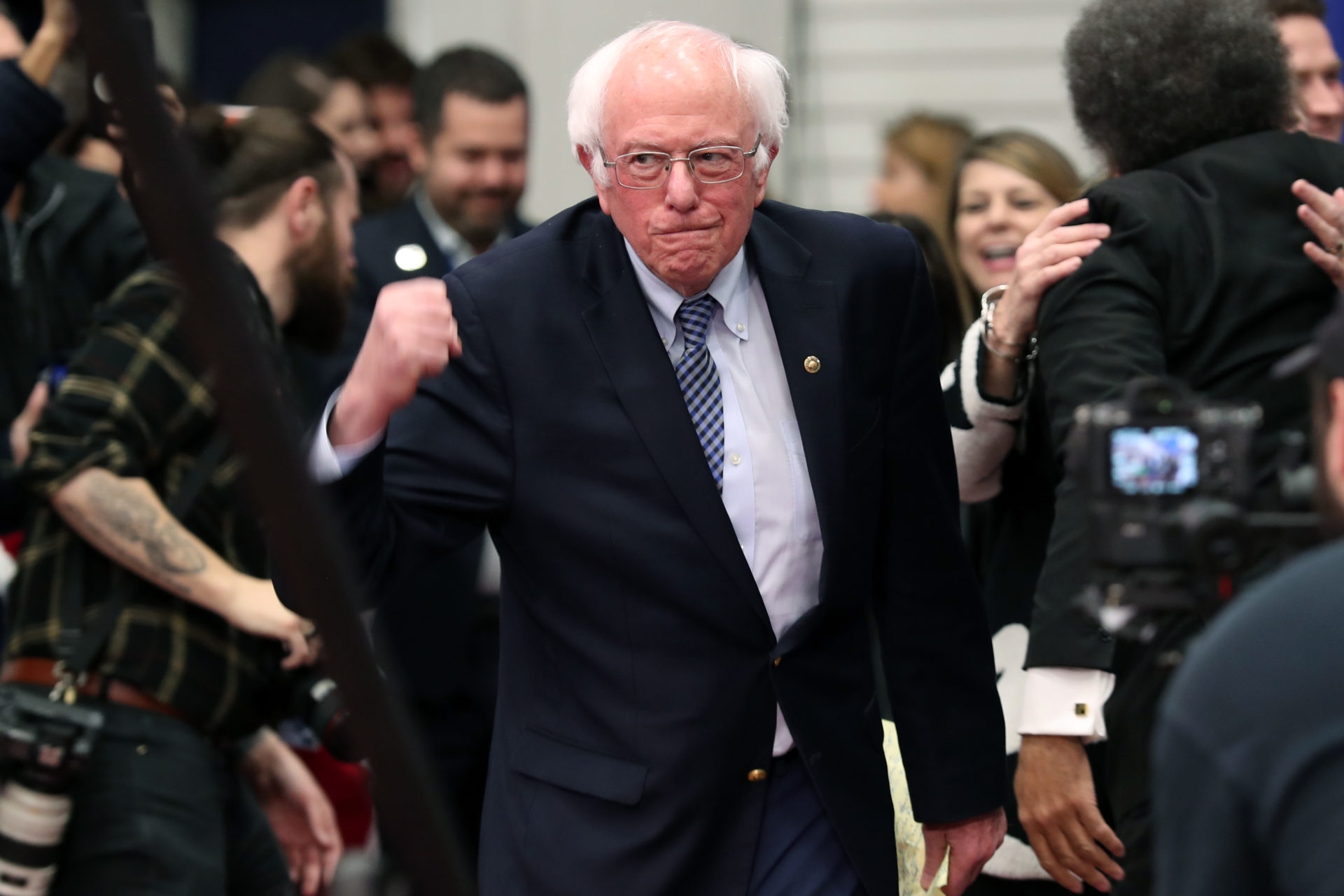 Key Takeaways
29% of Democratic primary voters back Sen. Bernie Sanders, up 4 points since before the N.H. primary.

17% say Joe Biden has the best chance of beating President Trump in 2020, down 12 points from before Tuesday's result.
Following his narrow victory in New Hampshire's Democratic presidential primary -- his second successive strong showing in the party's first nominating contests -- Sen. Bernie Sanders opened up a double-digit lead over former Vice President Joe Biden and entrenched himself as the best-positioned candidate heading into next week's Nevada caucuses.
According to a Morning Consult poll conducted Wednesday, the Vermont independent is the first choice for 29 percent of Democratic primary voters, up 4 percentage points since polling conducted Feb. 4-9. Biden's support fell 3 points during that time to 19 percent, leaving him 1 point ahead of former New York City Mayor Michael Bloomberg. 
Former South Bend Mayor Pete Buttigieg of Indiana, who placed second in New Hampshire but leads Sanders by a whisker in the race for Democratic National Convention delegates, saw no change in his first-choice support, while the Granite State's third-place finisher, Amy Klobuchar, improved 2 points, to 5 percent. She trails Sen. Elizabeth Warren (D-Mass.) by 5 points. 
The survey of 2,639 registered voters nationwide who indicated they may vote in the Democratic primary or caucuses in their state has a 2-point margin of error.
The results are poor reading for Biden, who continues a dramatic drop that erases the national lead he held for over a year until his fourth-place showing in the Feb. 3 Iowa caucuses. The decline in Biden's support comes amid faltering voter confidence over his perceived general-election strength, even as he banks his candidacy for the Democratic nod on the more diverse electorates driving nominating contests in Nevada and South Carolina ahead of Super Tuesday. 
Since a Feb. 4-5 Morning Consult poll conducted after his poor Iowa performance, the share of Democratic primary voters who said Biden has the best chance of beating President Donald Trump this November fell 12 points to 17 percent in a Wednesday poll. He trails Sanders and Bloomberg, who gained 6 and 7 points respectively, on the question for the first time in Morning Consult polling. The margin of error for responses from Democratic primary voters in each of those polls is 3 points.
Among black voters -- one of Biden's strongest blocs of support -- confidence in his chances of beating Trump fell 10 points, to 21 percent. Roughly a third of black voters (32 percent) said Sanders is Democrats' best chance to beat Trump, up 9 points from last week, and 21 percent said Bloomberg, up 7 points. 
When asked how Biden's showing in New Hampshire would affect their future vote, 46 percent of Democratic primary voters said it made them less likely to vote for him, compared to 29 percent who said the same in the post-Iowa poll. Sanders saw a 6-point boost on the same question, with 58 percent saying they were more likely to vote for him after New Hampshire compared to 52 percent after Iowa, while voters' views about Bloomberg didn't significantly change.
Pluralities of Democratic primary voters said they were happy with the results of the New Hampshire primary and that the outcome reflects the Democratic Party. But they were split, 33 percent to 33 percent, on whether the winner, Sanders, will ultimately be the Democratic nominee.
Joanna Piacenza contributed.
Eli Yokley is Morning Consult's U.S. politics analyst. Prior to his current role, Eli was Morning Consult's senior reporter covering U.S. politics. Eli joined Morning Consult in 2016 from Roll Call, where he reported on House and Senate campaigns after five years of covering state-level politics in the Show Me State while studying at the University of Missouri in Columbia, including contributions to The New York Times, Politico and The Daily Beast. Follow him on Twitter @eyokley. Interested in connecting with Eli to discuss his analysis or for a media engagement or speaking opportunity? Email [email protected].
We want to hear from you. Reach out to this author or your Morning Consult team with any questions or comments.
Contact Us