Sanders Takes the Lead, but Bloomberg and Buttigieg Reap Spoils of Biden's Decline
Vermont senator is the national front-runner for first time following Biden's stumble in Iowa
Key Takeaways
22% of Democratic primary voters support Biden, down 6 points since polling conducted ahead of the Iowa caucuses.

17% support former New York City Mayor Michael Bloomberg, up 3 points.

11% support former South Bend Mayor Pete Buttigieg of Indiana, up 5 points.
Joe Biden has lost his national front-runner status to Sen. Bernie Sanders (I-Vt.) for the first time in Morning Consult's weekly tracking of the Democratic presidential primary as former New York City Mayor Michael Bloomberg and former South Bend Mayor Pete Buttigieg of Indiana split key parts of the former vice president's base of support. 
The figures -- from Morning Consult's Feb. 4-9, post-Iowa poll of 15,346 Democratic primary voters -- illustrate the challenges facing candidates who hope to present themselves as a moderate alternative to Sanders.
Overall, Biden's share of first-choice support fell 6 percentage points since before the Iowa caucuses, placing him at 22 percent, 3 points behind Sanders, who picked up 1 point over the same time period. Since Iowa, Bloomberg has seen his first-choice support jump 3 points, to 17 percent (third place), and Buttigieg rose 5 points to 11 percent. 
Buttigieg is now tied with Sen. Elizabeth Warren (D-Mass.), who saw declines or no significant change across various demographic groups and whose first-choice support fell 3 points since the pre-Iowa survey, which was conducted Jan. 27-Feb. 2. Both polls had a 1-point margin of error. 
Increases in support across the board for Bloomberg, who is not competing in nominating contests until Super Tuesday, were more incremental, while Buttigieg's bumps were more dramatic, a reflection of the momentum following his narrow victory in Iowa, as detailed by the Iowa Democratic Party's count of state delegate equivalents, but also his lower share of support heading into the caucuses.
Among liberal, moderate and conservative Democratic voters, Buttigieg effectively doubled his support, while Bloomberg saw more modest gains. Sanders solidified his support among the party's most liberal voters, while Bloomberg improved his standing among moderates and conservatives, though he's still behind Biden.
Biden's rock-solid support with black voters has been a longstanding feature of his party's race for president, but his performance in Iowa appears to have shaken his standing with the pivotal Democratic constituency. His first-choice status dropped across the board with African Americans, including a 13-point drop among black voters ages 55-64 and a 14-point drop among the oldest black voters, ages 65 and older. 
Both Bloomberg and Buttigieg are beneficiaries of Biden's faltering among black voters older than 45 as the primary moves to more ethnically diverse states, Nevada and South Carolina, following contests among the predominantly white electorates in Iowa and New Hampshire.
But doubling his support with black voters only garnered Buttigieg 4 percent of their vote, and Bloomberg (with 16 percent support) appears better-positioned to capitalize on further Biden struggles in diverse, delegate-rich states on Super Tuesday. 
Plus, at 27 percent support, Sanders now trails Biden by just 8 points among this voter bloc,  compared to 17 points before Iowa, and a victory in South Carolina later this month could prove decisive.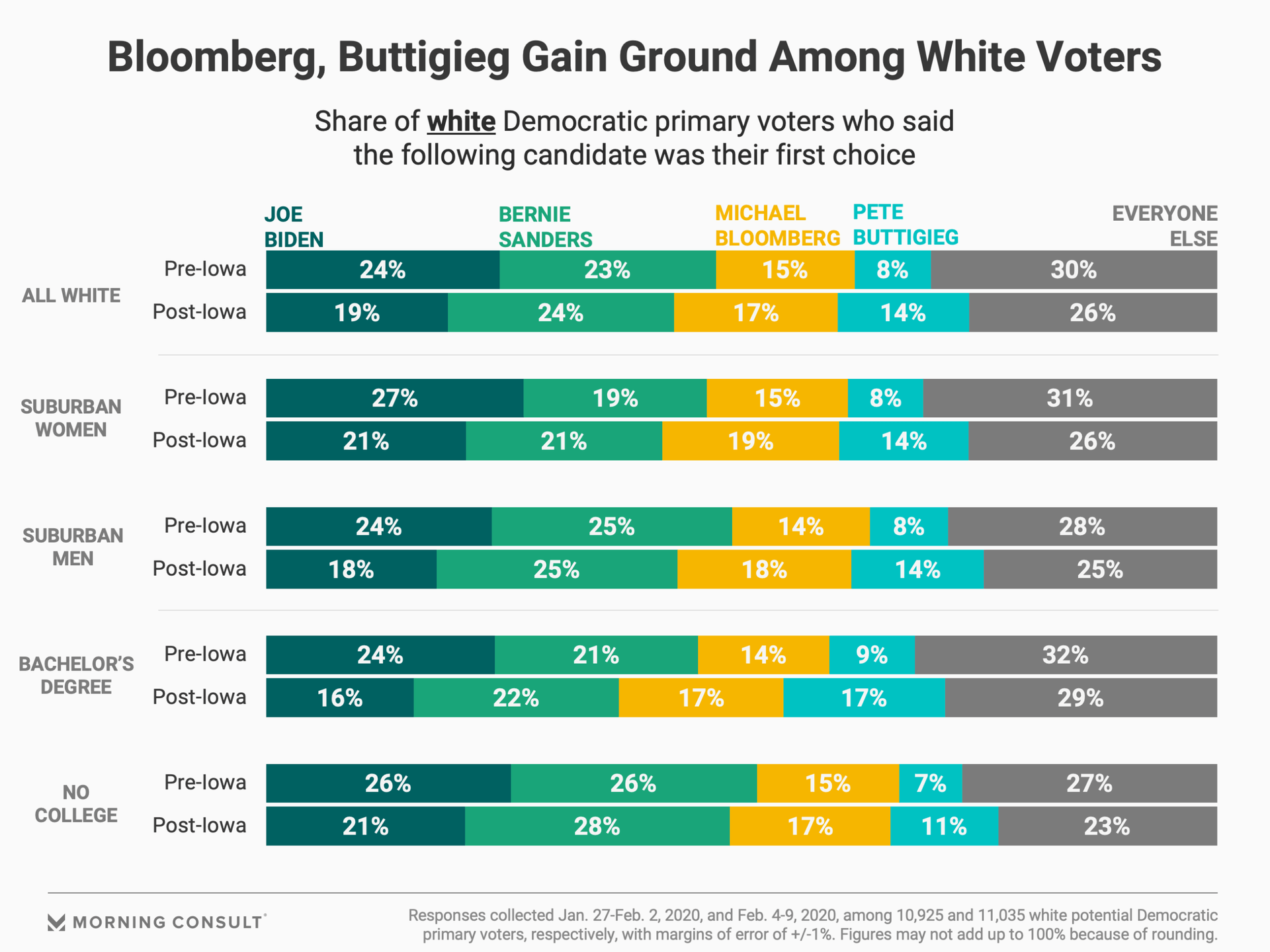 Among white voters, Biden's first-choice support fell 5 points, with Sanders now leading him 24 percent to 19 percent.
Buttigieg saw the biggest bounce among white voters (up 6 points, to 14 percent), including an 8-point improvement among those who have a bachelor's degree -- tying Bloomberg at 17 percent -- and a 6-point improvement among suburban women, placing him behind Bloomberg, who has courted the group for years while advocating for gun control, and statistically tying Warren.
Eli Yokley is Morning Consult's U.S. politics analyst. Prior to his current role, Eli was Morning Consult's senior reporter covering U.S. politics. Eli joined Morning Consult in 2016 from Roll Call, where he reported on House and Senate campaigns after five years of covering state-level politics in the Show Me State while studying at the University of Missouri in Columbia, including contributions to The New York Times, Politico and The Daily Beast. Follow him on Twitter @eyokley. Interested in connecting with Eli to discuss his analysis or for a media engagement or speaking opportunity? Email [email protected].
We want to hear from you. Reach out to this author or your Morning Consult team with any questions or comments.
Contact Us