Shifts in Americans' March Madness Viewership Plans Exemplify Linear TV's Decline
The share of expected viewers planning to watch games via cable or satellite has fallen about 30% since 2017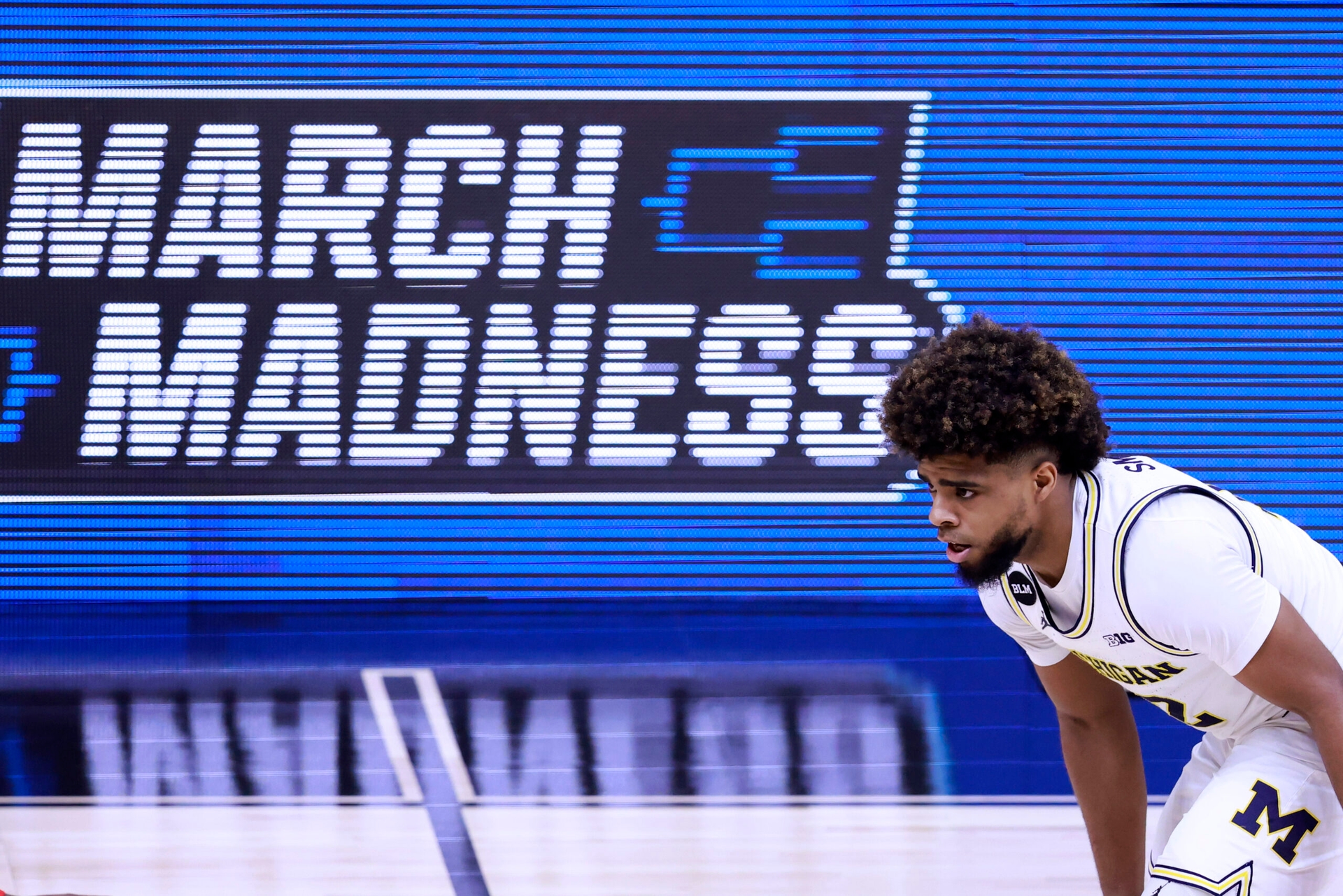 Key Takeaways
31% of U.S. adults plan to watch at least one game during March Madness.

62% of those expecting to watch some of this year's NCAA men's basketball tournament plan to use a pay-TV service, down from 89% in 2017.

42% of likely adult viewers plan to stream via a virtual MVPD, while 19% will head to the March Madness Live platform.
Linear television's steady decline is on full display in a new survey exploring how basketball fans plan to watch March Madness this year, capping off a year-long viewership freefall for most major sports properties as sports fans' consumption patterns continue to evolve. 
Ahead of Thursday's tournament tipoff, 62 percent of U.S. adults who said they plan to watch at least some of this year's NCAA men's basketball tournament said they will do so via a cable or satellite TV package, according to a March 10-14 Morning Consult poll. That figure marks a roughly 30 percent decline since 2017, when 89 percent of expected tournament viewers said they would watch via a pay-TV package, and is virtually flat from the same survey last year prior to the event's cancellation amid the onset of the COVID-19 pandemic.
The decline in reliance on pay-TV for tournament viewers over the past five years corresponds with a well-documented wave of cord-cutting. At the end of the first quarter of 2017, there were nearly 96 million pay-TV subscribers in the United States, according to research firm MoffettNathanson, a figure that dwindled to fewer than 77 million by the end of 2020.
Over that same period, the number of subscribers to live TV streaming services, or virtual MVPDs, increased from fewer than 2 million to nearly 12 million, according to MoffettNathanson. This year, 42 percent of U.S. adults planning to watch the tournament told Morning Consult they plan to use a virtual MVPD, such as YouTube TV, Hulu + Live TV, Sling TV or fuboTV, up from 37 percent last year.
In addition to airing on the CBS broadcast network and three AT&T-owned cable channels, tournament games will be available via March Madness Live, a digital platform that launched in 2003 as March Madness on Demand and is celebrating its 10th tournament under Turner's operation. Games airing on CBS are free to watch on March Madness Live, while games airing on TNT, TBS and TruTV require users to authenticate with their pay-TV credentials.
This year, 19 percent of U.S. adults planning to watch some of the tournament said they expect to utilize March Madness Live, down from 38 percent in 2017 and about even with last year. CBS and Turner said, however, that the platform set streaming records in 2019.
Hania Poole, Turner's senior vice president of digital, said the proliferation of virtual MVPDs hasn't caused March Madness Live traffic to dip in recent years. She added that the inclusion of second screen features has made the app useful even for those watching games on linear TV or virtual MVPDs, allowing them to watch multiple games at a time and engage with interactive elements.
"We haven't seen the decline we thought we would see as a competitive set across the board," Poole said. "I'd like to give us credit: We continue to differentiate our experience massively, including a live bracket game and Bracket IQ, which tries to help you understand who you should push for based on your bracket."
Since the last time the tournament took place, both ViacomCBS and AT&T have unveiled new subscription streaming services. Games airing on CBS will also be available on the recently renamed Paramount+, but games on the Turner channels will not be available to stream on the AT&T-owned HBO Max, at least for now.
Going forward, the two media conglomerates could seek to leverage their tournament streaming rights to attract new users to their subscription services by making them exclusive to those platforms, something Poole said is "being contemplated for HBO Max," though no decisions have been made.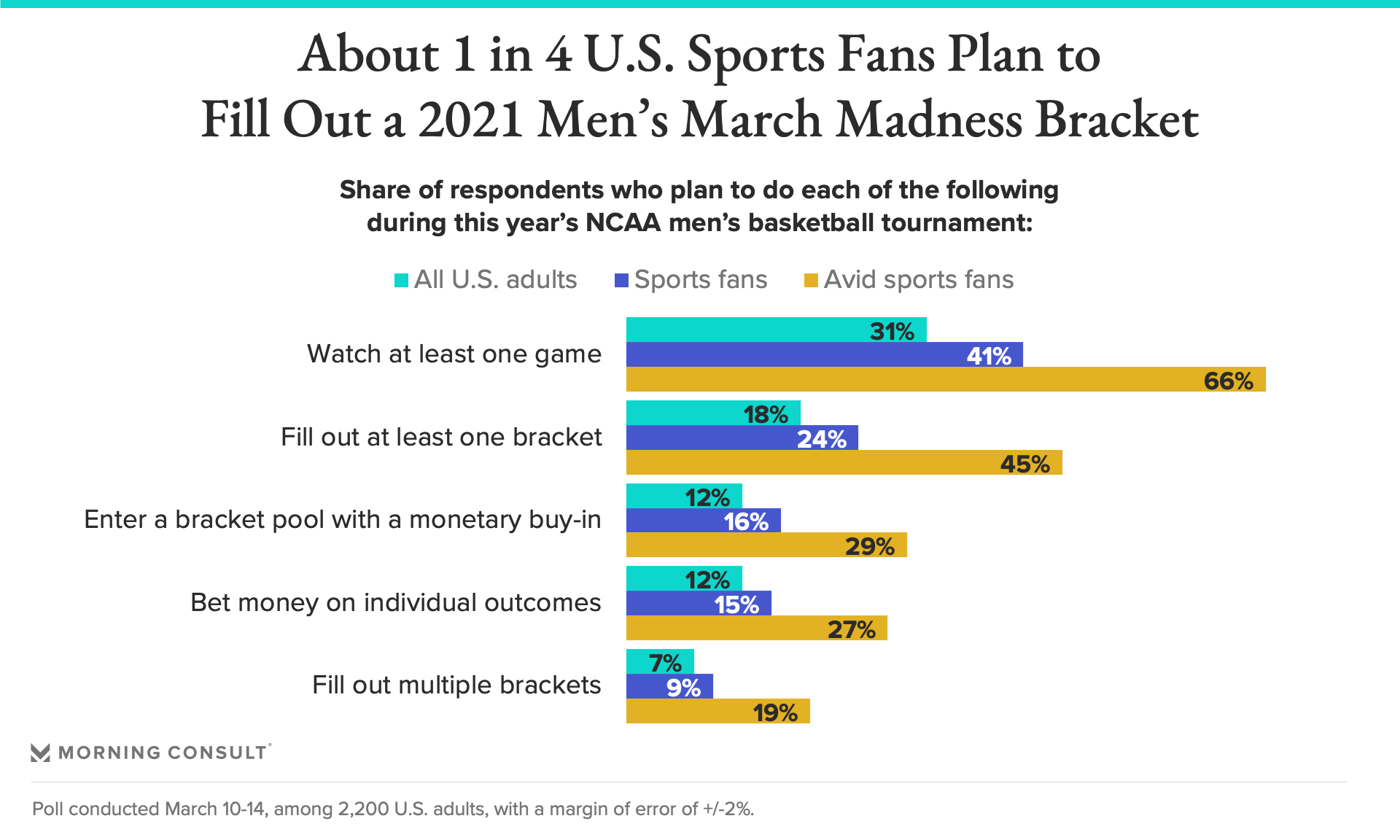 ViacomCBS Inc.'s CBS Sports and AT&T Inc.'s Turner Sports have held the rights for the men's basketball tournament since 2011. Under the initial 14-year deal, the average annual value of the rights for the NCAA is more than $770 million, and an eight-year extension through 2032 will increase the rights' average annual value to about $1.1 billion beginning in 2025.
The share of Americans planning to watch any of the tournament has also declined since 2017. Ahead of this year's March Madness, 31 percent of Americans said they plan to watch at least one game, down from 43 percent in 2017.
The survey of 2,200 U.S. adults has a margin of error of 2 percentage points.
"It's very hard to beat the combination of Zion Williamson and Duke, and Kentucky, and those big, big schools," said Poole of March Madness Live's record usage in 2019. She added that the absence of those high-profile schools atop the field and the lack of a nationally recognized star this year could hurt viewership.
According to Sports Media Watch, the tournament averaged 10.5 million total viewers per broadcast window when it was last played in 2019 and the Final Four aired on CBS. That marked an 8 percent increase from 2018, when the Final Four was on cable, but a 3 percent decline from 2017. Most major sports properties have seen viewership plummet over the past year amid the pandemic.
Alex Silverman previously worked at Morning Consult as a reporter covering the business of sports.
We want to hear from you. Reach out to this author or your Morning Consult team with any questions or comments.
Contact Us