Shutdown Blame Grows in Trump's Direction
49% of voters mostly fault president for partial shutdown, up 6 points since impasse began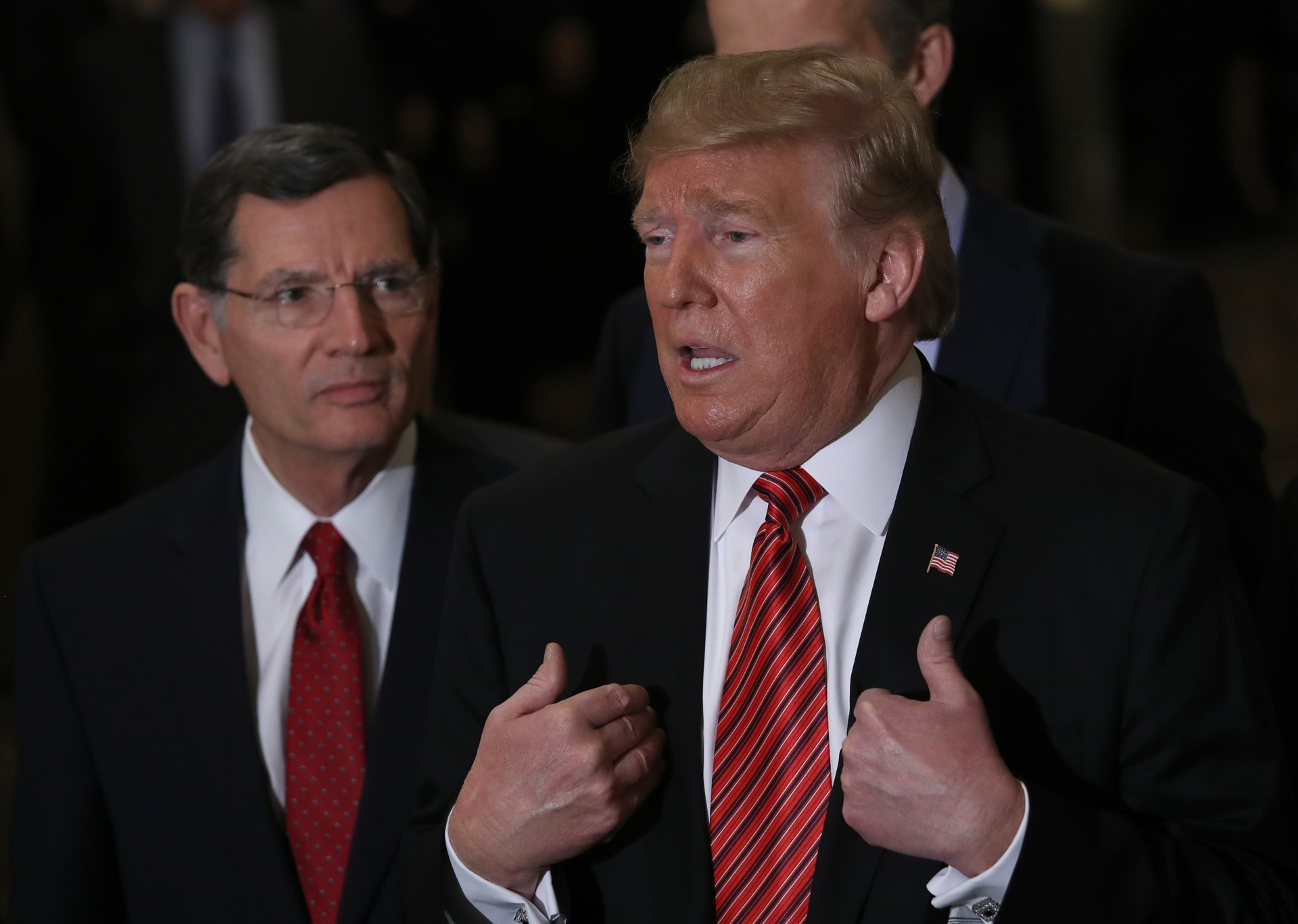 Key Takeaways
39% say the shutdown is a crisis; 39% say illegal immigration at the border is, too.

51% say they'd oppose a national emergency declaration at the border.
As the partial government shutdown enters its 26th day, a new survey suggests Democrats are winning the messaging battle when it comes to whom voters blame.
In the new Morning Consult/Politico survey of 1,984 registered voters, conducted Jan. 11-14, 49 percent said they mostly blamed the president for the ongoing impasse, which has resulted in the shuttering of roughly one-fourth of the federal government. That figure is up 6 percentage points since Morning Consult's first survey on the topic, conducted around the time the shutdown began on Dec. 22.
During the same time period, the share of voters blaming Democrats in Congress for the standoff has increased 2 percentage points, inside each survey's 2-point margin of error. Blame for congressional Republicans has dropped by 2 points since the shutdown began, with just 5 percent of voters holding GOP lawmakers responsible in the latest national, online survey.
On the whole, voters are taking the shutdown seriously. Roughly 4 in 5 voters either classified the ongoing shutdown as a crisis (39 percent) or a problem (40 percent), with just 10 percent saying it was neither. And while those responses are similar to views about the situation at the U.S.-Mexico border, which 75 percent of voters called a crisis or a problem, the agreement ends there.
While 71 percent of Republicans said there was a crisis of illegal immigration at the border, only 24 percent said the same was true for the shutdown, which began after congressional Democrats refused to grant the president's request for roughly $5 billion in funding for his proposed southern border wall.
Democrats, meanwhile, were far more likely to say the shutdown was a crisis (58 percent) than they were to say the same about illegal immigration at the border (16 percent).
With negotiations at a standstill as the shutdown's length set a U.S. historical record on Jan. 12, Trump has spent much of the past week openly considering declaring a national emergency at the border in order to divert defense resources and begin construction of the wall. While some of his allies on Capitol Hill -- from Sen. Lindsey Graham (R-S.C.) to House Freedom Caucus Chairman Mark Meadows (R-N.C.) -- have urged him to take that route, Trump's statement to reporters Monday that he's "not looking to do that" is likely to be well-received by most voters: Fifty-one percent said they opposed declaring an emergency at the border, compared with 36 percent who supported it.
That's not to say the president's proclamations of the country's southern border being in crisis aren't striking a chord with the electorate. Given only two choices -- whether the country is facing a crisis of illegal immigration or not -- 52 percent of voters also opted to call it a crisis.
Cameron Easley is Morning Consult's lead analyst for U.S. politics. Prior to moving into his current role, he led Morning Consult's editorial coverage of U.S. politics and elections from 2016 through 2022. Cameron joined Morning Consult from Roll Call, where he was managing editor. He graduated from the University of North Carolina at Chapel Hill. Follow him on Twitter @cameron_easley. Interested in connecting with Cameron to discuss his analysis or for a media engagement or speaking opportunity? Email [email protected].
We want to hear from you. Reach out to this author or your Morning Consult team with any questions or comments.
Contact Us