Democratic Voters Drive Decline in Sinema's Popularity in Arizona
The first-term centrist Democrat, who has bucked her party so far this year, is facing heat for holding up Biden's social spending agenda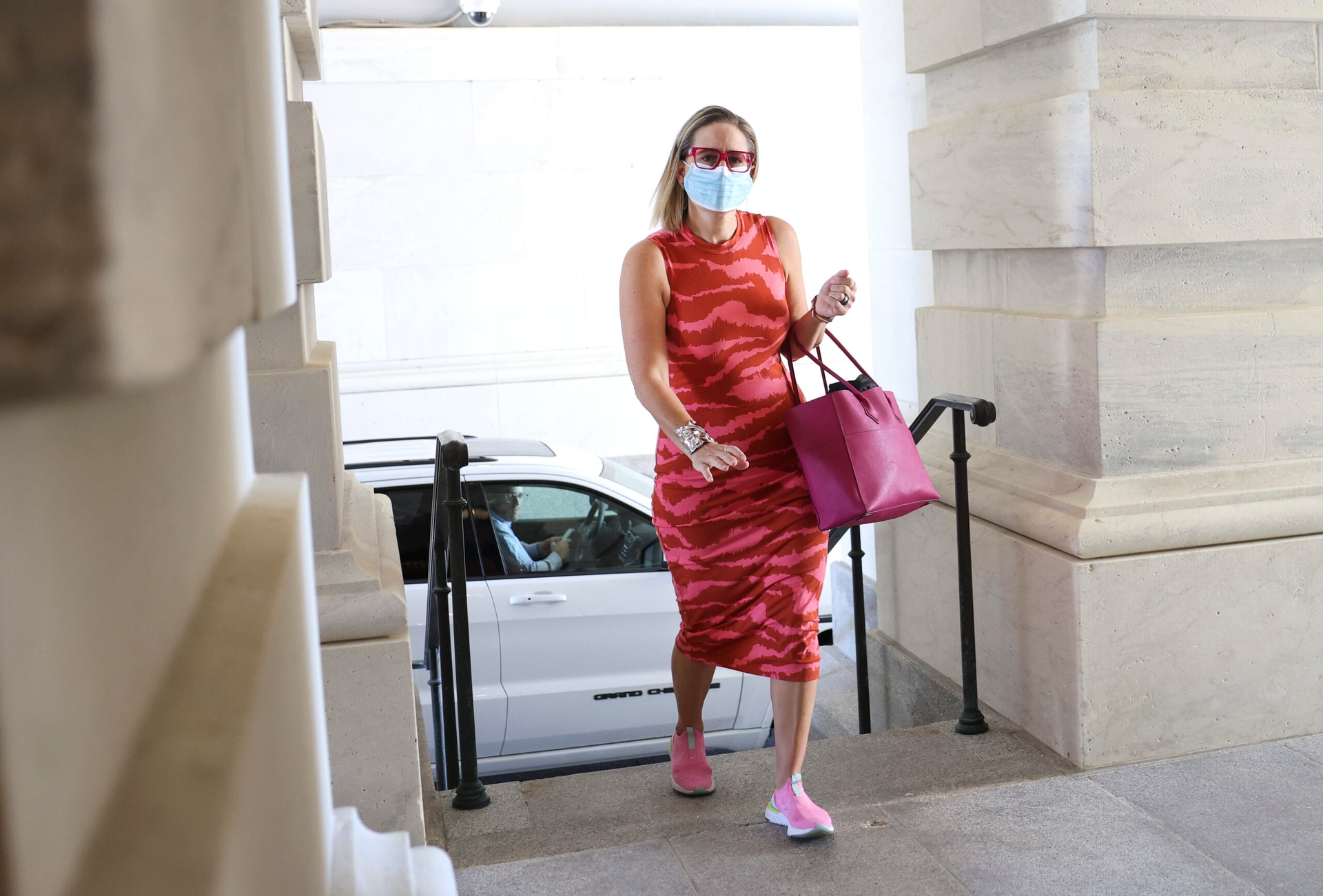 Key Takeaways
46% of Arizona Democrats approved of Sinema's job performance in the third quarter of 2021, down 21 points from the first quarter.

42% of all Arizona voters approve of her, compared with 48% who said the same earlier this year.

By comparison, sentiment toward West Virginia Sen. Joe Manchin, the chamber's other high-profile centrist Democrat, has been less volatile.
While Sen. Kyrsten Sinema's willingness to break with her party and halt momentum on Democrats' social spending agenda is inspiring comparisons with Sen. John McCain (R-Ariz.), the first-term centrist's approach has also come with a major decline in backing among Democratic voters -- and left her vulnerable to a primary challenge in 2024.
According to Morning Consult Political Intelligence tracking, Sinema's approval rating fell from 48 percent to 42 percent among registered voters in Arizona between the first and third quarters of 2021, while the share who disapprove increased from 35 percent to 42 percent during that time. 
The decline was largely driven by Democratic voters, who, at 46 percent, are now 21 percentage points less likely to approve of the Arizona senator's job performance than they were at the beginning of the year. And Sinema, who was recently followed into a bathroom by immigration activists and faces calls for a Democratic challenger if she runs for re-election in three years, can't count on robust support from the faction still backing her: 14 percent of Arizona Democrats say they "strongly" approve of Sinema, compared to 28 percent who said the same in the Jan. 1-March 31 surveys.
Sinema's McCain-style maverick posture has not helped her standing with independent voters in her state, but it has improved her reputation with Arizona Republicans, who are now split almost evenly on her job performance.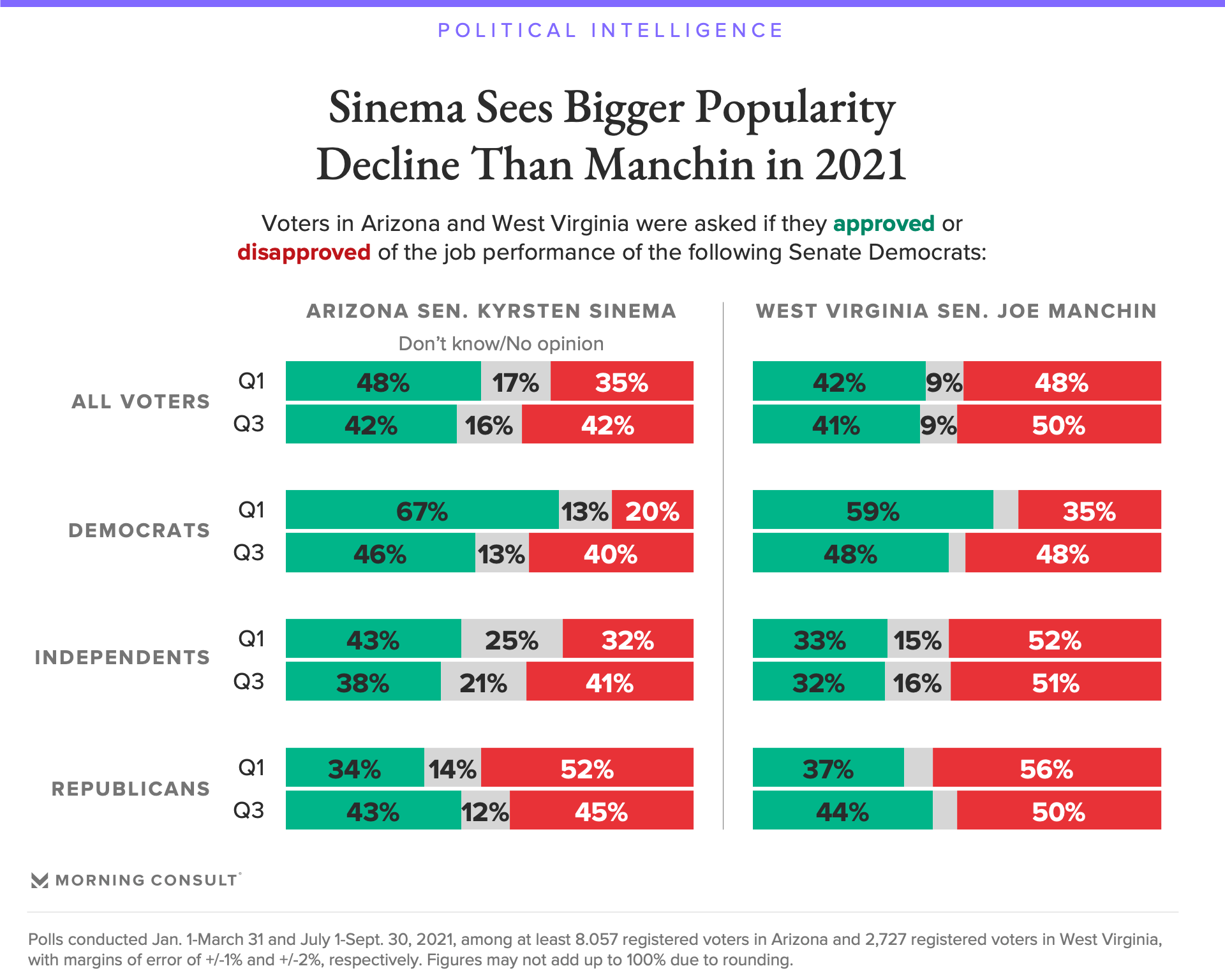 Sinema's weakening support in Arizona – an increasingly competitive state for Democrats that President Joe Biden won narrowly last year – stands in contrast with how voters in West Virginia have reacted to the behavior of Sen. Joe Manchin, her fellow centrist Democrat who is also working to bring the overall price tag of Democrats' unfinished reconciliation bill down by more than $1 trillion. 
Sinema and Manchin have faced similar critiques from progressives nationwide for blocking Biden's agenda, but the latest surveys found that reviews of the West Virginian's overall job performance – while worse than Sinema's – have not substantially changed since the first quarter. Despite an 11-point decline in positive sentiment among West Virginia Democrats, Manchin has largely maintained his level of support with the overall electorate thanks in part to improvements among Republican voters.
While Manchin is also up for re-election in 2024, he is unlikely to face a credible primary challenge due to the state's rightward bent: Simply put, there is no other Democrat who could conceivably secure another term in the Mountain State, where former President Donald Trump defeated Biden by nearly 40 points in 2020. 
The same cannot be said of Sinema. While the Arizona senator defeated former Republican Rep. Martha McSally by just over 2 points in 2018, McSally then lost by roughly the same margin in 2020 against now-Sen. Mark Kelly, who has been less antagonistic toward progressives than Sinema and faces an election for a full term next year.
Eli Yokley is Morning Consult's U.S. politics analyst. Prior to his current role, Eli was Morning Consult's senior reporter covering U.S. politics. Eli joined Morning Consult in 2016 from Roll Call, where he reported on House and Senate campaigns after five years of covering state-level politics in the Show Me State while studying at the University of Missouri in Columbia, including contributions to The New York Times, Politico and The Daily Beast. Follow him on Twitter @eyokley. Interested in connecting with Eli to discuss his analysis or for a media engagement or speaking opportunity? Email [email protected].
We want to hear from you. Reach out to this author or your Morning Consult team with any questions or comments.
Contact Us