1 in 4 Americans Say They've Watched Netflix's 'Squid Game'
Viewers are finding the Korean-language drama series primarily through social media apps like TikTok and directly on Netflix's homepage
"Squid Game" is taking over the United States. According to a Morning Consult survey, roughly a quarter of Americans have seen the Korean-language Netflix drama, putting it on track to become the streaming service's most-watched original series of all time. The show's unprecedented popularity will likely only reinforce Netflix's commitment to investing in content from outside the U.S.
More on the numbers:
Nearly 1 in 4 Americans said they've watched the series, which debuted on Netflix on Sept. 17. The Korean survival drama has been in the No. 1 spot in Netflix's U.S. Top 10 for 19 days.
Meanwhile, 20 percent of respondents said they've watched Netflix's Spanish original series "Money Heist," while 13 percent said they've seen the French series "Lupin." Ted Sarandos, Netflix's co-CEO and chief content officer, said 76 million accounts watched "Lupin: Part 1" in its first 28 days on the platform, while 65 million accounts watched "Money Heist: Part 4" during the same period — meaning "Squid Game" was likely seen by millions more users than that.
More on the numbers:
Forty-two percent of "Squid Game" viewers said they found the show directly on Netflix, underscoring the power of the service's homepage to reel in viewers. The company does not do much traditional advertising of its original content.
About half of viewers said they first heard about the show on social media, with 20 percent specifically identifying TikTok as their source. The series has sparked a number of viral memes on the popular short-form video app.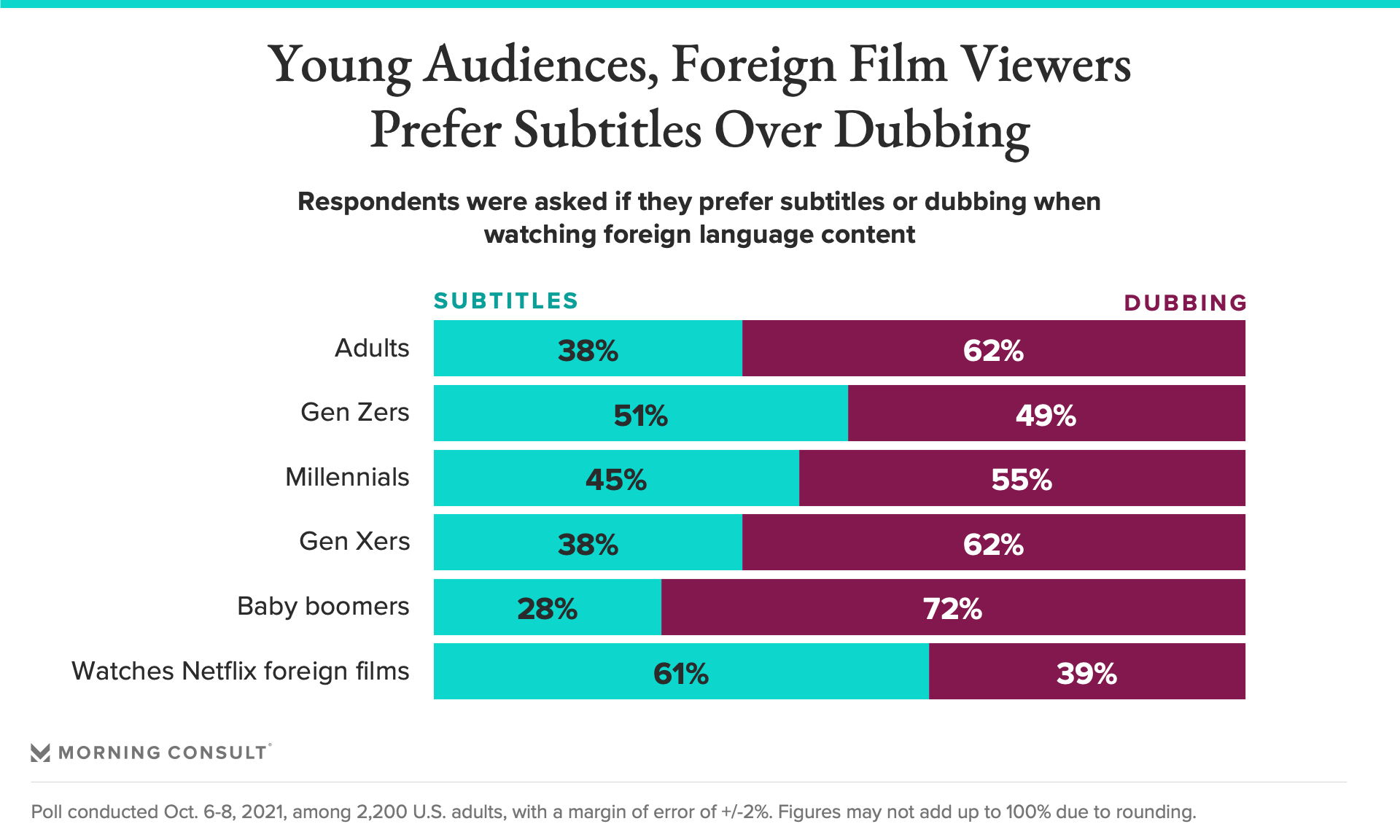 More on the numbers:
The majority of adults (62 percent) prefer to watch foreign-language content with dubbing instead of subtitles. That showed little movement from a 2020 survey tied to the Oscar campaign for the Korean film "Parasite." 
However, 61 percent of Americans who watch Netflix's foreign films prefer subtitles. Younger viewers also preferred subtitles over dubbing, which suggests the viewers most likely to actually watch foreign-language content prefer to do so with subtitles, even as more general audiences like dubbing more.
The survey was conducted Oct. 6-8, 2021 among 2,200 U.S. adults, with a margin of error of 2 percentage points.
Sarah Shevenock previously worked at Morning Consult as a reporter covering the business of entertainment.
We want to hear from you. Reach out to this author or your Morning Consult team with any questions or comments.
Contact Us