51% of Voters Now Back Barrett's Confirmation, Most Support Ever for a Trump Supreme Court Nominee
Slim majority, including 32% of Democrats and 44% of independents, supports confirming Amy Coney Barrett
Last week's Senate Judiciary Committee hearings provided a high-profile opportunity for Democrats to erode public support for Judge Amy Coney Barrett's Supreme Court confirmation, but a new Morning Consult/Politico poll found backing for President Donald Trump's nominee to replace the late Justice Ruth Bader Ginsburg has reached a new high. 
Following four days of hearings, 51 percent of voters said the Senate should vote to confirm Barrett to the Supreme Court, up 3 percentage points from the week before and an increase of 14 points since Trump announced her nomination on Sept. 26. It's a higher level of support than Morning Consult measured at any time during the confirmation processes for Justices Neil Gorsuch and Brett Kavanaugh -- the two other jurists Trump has tapped for the high court during his presidency.
The Oct. 16-18 poll surveyed 1,994 registered voters, with a 2-point margin of error.
There's been a slight uptick in support for Barrett's confirmation among GOP voters, but the bulk of the movement was driven by independents, a 44 percent plurality of whom now back her confirmation, and Democrats. The share of Democratic voters who back Barrett's confirmation (32 percent) is up 5 points from the previous week, and up 18 points from the day Trump nominated her, while the share who say she should be voted down has fallen to 48 percent. 
Just over a third of voters (34 percent) said they'd seen, read or heard "a lot" about Barrett's confirmation hearings, which garnered ample attention from cable news networks and the national press. It's more than the 27 percent each who said the same of the dueling televised town halls for Trump and Democratic presidential nominee Joe Biden on Oct.15, but less than the 38 percent who'd heard a lot about Barrett's nomination in the days after Sept. 26 or the 58 percent who'd heard a lot about Ginsburg's death on Sept. 18.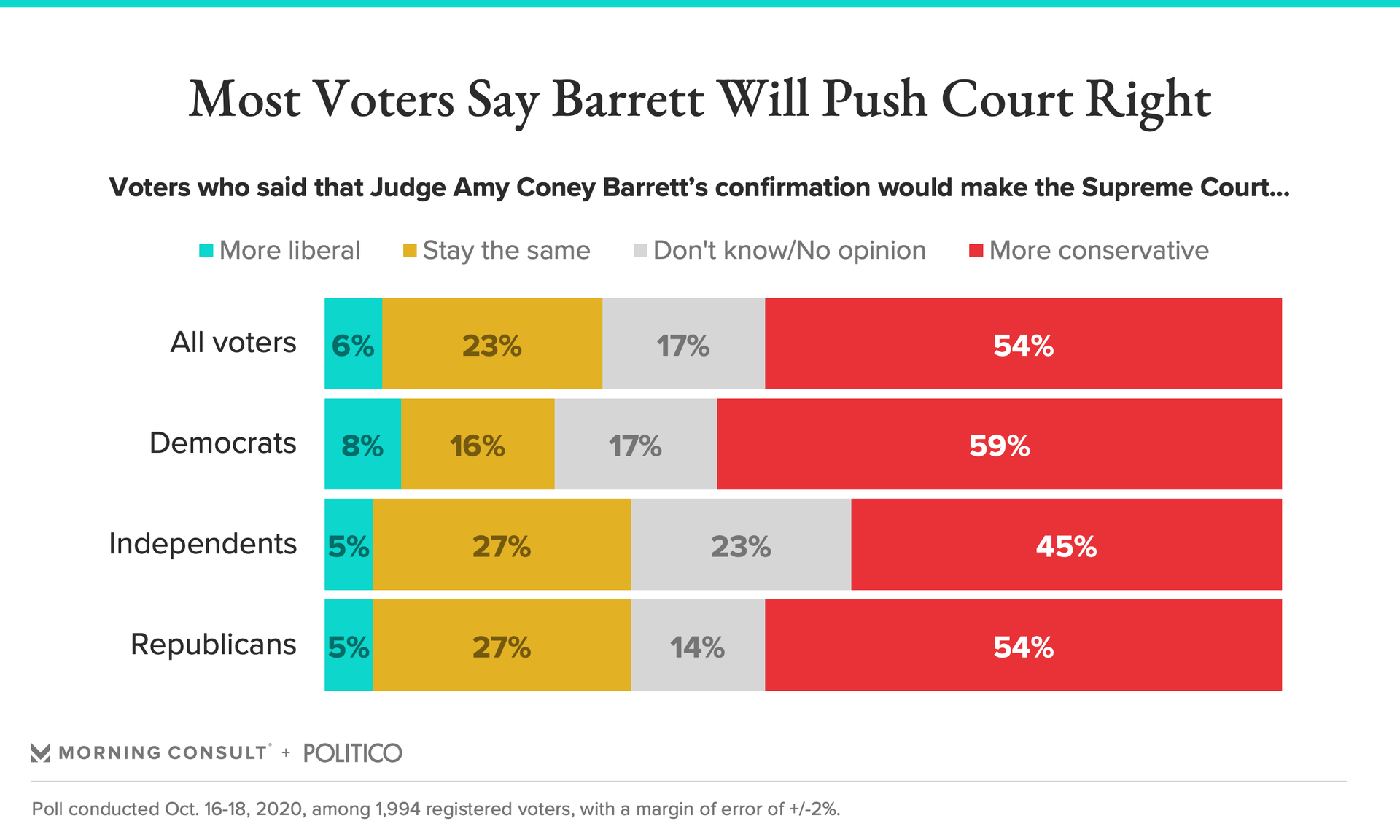 Most of the voting public is under no illusion about what Barrett's confirmation would mean for the court's ideological makeup, with 54 percent saying her ascent would make the court more conservative and 23 percent saying it would remain the same (Republican-nominated justices currently have a 5-3 advantage). But voters were less certain about whether that shift is a good thing: 32 percent said it would move the court in the right direction, while 25 percent said it would push the court in the wrong direction.  
Republicans spent the week of Barrett's confirmation hearings working to portray her as an unflappable and unbiased jurist with a compelling personal story as a working mom. Democrats used the hearings to cast Barrett as a threat to the popular Affordable Care Act and abortion rights, though the judge went to great lengths to avoid answering most of their questions.
The core of Democrats' case against Barrett is that the process shouldn't be happening at all, citing Senate Majority Leader Mitch McConnell's refusal to consider the Supreme Court nomination of Judge Merrick Garland, who was appointed by then-President Barack Obama in March 2016 to replace conservative Justice Antonin Scalia after he died earlier that year. But as the polling illustrates, the public has contradictory -- or at least mixed views -- about those process arguments, largely dependent on framing.
While 45 percent of voters said the Senate should vote on confirming Barrett to the Supreme Court as soon as possible, regardless of what might happen in the Nov. 3 presidential election, 47 percent of voters also said that the winner of the presidential election should pick Ginsburg's replacement.
The Senate Judiciary Committee is expected to vote Thursday to advance Barrett's nomination to the chamber floor, where a final up-or-down vote on her nomination is expected during the final week of October.
Eli Yokley is Morning Consult's U.S. politics analyst. Prior to his current role, Eli was Morning Consult's senior reporter covering U.S. politics. Eli joined Morning Consult in 2016 from Roll Call, where he reported on House and Senate campaigns after five years of covering state-level politics in the Show Me State while studying at the University of Missouri in Columbia, including contributions to The New York Times, Politico and The Daily Beast. Follow him on Twitter @eyokley. Interested in connecting with Eli to discuss his analysis or for a media engagement or speaking opportunity? Email [email protected].
We want to hear from you. Reach out to this author or your Morning Consult team with any questions or comments.
Contact Us