Energy
Steyer: For a Biden Administration, 'the Time for Subsidizing Fossil Fuels Is Long Passed'
Serving on campaign's climate council, Steyer says Biden is focused on investments that will still make sense in 40 years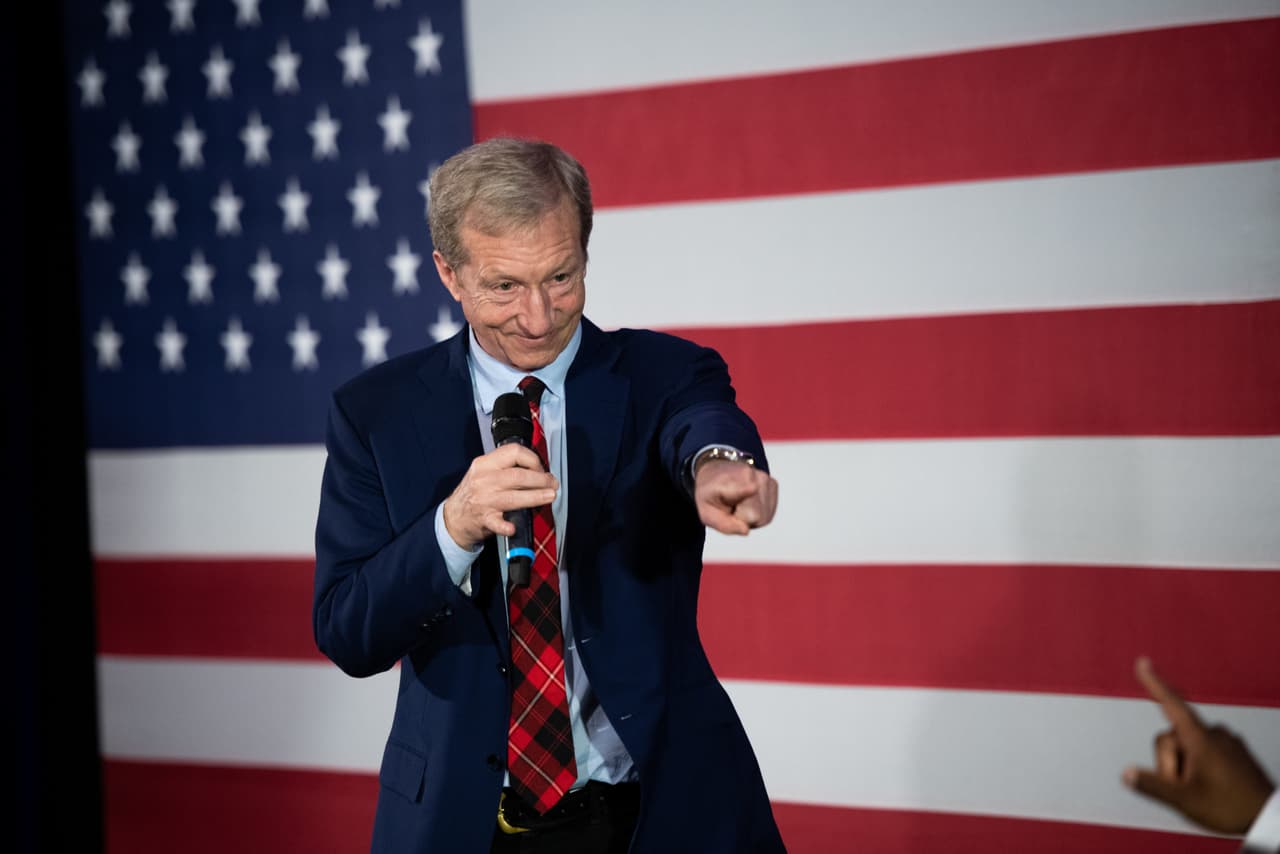 Businessman and former Democratic presidential candidate Tom Steyer anticipates subsidies for oil and gas would be "off the table" in a potential Biden administration, noting that meeting the former vice president's clean energy goals would involve a "pretty darn big change." 
Steyer's comments come just a week after the news that he will be one of the six members of Joe Biden's "Climate Engagement Advisory Council," which is focused on mobilizing climate and environmental voters for the Democratic nominee in the November election. The billionaire hedge fund investor-turned-climate activist was a candidate in the 2020 presidential primaries, but dropped out of the race after the South Carolina election and endorsed Biden in mid-April. 
"I think that the subsidies for oil and gas are something which, to a very large extent, are off the table," Steyer told Morning Consult in an interview Friday. "I know they have existed for literally decades, but I think the time for subsidizing fossil fuels is long passed."
Referencing the demise or delay of several large oil and gas pipelines last week, Steyer said the country is witnessing a "broad-based turning away from the idea that investing in major fossil fuel infrastructure projects makes any sense."
He pointed out that the infrastructure investments necessary to transition to a clean energy economy — as Biden has called for — will by his estimation have life spans of at least 40 years, and the idea that the United States will still be using fossil fuels in 2060 is not remotely aligned with Biden's plans. 
The existing Biden plan was released last summer and calls for "a 100% clean energy economy and net-zero emissions no later than 2050." However, the plan put forth by the Biden-Sen. Bernie Sanders (I-Vt.) task force on July 8 includes more specific and ambitious goals such as carbon-free power by 2035 and net-zero emissions for all new buildings by 2030. 
The campaign has not officially adopted these recommendations, but Biden is expected to make his plans more concrete Tuesday, in an announcement in Wilmington, Del., of the second of four "Build Back Better" proposals to "meet the climate crisis, build a clean energy economy, address environmental injustice and create millions of good-paying union jobs."
And indeed, Biden has already tended  to frame clean energy investments in terms of job creation. Steyer noted that the former vice president is weighing how to avoid "bad investments" in fossil fuels while taking care of the people working in those industries. 
"Those are people with families, those are people who are doing jobs, those are people who should be supported," he said. 
The total value of fossil fuel subsidies in the United States remains a moving target. An update to a 2015 International Monetary Fund report claimed the United States spent $649 billion leveraging fossil fuel production in 2015. However, the IMF's definition of "subsidy" referred to externalities of the fuel's use (i.e. its environmental impact) rather than to the government policies underwriting its production or consumption. 
A more conservative 2019 estimate by the Environmental and Energy Study Institute put the direct U.S. subsidies to the industry at roughly $20 billion per year: 20 percent for coal and 80 percent for oil and gas. These include direct tax subsidies —  such as intangible drilling cost deductions, percentage depletion and the clean coal investment credit —  as well as indirect subsidies like the Foreign Tax Credit and the Domestic Manufacturing Deduction.
Steyer, tasked with drumming up ideas for voter mobilization, pointed out that eliminating all or some of these subsidies — or effectively implementing most other proposed Biden energy policies — hinges upon voter turnout and the results of down-ballot races on Nov. 3. 
"He needs the tools of Democratic majorities to get done what needs to get done, unless the Republicans start to look at this differently and start to prioritize the safety and welfare of Americans ahead of their fossil fuel donors," Steyer said. "I think there is a lot that the president can do by executive order, but it's not nearly as much as he can do in conjunction with the Congress of the United States."
Lisa Martine Jenkins previously worked at Morning Consult as a senior reporter covering energy and climate change.
We want to hear from you. Reach out to this author or your Morning Consult team with any questions or comments.
Contact Us