Gen Z Voters Overwhelmingly Back Biden Over Trump
But they make up just 4 percent of likely voters this year
Key Takeaways
Joe Biden leads President Trump by 38 points among voters born after 1996, 65% to 27%, his biggest lead when accounting for generation.

70% of Gen Zers have negative opinions about the president, including 61% who view him "very" unfavorably.

24% of voting-age Gen Zers said the country should move away from capitalism and toward socialism, while 16% who said the opposite.
Former Vice President Joe Biden lacked support from America's youngest voters in the Democratic primary earlier this year, but they're solidly backing his campaign against President Donald Trump, who has earned the disfavor of most of the country's newest voting bloc.
According to Morning Consult Political Intelligence daily tracking conducted Sept. 18-20 among 619 likely Generation Z voters, who were born after 1996, the Democratic nominee leads the incumbent president by 38 percentage points, 65 percent to 27 percent. Four percent of Gen Zers said they would vote for someone else, and another 4 percent were undecided.
Those ages 18 to 23, who mostly came of age amid a booming economy and the transition to Trump from the presidency of Barack Obama, were projected to make up roughly 1 in 10 eligible voters this year, according to Pew Research Center. With most of their votes up for grabs for the first time in the 2020 elections, Morning Consult tracking found they make up 4 percent of the likely voter electorate, roughly matching their share in the 2018 midterms, when they joined millennials and Gen Xers to outvote the older electorate. (By comparison, the survey found baby boomers make up 40 percent of likely voters.)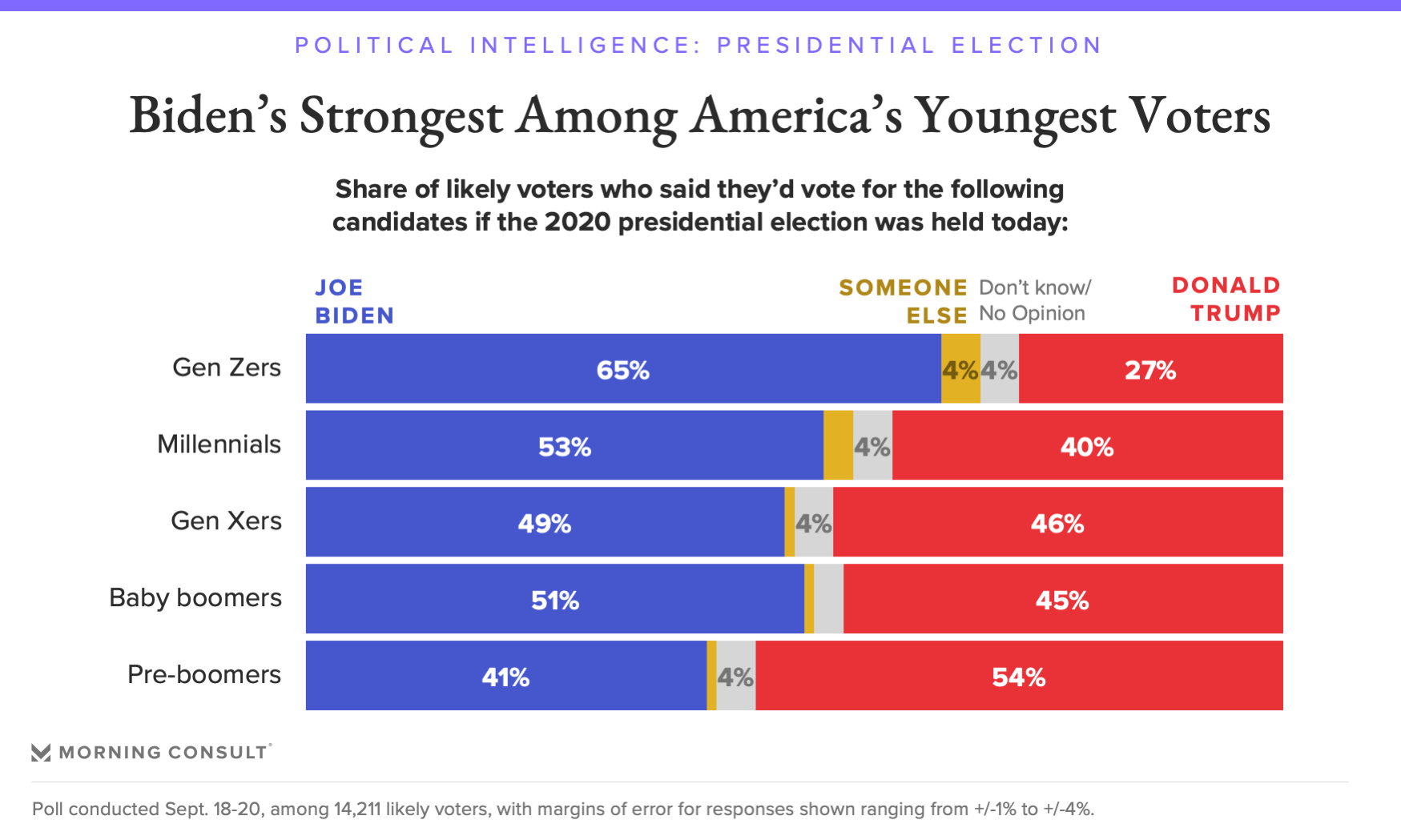 The relatively small voting bloc is the least competitive generation for the major candidates: Among those likely to vote in less than six weeks, Biden leads by 13 points among millennials and 6 points among baby boomers, while he narrowly trails Trump with Gen Xers and is also losing to the president among voters born before 1946. 
Support among America's youngest voters for the 77-year-old Delaware Democrat has grown throughout the year, from 57 percent in May to an average of 65 percent in September. Trump's standing during that time frame has gone mostly unchanged. 
Biden's strength with Gen Zers -- the bulk of whom identify as liberal and as Democrats -- is driven by women and voters of color. 
Since June, Biden has led Trump by more than 40 points among Gen Z women, according to monthly averages, compared to roughly 30-point leads among young men. During the same time, Biden has led Trump by more than 50 points among nonwhite Gen Zers, and by 10 points or more among white Gen Zers.
Gen Z voters have sharply negative views about Trump, with an average of 70 percent saying they had negative views about the president this month, including 61 percent with "very unfavorable" opinions. 
Sentiment about the president was the most positive among white Gen Zers, but even among that cohort, 59 percent viewed him negatively and 38 percent viewed him positively, roughly matching their views of Biden. 
Biden was a much less polarizing figure among the broader generational bloc: 52 percent of Gen Z voters have favorable opinions of the Delawarean (30 percent view him "somewhat favorably"), while 41 percent have unfavorable opinions, 24 percent of which are "very unfavorable." 
Gen Zers are more likely than the overall electorate to say matters primarily affecting women -- such as birth control, abortion and equal pay -- are their top issue, 17 percent to 4 percent. And among a bloc whose oldest members are 23, they are also more likely than the average voter to prioritize educational issues, such as school standards, class sizes, school choice and student loans (10 percent to 4 percent).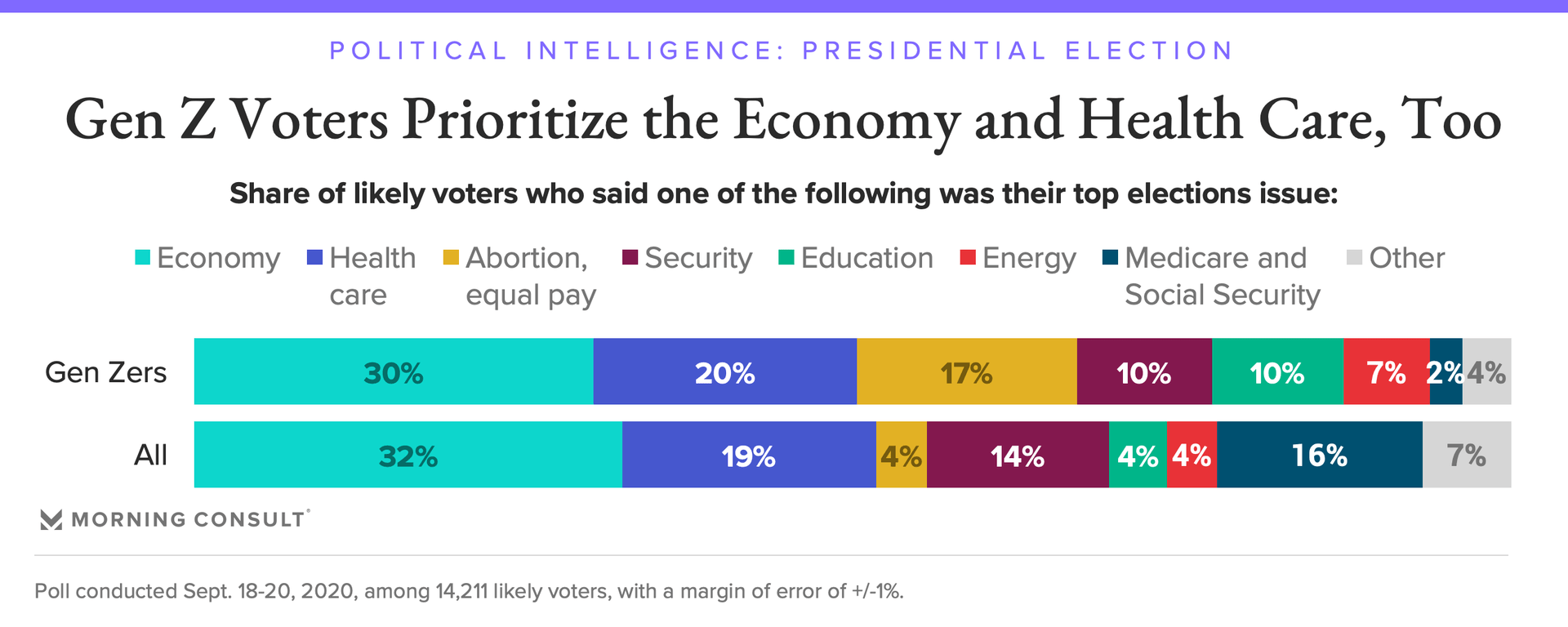 Still, the top issue for the bulk of Gen Z voters matches what other voters say: 20 percent say health care is their No. 1 concern when it comes to voting (compared to 19 percent of voters overall) and 30 percent say it's the economy -- taxes, spending, wages, jobs and unemployment -- the top concern of 32 percent of voters overall.
When it comes to the economy, adult Gen Zers appear somewhat skeptical about a capitalistic approach as they prepare to enter the workforce in an economy that's stumbled since the post-Great Recession growth it enjoyed during their youth. A Morning Consult survey of 1,000 13- to 23-year-olds conducted Aug. 21-23 found 24 percent of Gen Zers who are old enough to vote said the country should move away from capitalism and toward socialism, while 16 percent said the opposite and 17 percent said they'd prefer to see the country's current balance maintained. 
Gen Zers as a whole are about as likely to have positive sentiments about socialism as they are capitalism. Morning Consult polling conducted among 3,000 Gen Zers in 2020 found that those between the ages of 18 and 23 are slightly more likely to have positive than negative views about socialism, 31 percent to 26 percent, while they're split on capitalism at 29 percent.
Negative sentiment about the profit-driven economy increases as young voters enter their early twenties, while sentiment about socialism improves as young adults move past voting age. The development of views among Gen Zers about the economy tracks with their general increase in political interest as they get older.
Among those between the ages of 14 and 16, 19 percent said they were "extremely" or "very" interested in politics and public affairs, compared with 26 percent of Americans ages 17-19. Twelve percent of voting-age Gen Zers said they were "extremely" interested in politics and public affairs, while 18 percent said they were "very" interested.
Eli Yokley is Morning Consult's U.S. politics analyst. Prior to his current role, Eli was Morning Consult's senior reporter covering U.S. politics. Eli joined Morning Consult in 2016 from Roll Call, where he reported on House and Senate campaigns after five years of covering state-level politics in the Show Me State while studying at the University of Missouri in Columbia, including contributions to The New York Times, Politico and The Daily Beast. Follow him on Twitter @eyokley. Interested in connecting with Eli to discuss his analysis or for a media engagement or speaking opportunity? Email [email protected].
We want to hear from you. Reach out to this author or your Morning Consult team with any questions or comments.
Contact Us