Trump's Attacks on Georgia Take a Toll on Brian Kemp
Perceptions of Sens. Loeffler, Perdue have been largely immune from the disarray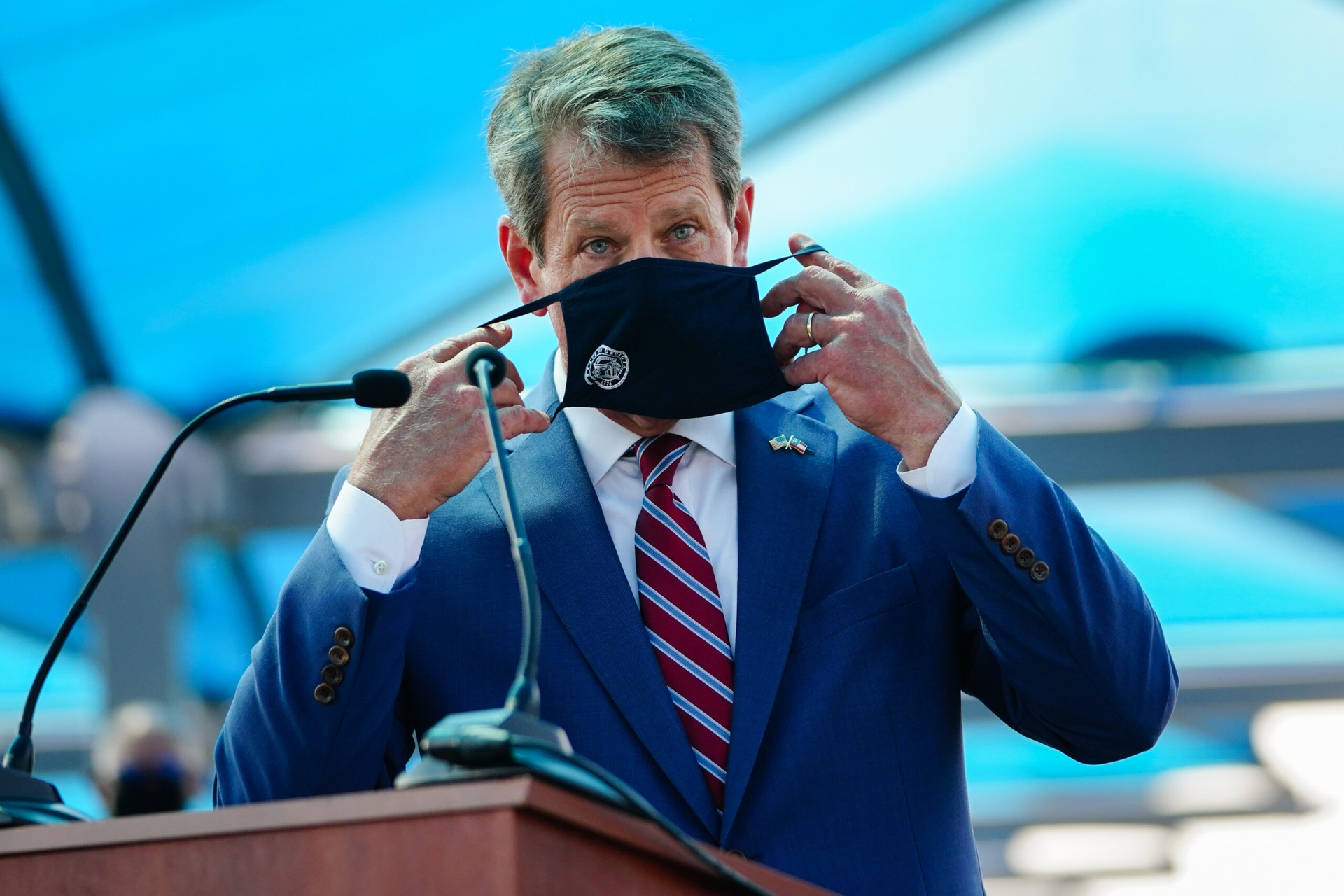 Key Takeaways
Gov. Kemp's approval rating fell from 86% to 77% among Georgia Republicans since Election Day, and from 52% to 46% among voters overall.

Republican Sens. David Perdue and Kelly Loeffler, who called on the state's top election official to resign, have maintained or improved their standing with GOP voters.
President Donald Trump's steady drumbeat of attacks on Georgia and its election process appear to be taking a toll on the state's Republican governor, Brian Kemp. 
According to Morning Consult Political Intelligence's daily tracking, Kemp's approval rating among Republican voters in the state has fallen from 86 percent to 77 percent since Election Day on Nov. 3. The first-term governor's disapproval rating nearly doubled, from 10 percent to 19 percent in the latest polling, conducted Nov. 24 to Dec. 3 among 551 registered GOP voters in Georgia, with a margin of error of 4 percentage points. 
Kemp -- whom Trump attacked on Saturday as he prepared to travel to Georgia to campaign for two Republican senators -- first became a target of Trump last month, as the president called into question the integrity of the state's election and his allies pressed for officials such as Georgia Secretary of State Brad Raffensperger to take actions to overturn President-elect Joe Biden's narrow victory in the Peach State.
In a Nov. 13 tweet, Trump accused the governor, a former secretary of state himself, of being absent from his efforts to overturn the election. The next day, Trump suggested that Kemp had colluded with his 2018 gubernatorial opponent, Democrat Stacey Abrams, to make it "impossible" to check ballot signatures. 
On Friday, Kemp told The Wall Street Journal that he supports Trump's ability to use the legal process to challenge the election, and noted his own support for ballot signature audits. He also defended himself from charges that he's been unfaithful to the outgoing president.
"Nobody's fought harder for this president than me up to Nov. 3, and no one has supported him as much as I have after the election with the legal rights that he has to contest the election," Kemp said. 
But those actions from the president -- coupled with the heightened legal efforts from his campaign and attacks on Raffensperger -- track closely with the beginning of Kemp's decline among the Republican base, providing another illustration of Trump's enduring clout with the party faithful. 
Some independent voters in Georgia have also soured on the governor: Nearly half (48 percent) disapprove of his job performance, up 8 points since Nov. 3, while the share who approve fell 10 points, to 38 percent. 
Overall, Kemp saw a 6-point drop in his approval rating among voters in his state compared to the Oct. 25-Nov. 3 surveys, while his disapproval rating increased by 5 points. According to the latest poll, they are now split evenly -- with 46 percent approving and 46 percent disapproving -- on the job performance of the governor, who is up for re-election in 2022. 
The GOP disarray that's preceded a souring on Kemp has not had a similar effect on Republican Sens. David Perdue and Kelly Loeffler as they face consequential Jan. 5 runoff elections that will decide control of the Senate. Both senators aligned with Trump in a Nov. 9 call for Raffensperger to resign, and neither has explicitly acknowledged Biden's victory.
Neither senator's overall job approval moved outside the margin of error among registered voters in Georgia. Perdue, who narrowly missed the 50 percent threshold to avoid a runoff against Democrat Jon Ossoff when the ballots were counted last month, is more popular than Loeffler, who was appointed by Kemp a year ago to replace Republican Sen. Johnny Isakson, who retired. 
When it comes to Republican voters, 84 percent approve of Perdue and 79 percent approve of Loeffler. But since the election, Loeffler has seen a strengthening in the base: 46 percent of Republicans approve of her strongly, up 11 points and roughly matching Perdue's placement on the metric (45 percent).
For both candidates, Trump -- who's held his fire and encouraged voters to show up for them -- appears likely to remain an asset: In a contest that is largely about base enthusiasm, 95 percent of Georgia Republicans approve of the president, and he has a 57 percent approval rating among Georgia voters overall (39 percent disapprove). 
Eli Yokley is Morning Consult's U.S. politics analyst. Prior to his current role, Eli was Morning Consult's senior reporter covering U.S. politics. Eli joined Morning Consult in 2016 from Roll Call, where he reported on House and Senate campaigns after five years of covering state-level politics in the Show Me State while studying at the University of Missouri in Columbia, including contributions to The New York Times, Politico and The Daily Beast. Follow him on Twitter @eyokley. Interested in connecting with Eli to discuss his analysis or for a media engagement or speaking opportunity? Email [email protected].
We want to hear from you. Reach out to this author or your Morning Consult team with any questions or comments.
Contact Us